Highest Goal Scorers in FIFA World Cup History (At least six)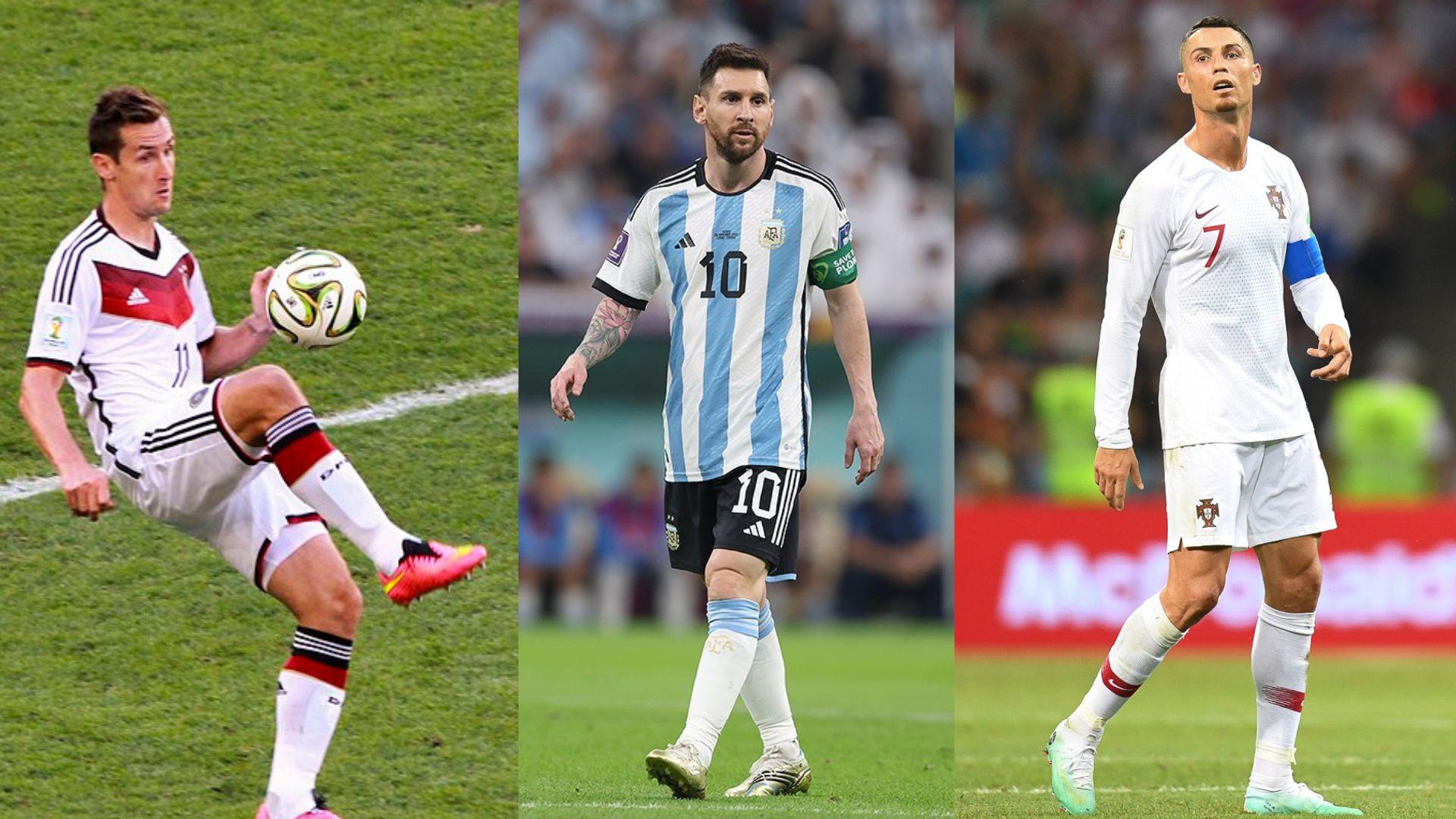 FIFA World Cup 2022, Earth's biggest show has just finished. Finally, the world has another champion (Argentina) for the next four years. Lionel Messi, The goat, achieved his first Fifa World Cup.
Since the tournament's beginning in 1930, many top strikers have showcased their goal-scoring skills in FIFA World Cup.
Since then, more than 2,000 goals have been scored in 21 FIFA World Cups, with over 1,200 goal scorers including legends like Pele, Ronaldo Nazario, Miroslav Klose, Cristiano Ronaldo, and Lionel Messi.
The first goal scorer in world cup history was French player Lucien Laurent.
Miroslav Klose scored the most goals in the FIFA World Cup. He played 24 matches in four tournaments and scored 16 goals, making him the top goalscorer in world cup history.
He scored his first three goals in his World Cup debut against Saudi Arabia in Germany's opening group game at the 2002 World Cup. Then, in the 2014 World Cup semifinal between Germany and Brazil, he scored his final 16th which was the most historic goal for him and Germany.
Ronaldo, Brazil's 2002 World Cup-winning star, was the top goal scorer before Klose. He had scored 15 goals in just 19 matches across three World Cups. He scored four goals in his debut world cup in 1998.
Gerd Muller of Germany scored 14 goals in two tournaments. In the 1970 FIFA World Cup, the German legend became only the second player in history to score back-to-back hat-tricks.
Meanwhile, France's Just Fontaine owns the record for a top goal scorer in a single World Cup edition, with 13 goals in just six matches. He was also the tournament's first player to score back-to-back hat tricks.
Pele is fifth all-time in the World Cup goalscorers list with 12 and is the second highest-placed Brazilian after Ronaldo. He scored 12 goals in 14 matches in world cup history.
Among active players, Lionel Messi is the top goalscorer in the FIFA World Cup, scoring 13 goals. Also, french's player Kylian Mbappé scored 12 goals in 14 matches.
Here is the list of top goal scorers in FIFA world cup history.
| Rank | Player | Team(s) | Matches | Goals | Penalty |
| --- | --- | --- | --- | --- | --- |
| 1 | Miroslav Klose |  Germany | 24 | 16 | 0 |
| 2 | Ronaldo |  Brazil | 19 | 15 | 1 |
| 3 | Gerd Müller |  Germany | 13 | 14 | 1 |
| 4 | Just Fontaine |  France | 6 | 13 | 0 |
| | Lionel Messi * |  Argentina | 26 | 13 | 4 |
| 6 | Kylian Mbappé * |  France | 14 | 12 | 2 |
| | Pelé |  Brazil | 14 | 12 | 0 |
| 8 | Jürgen Klinsmann |  Germany | 17 | 11 | 0 |
| | Sándor Kocsis |  Hungary | 5 | 11 | 0 |
| 10 | Gabriel Batistuta |  Argentina | 12 | 10 | 4 |
| | Teófilo Cubillas |  Peru | 13 | 10 | 2 |
| | Grzegorz Lato |  Poland | 20 | 10 | 0 |
| | Gary Lineker |  England | 12 | 10 | 2 |
| | Thomas Müller * |  Germany | 19 | 10 | 1 |
| | Helmut Rahn |  Germany | 10 | 10 | 0 |
| 16 | Ademir |  Brazil | 6 | 9 | 0 |
| | Roberto Baggio |  Italy | 16 | 9 | 2 |
| | David Villa |  Spain | 12 | 9 | 2 |
| | Eusébio |  Portugal | 6 | 9 | 4 |
| | Jairzinho |  Brazil | 16 | 9 | 0 |
| | Paolo Rossi |  Italy | 14 | 9 | 0 |
| | Karl-Heinz Rummenigge |  Germany | 19 | 9 | 0 |
| | Uwe Seeler |  Germany | 21 | 9 | 0 |
| | Vavá |  Brazil | 10 | 9 | 0 |
| | Christian Vieri |  Italy | 9 | 9 | 0 |
| 26 | Cristiano Ronaldo * |  Portugal | 22 | 8 | 3 |
| | Harry Kane * |  England | 11 | 8 | 4 |
| | Léônidas |  Brazil | 5 | 8 | 0 |
| | Diego Maradona |  Argentina | 21 | 8 | 0 |
| | Oscar Míguez |  Uruguay | 7 | 8 | 0 |
| | Neymar * |  Brazil | 13 | 8 | 2 |
| | Rivaldo |  Brazil | 14 | 8 | 1 |
| | Guillermo Stábile |  Argentina | 4 | 8 | 0 |
| | Rudi Völler |  Germany | 15 | 8 | 0 |
| 35 | Careca |  Brazil | 9 | 7 | 1 |
| | Oldřich Nejedlý |  CSSR | 6 | 7 | 1 |
| | Johnny Rep |  Netherlands | 14 | 7 | 0 |
| | Hans Schäfer |  Germany | 15 | 7 | 0 |
| | Luis Suárez * |  Uruguay | 16 | 7 | 0 |
| | Andrzej Szarmach |  Poland | 13 | 7 | 0 |
| | Lajos Tichý |  Hungary | 8 | 7 | 0 |
| 42 | Bebeto |  Brazil | 15 | 6 | 0 |
| | Dennis Bergkamp |  Netherlands | 12 | 6 | 0 |
| | Zbigniew Boniek |  Poland | 16 | 6 | 0 |
| | Diego Forlán |  Uruguay | 10 | 6 | 1 |
| | Asamoah Gyan |  Ghana | 11 | 6 | 2 |
| | Helmut Haller |  Germany | 9 | 6 | 1 |
| | Thierry Henry |  France | 17 | 6 | 0 |
| | Josef Hügi |  Switzerland | 3 | 6 | 0 |
| | Mario Kempes |  Argentina | 18 | 6 | 0 |
| * Active player | | | | | |
Source: Worldfootball.net