Largest Natural Honey Producers (Top 115 Countries)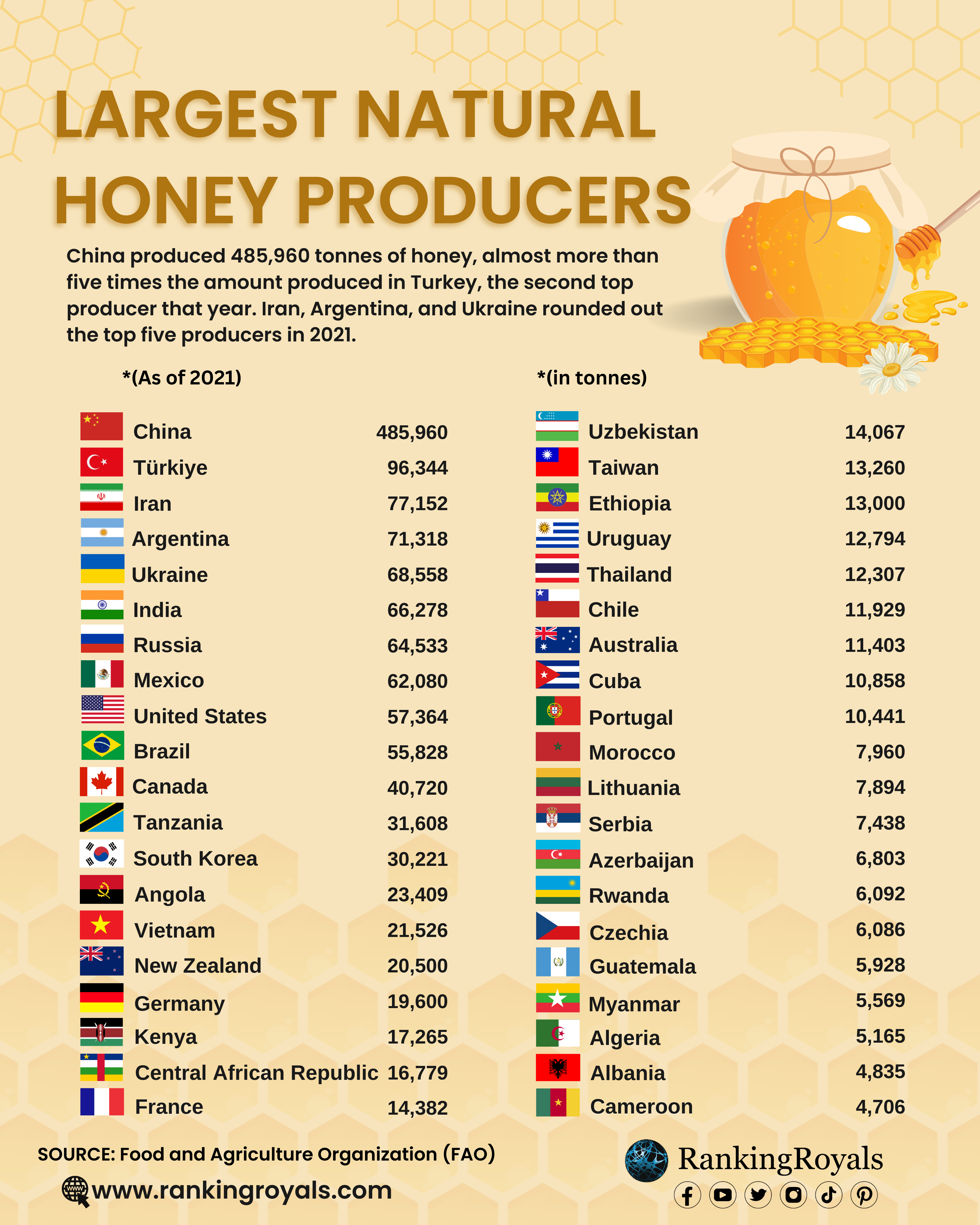 Honey production is a big part of agriculture in many countries worldwide. Each area's climate, plants, and beekeeping practices affect the honey's taste and texture in different ways. For example, China is the biggest honey-producing country in the world. Its varied climate and plant life make it a great place to make honey. In the same way, Argentina is a big honey producer, most coming from the vast and fertile Pampas region. 
Manuka honey is a favourite type from New Zealand known for being unique and tasty. Australia is also known for its high-quality honey, especially the famous Manuka honey made in the coastal areas. The process of making honey is interesting and complicated, changing from country to country. This makes each type of honey unique and special.
In the honey industry, honey and other bee products, such as beeswax, propolis, and royal jelly, are made and sold. The business has been growing in recent years because people want more natural sweeteners, and honey is good for your health.
Honey is a natural sweetener that comes from the nectar of flowers and is made by honey bees. It tastes good for you in many ways, making it a favourite food item worldwide. Therefore, honey production is a big part of agriculture in many countries. However, the amount and type of honey can vary a lot based on the climate, the plants that grow there, and how beekeepers work. In this context, we will look more closely at some of the top honey-producing countries and how they make honey. 
Facts about honey production by country:
China is the largest honey producer worldwide, producing over 485,960 tonnes annually.

Ukraine is the biggest producer of honey in Europe, followed by Germany, France, Portugal, and Lithuania.

Tanzania, Kenya, and Ethiopia are also significant honey-producing nations in Africa.

Ancient Greek civilizations considered honey as a symbol of good fortune and joy. Additionally, honey was offered to the spirits of the deceased at funerals.

Honey is the only insect-produced food that both insects and humans consume.  

Honey-containing toxins were utilized in ancient warfare.

The variety of honey produced differs by region and is affected by the flowers and plants from which bees collect nectar.

Foraging bees must travel approximately 55,000 miles and visit about 2 million blossoms to produce one pound of honey.

Bumble bees do not produce honey in the traditional sense, but they do produce their form of honey. 

Honey comes in various hues, from nearly transparent to nearly black. Darker honey contains more antioxidants.

Australia is well-known for producing high-quality honey, including distinct and flavorful varieties such as eucalyptus, macadamia, and leatherwood.

In certain countries, such as France and Italy, honey is considered a delicacy and is frequently sold at a premium in gourmet food stores and farmers' markets.

China and India have a long history of employing honey in traditional medicine to manage a variety of ailments.

Cats cannot taste honey because they lack the necessary flavour receptors.
Here is a list of the largest honey-producing countries in the world, According to FAO:
| Rank | Country | Total Production (In Tonnes) |
| --- | --- | --- |
| 1 | China | 485,960 |
| 2 | Turkey | 96,344 |
| 3 | Iran | 77,152 |
| 4 | Argentina | 71,318 |
| 5 | Ukraine | 68,558 |
| 6 | India | 66,278 |
| 7 | Russia | 64,533 |
| 8 | Mexico | 62,080 |
| 9 | United States | 57,364 |
| 10 | Brazil | 55,828 |
| 11 | Canada | 40,720 |
| 12 | Tanzania | 31,608 |
| 13 | South Korea | 30,221 |
| 14 | Angola | 23,409 |
| 15 | Vietnam | 21,526 |
| 16 | New Zealand | 20,500 |
| 17 | Germany | 19,600 |
| 18 | Kenya | 17,265 |
| 19 | Central African Republic | 16,779 |
| 20 | France | 14,382 |
| 21 | Uzbekistan | 14,067 |
| 22 | Taiwan | 13,260 |
| 23 | Ethiopia | 13,000 |
| 24 | Uruguay | 12,794 |
| 25 | Thailand | 12,307 |
| 26 | Chile | 11,929 |
| 27 | Australia | 11,403 |
| 28 | Cuba | 10,858 |
| 29 | Portugal | 10,441 |
| 30 | Morocco | 7,960 |
| 31 | Lithuania | 7,894 |
| 32 | Serbia | 7,438 |
| 33 | Azerbaijan | 6,803 |
| 34 | Rwanda | 6,092 |
| 35 | Czechia | 6,086 |
| 36 | Guatemala | 5,928 |
| 37 | Myanmar | 5,569 |
| 38 | Algeria | 5,165 |
| 39 | Albania | 4,835 |
| 40 | Cameroon | 4,706 |
| 41 | Colombia | 4,650 |
| 42 | Tajikistan | 4,591 |
| 43 | Pakistan | 4,385 |
| 44 | Egypt | 4,362 |
| 45 | Nepal | 4,062 |
| 46 | Israel | 4,000 |
| 47 | Moldova | 3,983 |
| 48 | Madagascar | 3,975 |
| 49 | Senegal | 3,910 |
| 50 | Kazakhstan | 3,691 |
| 51 | Tunisia | 3,680 |
| 52 | Syria | 3,253 |
| 53 | Finland | 3,100 |
| 54 | North Macedonia | 2,814 |
| 55 | Yemen | 2,738 |
| 56 | Japan | 2,729 |
| 57 | Kyrgyzstan | 2,363 |
| 58 | Armenia | 2,212 |
| 59 | Latvia | 2,135 |
| 60 | El Salvador | 2,001 |
| 61 | Georgia | 2,000 |
| 62 | Belarus | 1,985 |
| 63 | Bosnia and Herzegovina | 1,876 |
| 64 | Paraguay | 1,868 |
| 65 | Norway | 1,690 |
| 66 | Peru | 1,681 |
| 67 | Afghanistan | 1,362 |
| 68 | Estonia | 1,343 |
| 69 | Switzerland | 1,316 |
| 70 | Lebanon | 1,264 |
| 71 | Costa Rica | 1,133 |
| 72 | Dominican Republic | 1,124 |
| 73 | South Africa | 1,083 |
| 74 | Guinea | 1,076 |
| 75 | Chad | 1,051 |
| 76 | Burkina Faso | 965 |
| 77 | Oman | 948 |
| 78 | Zambia | 894 |
| 79 | Ecuador | 877 |
| 80 | Turkmenistan | 861 |
| 81 | Libya | 789 |
| 82 | Jamaica | 766 |
| 83 | Sudan | 744 |
| 84 | Bolivia | 659 |
| 85 | Venezuela | 632 |
| 86 | Mozambique | 630 |
| 87 | Côte d'Ivoire | 623 |
| 88 | Burundi | 610 |
| 89 | Sierra Leone | 599 |
| 90 | Timor-Leste | 582 |
| 91 | Mongolia | 479 |
| 92 | Montenegro | 445 |
| 93 | Mali | 429 |
| 94 | Palestine | 350 |
| 95 | Fiji | 285 |
| 96 | Haiti | 257 |
| 97 | Jordan | 244 |
| 98 | Slovenia | 195 |
| 99 | Samoa | 179 |
| 100 | Nicaragua | 173 |
| 101 | Guinea-Bissau | 163 |
| 102 | Panama | 155 |
| 103 | Papua New Guinea | 154 |
| 104 | Saudi Arabia | 118 |
| 105 | Iraq | 106 |
| 106 | Guyana | 92 |
| 107 | Honduras | 83 |
| 108 | Belize | 56 |
| 109 | Luxembourg | 48 |
| 110 | Puerto Rico | 48 |
| 111 | Bhutan | 43 |
| 112 | Suriname | 37 |
| 113 | Trinidad and Tobago | 35 |
| 114 | Tonga | 11 |
| 115 | Tuvalu | 4 |