Top 10 Social Media Influencers 2023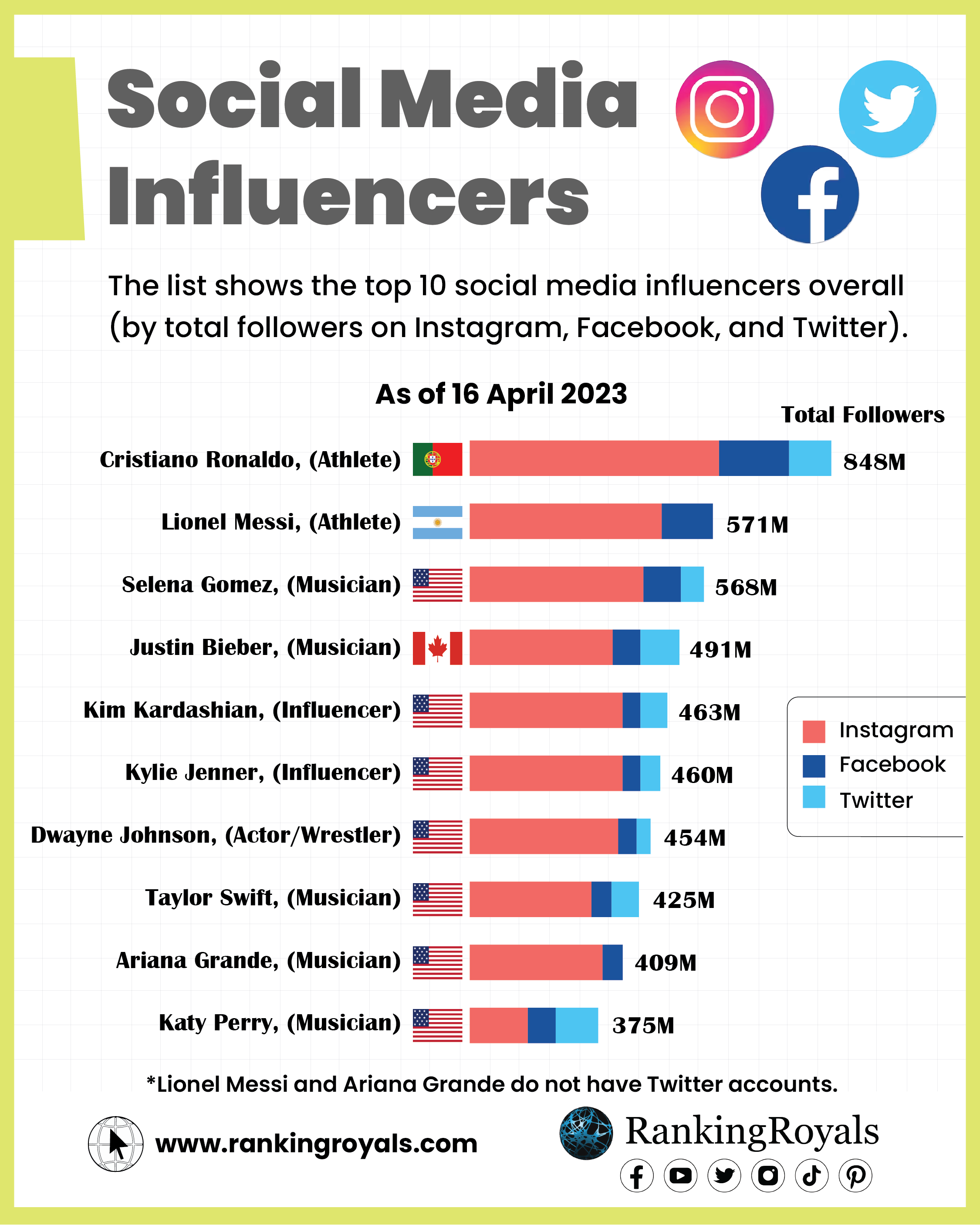 In today's digital world, the popularity of social media has given birth to a new phenomenon: social media influencers. These persons have become the online community's tastemakers, trendsetters, and trusted voices. 
Social media influencers have amassed a huge following on platforms such as YouTube, Instagram, TikTok, and Twitter, where they actively engage with their audience and shape popular culture. 
Below, we will look at the fascinating world of social media influencers, delving into their impact, strategies, and the evolving dynamics of their relationship with brands and followers.
The following are the top 10 social media influencers around the world as of 16 April 2023:
1. Cristiano Ronaldo (848 million followers) 
Cristiano Ronaldo is now one of the most followed athletes on all social media platforms. He is the most-liked person on Facebook, the most-followed person on Instagram, and the fourth-most-followed person on Twitter. So, Cristiano Ronaldo is the King of social media.  
Cristiano Ronaldo has a huge fan following from all around the world. He has 848 million followers across all social media on the Internet. He also has over 578 million followers on Instagram, over 162 million followers on Facebook and 108 million followers on Twitter. He became the first person to reach 500 million followers over all the major social networks like Facebook, Instagram and Twitter.
For over a decade, the Portuguese superstar has been at the top of world football, and his association with some renowned clubs, including Manchester United, Real Madrid, and Juventus, helped him build this huge fanbase.
Cristiano Ronaldo has endorsed many brands throughout his career. His endorsed brands include Coca-Cola, LiveScore, Free Fire, Pestana CR7 Lifestyle Hotels, Nike, Herbalife Nutrition and Clear. In fact, Ronaldo earned US$90 million from endorsements, appearances, licensing income and other business endeavours in 2023 (As per Forbes). Ronaldo's influence helps promote brand exposure and customer engagement in a variety of industries, including sports gear, luxury goods, and lifestyle companies.         
2. Leo Messi (571 million followers)
Lionel Messi has a huge following on social media. He is also second among the football superstars with the most followers on social media platforms, with a total of 571 million followers on Facebook (114 million) and Instagram (457 million) combined. He is one of the most influential football players in the world, along with Cristiano Ronaldo and Neymar.
Lionel Messi is considered a social media influencer because he has a huge following and impact on various platforms, especially Instagram. When he publishes or conducts an interview, he also gets a lot of attention and engagement from his fans and the media. For example, he recently gave an exclusive interview to a Spanish influencer on Twitch, which more than 317,000 people watched.
Lionel Messi is widely considered among the best football players of all time and has won many awards and trophies, including seven Ballon d'Ors and three Champions Leagues. He has a devoted fan following that supports him and his clubs, whether they are from Barcelona, PSG, or Argentina. He also has numerous fans from other clubs and countries who love his talent and personality. He has a personal brand associated with excellence, humility, creativity and passion. He also partners with international brands such as Adidas, Pepsi and Huawei.
Messi uses his social media platforms to share his professional and personal life, such as his family, friends, matches, training sessions and hobbies. He also used them to promote global issues such as UNICEF and his foundation. When he makes a huge decision or announcement, such as his departure from Barcelona or arrival at PSG, he creates a lot of attention and curiosity. His posts often break records for likes, comments and views.
3. Selena Gomez (568 million followers)
Selena Gomez is a singer, actor, and philanthropist, one of the most famous and influential celebrities on social media. She has over 412 million followers on Instagram, over 89 million followers on Facebook, and over 67 million followers on Twitter. She has collaborated with many well-known brands, such as Adidas, Pantene, and Coca-Cola. She also founded Rare Beauty, a cosmetics company that promotes uniqueness and variety.
Selena Gomez has a huge social media impact as one of the most followed and influential celebrities online. However, she has also expressed her concerns about the negative effects of social media on young people's mental health and well-being. She has said that social media has been "terrible" for her generation and that she stayed away from the Internet for almost four years in order to cope with despair and anxiety. She has also founded Wondermind, a mental health platform that aims to provide affordable and accessible resources for people who need help.
Selena Gomez has a huge fan base on Instagram and Facebook who admire her talent, style, and personality. She is one of the highest-paid influencers on Instagram, earning up to $1 million per sponsored post. She uses her social sites to raise awareness and funds for various causes, such as mental health, human trafficking, lupus research, and her Hispanic heritage. She is the number one positive influencer in the world, according to a study that analyzed 1M tweets on the world's top 10 most followed people. 
4. Justin Bieber (491 million followers)
Justin Bieber is a popular Canadian singer with a huge social media following. He has 286 million followers on Instagram, 113 million followers on Twitter, more than 71 million subscribers on YouTube and 92 million followers on Facebook. He is the most-followed musician on Twitter and the third most-followed person overall. His engagement rate on Instagram is 1.05%, which is higher than the average for celebrities.
Justin Bieber is a great example of how social media can be used to influence people. He was just getting started, singing on the street with a guitar in front of him and competing in small talent shows. When a music producer named Scooter Braun saw these videos, he was impressed and signed Justin to his record label. Justin's dedication to social media tools like Twitter and YouTube gives him a way to connect with his fans.
Justin's fans feel more connected to him because he is transparent and builds a real connection with them. This is a great way to generate loyalty. In addition, Justin listens to his fans and reacts accordingly. As a result, people feel more connected to Justin and deserve to because they made him.
5. Kim Kardashian (463 million followers)
Kim Kardashian is a famous American television personality and entrepreneur who became famous throughout the world for her personal life, most of which was featured on the popular reality show "Keeping Up with the Kardashians". She is considered one of the most famous women in the world and has a huge social media influence. She has 353 million followers on Instagram, 35 million followers on Facebook, and 75 million followers on Twitter. She has used her social sites to build her brand and promote her business.
Kim Kardashian leads the trends and sets the standards in the industry. She constantly innovates and diversifies her brand, launching new products and services such as shapewear, makeup, fragrance, and media.
Kim Kardashian exposes her personal life and shares intimate details with her followers. She lets them into her family, relationships, struggles, and successes. She also engages with them regularly and responds to their comments and messages. She executes her vision and goals with passion and professionalism. She works hard to deliver high-quality content and products to her audience. She also collaborates with other influential celebrities and experts to expand her reach and influence. She also uses her platform to raise awareness and advocate for causes she cares about.
6. Kylie Jenner (460 million followers)
Kylie Jenner is a popular American socialite, media personality, and businesswoman. She starred in the hit reality television show "Keeping Up with the Kardashians" and is the founder and owner of the cosmetic company Kylie Cosmetics. She is also a member of the Kardashian-Jenner family.  
Kylie Jenner has over 460 million followers across Facebook, Twitter and Instagram. She is the first woman ever to have 300 million followers on Instagram. As of 16 April 2023, Kylie Jenner has 387 million followers on Instagram, 33 million followers on Facebook, and 40 million followers on Twitter. 
Kylie Jenner rose to fame after making her first showing on "Keeping Up with the Kardashians" at nine years old and has continued to star in the reality TV show. Since being famous in her family reality show, Kylie has been a desirable choice for many brands. She started her own cosmetics line, the infamous Kylie Lip Kits, which was out of stock within minutes in 2015. She later renamed her brand Kylie Cosmetics after helping fans create the perfect signature Kylie pout.
Kylie Jenner has a massive influence on social media platforms. She has used her social sites to promote her brand, Kylie Cosmetics, and other brands she works with. She has also used her platform to raise awareness about important issues such as mental health and climate change. Her posts have been known to cause a surge in sales for the products she promotes. She makes money from social media, and her exact earnings have yet to be discovered. However, she is among the highest-paid social media influencers, and brands can expect to pay at least a six-figure fee to work with her.
7. Dwayne Johnson (454 million followers)
Dwayne Douglas Johnson, known as "The Rock," is a famous American actor, film producer, and former professional wrestler. He is widely considered among the greatest professional wrestlers of all time. After wrestling for the WWF for eight years, he pursued an acting career. His films have grossed over $3.5 billion in North America and over $10.5 billion worldwide, making him one of the world's highest-grossing and highest-paid actors. 
Dwayne Johnson has a huge following on social media. On Instagram, he has over 375 million followers. On Facebook, he has over 62 million followers, and he has 17 million followers on Twitter. This success has made him one of the top ten most successful social media influencers. 
Dwayne Johnson is a social media influencer due to his huge following and ability to connect with his fans. He has been able to charge more than $1 million for a sponsored post on Instagram. Johnson has been successful in many areas of his life, including wrestling, acting, and business. He has a talent for adapting to new challenges and has mastered social media posting. He uses his social sites to promote his own brands, such as his Tequila brand Teremana, as well as new episodes of The Titans, an NBC TV series he hosts, or films he stars.
8. Taylor Swift (425 million followers)
Taylor Swift, an American singer-songwriter, is a well-known cultural figure widely recognized for her songwriting, genre-spanning discography, and artistic reinventions. One of the most successful musicians in history, Swift has sold over 200 million songs worldwide and is the most streamed female artist on Spotify. 
She is among the most famous celebrities in the world. Her Instagram, Facebook, and Twitter followers add up to more than 425 million, making her one of the most followed social media celebrities. Swift has more than 255 million followers on Instagram, 78 million followers on Facebook, and over 92 million followers on Twitter. 
Swift first showed an interest in music at a young age and developed quickly from roles in children's theatre to her first coming before a crowd of thousands. A standout performance at The Bluebird Café in Nashville helped Swift get a recording deal with Scott Borchetta's Big Machine Records. She recorded her first song, "Tim McGraw," in 2006, and the song soon became a Top 10 success on the country charts. It also appeared on her debut album in October of that same year, which sold more than 5 million copies. More popular singles, including "Our Song," a No. 1 country music hit, soon followed. "Picture to Burn," "Teardrops on My Guitar", and "Should've Said No" were also successful tracks.
9. Ariana Grande (409 million followers)
American vocalist, songwriter, and actress Ariana Grande. She is acclaimed by music critics and the media for her four-octave vocal range and her signature use of the whistle register. Throughout her tenure, she has received numerous honours, such as two Grammy Awards, one Brit Award, one Bambi Award, two Billboard Music Awards, three American Music Awards, nine MTV Video Music Awards, and thirty Guinness World Records.
Ariana Grande has a large social media presence. She has over 366 million followers on Instagram as of April 2023, making her the most followed woman on the platform. She also has over 43 million Facebook followers.
Ariana Grande's most popular song is "Thank U, Next". Ariana Grande is a social media influencer because she loves and cares for her fans and is active on social media platforms. She also has a strategy that includes taking a social media break when she needs to. Her fans follow her every social media post.
Ariana Grande began singing and acting when she was young. In 2008, she got a part in the Broadway play "13." Soon after, she started getting small parts on TV shows. In 2010, she got her big break when she got a part on the Nickelodeon TV show Victorious. She played Cat Valentine, a girl who went to a school for the arts. Grande got better at singing as she worked on her acting job. In 2011, she came out with the single "Put Your Hearts Up." She later said that the song and music video were too teen-like, but people liked them at the time. Her first album, Yours Truly, came out two years later. It had the hit song "The Way," which she made with rapper Mac Miller. "Thank U, Next" is Ariana Grande's most well-known song.
10. Katy Perry (375 million followers)
Katy Perry is a singer, songwriter, and TV star from the United States. She is known for influencing current pop music and dressing in a campy way. Vogue has called her the "Queen of Camp." Perry is one of the most popular musicians of all time. He has sold more than 143 million songs around the world.
Katy Perry has a huge following on social media. She has over 196 million followers on Instagram, over 71 million followers on Facebook, and 108 million on Twitter. Katy Perry's music videos are known for featuring product placements and social influencers. Some of her popular music videos include "Teenage Dream", "Roar", "Dark Horse", and "Firework".
Katy Perry uses social media to communicate with her followers and provide updates on her life and career. She shares news about her shows, music, and personal life on Twitter. In addition, Katy Perry can influence her through social media by sharing her opinions on various issues and causes she supports. She has raised awareness about issues such as climate change using her platform. Perry has a large following on social media platforms such as Twitter and Instagram, which allows her to reach a large audience.