The Seven Wonders of the World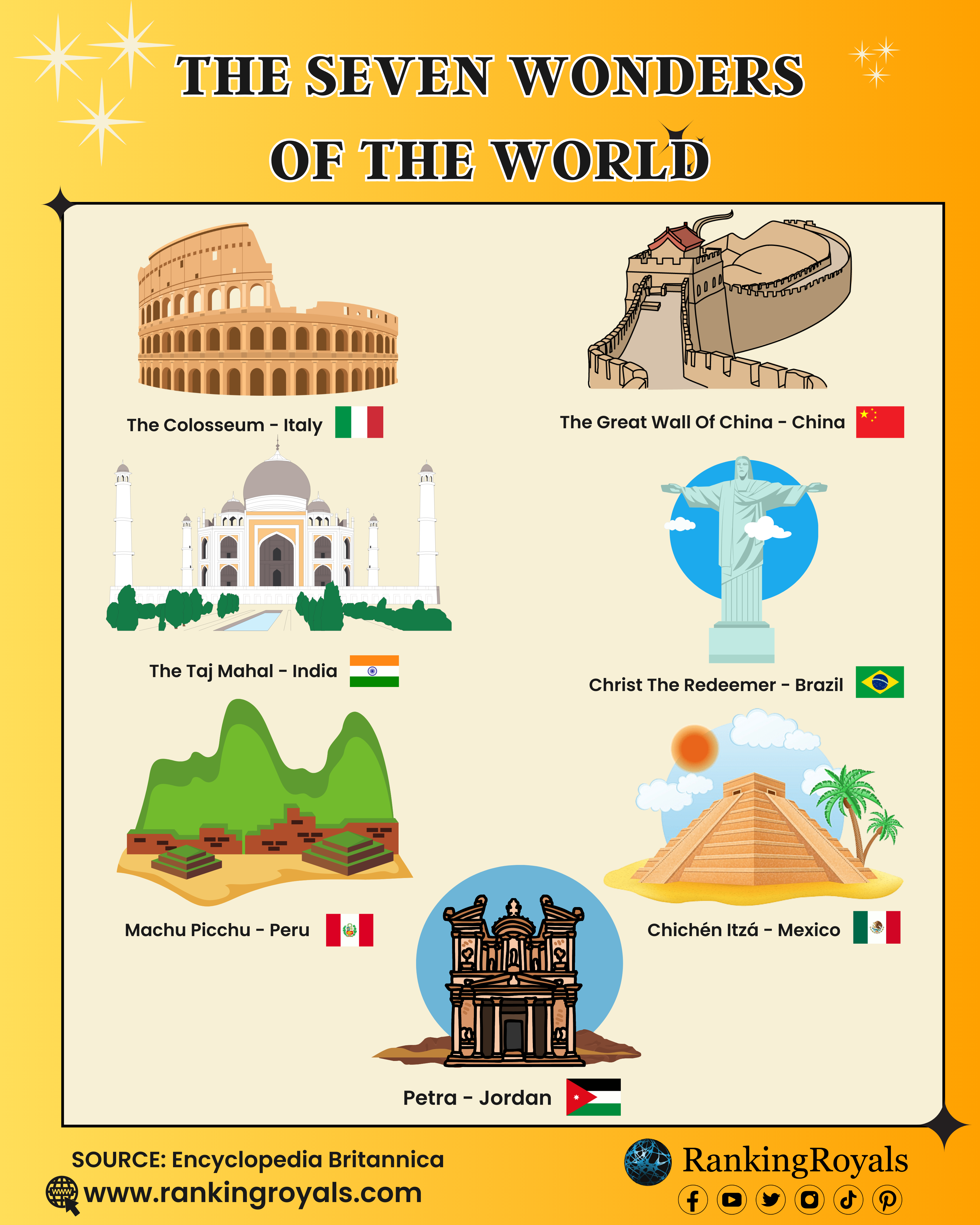 More than 2000 years ago, the first seven wonders of the ancient world were listed. Since then, most sites have disappeared, apart from the Great Pyramid in Giza. A Swiss foundation launched an initiative to make a new list of the seven wonders worldwide and asked people to vote for them in 2000. When the results were finally revealed in 2007, there were both cheers and jeers because some well-known competitors, including Athens' Acropolis, were left out.
The following are the Seven Wonders of the World:
1. The Colosseum (Rome, Italy)
The Colosseum is a large round amphitheater located in the heart of Rome, where gladiators used to fight for their lives. The Emperor Vespasian built it out of sand and stones for eight years, from AD72 to AD80. The area is 620 by 513 feet (189 by 156 meters) and is made up of a complex vault system. It had the capacity to hold 50,000 spectators, and they'd all been watching different events.
There were dramatic and sometimes terrifying events, not just gladiator games but classical play, hunts for animals, or executions. Gladiator fights may be the most prominent, but men were also known to fight animals. Moreover, for the mock naval battles, water was sometimes pumped into the Colosseum. Some believe that approximately 500,000 people died at the Colosseum. Furthermore, so many animals were trapped and then killed there that several species are said to have become extinct. 
The Colosseum is still an icon of the history of Rome, which has been partially devastated by earthquakes and stone thieves for centuries. Thousands of tourists visit the Colosseum each year.
Location: Piazza del Colosseo, 1, Roma, Italy
Best Time To Visit: October to April
Nearby Attractions: Vatican Museums, Roman Forum, Trevi Fountain, St. Peter's Basilica, Pantheon Temple.
Other Activities To Do In Rome: Explore the nightlife at Piazza Navona, explore Palatine Hill, and admire Michelangelo's paintings at Sistine Chapel.
2. Great Wall of China (China)
The Great Wall is a significant wall that extends thousands of miles across the ancient Northern Border of China. It is among the largest construction projects in the world. The overall length of the Great Wall is approximately 13,170 miles (21,200 km).
The wall was initially constructed as a collection of minor walls going back to the 7th century BCE, with select parts connected by Qin Shi Huang (220-206 BC), China's first emperor. A number of successive dynasts later erected and maintained a series of border walls. The Ming dynasty, from 1368 to 1644, built the most famous sections of the wall. The whole project had taken almost two millennia.
The Great Wall was made to protect the territory of old Chinese states and Imperial China in order to fight against other migratory groups from the Eurasian steppes. Apart from defense, the Great Wall has also served as a basis for border controls enabling customs duties to be levied on goods transported across the Silk Road, regulation or promotion of trade, and control of immigration. In addition, the construction of watchtowers, barracks, and garrison stations and the ability to communicate by means of smoke or fire enhanced the defensive characteristics of the Great Wall.
The route of the Great Wall also served as a transport corridor.
Location: Huairou, Beijing, China
Best Time To Visit: September to October
Nearby Attractions: Tiananmen Square, The Forbidden City, Temple of Heaven, Summer Palace.
Other Things To Do In Beijing:  Hiking in Mutianyu, exploring Beihai Park, and going shopping in Wangfujing.
3. Taj Mahal (Agra, India)
India's Grand Taj Mahal, a magnificent marble mausoleum in the city of Agra on the Yamuna River, has been chosen as one of the seven wonders of the world. The mausoleum complex is thought to be one of the world's greatest monuments and has been described as among the best examples of Mughal architecture. The temple was built by the Mughal emperor Shah Jahan as a tomb for his loving wife Mumtaz Mahal, who died in 1631 at the time of delivering their 14th child. 
White marble is used to build the mausoleum, which is decorated with semiprecious stones in geometric and floral patterns. There are four smaller domes around its magnificent central dome. There are 42 acres of grounds surrounding the marble tomb in the center, which is also covered with gardens, prayer halls, a guest house, and a swimming pool.
The project cost around 32 million Indian Rupees, about US$827 million in today's terms, to complete by 20,000 workers over a period of 22 years. But the effort had been successful, and today the Taj Mahal is recognized as a UNESCO World Heritage site and also a significant part of India's rich Mughal history.
Location: Dharmapuri, Forest Colony, Tajganj, Agra, Uttar Pradesh
Perfect Time To Visit: November to March
Nearby Attractions: Agra Fort, Tomb of I'timad-ud-Daulah, Mehtab Bagh, Jama Mosque.
Other Things To Do In Agra: Visit the Jehangir's Palace, Sightseeing in Agra, tour the Khas Mahal, shopping in Kinari Bazaar.
4. Christ The Redeemer (Brazil)
A huge monument of Jesus called Christ the Redeemer is situated on the top of Mount Corcovado in Rio de Janeiro, Brazil. The origin of the phenomenon dates from World War I, when some Brazilians feared a tide of godlessness. They proposed a statue, which was ultimately designed by Heitor da Silva Costa, Carlos Oswald, and Paul Landowski. It was started in 1926, and after five years, it was completed. The resulting monument is 98 feet (30 meters tall, not including its base, which is about 26 feet (8 meters) high, and its outstretched arms are 92 feet (28 meters). 
The biggest art deco sculpture on earth is Christ the Redeemer. It's made from reinforced concrete and has about 6 million tiles on it. The statue has been struck by lightning several times, most recently in 2014 when the tip of Jesus' right thumb was torn off during a storm.
Location: Parque Nacional da Tijuca – Alto da Boa Vista, Rio de Janeiro, Brazil
Best Time To Visit: December to March
Nearby Attractions: Maracanã Stadium, Copacabana Beach, Sugarloaf Mountain, and Ipanema.
Other Activities To Do In Rio de Janeiro: Enjoy shopping in Leblon, witness the Brazilian heritage at Santa Teresa, and trek through Tijuca Forest – the largest urban forest.
5. Machu Picchu (Cuzco Region, Peru)
Machu Picchu is located within a 2,430m (7,970ft) altitude mountain ridge in the East of Peru's southernmost region and is an Incan citadel dating back to the 15th century. At its peak, this was probably the most beautiful urban development of the Inca Empire. Moreover, it is among the most popular tourist sites in South America and attracts millions of visitors each year. In 1983, the site was designated a UNESCO World Heritage Site.
Hiram Bingham discovered Machu Picchu in 1911, believing that it was 'Vilcabamba', the secret Incan fortress that had been used during the 16th-century rebellion against Spanish rule. However, the purpose of Machu Picchu remains a mystery to scholars, even if its assertion has proved disproven. Bingham believed that it was the home of the "Virgins of the Sun," women who resided in convents under a vow of virginity. Some individuals think it may have been a place of pilgrimage, but others believe it was some sort of Royal retreat.
It is home to agricultural terraces, plazas, residential areas, and temples despite its high altitude in the Andes Mountains. There are two main areas in the ruins of Machu Picchu: the agricultural terraces and the urban area. Agricultural terraces were used to cultivate and water, while the urban area was used for religious or administrative purposes.
Location: Mountain Machu Picchu, Peru
Best Time To Visit: April to October
Nearby Attractions: Islas Ballestas, Sacred Valley, Colca Canyon, Saksaywaman.
Other Things To Do In Peru: Enjoy a hike through the Cordillera Blanca, mountaineering at Huascarán mountains, hiking and backpacking through Inca Trail.
6. Chichen Itza (Yucatan, Mexico)
Chichén Itza is an ancient Mayan city in Mexico's Yucatan peninsula, which thrived between the 9th and 10th centuries CE. It is a significant spot because it was one of the greatest Mayan centers, and it is believed to have been a political, religious, commercial, and military center that might have housed 35,000 people at its peak. It is characterized by a number of architectural styles, resembling those in central Mexico and the Puuc or Chenes style at the northern tip of the Maya Mountains. Chichén Itzá has the largest tlachtli (sporting field) in the Americas. 
From A.D. 750 to 1200, Chichén Itz's steps pyramids, temples, columns, arcades, and various stone buildings were worshipped by the Mayan people and a sophisticated urban center of their kingdom. The Temple of Kukulkan, which is also called El Castillo, is the most visible structure in this region. This magnificent step pyramid shows the accuracy and significance of Maya astronomy. In 1988, Chichen Itza was recognized as a UNESCO World Heritage site.
Location: Yucatan, Mexico
Best Time To Visit: December to March
Nearby Attractions: Ek Balam, Kabah, Pyramid of the Magician, Ik Kil, and St. Ildephonsus Cathedral.
Other Things To Do In Yucatan: Visit the Sayil caving at Cenote Zaci, explore the Sacred Cenote, and adore the charm of Museo Maya.
7. Petra (Ma'an, Jordan)
Petra, Jordan's ancient city, is situated in an isolated valley surrounded by sandstone mountains and cliffs. During ancient times, this was the center of an Arab kingdom. It was the capital of the Nabataeans, an Arab tribe, and it flourished during this period, becoming an important trading center, especially for spices. It was a vital crossroads between Egypt, Arab, and Syria.
The town was established on a terrace that crossed from east to west through(the Valley of Moses). Petra is half carved and half built into the rock, surrounded by mountains that are filled with passageways and gorges. It was said that there were 30,000 people living in Petra at its height.
However, when the trade routes changed, the city began to decline. A great earthquake of 363 CE triggered a lot of trouble, and after another tremor hit 551, Petra was abandoned for the time being. Although the site was rediscovered in 1912, archaeologists paid little attention to it until the late twentieth century. Petra has been recognized as a UNESCO World Heritage site since 1985.
Location: Jordan
Best Time To Visit: March to May
Nearby Attractions: Roman Theater, Dead Sea, Ajloun Castle, Wadi Rum, and Mount Nebo.
Other Things To Do In Jordan: Explore the Jordan Museum, visit the Jordan River, and hike the Dana Biosphere Reserve.
Lastly, the Seven Wonders of the World have triggered imaginations around the globe, inspiring awe and astonishment among humans of all ages. These magnificent structures are a sign of our humanity's ingenuity and the ability we have to create long-lasting monuments to endure time. From the Great Wall to Machu Picchu, Petra to the Colosseum, these wonders represent a living connection to our history and an indicator of our species' shared heritage. It is important that we keep these treasures alive and protected in order to make them available for the next generations, so they can be enjoyed and appreciated. The seven wonders of the world aren't just beautiful and impressive engineering feats, and they're symbols of human achievement and the power of human cooperation to achieve remarkable things.
Read More The 123 Best Places to See the Sunset