World's Highest Paid Female Athletes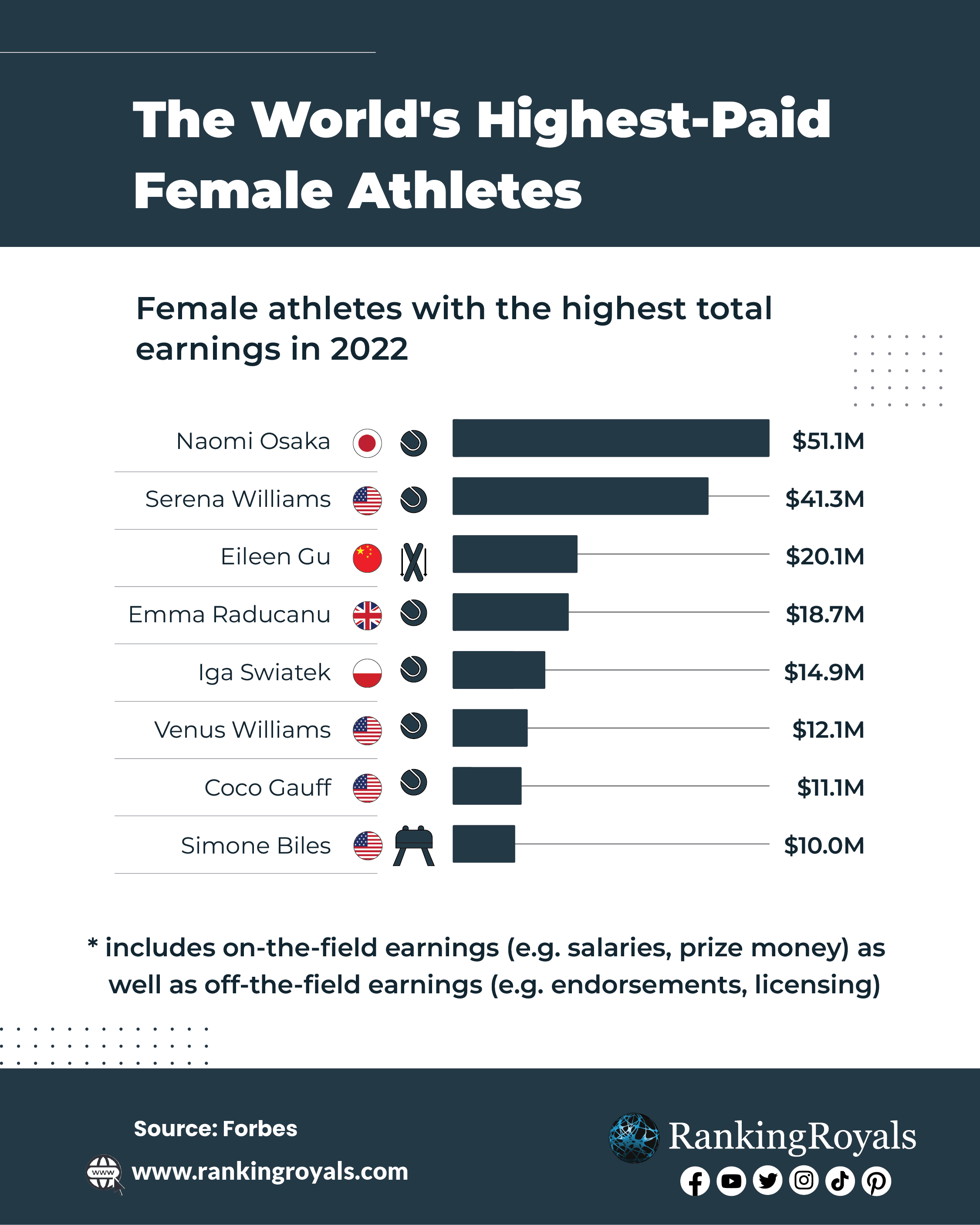 As per Forbes, Osaka has a net worth of $51.5 million as of 2022, making her one of the highest-paid female athletes in history.
Before-tax payments and service charges, the 25 women on the Forbes list made an estimated $285 million this year. Twelve of the 25 spots on the list were filled by tennis players. The index looks at both on-field and off-field earnings and has many of the most famous and influential athletes.
Forbes ranks of highest-paid female athletes based on these two criteria.
1. The on-field earnings include base salaries, bonuses, stipends, and prize money. 
2. The off-field earnings estimates are based on conversations with business people. They include money from endorsements, licensing, appearances, collectibles, and collectibles sales, as well as from businesses run by the athletes.
In 2022, Osaka's earnings were $51.1 million, putting her on top for the third year. No. 2 was tennis star Serena Williams, who made $41.3 million, and No. 3 was Olympic skier Eileen Gu, who made $20,1 million. Simone Biles, a star gymnast, came in at No. 8 with $10 million, and Candace Parker, a star in the WNBA, came in at No. 11 with $7.2 million.
Megan Rapinoe of the OL Reign, Alex Morgan of the USWNT, who also plays for the NWSL's San Diego Wave, and golfer In Gee Chun are all tied at No. 19 with earnings of $5.7 million.
In women's sports, there is still a difference between what athletes make on and off the field. For example, only $1.1 million of Osaka's $51.1 million came from her earnings on the court, even though she was hurt and couldn't play in as many tournaments as she would have liked. 
Forbes says Parker's salary is only about 2% of her total income. At the same time, Morgan and Rapinoe make $700,000 of their $5.7 million on the field. But Iga Witek, world No. 1 in tennis in 2022 and won the French and U.S. Opens, won $9.9 million in prize money.