Countries with the Most Wind Energy Capacity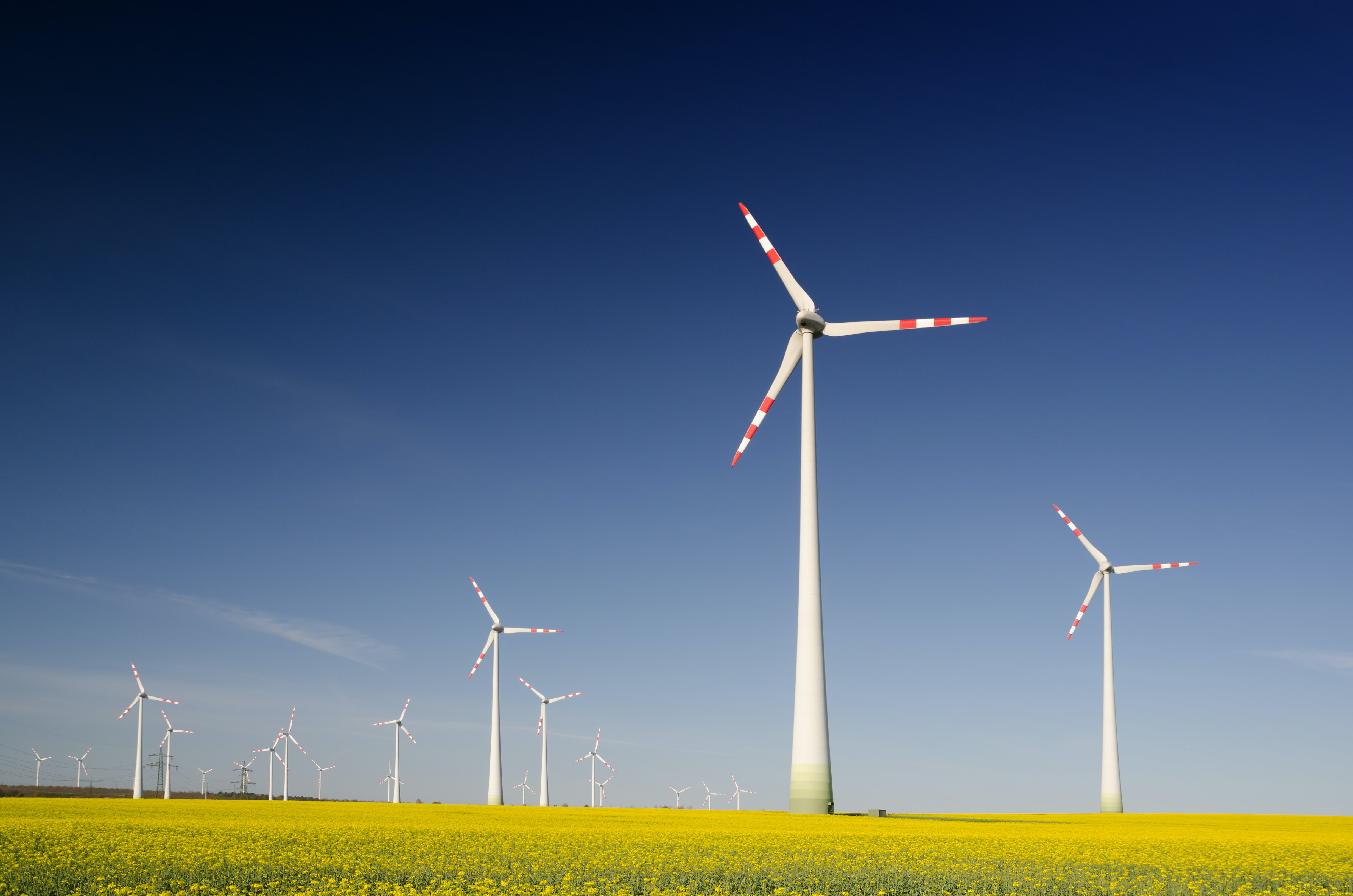 For many countries, wind power is at the center of the energy shift. The battle to construct more prominent, better wind turbines parallels global governments' ambitions to boost renewable energy generation. However, not every country can afford to create successful wind farms.
Wind capacity is determined by local terrain, and some countries have pushed for more wind production than others. Modern turbines make better use of wind energy, allowing more wind power to be generated from the same land area.
Modern turbines also offer significantly greater grid integration because they use a connecting mechanism similar to conventional power plants.
In 2020, the total installed wind power capacity globally was almost 743 gigawatts. Onshore wind power was the highest that year, at over 700 gigawatts. In 2019, 60.4 GW of wind energy capacity was installed globally, representing a 19% increase over 2018 and the second-best year for wind in history. Wind energy capacity has already surpassed 651 GW globally, up 10% from 2018.
Global installed wind-generation capacity onshore and offshore has expanded by 75 times in the last two decades, from 7.5 gigawatts to 564 GW.
A list of the top countries with wind power capacity is made below. With 221 gigawatts (GW) of installed wind capacity, China leads the pack, followed by the United States and Germany. India is ranked fourth. With a total capacity of 35 GW, Asia's second-largest wind power producer.
China
The total installed total wind capacity in China is 281.993 MW. With the highest installed capacity of any country and sustained expansion in new wind projects.
China is the world leader in installed wind energy, with 221 GW of installed capacity, which is more than a third of the world's total. In addition, it has the world's largest onshore wind farm, with a capacity of 7,965 megawatts (MW), five times that of its closest competitor.
China's grid-connected installed wind power capacity has surpassed 300 gigawatts, more than doubling from five years ago. There are numerous compelling reasons for China to prioritize renewable energy sources such as wind. For one thing, the country's increasing middle class is driving up energy use.
In addition, wind power is well suited to the country's geography and long coastline, and the country's potential wind power resources are projected to be at 2,380 GW.
United States
Wind power is a component of the energy industry in the United States that has increased in recent years. It is in the second position with a 117,744 MW wind power capacity. Wind power generated 337.5 terawatt-hours or 8.42 percent of all electrical energy generated in the United States in 2020.
In 2019, wind power overtook hydroelectric power as the most widely used renewable energy source in the United States. With a capacity of 1,548 MW, the Alta Wind Energy Center in California is the largest wind farm in the United States. GE Power is the largest wind turbine producer in the United States. Over 57,000 wind turbines can be found across the United States, and new technology allows you to get up close and personal with each one.
The number of turbines constructed in the United States each year varies depending on various circumstances. Still, since 2005, an average of 3,000 turbines have been built each year in the United States. Despite its substantial reliance on fossil fuels, the United States has generated 139GW of onshore wind power capacity.
Germany
Germany has installed 62,184 MW wind power capacity. There were 28,230 onshore wind turbines in Germany at the end of 2021. Germany's wind power capacity has grown dramatically since 2008 and is expected to reach 62,184 megawatts by 2020. Compared to the last year, this was an increase of over 2,000 megawatts.
The majority of the installations were for onshore wind. Germany had installed 1,469 offshore wind turbines with a combined capacity of 7,516 MW by the end of 2019. The North Sea's power hit 6.440 GW, while the Baltic Sea's capacity reached 1.076 GW.
In 2019, German offshore wind parks generated 25.8 TWh of electricity. The world's largest wind turbine is now located near Gaildorf, Germany. Max Bögl Wind AG built the turbine, and its central hub alone measures 178 meters (584 feet).
India
India's cumulative wind power capacity is 38,559 MW. The first wind project, a 40-kW Dutch machine connected to the grid at Veraval, Gujarat, launched large-scale wind power development in 1985. The Global Wind Energy Council puts India fourth in the Global Wind Power Installed Capacity Index. The Muppandal wind farm, with 1,500 MW capacity, is India's largest onshore wind farm.
It comprises a collection of wind farms in the Kanyakumari district of Tamil Nadu, India. Strategic advising and market consulting business India is predicted to add about 20.2 GW of wind generating capacity between 2021 and 2025, representing an almost 50% increase over the previous decade.
The Muppandal wind farm in Tamil Nadu, Southern India (1,500MW), and the Jaisalmer Wind Park in Rajasthan, Northern India, is the world's third and fourth-largest onshore wind farms, respectively (1,064MW). India has increased its renewable capacity due to its rapid economic expansion and population growth.
Spain
Spain is a significant player in the global wind industry, with multiple Siemens Gamesa Renewable Energy facilities. Over 100GW of onshore and offshore wind turbines have been installed by the company worldwide. It helps explain why the wind industry employs tens of thousands of people in the country.
According to the Spanish Wind Energy Association, the sector employs approximately 30,000 people. Manufacturers have around 220 facilities spread over nearly the whole country. With an installed wind power capacity of 27,089 MW, Spain is fifth.
More than 21,000 wind turbines around Spain generate 22 percent of the country's total electricity demand. In addition, Spain's green recovery from the COVID-19 pandemic has significantly benefited from the wind industry. Currently, 30,000 Spaniards work in the wind energy industry.
Wind power generates around 20% of Spanish electricity, with a generation capacity of 23GW. Despite its modest economy, the country boasts the fifth-largest installed generation capacity globally.
United Kingdom
The United Kingdom is the third European country on the list, with a higher reliance on offshore wind than other nations. Six of the world's top ten high-capacity offshore wind farms are located in the UK seas, predominantly around the North Sea coast. UK has installed a 24,665 MW wind power capacity.
Wind generators became the UK's second-largest power source in 2019, supplying 64 TWh, or nearly a fifth of total generation. Despite unfavorable wind conditions, record onshore and offshore generation was achieved, despite the lowest average wind speeds since 2012.
In 2020, wind power accounted for 24.8 percent of the electricity generated in the UK, surpassing coal in 2016 and nuclear in 2018. In addition, it is the UK's most important source of renewable energy.
Clyde Wind Farm has the most wind turbines out of all onshore wind farms in the United Kingdom. The wind farm in South Lanarkshire, Scotland, has 152 turbines, 12 more than Whitelee, which came in second.
With a power capacity of 1.2GW, the Hornsea One wind farm is now the world's largest wind farm. The Hornsea Two sibling project will contribute an additional 1.3GW of generation to the area when completed. In addition, the UK government has committed investment in developing the country's offshore wind manufacturing industry in recent years.
France
Most of France's electricity is generated by a world-leading fleet of nuclear power plants. After expanding its renewable budget to €71 billion for 2019-2028, the country has made strides toward boosting its renewable fleet in recent years. By 2030, it will be able to treble its onshore wind capacity.
The installed capacity of France is 17,382 MW. According to the research, France is shifting away from nuclear power, which once provided 75% of the country's energy.
By the end of 2023, France hopes to have increased its wind power capacity to at least 21.8 GW. The French government has announced revisions to planning legislation to make wind building easier as part of this push.
Brazil
With more than 17,198 MW of wind capacity, Brazil is the most significant wind power producer in South America. Hydroelectric power accounts for most of the country's electricity generation, with wind and biofuels battling for second place.
Brazil has the most wind power capacity in South America, with 14.5 GW. In February 2019, wind power grew by 8.9% year over year. It says that wind power ranks fourth in Brazil's total energy mix, accounting for around 8% of the country's 162.5 GW capacity.
Brazil added about 1.8GW of wind generation in 2020. However, solar grew faster during the same period. On Tuesday, the Brazilian wind energy group Abeeolica declared that the country's installed wind power capacity had reached 21.03 GW.
Presently, the country has 777 active wind farms with 9,042 wind turbines, delivering enough electricity to serve 28.8 million households every month. The country's windswept 7,400-kilometer (4,600-mile) coastline, where most projects are concentrated, has a technical potential for wind energy of 143 GW.
The Brazilian Wind Energy Association and the government have set a target of increasing wind energy capacity from 5 GW to 20 GW by 2020. (2014).
Canada
Canada's renewable energy capacity now stands at 13,577 MW, with 566 MW of additional capacity added in 2018. According to the research, this energy is generated by 299 wind farms with 6,596 wind turbines. The Rivière-du-Moulin project is Canada's largest wind farm with a capacity of 300 megawatts.
Wind energy accounts for about 5% of Canada's renewable energy source. Because of its numerous mountains and rivers, Canada can generate 67.5 percent of its electricity from hydroelectric sources. Annual wind energy additions peaked in 2014 and have steadily declined since then.
With almost 5GW of installed wind energy, Ontario has the most. The Rivière-du-Moulin project in Quebec, which has a total capacity of 300MW, is Canada's largest wind farm.
Italy
Finally, in 2021, Italy's installed wind generation capacity was 10,839 MW. Again, Italy sits at the bottom of the list, with barely over 10 GW of wind energy capacity in 2018. The wind business in Italy is primarily focused in its south and on its islands.
The Italian energy giant Eni has long been a significant player in the oil and gas industry. It now plans to build 60 gigawatts of renewable energy capacity by 2050, up from 1 gigawatt in 2020.
The wind business in Italy is primarily focused in its south and on its islands. For example, ERG's onshore wind capacity is entirely based south of Rome, with Puglia and Campania serving as its most important customers. There are 56 offshore wind farm projects in Italy.
Conclusion
Wind energy is cleaner, more inexpensive, more efficient, faster to build, less risky overall, and developing faster than nuclear power. Wind energy is one of the best ways to move to clean, renewable energy. It costs 1.5 to 2 times as much as natural gas and coal units and is 2.5 to 3.5 times as reliable as wind and solar plants.
It's a clean fuel source. Wind energy does not pollute the air that power stations that burn fossil fuels like coal or natural gas do. They do not create pollution in to the atmosphere that causes acid rain or greenhouse gas emissions. Wind energy is a renewable energy source.
Read More Top 10 Greenest Cities in the World