Best Countries To Retire (Top 25 Countries)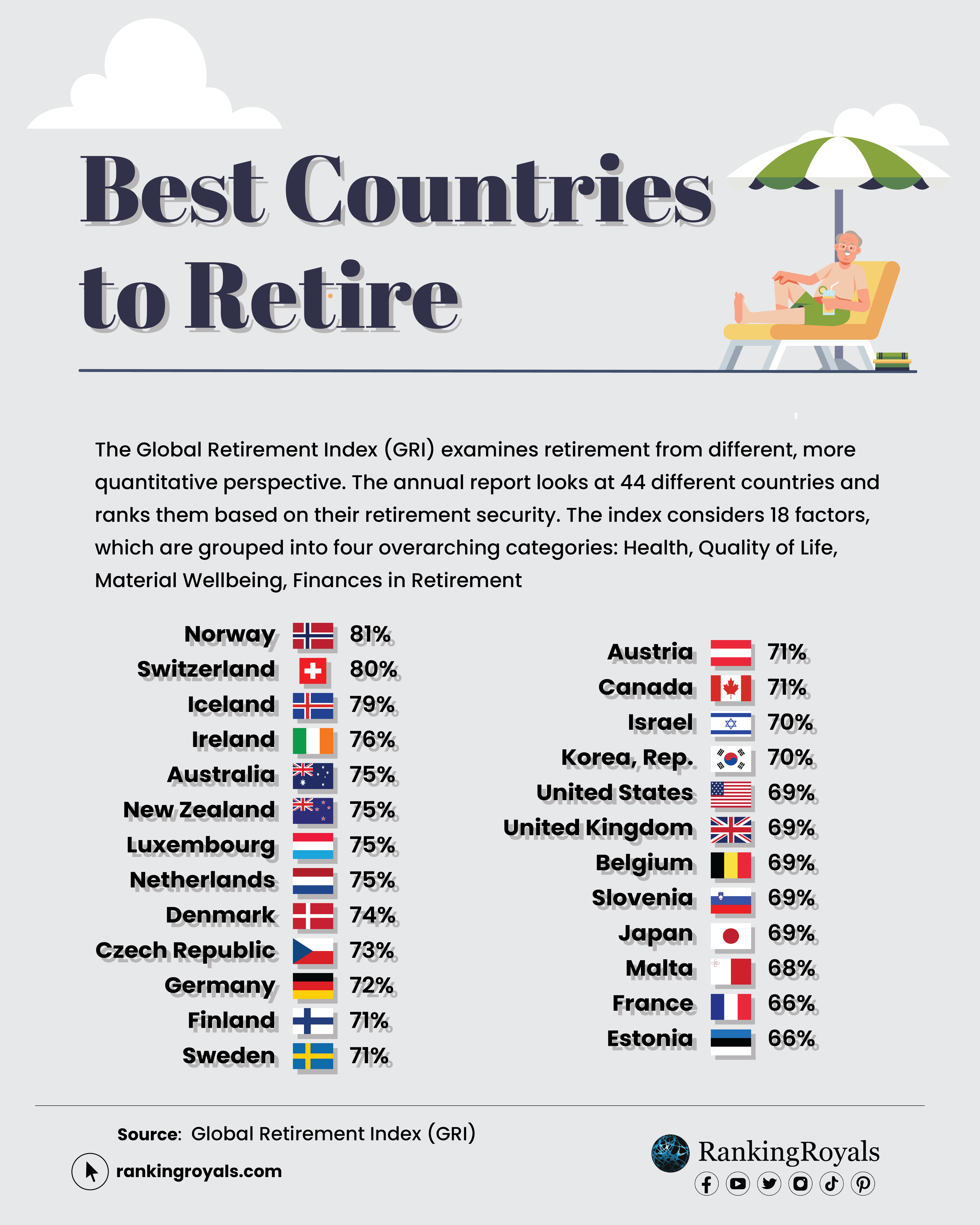 As people grow older, more and more people want to travel around the world, so many older people want to retire abroad to keep exploring. Others move to new places to get more out of their retirement money or to try new things.
People around the world are getting older. The OECD predicts that by 2050, 30% of the world's population will be 65 or older.
The Global Retirement Index (GRI) analyses retirement from a different, more quantitative standpoint. The annual report looks at the safety of retirement in 44 different countries and ranks them. The index takes into account 18 factors, which are put into four main groups:
(Health)

 Health spending per person, life expectancy, and health spending by people who are not insured.

(Quality of Life)

 Happiness levels, water and sanitation, air quality, other environmental factors, and biodiversity are all parts of quality of life.

(Material well-being)

The income per person, income equality, and employment levels are all measures of material well-being.

(Finances in Retirement)

 Government debt, being dependent on Social Security, interest rates, inflation, government, tax pressure, and bank loans that aren't being paid back.
1. Norway
Norway, which had been in third place on the Global Retirement Index (GRI) for four years, has moved back to first with a score of 81%. The country has made progress since 2021, but it still needs to catch up in 2012, when it scored 87%.
Norway was the only country to rank in the top 10 of all four subindices, and its rise from 25th to 8th place in the finance subindex was mainly due to the country's shift to a positive five-year interest rate average.
The country reaped the benefits of rising life expectancy and increasing insured health expenditures. In addition, it indicates that the country's interest rate improvements, bolstered by its robust healthcare system, greatly raised the company's overall scores even while unemployment rose.
2. Switzerland  
Switzerland ranks second with an overall score of 80%, down from 81% the previous year. The greatest decline occurred in its material well-being elements, with worse income equality and unemployment scores, despite having the fourth-highest income per capita score.
Switzerland's performance increased in 2022, despite a decline in its finance sub-index, due to improvements in its environmental and happiness indicators. In addition, life expectancy and health expenditure per capita indicators also contributed to its success.
3. Iceland
After being first in 2021, Iceland had one of the biggest drops, down to 79%, which put it in third place. In this case, the biggest things were money and material things.
A big reason why the score went down was that the government was getting more and more in debt. Still, its environmental and happiness indicators helped it get second place for income equality and a better score for quality of life.
4. Ireland
Ireland maintained its fourth-place standing with a score of 76%, a little down from its score of 78% in 2021 due to lower scores for its finances and material wellbeing subindices.
Increased unemployment and income inequality contributed to the fall in 2022, but Ireland remained the third-highest income per capita. It also ranked among the top 10 in the happiness and health indices, thanks to improvements in air quality, environmental variables, and health expenditures.
5. Australia
Australia rounded out the top five in 2022 with a score of 75%, down from 76% in 2021. Like other nations, the decline was primarily due to decreased financial and material well-being subindices. Nonetheless, there was also a reduction in its aspects of quality of life.
Despite gains in its per capita income and unemployment rate, it scored a poorer index of income equality. It also received some of the greatest rankings for air quality but some of the lowest scores for environmental improvements. However, its healthcare system helped it maintain the fifth position, with life expectancy playing a significant role.
6. New Zealand  
New Zealand maintains its sixth-place ranking in the GRI this year. It is an island republic in the Pacific Ocean, southeast of Australia. The island offers breathtaking natural beauty and pristine beaches stretching before the gorgeous mountains.
In addition to its spectacular scenery, New Zealand boasts a thriving tourism and manufacturing industry, great educational facilities, and a growing economy resulting from the country's rapid development since achieving independence in 1907.
New Zealand offers both public and private options for healthcare. As a New Zealand resident, you are eligible for subsidized or free healthcare as long as you are registered in the system because taxes pay for the healthcare.
7. Luxembourg
This year, Luxembourg moved up four places and is now seventh. It has a higher overall score because all four sub-scores are higher. It has the most wealth of any EU country. So, the people there has a very high standard of living. The country is politically stable and safe, and its public education and healthcare systems are also very good. Because of all of these things, living in Luxembourg is pretty pricey. But if you have enough money, it's heaven for a retired person.
8. Netherlands
The Netherlands fell three positions to eighth overall. However, its overall score decreases due to lower ratings on the Material well-being and Finances sub-indices.
The Netherlands is a friendly nation that consistently ranks among the happiest nations on the planet. In addition, the Netherlands is a great place to retire because it has a high standard of living and an excellent healthcare system.
It is one of the top ten places to retire comfortably because it is safe, has a stable economy and government, and has a well-developed public health system.
9. Denmark
Denmark ranked ninth place in Global Retirement Index. However, it has a lower total score because both the Material well-being and Finances sub-indices have lower scores.
It is a part of the Schengen Area and the European Union. Denmark has close ties to Norway, Finland, Iceland, and Sweden because it is a Nordic country. When moving to another country, it's essential to consider how much it costs to live there. It is especially true when talking about Denmark. It can cost a lot to live in a Danish country. But you will probably make a lot of money. The fact that education and health care are free is a plus, but it also means that almost half of your salary is taken out after taxes.
10. Czech Republic  
Despite having the same overall score as last year, the Czech Republic moves into the top ten. Lowered scores on the other sub-indices cancel out an increase in the Health sub-index.
It is a safe place to live thanks to its matured macroeconomic policies, low consumer debt, steady job market, and safe financial system. The country's viewpoint is consistent regardless of the severity of the crisis. The Czech Republic's economy is stable despite not being particularly affluent. A month's average salary in the country is around €1000. Czech university grads and young professionals should expect a healthy job market and competitive wages. 
Not just in Europe but throughout the world, a degree from a state university is held in the highest esteem. Those who earn their degrees from public institutions have access to world-class education and a wide range of job prospects at the largest corporations in the world. Furthermore, tuition at state universities in the Czech Republic is waived for all students, regardless of nationality.
The following is a list of the Top 25 Countries to Retire:
| Ranks | Country | Score | Health | Material Wellbeing | Finances in Retirement | Quality of Life |
| --- | --- | --- | --- | --- | --- | --- |
| 1 | Norway | 81% | 91% | 79% | 69% | 87% |
| 2 | Switzerland | 80% | 90% | 69% | 74% | 86% |
| 3 | Iceland | 79% | 88% | 77% | 68% | 86% |
| 4 | Ireland | 76% | 89% | 67% | 70% | 80% |
| 5 |  Australia | 75% | 88% | 66% | 72% | 77% |
| 6 | New Zealand | 75% | 85% | 64% | 71% | 81% |
| 7 | Luxembourg | 75% | 91% | 72% | 59% | 81% |
| 8 | Netherlands | 75% | 89% | 78% | 56% | 80% |
| 9 | Denmark | 74% | 86% | 76% | 54% | 88% |
| 10 | Czech Republic | 73% | 76% | 84% | 64% | 68% |
| 11 | Germany | 72% | 87% | 71% | 55% | 80% |
| 12 | Finland | 71% | 84% | 63% | 55% | 89% |
| 13 | Sweden | 71% | 90% | 59% | 56% | 87% |
| 14 | Austria | 71% | 86% | 69% | 54% | 82% |
| 15 | Canada | 71% | 87% | 58% | 67% | 74% |
| 16 | Israel | 70% | 82% | 60% | 66% | 74% |
| 17 | South Korea | 70% | 80% | 68% | 73% | 59% |
| 18 | United States | 69% | 85% | 56% | 67% | 72% |
| 19 | United Kingdom | 69% | 83% | 61% | 55% | 82% |
| 20 | Belgium | 69% | 85% | 70% | 51% | 74% |
| 21 | Slovenia | 69% | 82% | 77% | 51% | 69% |
| 22 | Japan | 69% | 91% | 72% | 51% | 67% |
| 23 | Malta | 68% | 78% | 72% | 63% | 61% |
| 24 | France | 66% | 90% | 57% | 48% | 78% |
| 25 | Estonia | 66% | 68% | 60% | 68% | 68% |
Read more Most Peaceful Countries ( Top 163 Countries)