Best Cities to Visit in 2023 (Top 10)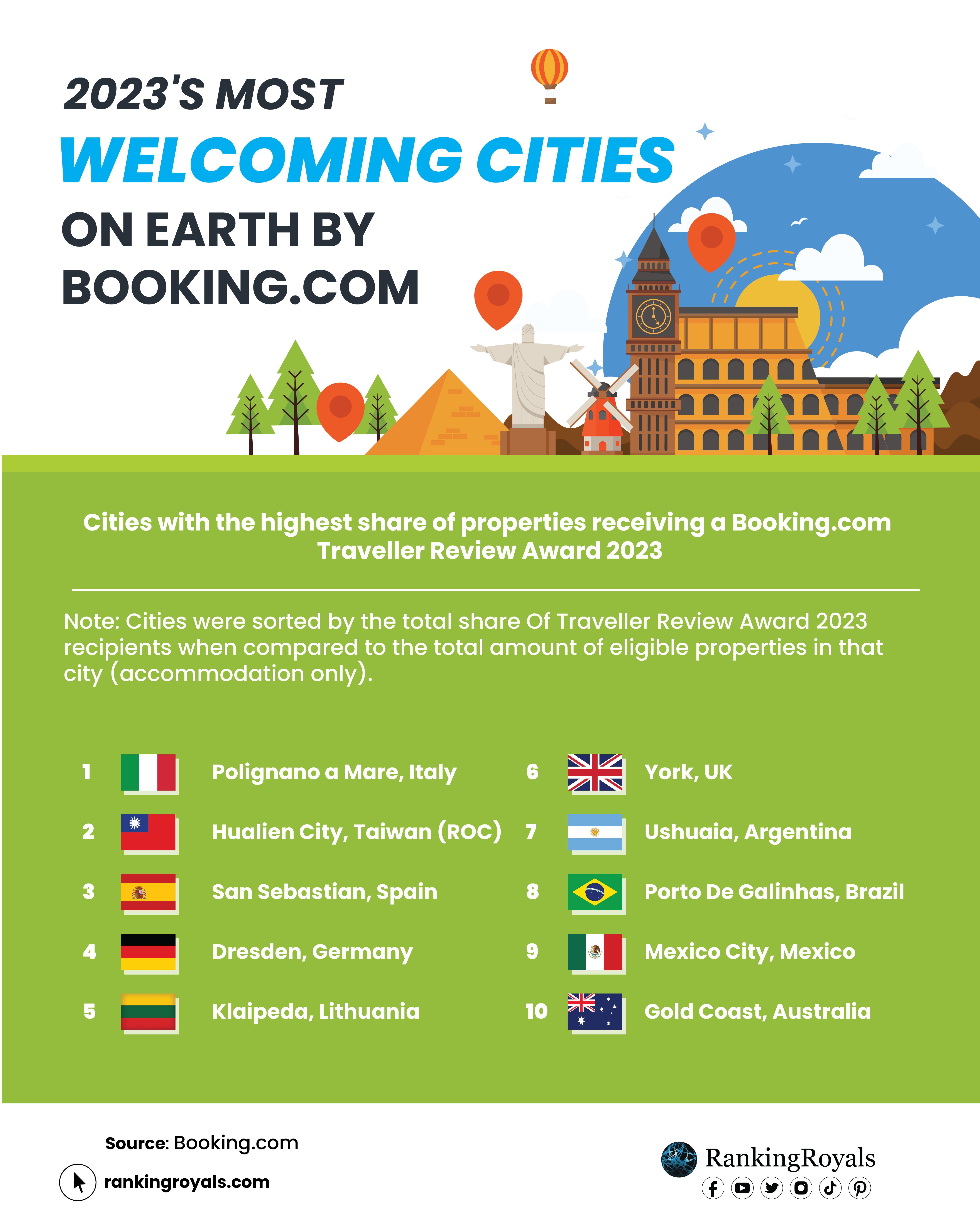 There are countless amazing cities all across the globe. Traveling to all of the world's top cities would take a lifetime, and you still wouldn't get to experience them all. Some global cities are better than others, though. As part of its annual Traveler Review Awards, the online travel service Booking.com announced on January 24 the "10 Most Welcome Cities on World for 2023" based on more than 240 million verified customer feedback. The following are the 10 best cities to visit in 2023.
10. Gold Coast, Australia
Gold Coast is a popular tourist spot due to its beautiful beaches, strong sunshine, and frequent occurrences of crashing waves. The Gold Coast, which stretches for miles down Queensland's southern coast, has genuine beach vibes. Surfers Paradise is a great place to begin your journey because it is the point where the beach and the city meet, and you may marvel at the tall buildings that soar over the Pacific Ocean.
Traveling northward, you'll reach South Stradbroke Island's sand dunes. From Point Danger on the New South Wales border in the south, there is a seemingly infinite supply of great surfing spots and beaches.
There's little doubt that Gold Coast deserves its reputation as Australia's favorite vacation spot in the sun. But, of course, there are also theme parks and water parks, restaurants and clubs on the beach, night markets, and outback entertainment.
The area's natural attractions include whale-watching tours, the Currumbin Wildlife Sanctuary, and trips to Tamborine Mountain and Springbrook National Park to explore the area's rainforests, glowworm caves, and waterfalls. Here are some places to explore in Gold Coast.
Surfers Paradise Beach

SkyPoint Observation Deck 

Nerang River

Currumbin Wildlife Sanctuary

Carrara Markets

Tamborine Mountain

Nocturnal glowworm

Pringbrook National Park

South Stradbroke Island

Point Danger

Dreamworld

Pacific Fair Shopping Centre

Harbour Town Premium Outlets

Burleigh Head National Park

Broadwater Parklands

Surfers Paradise Beachfront Markets

Skypoint Climb

Greenmount Beach

Tallebudgera Creek

Topgolf Gold Coast

Paradise Country

Putt Putt Golf

Hinterland Regional Park
Best time to visit Gold Coast
Gold Coast has a subtropical climate, so it never gets too hot or cold. This is one of the best things about the city. Gold Coast is a great place to go on vacation any time of year, but the busiest times are in the fall (June to August) and winter (September to October)
9. Mexico City, Mexico
Mexico City, the beating heart of Central America, has more population than New York City and is the largest city in North America. It also has one of the finest histories of any Latin American metropolis and a stunning mix of architectural styles spanning over four centuries.
There are museums all around the city showing local and international art; the mezcal and cervezas never stop flowing, and the tacos never cease overflowing. Here are some places to Explore in Mexico City.
The Teotihuacan Pyramids

Plaza del Zocalo

Basílica de Guadalupe

Tlatelolco

Parque Ecológico Zacango Zoo

Frida Kahlo Museum

Coyoacan

El Cardenal

National Museum of Anthropology

San Miguel de Allende

Chapultepec Castle

Grutas Tolantongo

Cuernavaca

Cineteca Nacional de Mexico

Zoológico de Chapultepec

Soumaya Museum

Masayoshi Ohira Park

Tepozteco Archaeological Zone

Aztec Stadium

Plaza Garibaldi

La Merced Market

Acuario Inbursa

Dolores Olmedo Museum

Centro Ceremonial Otomí

Africam Safari
Best time to visit Mexico City
Due to the dry and moderate climate, March through April and October through November are the best times to visit Mexico City. Daytime highs are often between 24 and 26 ℃ for pleasant outdoor activities. Enjoy mild evenings and sunny days here any time of year, but plan ahead because September through November is the peak season for visitors and, consequently, airfare and hotel costs.
8. Porto De Galinhas, Brazil
Porto de Galinhas is a famous Brazilian tourist destination located in the northeastern state of Pernambuco. It is the ideal location for individuals who want to explore the surrounding area. In addition to the numerous attractions of the destination, day trips to Maragogi, Carneiros Beach, Tamandaré, Serrambi, Santo Aleixo Island, Calhetas Beach, Recife, and Olinda are possible. Here are some places to explore in Porto de Galinhas.
Praia de Serrambi

Muro Alto Beach 

Vila de Porto de Galinhas Beach

Piscinas Naturais de Porto de Galinhas 

Cupe beach 

Pontal de Maracaipe

Praia dos Carneiros 

Ricardo Brennand Institute 

Boa Viagem Beach 

Recife Antigo 

Maragogi Beach

Speed Boats Tours 
Best time to visit Porto de Galinhas
The best times to visit Porto de Galinhas in Brazil are from January to June and August to December. During this time period, temperatures are warm, and precipitation is scarce. In March, the average temperature in Porto de Galinhas is 86 degrees Fahrenheit, while in July, it is 79 degrees Fahrenheit.
7. Ushuaia, Argentina
Ushuaia, Argentina, is often referred to as "The End of the Earth" (El Fin del Mundo) due to its geographical location. To top it all off, this vacation spot is the southernmost city on Earth, serving as the departure point for cruises to Antarctica via the Drake Passage.
Ushuaia may be far from everywhere, but that doesn't mean nothing is interesting to see and do there. This town is a must-see on any South American itinerary, and it doesn't matter if you're a history buff, foodie, outdoor enthusiast, or people-person. Here are some places to explore in Ushuaia.
Tierra del Fuego National Park 

 Beagle Channel 

Galeria Tematica Historia Fueguina  

Tren del Fin del Mundo

Ushuaia sign  

Laguna Esmeralda

Glacier Martial  

Cerro Castor

Mirador del Beagle

Escondido and Fagnano Lakes  

Cerveceria Grut '84

Van Gogh Beer House

Gable Island Eco-Adventure 

Museo del Fin del Mundo 
Best time to visit Ushuaia
The best time to go to Ushuaia is September-November.In summer, the average maximum temperature is around 11℃ (52℉), but temperatures can sometimes reach as high as 13℃ (55℉) on the hottest days of the year. On the other hand, the weather at night in the winter, which is around July time, can get down to a minimum of -5℃ (23℉).
6. York, United Kingdom
York has a lot of fun things for tourists to do, from things that are good for the whole family to high-end fine dining. It's also a very easy city to understand. You can walk from one side of the town to the other in less than 30 minutes, so it's great for day trips or weekend getaways. You can walk at a nice, slow pace and look at the amazing buildings and cobblestone streets. Here are some places to explore in York City.
York city walls

Clifford's Tower

York Castle Museum

York Minster

Jorvik Viking Centre

National Railway Museum

York's Chocolate Story

The Shambles

York's shops

365 pubs

Lamb & Lion

York Cold War Bunker 

 York's grizzly past

 Ghost Bus
Best time to visit York
Springtime, from March to May, is the best time to visit York. The weather is beautiful, and the flowers are in full bloom. Unfortunately, it is also the peak season, so be prepared to wait in lines and pay exorbitant hotel rates.
5. Klaipėda, Lithuania
As the third-largest city in Lithuania, Klaipeda is a popular vacation spot thanks to its convenient location and many attractions. In addition, it's common knowledge that the city is a hub for manufacturing and other industrial pursuits. Beautiful towns in Lithuania, however, have been described in more than one way.
The old town's riverbank promenade is notable for its distinctive buildings, picturesque setting, and lovely atmosphere. Several enjoyable pursuits await you in the city; your vacation should not be limited by the few sights and experiences that are truly worthwhile.
The city's intricate history is just one of the many things you'll learn about while you take advantage of all the city has to offer. Klaipeda, an important ice port, was occupied by German nations for most of the nineteenth and early twentieth centuries before being returned to Lithuania.
Lithuania's seaside city of Klaipeda is a popular tourist destination because of its proximity to various attractions and activities unique to the region. In the city of Klaipeda, there are roughly 200,000 inhabitants. The city's convenient access to many modes of transportation and its wealth of social and recreational opportunities ensure a steady flow of visitors year-round. Here are some places to explore in Klaipeda.
History Museum of Lithuania Minor

The Castle Museum

The Museum 39/45

Klaipeda Harbour

Blacksmith Museum

Mary Queen of Peace Church

the Svyturys Brewery

The Curonian Spit National Park

The Meridianas Ship

Dino Park
Best time to visit Klaipėda
In Lithuania, July and August are the best months to visit Klaipeda. During this time, the weather is nice and doesn't rain much. Klaipeda has an average high temperature of 69°F in July and a low average temperature of 32°F in January. The water never gets colder than 32°F and never gets warmer than 71°F.
4. Dresden, Germany
East Germany's Dresden is sometimes referred to as "Florence at the Elbe" because of the city's picturesque setting along the river. It's a city full of biergartens and Baroque buildings, with numerous world-class museums housing priceless artifacts from around the globe. Although most of the city's historical core was destroyed during World War Two, many important sites have been restored to their former magnificence, and new attractions witness Dresden's joyful mood. Dresden's Altstadt, or Old Town, is located near several of the city's top attractions. Here are some places to explore in Dresden.
Kunsthofpassage

Grand Garden

Church of Our Lady

Zwinger Palace

Brühlsche Terrasse

Procession of Princes

Green Vault

Paddle steamers

Semperoper

Pfund's Dairy

Dresden Museum of Military History
Best time to visit Dresden
The months of May through September are best for a trip to Dresden. During this time, the temperature is mild, and there is very little chance of precipitation. The month of July in Dresden has an average temperature of 74 degrees Fahrenheit, while January experiences an average temperature of 34 degrees.
3. San Sebastián, Spain
San Sebastian (also known as Donostia in Basque) is one of Spain's most famous tourist destinations. It has gorgeous churches and structures and a sand beach that is regarded as one of the finest urban beaches in Europe.
Yet San Sebastian is most known for its cuisine. It has the world's second-most Michelin stars per capita, second only to Kyoto, and is famed for its Basque cuisine. In addition, many believe it to be the greatest gastronomic destination in Spain due to the simple pintxo. Here are some places to explore in San Sebastian.
Basilica of Santa Maria

Buen Pastor Cathedral

Barrio Gros

Alderdi Eder Gardens

Santa Clara Island

Comb of the Wind

Igueldo Mountain

Good Shepherd of San Sebastián Cathedral

Parte Vieja

Peine del Viento

La Concha promenade

Mount Urgull

Victoria Eugenia Theater

 La Concha Beach
Best time to visit San Sebastian
Due to its proximity to the ocean, San Sebastian has a mild year-round temperature. In the summer (June–August), highs average 20–25 degrees Celsius, and lows average 10–15 degrees Celsius. Temperatures drop to as low as 8 °C during the day and 4 degrees Celsius at night during the winter months (December to February). Every day seems to be cloudy and rainy. However, March through May, the summer months, have less rain and are the best time to visit.
2. Hualien City, Taiwan
Hualien is a picturesque city on Taiwan's East Coast comparable to some of Taiwan's best cities. It is a seaside city on the Pacific Ocean with a population of approximately 120,000.
Although Hualien is best known as the principal entry to Taiwan's spectacular Taroko Gorge, the town and its environs are as beautiful.
With its shimmering lakes, gorgeous beaches, epic hiking routes, rice terraces, and lively night markets, Hualien is a must-visit destination for every Taiwan itinerary. Here are some places to explore in Hualien City.
Taroko National Park

Qixingtan Beach

Whale & Dolphin Watching Tours

Hualien Cultural & Creative Industries Park

Eastern Taiwan's Breathtaking Landscape

Dongdamen Night Market

Hualien Martyr's Shrine

Hualien Pine Garden

Hualien Railway Culture Park 

Starbucks Shipping Container Store

Mukumugi Valley 

Farglory Ocean Park

Baqi Observatory

Jiqi Beach

Fengbin Skywalk

Xinshe Rice Terrace

Shitiping

Jingpu Tropic of Cancer Landmark
Best time to visit Hualien
October and November are the best times to visit Hualien City. During the warmer months, the highest temperature in Hualien City is 30°C (86°F). Around January, it can reach 10°C (50°F) in the winter.
1. Polignano a Mare, Italy
Polignano a Mare is among the best places to discover in the Puglia region of Southern Italy. This town has something for everyone, from stunning cliffs and sparkling waters to its lovely medieval core. Explore the town's hidden beach and other attractions before you arrive!
Think about that for a moment. A gorgeous town with turquoise waters and buildings that look like they were built a century ago and are completely whitewashed.
This is not a dream; rather, it is the Italian city of Polignano a Mare, located on the coast of Puglia. Polignano lies south of Puglia's capital, Bari, on the Adriatic Sea. Tourists flock to Bari but ignore Polignano and its beautiful beaches.
Despite its remarkable residents, Polignano's beach is the town's crowning jewel. Throughout the summer, this Italian beach's cliff is covered by sunbathers from all over Europe.
Visitors to the beach in Polignano will feel like they've returned to a simpler, more carefree era, with the crumbling buildings and ancient cliffs as their only companions. Its beautiful setting and quaint village are perfect for sunbathing, snorkeling, or perhaps cliff jumping.
See the sights in Polignano a Mare while you're there. The town's secret beach is a local attraction. Descent from the cliffs brings you to a beach that is among the most stunning and underappreciated in all of Italy. Here are some places to explore in Polignano a Mare.
Pane e Pomodoro

The Grotto

Ponte Lama Monachile Beach

Domenico Modugno Statue

Lido San Francesco

Centro Storico

Terrazza Santo Stefano

Palazzo dell'Orologio

Lama Monachile Bridge

Abbazia di San Vito

Lungomare Cristoforo Colombo

Pietra Piatta

Fondazione Museo Pino Pascali

Grotta Palazzese

Piazza Vittorio Emanuele II

La Focacceria di Delle Noci Marco
Best time to visit Polignano a Mare
The months of June through September are best for a trip to Polignano a Mare. Expect an average of 4 days of rain per month and 9.4 hours of sunlight per day in this timeframe, with daytime highs of 26.4 °C (79.5 °F) to 30.5 °C (86.9 °F) and nighttime lows of 16.9 °C (62.4 °F) to 20.4 °C (68.7 °F). At this time of year, the ocean is between 21.7 and 25.5 degrees Celsius (71.0 and 77.9 degrees Fahrenheit).
Read More Most Peaceful Countries (Top 163 Countries)