10 Best Places to Visit in Switzerland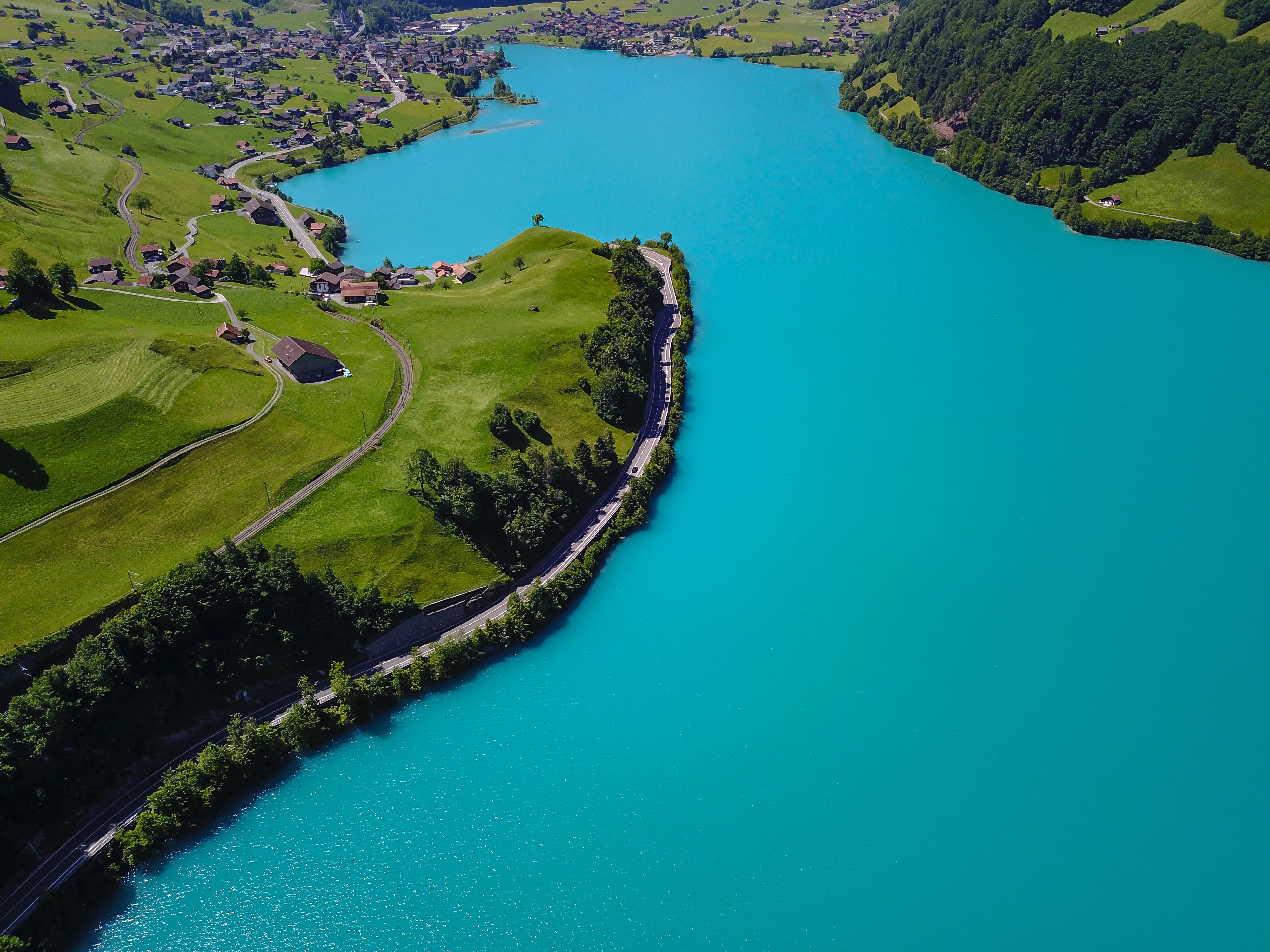 It isn't easy to establish a parallel between the beauty of Switzerland and that of any other country. Right? Why is that, though?
Switzerland is one of Europe's most appealing tourism destinations. Visiting Switzerland may be an incredible thrill for travelers, with spectacular glaciers, roaring waterfalls, glittering blue lakes, and picture-perfect sites.
Switzerland's cities are now leading the way in terms of art, culture, and food, and while breathtaking natural treasures still surround them, they have a vibrancy and variety that should not be overlooked.
So, if you're a traveler with Switzerland as your next destination, let me assist you with the greatest spots to visit in Switzerland.
I'll showcase 10 of Switzerland's most beautiful locations. Let's get ready.
1. The Matterhorn
The Matterhorn is one of Europe's tallest peaks, standing at 14,692 feet (4,478 meters). The "Mountain of Mountains" is its nickname.
It's one of the most well-known summits in Switzerland, not just for its views but also for its beauty. However, the Matterhorn is unquestionably a rugged peak to climb, requiring more technical skills than the Mont Blanc while maintaining a significant height.
In 150 years, more than 500 people have perished on the shortest path, making the Matterhorn one of the deadliest mountains.
Depending on the quantity of snow, the optimum time to climb the Matterhorn is from mid-July to mid-September. However, it's vital to remember that the weather on the summit is highly unreliable, with changes often occurring during the day.
There is 360 km of pistes, 145 ski slopes, and 53 lifts to access during the winter season; 75 km of blue runs, 27 km of black runs, and 220 km of red runs. A beginner's park is also available. Skiing and snowboarding are available on the Matterhorn glacier 365 days a year. In the Alps, it is the highest ski area.
That is an excellent region for walking and trekking because of the ski infrastructure. The ski lifts allow you to visit a large portion of the mountain range without strenuous ascents.
What Hotels Should You Book?
Luxury hotels, boutiques, restaurants, and health spas abound in Zermatt, the world-famous resort community at the foot of the Matterhorn. There are also several rental chalets and flats available. It's in the western Swiss canton of Valais.
2. Zurich
Zurich is a city rich in history, architecture, natural beauty, and nearly everything else. The dilemma for visitors isn't whether or not to go to Zurich; it's what to do while you're there.
In Zurich, what is there to see and do?
You'll feel like you're on a tour of the city's history as you walk through Zurich's Old Town's bustling streets. The region is densely packed with eateries. It boasts a world-famous retail mile lined with medieval mansions and Renaissance town halls on cobblestone lanes.
You are following the Limmat River to Lake Zurich once you've completed touring the Old Town. The lake, formerly a busy thoroughfare, is now a tranquil spot for boating, swimming, or a picnic along the bank.
The Fraumunster is one of Zurich's most popular attractions. Thanks to its distinctive green spire, you can't miss this lovely structure on Limmat's west bank. Fraumunster is a German word that roughly translates to "women's church."
 The Lindenhof town square has a long and illustrious history, having been the location of historical fights dating back to the Roman era. In addition, a Roman fortress formerly stood on Lindenhof in Zurich's Old Town.
Any trip to Zurich is sure to be unforgettable. However, if you can see all seven of these sights, your vacation to Zurich will be one to remember.
3. Lake Geneva
In Switzerland, there are around 7,000 lakes. But why is Geneva Lake so well-known?
Because it is home to Switzerland's most visited historic site, it is the biggest lake in Switzerland, covering about 225 square miles.
It reminds me of a tiny sea. It had waves like the sea when I visited it once during winter when it was windy.
You might easily spend several days on Lake Geneva, taking lake steamers and waterbuses from one beautiful city to the next.
The Geneva Lake runs from Geneva to Montreux, and if you want to get around it, you'll need to travel to France. There are also several lovely resorts on the French side of the lake.
4. Interlaken
Is it worthwhile to go to Interlaken? Yes, indeed!
It's ideal, nestled between two lakes and close to the Jungfrau Mountain Range. Interlaken is more than a single boulevard lined with hotels and jewelers. There's plenty to see, including boat tours on both sides of the city to the lakes of Thun and Brienz and train and cable car rides to the neighboring Alps. Try something new, take in the sights from Harder Kulm, or go shopping.
Full of Adventure
When you visit Interlaken, you have various activities to select from. In addition, adventure-seeking visitors may participate in a variety of outdoor activities.
If you're bold enough to soar to great heights, begin with tandem paragliding. You may observe the famed Interlaken area from above with the help of a skilled pilot.
Second, only a few minutes drives from Interlaken West is a rope park where you may try out various rope courses.
Thirds, Helicopter Skydiving is another thrilling outdoor activity in Interlaken. You will experience an exciting free fall before landing in the village below after your chopper has taken you to breathtaking heights.
Shopping
Höheweg is Interlaken's primary retail district. Several Kirchhofer, souvenir, and chocolate stores may be found. Other watch retailers, including Bucherer, are also available.
Steamer ride
Interlaken has several sights along the shores of Lake Brienz that are worth seeing. Passenger boats run from April to October on Lake Brienz in the Jungfrau Region. In addition, guests can use the regular service to go around the lake by boat to different places.
Behind Interlaken Ost railway station, you can see the boats on Lake Brienz. Boats visit Böningen, Ringgenberg, Niederried, Iseltwald, Oberried, Giessbach, and Brienz on Lake Brienz. You may also go sightseeing in the places where the ships dock.
5. Lausanne
There are no international airports serving Lausanne, but you may fly to Geneva and take a direct train to the city center for about an hour.
WHAT ARE YOU GOING TO DO?
The most attractive portion of Lausanne is, without a doubt, the old town. Lausanne is undoubtedly one of Switzerland's most beautiful cities, with its traditional residences and gothic church perched over the city.
Don't forget to see the cathedral when you're wondering about the city. In addition, concerts are held every Friday evening for anyone who likes to listen to music.
EAT SWISS CHOCOLATES
Because Switzerland is known for its chocolate, Lausanne will satisfy you if you have a sweet craving. Blondel and Durique are the top chocolatiers in town, but supporting local chocolatiers is smart. You may even enroll in a chocolate workshop to learn more about the subject.
A fondue is a must-try when visiting Switzerland. I was ready for a delicious fondue even in the summer. In Lausanne, there are three excellent fondue restaurants: Pinson, Café du Grutli, and L'eveché.
OLYMPIC MUSEUM
Because Switzerland was a neutral country during World War I, the founders of the modern Olympic games placed their headquarters in Lausanne. Many sports federations maintain offices in the city today, and the headquarters are still there. The Olympic Museum is open to individuals who are interested in learning more.
6. Rhine Falls
The Rhine Falls in Switzerland are Europe's most potent. The Rhine Falls in Switzerland and the gorgeous environment and communities that surround the Rhine River draw nearly one million people each year.
The Rhine River Falls is located on the High Rhine, a section of the Rhine River. The Rhine Water Falls are created here as the waters cascade down to a lower level.
Neuhausen is Rheinfall (1 km) is the closest settlement to the Rhine Falls, while Schaffhausen is the nearest city (3.5km away).
From one of the viewing platforms or on a Rhine Falls boat tour, the most excellent way to observe the falls is from above. 
Boat Cruises
A Rhine Falls cruise, which runs from April to November, is one of the most popular ways to experience the falls. A variety of cruises are available.
There are various observation platforms available that do not necessitate a boat ride. These viewing platforms have been constructed and stretch out close to the water on both sides of the falls. Expect to get drenched from the fall's spray if you visit during the months when the flow is strongest.
Other Things to do 
i) Come witness the massive fireworks show on July 31st at 9.45 pm if you visit the falls in July.
ii) From April to October, you may complete Switzerland's longest forest rope course and get a spectacular view of the Rhine Falls.
iii) The Rhfall-Express connects Schaffhausen to the Rhine Falls between April and October.
7. Lucerne
It Is Beautiful in Its Own Right. We've all seen this image of Switzerland before, possibly on the front of a chocolate box.
It is located on the banks of Lake "Four Cantons," which is the cradle of the Swiss Confederation in central Switzerland.
Most well-known vacation spot
Lucerne has a year-round background of perpetual snow, which implies that snow still covers the Alps' summits during all four seasons. As a result, the city of Lucerne is a haven of serenity and breathtaking beauty, and it's an excellent location for getting away from it all.
In the European metropolis, visitors may genuinely enjoy the pleasures of classical beauty and the peacefulness of living in rural towns. On the other hand, Lucerne is attempting to convey the city's attractiveness without abandoning its historical perspective. The city was able to exhibit the traits of modern civilization by displaying a diverse range of goods and structures.
8. Vevey
The "Pearls of the Swiss Riviera" include Vevey.
 Find out why Charlie Chaplin chose Vevey as his permanent residence for more than two decades. Then, stand near his monument, which overlooks Lake Geneva's Fork of Vevey. 
In 2014, this fork monument, part of a museum in Vevey, was named the world's tallest fork. Next, visit Chaplin's World, a museum dedicated to the actor's life and achievements. Finally, visit the Swiss Camera Museum to learn more about the "city of pictures."
9. Jungfrau Region
The Berner Oberland's Jungfrau Region is possibly the best playground for nature lovers of all levels.
The final goal is at the pinnacle of the mountain range. The best way to see everything on the map above except the Top of Europe is to get a Jungfrau Travel Pass.
Visit the following places:
i) Wengen is a car-free hamlet in Switzerland, situated roughly 4000 feet above the Lauterbrunnen Valley. The panorama of the Lauterbrunnen Valley, with its double waterfalls framed by some of the region's most prominent peaks: the Jungfrau and Monch, is one of the most magnificent sights in the world.
ii) Murren is a historic community lying 5,500 feet above the Lauterbrunnen Valley bottom, just opposite Wengen.
The cable car 
On the top of the Schilthorn, scenes from the Bond film On Her Majesty's Secret Service were shot. It is Murren's second major attraction. 
10. Swiss National Park
The Swiss National Park appears to be a paradise, with abundant vegetation and animals remote from human grasp.
It is also Switzerland's largest wildlife reserve, with red deer, lynx, and eagles can be seen, as well as edelweiss.
The Swiss National Park was the first Swiss site in the International Union for Conservation of Nature's Green List, published in April 2021.
Biologists and eight wardens are among the 45 staff of the Swiss National Park. Currently, the park is home to 36 different animal species. The bearded vulture and the bear, for example, were both born here and have since returned.
One hundred fifty thousand people are expected to attend in 2020.
Conclusion
There are many other gorgeous spots to visit in Switzerland. Bern, the Albula Railway Line, the Swiss Alps, Appenzell, and other places are well worth seeing. They're all stunning and well worth seeing.
However, it would help if you initially looked at the top levels; the option is yours. I wish you a wonderful trip to Switzerland.