The 100 Universities for Global Impact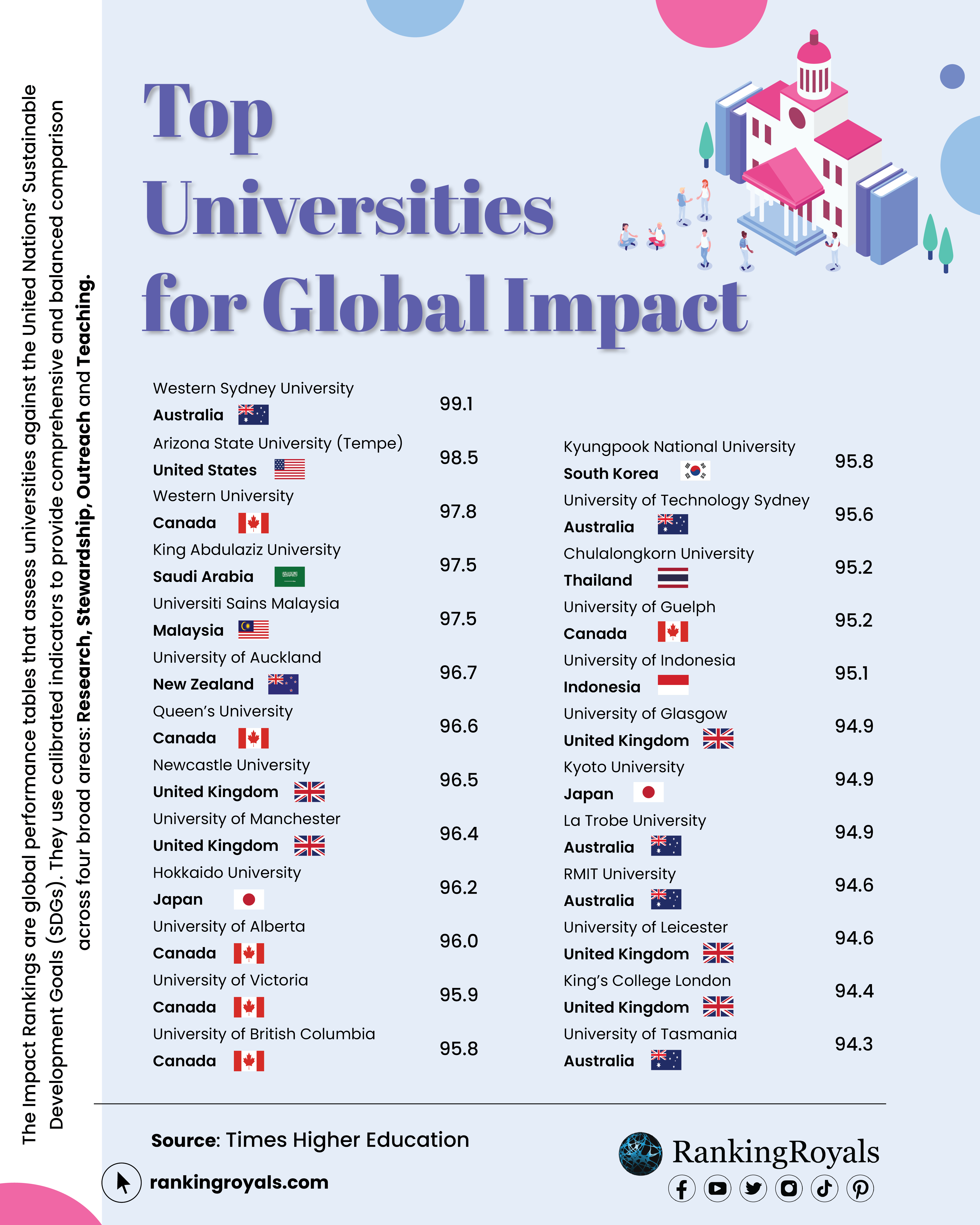 Universities play a vital role in shaping society and generating transformational change in today's world, which is experiencing rapid change. Certain universities have garnered recognition as world-changing institutions due to their exceptional contributions. These universities have consistently demonstrated their dedication to innovation, research, and the pursuit of knowledge, substantially impacting numerous facets of society. 
The 2022 version of the Times Higher Education Impact Rankings, which considers universities' contributions to achieving the United Nations' Sustainable Development Goals, demonstrates that universities around the world are seizing the opportunity to double up on their long history of public service by delivering sustainable social and economic impact to their communities and society.
Ranking Factors:
The Times Higher Education Impact Rankings evaluate the performance of universities in achieving the Sustainable Development Goals of the United Nations. There are seventeen UN Sustainable Development Goals, and universities are evaluated for all of them. 
No Poverty

Zero hunger

Good health and well-being 

Quality education

Reduced inequalities

Climate action

Clean water and sanitation are a few SDGs
Facts about Top Universities for Global Impact:
Institutions of higher learning are responsible for their social and economic impact on their communities and society.

The Times Higher Education Impact Rankings display the most influential universities around the globe, ranging from leaders in providing decent employment and economic growth to contributors to producing affordable, clean energy.

In 2022, a record number of 1,524 institutions from 110 countries and regions participated in the rankings, a 23% increase from the previous year.
1. Western Sydney University (Australia)
In the fourth version of the Impact Rankings, Western Sydney University in Australia is at the top, followed by Arizona State University in the US and Western University in Canada. THE has ranked 1,406 universities from 106 different countries.
THE Impact Rankings 2022 ranked Western Sydney University at the top with a very high clean water and sanitation score. This is based on the university's study on water, its commitment to good water management in the community, and how much water it uses. It also did well on the measure of responsible usage and production, which looks at what universities are doing to study this topic and how they sustainably use resources. The university moved up one spot from last year, when it was ranked second for its effect, and is now at the top. 
2. Arizona State University (Tempe) (United States)
Arizona State University ranked second in 2022, significantly improving from last year's ninth-place finish. It received excellent marks for research on sustainability, aquatic life, education and support for aquatic ecosystems, terrestrial life, and education and support for terrestrial ecosystems.
Arizona State University (ASU) is a world-renowned institution with a reputation for having a significant social impact. With an emphasis on sustainability, innovation, and inclusivity, ASU has emerged as a prominent positive change agent. ASU's commitment to environmental stewardship is demonstrated by its dedication to sustainable practices and carbon footprint reduction. 
The university's focus on entrepreneurship and innovation promotes a culture of creativity, encouraging students and faculty to create innovative solutions to global problems. In addition, the collaborative research endeavours and partnerships of Arizona State University address crucial problems such as climate change and social inequality. 
3. Western University (Canada)
Western University achieved a high score for the no-poverty SDG, which includes poverty research and support for students from low-income families. However, in the Impact Rankings of 2021, it ranked 52nd.
Western University, a prestigious institution with a global influence, is at the vanguard of positive change. Western University has substantially contributed substantially by emphasizing excellence in education, research, and innovation. Its dedication to academic excellence and cutting-edge research has resulted in ground-breaking discoveries in several disciplines. 
The global impact of Western University is evident in its collaborations with international partners and participation in global initiatives. The university prepares students to become global citizens and leaders in their respective disciplines by offering various programs and emphasizing experiential learning. Western University continues to make an enduring impact on society through its innovative research, quality education, and global outreach efforts, as evidenced by its extensive alumni network.
=4. King Abdulaziz University (Saudi Arabia)
The Times Higher Education Impact Ranking 2022 placed King Abdulaziz University fifth on the list of universities that support climate action by the UN Sustainable Development Goals to increase positive impact.
As the premier academic institution in Saudi Arabia, King Abdulaziz University (KAU) has had a significant global impact. With a dedication to excellence in education, research, and innovation, KAU has contributed to various disciplines and earned international recognition. In addition, KAU has made significant discoveries and advancements in fields such as medicine, energy, and environmental sustainability through its world-class research initiatives. 
Dr Mazen Al- Assiri, director of the Centre of Excellence for Climate Change Research at King Abdulaziz University, emphasized that this accomplishment demonstrates the university's commitment to climate research, climate change, impact evaluation locally and globally, and the development of a separate climate model under the Saudi Vision 2030
=4. Universiti Sains Malaysia (Malaysia)
As the top university in Malaysia, Universiti Sains Malaysia (USM) has greatly affected the world. USM scored 96.4 for SDG 16 (Peace, Justice, and Strong Institutions) because of its research, management, connections with authorities, and student participation.
USM even got a perfect score for SDG 17 (Partnership for the Goals), which was a required SDG to be measured in the THE-GIR ranking process. This shows that the university has strong connections with partners at different levels, such as the community and the business world, as they work together to reach their goals.
USM is highly ranked in four of the 17 SDGs, including SDG 5 (Gender Equality). This shows how successful USM has been in supporting research based on gender, the percentage of female academics, and the percentage of female graduates.
USM impacts the world because it works with foreign partners and is involved in global research networks. In addition, USM gives students the skills and information they need to solve global problems by giving them a wide range of programs and encouraging a multidisciplinary approach.
Here is a list of the 100 universities for Global Impact, According to the Times Higher Education Impact Rankings:
| Rank | University Name | Country | Score |
| --- | --- | --- | --- |
| 1 | Western Sydney University | Australia | 99.1 |
| 2 | Arizona State University (Tempe) | United States | 98.5 |
| 3 | Western University | Canada | 97.8 |
| 4 | King Abdulaziz University | Saudi Arabia | 97.5 |
| 4 | Universiti Sains Malaysia | Malaysia | 97.5 |
| 6 | University of Auckland | New Zealand | 96.7 |
| 7 | Queen's University | Canada | 96.6 |
| 8 | Newcastle University | United Kingdom | 96.5 |
| 9 | University of Manchester | United Kingdom | 96.4 |
| 10 | Hokkaido University | Japan | 96.2 |
| 11 | University of Alberta | Canada | 96 |
| 12 | University of Victoria | Canada | 95.9 |
| 13 | University of British Columbia | Canada | 95.8 |
| 13 | Kyungpook National University | South Korea | 95.8 |
| 15 | University of Technology | Sydney | 95.6 |
| 16 | Chulalongkorn University | Thailand | 95.2 |
| 16 | University of Guelph | Canada | 95.2 |
| 18 | University of Indonesia | Indonesia | 95.1 |
| 19 | University of Glasgow | United Kingdom | 94.9 |
| 19 | Kyoto University | Japan | 94.9 |
| 19 | La Trobe University | Australia | 94.9 |
| 22 | RMIT University | Australia | 94.7 |
| 23 | University of Leicester | United Kingdom | 94.6 |
| 24 | King's College London | United Kingdom | 94.4 |
| 25 | University of Tasmania | Australia | 94.3 |
| 26 | University of Coimbra | Portugal | 94.1 |
| 27 | Fudan University | China | 94 |
| 27 | Yonsei University (Seoul campus) | South Korea | 94 |
| 29 | University of Edinburgh | United Kingdom | 93.9 |
| 30 | University of Newcastle | Australia | 93.8 |
| 31 | Aalborg University | Denmark | 93.6 |
| 31 | University of the Sunshine Coast | Australia | 93.6 |
| 33 | Michigan State University | United States | 93.4 |
| 33 | National Cheng Kung University (NCKU) | Taiwan | 93.4 |
| 33 | York University | Canada | 93.4 |
| 36 | Université Laval | Canada | 93.3 |
| 37 | University of Bologna | Italy | 93.1 |
| 37 | McMaster University | Canada | 93.1 |
| 37 | National Taiwan University (NTU) | Taiwan | 93.1 |
| 37 | University of Sussex | United Kingdom | 93.1 |
| 41 | Amrita Vishwa Vidyapeetham | India | 93 |
| 42 | Bournemouth University | United Kingdom | 92.9 |
| 42 | University of Calgary | Canada | 92.9 |
| 42 | University of Exeter | United Kingdom | 92.9 |
| 42 | KTH Royal Institute of Technology | Sweden | 92.9 |
| 42 | Monash University | Australia | 92.9 |
| 47 | University of East Anglia | United Kingdom | 92.7 |
| 47 | University of Galway | Ireland | 92.7 |
| 47 | Penn State (Main campus) | United States | 92.7 |
| 50 | University of Canterbury | New Zealand | 92.6 |
| 50 | National Autonomous University of Mexico | Mexico | 92.6 |
| 52 | The University of Sydney | Australia | 92.2 |
| 53 | Bangor University | United Kingdom | 92 |
| 53 | University of Waterloo | Canada | 92 |
| 55 | University of Surrey | United Kingdom | 91.9 |
| 55 | UNSW Sydney | Australia | 91.9 |
| 57 | University of Canberra | Australia | 91.7 |
| 58 | Brunel University London | United Kingdom | 91.6 |
| 58 | University of Saskatchewan | Canada | 91.6 |
| 60 | Auckland University of Technology | New Zealand | 91.5 |
| 61 | University of Otago | New Zealand | 91.3 |
| 62 | University of São Paulo | Brazil | 91.2 |
| 62 | University College Cork | Ireland | 91.2 |
| 63 | Oklahoma State University | United States | 91.1 |
| 64 | Lakehead University | Canada | 91 |
| 65 | Wageningen University & Research | Netherlands | 90.9 |
| 66 | Massey University | New Zealand | 90.8 |
| 67 | Aswan University | Egypt | 90.7 |
| 67 | Charles Sturt University | Australia | 90.7 |
| 69 | University of Johannesburg | South Africa | 90.5 |
| 70 | Chiang Mai University | Thailand | 90.4 |
| 70 | Glasgow Caledonian University | United Kingdom | 90.4 |
| 70 | University of Plymouth | United Kingdom | 90.4 |
| 70 | University of Wollongong | Australia | 90.4 |
| 74 | Kyung Hee University | South Korea | 90.2 |
| 74 | Lovely Professional University | India | 90.2 |
| 76 | University of Essex | United Kingdom | 90.1 |
| 76 | University of Padua | Italy | 90.1 |
| 78 | University of Trás-os-Montes and Alto Douro | Portugal | 89.9 |
| 79 | Macquarie University | Australia | 89.7 |
| 79 | Victoria University | Australia | 89.7 |
| 81 | University of HullUnited Kingdom | United Kingdom | 89.5 |
| 81 | University of Montreal | Canada | 89.5 |
| 83 | Central Queensland University | Australia | 89.4 |
| 83 | University of Waikato | New Zealand | 89.4 |
| 85 | Queen's University Belfast | United Kingdom | 89.3 |
| 85 | Victoria University of Wellington | New Zealand | 89.3 |
| 87 | Universitas Gadjah Mada | Indonesia | 89.2 |
| 88 | Dublin City University | Ireland | 89.1 |
| 88 | University of Liverpool | United Kingdom | 89.1 |
| 90 | London South Bank University | United Kingdom | 89 |
| 90 | University of Toronto | Canada | 89 |
| 92 | Griffith University | Australia | 88.9 |
| 92 | Hanyang University | South Korea | 88.9 |
| 92 | University of Southern Denmark | Denmark | 88.9 |
| 95 | Jeonbuk National University | South Korea | 88.8 |
| 96 | Concordia University | Canada | 88.7 |
| 96 | New Jersey Institute of Technology | United States | 88.7 |
| 98 | Politecnico di Milano | Italy | 88.6 |
| 98 | University of South Florida | United States | 88.6 |