Countries Contributing The Most Troops To UN Peacekeeping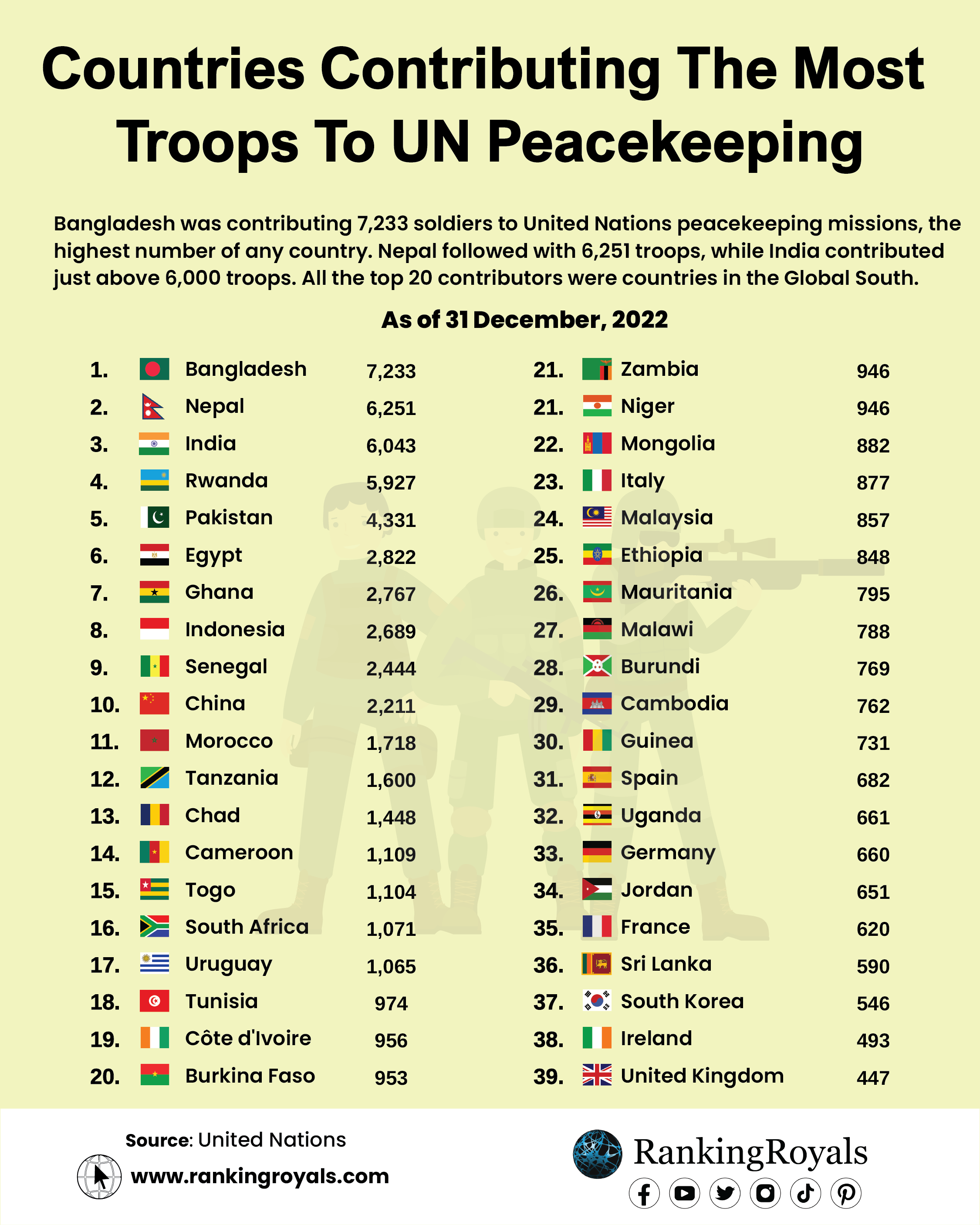 UN Peacekeepers, whose official name is United Nations Peacekeeping Forces, are very important to keeping peace and security in places with conflicts around the world. They are military, police, and civilian people from other countries who are sent by the United Nations to places where there are or could be armed wars. Under orders from the UN Security Council, peacekeepers try to stop violence from starting, getting worse, or starting up again while encouraging conversation, diplomacy, and mediation between the warring parties. 
Their responsibilities include:
Protecting civilians.

Keeping an eye on human rights.

Supporting government processes.

Helping people get rid of their weapons.

Promoting peace.
With their distinctive light blue helmets, UN Peacekeepers represent the international community's dedication to peace. They often work in difficult and dangerous places to promote stability and help build peace for the long term. 
Facts about UN Peacekeepers:
To maintain peace and security in conflict zones, the United Nations deploys peacekeepers.

Throughout the years, certain nations have consistently contributed to peacekeeping. For instance, Bangladesh has been a prominent contributor to UN Peacekeeping since its inception.

They are known as "Blue headgear" due to their distinctive light blue headgear.

Multiple nations contribute military, police, and civilian personnel to peacekeeping missions.

Bangladesh, Nepal, India, Rwanda, and India are the primary contributors of military and police personnel to UN Peacekeeping missions.

Since 1948, there have been 71 UN Peacekeeping Field Missions. 

Approximately 81,820 personnel serve in thirteen peace operations led by UNDPO on four continents.  

Protecting civilians, promoting human rights, and supporting political processes are the duties of UN peacekeepers.

They contribute to disarmament, demobilization, and reintegration initiatives to prevent the resurgence of violence.

Peacekeepers monitor and report on human rights violations, such as violence against women and child recruitment.

To ensure the welfare of civilians in affected regions, they conduct mine clearance operations.

The UN Security Council issues directives for UN peacekeeping missions.

As part of their duties, peacekeepers frequently encounter dangers and make sacrifices.
History of UN peacekeeping:
In 1948, the United Nations Peacekeeping Operations began when the Security Council authorized the deployment of UN Military Observers to monitor and sustain the ceasefire during the 1948 Arab-Israeli War. UNTSO (United Nations Truce Supervision Organization) is the designation of the operation. Since then, the United Nations has deployed 57 missions worldwide, 14 still active. Millions of military personnel, including UN police and other civilians, from over 120 countries participated in UN peacekeeping operations by this point.
In the early days of the UN (United Nations), missions consisted primarily of unarmed military observers and lightly armed forces tasked with monitoring, reporting, and establishing trust. Peacekeeping consisted mainly of maintaining ceasefires and stabilizing situations, providing critical support for peaceful political initiatives to resolve conflict. First UN Emergency Force (UNEF) was the first armed peacekeeping operation, deployed in 1956 to resolve the Suez Crisis. The United Nations established short-term missions in the Dominican Republic, West New Guinea (West Iran), and Yemen in the 1960s and 1970s. Later, the United Nations initiated longer-term deployments in Lebanon, the Middle East, and Cyprus. The United Nations Charter was designed to address disputes between sovereign states or interstate conflicts. In the time following the end of the cold war, intrastate conflict was more prevalent in Peace Support Operations. In 1988, the Nobel Peace Prize was awarded to United Nations peacekeepers.
The following are the top 5 Countries Contributing The Most Troops To UN Peacekeeping:
Bangladesh (7,233)
Bangladesh's position as one of the leading personnel contributors to UN peacekeeping. According to the United Nations, Bangladesh had approximately 7,233 military personnel serving in numerous peacekeeping missions around the globe.
Bangladesh's journey to the UN peacekeeping operation began in 1988 when it sent 15 military observers to the UN Iran-Iraq Military Observer Group (UNIIMOG) action. Then Bangladesh's long and vital history starts. First, Bangladesh's peacekeeping force did an excellent job in UN peacekeeping missions in the following years.
Everyone who saw the bravery and skill of the Bangladeshi troops was amazed. The American soldiers demanded that the Bangladeshi soldiers stay with them until the last Bangladeshi soldier had left Somalia and the peacekeeping mission was over. The Bangladeshis became more critical in Somalia by winning the people's hearts there. The Bangladesh Army's best asset in its UN duty is the respect and love of the local people.
The UN has been amazed by how knowledgeable Bangladeshis are in every area. Bangladeshi peacekeepers are now essential to any military leader because of how responsible they are, how well their organization works, and how well they fight. The skill and bravery of the Bangladeshi arm forces leaders amazed and excited the European-American generals. When the French Battalion left Bosnia in 1995, the only action in Europe to keep the peace was taken over by Bangladeshi troops.
The Bangladesh Battalion had to show how good it was at keeping the peace while competing against the armed forces of 34 other countries. Everyone thought soldiers from a growing country like Bangladesh could not do the same jobs as the French army.
Nepal (6,251)
Nepal is the second-largest contributor of troops to the United Nations, with personnel serving in 12 different peacekeeping missions around the globe. In 1958, the national army's peacekeeping operation began with the deployment of five military observers as part of the United Nations Observer Group mission in Lebanon. In 1955, Nepal entered the UN.
The Nepal Army has participated in 44 United Nations peacekeeping missions across the globe, losing 71 soldiers and injuring 68 others in the process. Yemen, Libya, Iraq, the Central African Republic, Syria, Mali, Lebanon, Israel, Western Sahara, South Sudan, and Congo are among the ongoing missions of the Nepal Army. According to Chief of Army Staff (COAS) Purna Chandra Thapa, the Nepal Army will provide 10,000 peacekeepers to the United Nations if the international organization requests them.
India(6,043)
India has been a part of UN Peacekeeping for a long time and has sent more people than any other country. Since 1948, more than 2.53 million Indians have worked in 49 of the 71 UN Peacekeeping missions set up worldwide.
India first contributed to maintaining peace during the Korean War, one of the UN's most successful missions. The UN Multinational Force (MNF) comprised troops from 16 different countries. General (Gen) Douglas MacArthur led it. From November 1950 to July 1954, India gave the MNF 60 Para Field Ambulances to help get sick and injured people out of the country. This was the longest time any unit under the UN flag served.
About 5,500 Indian soldiers and cops are currently serving in UN Peacekeeping missions. This is the fifth most of any country that sends troops.
India has also sent well-known Force Commanders to lead UN missions. I was also proud to have sent two Military Advisors. In addition, India was the first country to send a group of all-women to a UN Peacekeeping Mission in 2007.
The Formed Police Unit in Liberia had guard duty 24 hours a day and did night checks in Monrovia's capital. They also helped the Liberian police get stronger.
Rwanda (5,927)
Rwanda has been active in UN peacekeeping missions and has made important contributions to international efforts to keep peace. Rwanda is a UN peacekeeper because it has been through its conflicts and wants to help keep the world safe and peaceful.
Rwandan peacekeepers have been sent to many UN missions, mostly in Africa, where they have been very important in keeping the peace, protecting people, and helping to rebuild after a war. People have praised Rwandan troops for their skill, discipline, and ability to work well in tough situations.
Rwanda has sent peacekeepers to places like Sudan, South Sudan, the Central African Republic, Mali, and Darfur as part of UN efforts to keep the peace. Rwandan soldiers have done things like providing security, going on patrols, helping with humanitarian efforts, making political processes easier, and helping combatants give up their weapons and leave the area.
Pakistan (4,331)
Pakistan's involvement with UN Peacekeeping activities began in 1960 when it sent its first-ever group to the United Nations activities in Congo (ONUC). Pakistan has been the most important and constant contributor to UN peacekeeping worldwide for the past 55 years. 
Pakistan has taken part in 41 UN Peacekeeping Missions, some of which were very hard. So far, 144 Pakistani peacekeepers, including 23 officers, have given their lives to help people, build peace, and bring security to different parts of the world. But unfortunately, about the same number of Pakistani soldiers have been hurt while working to make the world safer and more peaceful.
After the UN asked for help, Pakistani troops were the first to enter Somalia. On September 14, 1992, a group of Pakistanis went to Somalia to ensure relief flights could land at seaports and airports and that humanitarian goods could get through. When security troops from 24 other countries arrived, the mission's name was changed to UN International Task Force (UNITAF) and UNOSOM II.
There are currently men and women from Pakistan working in seven UN operations. Most are in the Democratic Republic of the Congo (DRC), the Darfur area of Sudan, and the Central African Republic (CAR).
Are the UN peacekeepers armed?
Yes, sometimes UN troops have arms. How well-armed UN peacekeepers are depends on the task they are on and the situation they are in. There are different rules about how and when force can be used in UN peacekeeping activities. These rules are called "mandates."
In some situations, UN peacekeepers may be allowed to use force, including guns, to protect people and defend themselves. Most of the time, this happens when soldiers work in places with a chance of armed conflict or violence. Whether or not to arm peacekeepers is made on a case-by-case basis, with each mission's unique needs considered.
When are un peacekeepers deployed?
UN Peacekeepers are sent to places where peace needs to be kept, civilians must be protected, and efforts to end a war need help. They are usually sent to areas with armed battles, immediate threats of violence, or where a conflict has just ended. Peacekeepers are often sent after a ceasefire deal or peace accord is signed to make sure it is followed and that fighting stops.
Here is a list of the Countries Contributing The Most Troops To UN Peacekeeping, according to the United Nations: 
| Rank | Country | Total |
| --- | --- | --- |
| 1 | Bangladesh | 7,233 |
| 2 | Nepal | 6,251 |
| 3 | India | 6,043 |
| 4 | Rwanda | 5,927 |
| 5 | Pakistan | 4,331 |
| 6 | Egypt | 2,822 |
| 7 | Ghana | 2,767 |
| 8 | Indonesia | 2,689 |
| 9 | Senegal | 2,444 |
| 10 | China | 2,211 |
| 11 | Morocco | 1,718 |
| 12 | Tanzania | 1,600 |
| 13 | Chad | 1,448 |
| 14 | Cameroon | 1,109 |
| 15 | Togo | 1,104 |
| 16 | South Africa | 1,071 |
| 17 | Uruguay | 1,065 |
| 18 | Tunisia | 974 |
| 19 | Côte d'Ivoire | 956 |
| 20 | Burkina Faso | 953 |
| 21 | Zambia | 946 |
| 22 | Niger | 946 |
| 23 | Mongolia | 882 |
| 24 | Italy | 877 |
| 25 | Malaysia | 857 |
| 26 | Ethiopia | 848 |
| 27 | Mauritania | 795 |
| 28 | Malawi | 788 |
| 29 | Burundi | 769 |
| 30 | Cambodia | 762 |
| 31 | Guinea | 731 |
| 32 | Spain | 682 |
| 33 | Uganda | 661 |
| 34 | Germany | 660 |
| 35 | Jordan | 651 |
| 36 | France | 620 |
| 37 | Sri Lanka | 590 |
| 38 | South Korea | 546 |
| 39 | Ireland | 493 |
| 40 | United Kingdom | 447 |
| 41 | Kenya | 439 |
| 42 | Benin | 367 |
| 43 | Fiji | 336 |
| 44 | Nigeria | 335 |
| 45 | Thailand | 301 |
| 46 | Argentina | 293 |
| 47 | Viet Nam | 271 |
| 48 | Serbia | 267 |
| 49 | El Salvador | 253 |
| 50 | Peru | 251 |
| 51 | Slovakia | 246 |
| 52 | Portugal | 246 |
| 53 | Bhutan | 211 |
| 54 | Poland | 206 |
| 55 | Finland | 197 |
| 56 | Congo | 192 |
| 57 | Turkey | 192 |
| 58 | Sweden | 190 |
| 59 | Austria | 183 |
| 60 | Guatemala | 178 |
| 61 | Liberia | 174 |
| 62 | Greece | 113 |
| 63 | Russia | 87 |
| 64 | Gambia | 84 |
| 65 | Brazil | 81 |
| 66 | Zimbabwe | 66 |
| 67 | Sierra Leone | 62 |
| 68 | Canada | 58 |
| 69 | Mali | 55 |
| 70 | Romania | 54 |
| 71 | Djibouti | 49 |
| 72 | Lithuania | 46 |
| 73 | Norway | 43 |
| 74 | Paraguay | 41 |
| 75 | Hungary | 36 |
| 76 | Netherlands | 35 |
| 77 | United States | 34 |
| 78 | Switzerland | 33 |
| 79 | Armenia | 32 |
| 80 | Brunei Darussalam | 30 |
| 81 | Philippines | 28 |
| 82 | Bolivia | 28 |
| 83 | Australia | 25 |
| 84 | Mexico | 23 |
| 85 | Bosnia and Herzegovina | 19 |
| 86 | Kazakhstan | 19 |
| 87 | Honduras | 17 |
| 88 | Czech Republic | 17 |
| 89 | Chile | 16 |
| 90 | Croatia | 15 |
| 91 | Denmark | 14 |
| 92 | Republic of Moldova | 13 |
| 93 | Namibia | 12 |
| 94 | Ecuador | 11 |
| 95 | New Zealand | 10 |
| 96 | Malta | 9 |
| 97 | Dominican Republic | 7 |
| 98 | Kyrgyzstan | 6 |
| 99 | Kiribati | 5 |
| 100 | Madagascar | 5 |
| 101 | Belarus | 5 |
| 102 | Estonia | 5 |
| 103 | Belgium | 5 |
| 104 | Tajikistan | 5 |
| 105 | Slovenia | 5 |
| 106 | Colombia | 5 |
| 107 | Japan | 4 |
| 108 | Montenegro | 4 |
| 109 | Nauru | 3 |
| 110 | Botswana | 3 |
| 111 | North Macedonia | 3 |
| 112 | Albania | 2 |
| 113 | Cyprus | 2 |
| 114 | Iran | 2 |
| 115 | Algeria | 2 |
| 116 | Papua New Guinea | 2 |
| 117 | Azerbaijan | 2 |
| 118 | Luxembourg | 2 |
| 119 | Angola | 2 |
| 120 | Gabon | 2 |
| 121 | Sao Tome and Principe | 1 |
| 122 | Latvia | 1 |
| 123 | Qatar | 1 |