Countries with the Highest Smoking Rates (Top 163 Countries)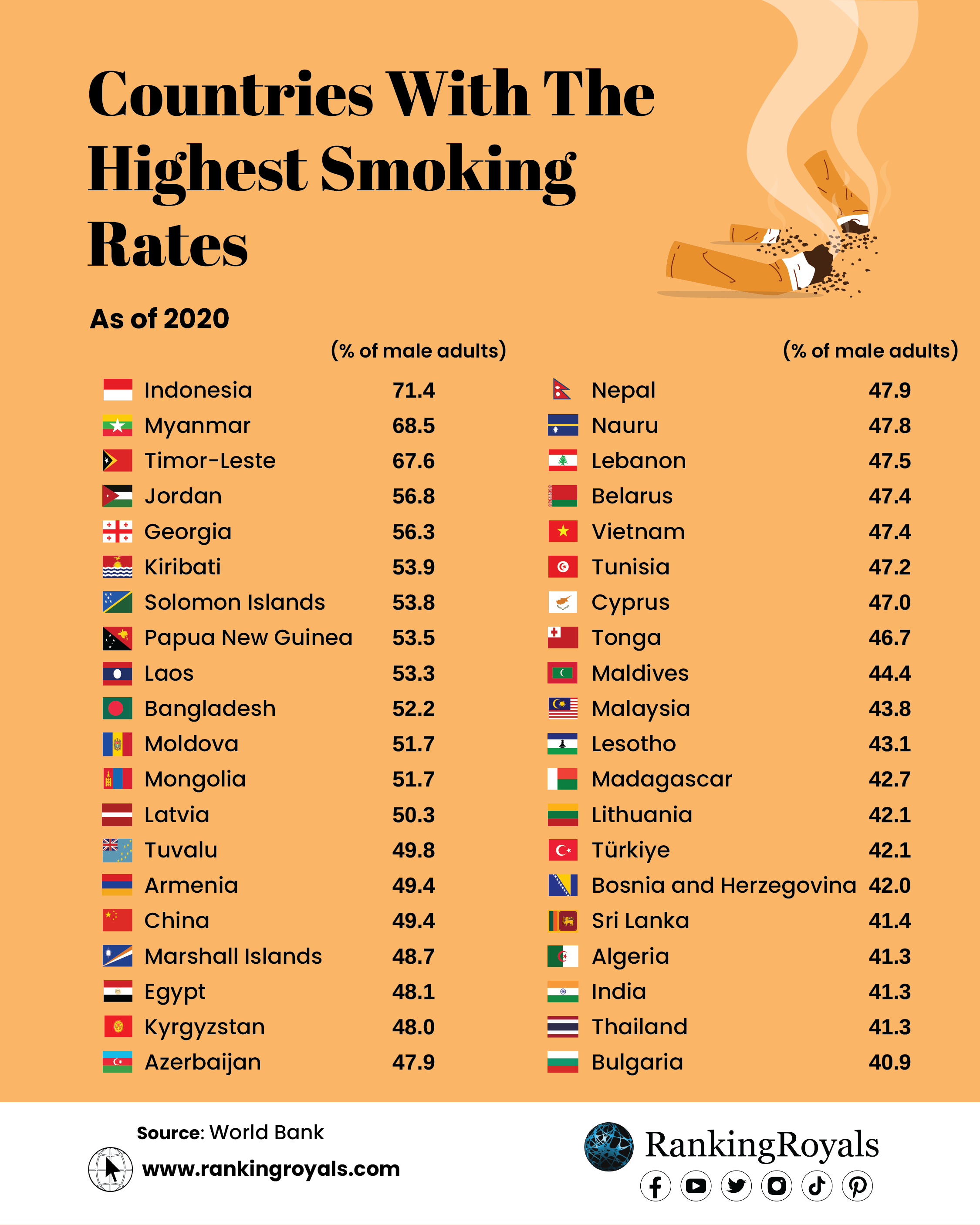 Smoking rates refer to the prevalence of individuals who smoke tobacco products within a given population. It is an important metric used to assess the extent of tobacco use and its impact on public health. However, smoking rates vary widely between countries, regions, and demographic groups, influenced by cultural, socioeconomic, and behavioral factors.
High smoking rates pose significant health risks and contribute to various diseases, including lung cancer, heart disease, respiratory disorders, and other health complications. Additionally, smoking has economic implications, such as increased healthcare costs and reduced productivity, burdening people, families, and society.
Governments, public health organizations, and anti-smoking advocacy groups have implemented various strategies to combat high smoking rates. These include implementing tobacco control policies, raising awareness about the health risks of smoking, promoting tobacco cessation programs, and advocating for stricter regulations on tobacco products.
Facts About Smoking Rates by Country
Globally, 1.8 billion individuals smoke, with 84% of smokers residing in developing nations.

Globally, tobacco use is the leading cause of preventable disease and premature mortality. 

Several varieties of cancer, including lung cancer, heart disease, stroke, and respiratory disorders, are associated with smoking.

About 90% (or nine out of ten) of all lung cancer fatalities are caused by smoking.

According to the WHO, tobacco is one of the greatest global health hazards, killing over eight million people annually.

In the US, cigarette smoking causes more than 480,000 fatalities annually.

The majority of daily smokers have smoked for at least ten years.

It can be hard for a woman to get pregnant if she smokes. It may harm her baby's health before and after it is born.

Secondhand smoke, exhaled by smokers or produced by the burning of tobacco, harms nonsmokers and can increase their risk of developing respiratory issues and other health problems.

In addition, smoking increases the mortality risk from cancer and other diseases for cancer patients and survivors.
1. Indonesia (71.4% Male Adults)  
Indonesia has the highest smoking rates worldwide, with many people, especially men, using tobacco. 33.8% of Indonesian people (age 15 and up) use tobacco. Nearly two-thirds of men do so (62.9% of men and 4.8% of women). 
Several things add to the fact that so many people in Indonesia smoke. First, smoking is deeply accepted in culture and is often seen as a social habit linked to being a man and having fun. Cigarettes are easy to get and not too expensive. They are sold in small shops all over the land. In Indonesia, clove-flavored cigarettes called kreteks are the most popular kind. About 95% of the cigarette market is made up of kreteks. 51.3% of people who work indoors are exposed to secondhand smoke. 85.4% are exposed to restaurants, and 70% are exposed to public transit.
The tobacco business has a lot of power because it uses aggressive marketing to reach different groups of people. Also, Indonesia's tobacco control laws are not as strong as those in other countries, so there are not as many rules about package ads and warnings. All of these things add to the high number of people who smoke and make it hard to stop the tobacco epidemic in Indonesia.
 2. Myanmar (68.5% Male Adults)  
Myanmar, also known as Burma, has a significant smoking prevalence, especially among men. Several factors influence Myanmar's prevalence of smoking. Tobacco consumption is frequently linked to social interactions, ceremonies, and traditional beliefs. 
Approximately 1,6 million Southeast Asians die annually from tobacco-related illnesses. Currently, Myanmar has the greatest prevalence of tobacco use in the region. In Myanmar, approximately 80% of males use tobacco. Each year, more than 65,600 Americans perish from tobacco-related illnesses. Despite this danger, over 5 million adults in Myanmar continue to use tobacco daily.
The absence of tobacco regulation in Myanmar exposes millions of individuals to secondary smoke. At present, 13,3 million smokers and people exposed to secondary smoke are at risk for developing tobacco-related diseases such as CVD (cerebrovascular disease). CVDs are one of the most prevalent methods in which tobacco takes lives. They account for 32% of all deaths in the country, making them the primary cause.
The affordability and availability of cigarettes play a significant role, as tobacco products are relatively affordable and easily accessible. In addition, Myanmar has few tobacco control measures and lax enforcement of existing regulations. This includes minimal restrictions on tobacco advertising, the absence of pictorial warning labels on cigarette packs, and inadequate public education regarding the health dangers of smoking.
3. Timor-Leste (67.6% Male Adults)
Timor-Leste, a small nation in Southeast Asia, has a high smoking prevalence, especially among males. In 2020, 67.6% of adult men in Timor-Leste were smokers. In recent years, the number of adult men who smoke in Timor-Leste has changed a lot, but between 2010 and 2020, it has tended to go down, hitting 67.6% in 2020.
Multiple factors contribute to the smoking prevalence in Timor-Leste. First, smoking is deeply ingrained in the nation's social fabric, with cultural and traditional practices frequently associated with tobacco use. In addition, low tobacco prices, simple access to cigarettes, and limited tobacco control regulations contribute to smoking prevalence. 
Timor-Leste confronts obstacles regarding public health infrastructure and awareness programs to address smoking-related issues effectively. In addition, the absence of comprehensive tobacco control policies, such as restrictions on tobacco advertising, health warnings on cigarette packets, and limited smoking cessation programs, contributes further to the high smoking rates.
4. Jordan (56.8% Male Adults)  
Jordan has one of the highest smoking rates in the Middle East, with many people, especially men, smoking. The high number of people who smoke in Jordan is caused by more than one thing. First, smoking is a big part of the country's culture. It is often seen as a social habit and a sign of manliness. 
A government study done in 2019 with the help of the World Health Organization found that more than eight out of ten Jordanian men smoke or regularly use nicotine products, such as e-cigarettes. The survey found that Jordanian guys who smoke daily smoke an average of 23 cigarettes daily.
People often see smoking as a way to make friends, relax, and deal with worry. Also, cigarettes and other tobacco goods are easy for most people to get their hands on because they are common and cheap. The tobacco business also helps promote and sell its products, which affects how people smoke.
5. Georgia (56.3% Male Adults)
Georgia, a Caucasus nation, is ravaged by excessive smoking rates, particularly among males. Numerous factors contribute to the smoking prevalence in Georgia. First, tobacco use is profoundly ingrained in the social and cultural fabric of the nation, with a lengthy history of tobacco use. Generally, tobacco use is associated with hospitality, sociability, and traditional practices. Moreover, cigarettes are readily available and reasonably priced, making them accessible to a substantial portion of the population. 
More than 1.5 million adults in Georgia consume cigarettes. An additional 317 thousand adults in Georgia use smokeless tobacco, for example, chewing tobacco, snuff, or snus. And recent data indicates that teen and young adult tobacco use is increasing in Georgia, placing more lives at risk for cancer. In addition, smoking costs Georgians $1.8 billion in direct medical expenses annually and $3.2 billion in lost productivity.
Regarding tobacco control measures and enforcement of existing regulations, Georgia also needs help. For example, although efforts have been made to implement smoke-free policies and health warnings on cigarette packaging, enforcement and compliance still need to be improved. 
How does smoking affect your heart rate?
When you smoke, your heart rate changes in a big way. When someone smokes, chemicals in the tobacco, like nicotine, get into the bloodstream and affect the heart and blood vessels. Nicotine is a stimulant, which means it makes the heart beat faster and speeds up the heart rate. This is because nicotine causes the body to release adrenaline, which sets off the "fight or flight" reaction. 
When the heart rate goes up, it puts more stress on the heart and makes it work harder to pump blood all over the body. So over time, smoking can cause your heart rate to stay high all the time, which can lead to heart problems like high blood pressure, heart disease, and a higher chance of having a heart attack or stroke.
What is the smoking rate in the USA?
Male adults in the United States have a smoking rate of 28.4%. Historically, its smoking rates have been high but have consistently declined over time. Several factors have contributed to the historically high smoking rates. Initially, the tobacco industry utilized aggressive marketing campaigns, product placement in popular media, and targeted advertising to promote and glamourize tobacco use. In addition, social norms and cultural acceptance of smoking played a role, as smoking was frequently viewed as a social activity or a method of tension relief.
Smoking may lead to cancer in nearly every part of the body:
Esophagus

Kidney and ureter

Liver

Bladder

Blood (acute myeloid leukemia)

Larynx

Colon and rectum (colorectal)

Cervix
The following is the list of countries with the Highest Smoking Rates in the world, according to the world bank:
| Rank | Country | (% of Male Adults) |
| --- | --- | --- |
| 1 | Indonesia | 71.4 |
| 2 | Myanmar | 68.5 |
| 3 | Timor-Leste | 67.6 |
| 4 | Jordan | 56.8 |
| 5 | Georgia | 56.3 |
| 6 | Kiribati | 53.9 |
| 7 | Solomon Islands | 53.8 |
| 8 | Papua New Guinea | 53.5 |
| 9 | Laos | 53.3 |
| 10 | Bangladesh | 52.2 |
| 11 | Moldova | 51.7 |
| 12 | Mongolia | 51.7 |
| 13 | Latvia | 50.3 |
| 14 | Tuvalu | 49.8 |
| 15 | Armenia | 49.4 |
| 16 | China | 49.4 |
| 17 | Marshall Islands | 48.7 |
| 18 | Egypt | 48.1 |
| 19 | Kyrgyzstan | 48.0 |
| 20 | Azerbaijan | 47.9 |
| 21 | Nepal | 47.9 |
| 22 | Nauru | 47.8 |
| 23 | Lebanon | 47.5 |
| 24 | Belarus | 47.4 |
| 25 | Vietnam | 47.4 |
| 26 | Tunisia | 47.2 |
| 27 | Cyprus | 47.0 |
| 28 | Tonga | 46.7 |
| 29 | Maldives | 44.4 |
| 30 | Malaysia | 43.8 |
| 31 | Lesotho | 43.1 |
| 32 | Madagascar | 42.7 |
| 33 | Lithuania | 42.1 |
| 34 | Turkiye | 42.1 |
| 35 | Bosnia and Herzegovina | 42.0 |
| 36 | Sri Lanka | 41.4 |
| 37 | Algeria | 41.3 |
| 38 | India | 41.3 |
| 39 | Thailand | 41.3 |
| 40 | Bulgaria | 40.9 |
| 41 | Russia | 40.8 |
| 42 | Serbia | 40.5 |
| 43 | Ukraine | 40.0 |
| 44 | Kazakhstan | 39.6 |
| 45 | Afghanistan | 39.4 |
| 46 | Philippines | 39.3 |
| 47 | Albania | 38.8 |
| 48 | Arab World | 38.1 |
| 49 | Croatia | 37.6 |
| 50 | Slovak Republic | 37.4 |
| 51 | World | 37.3 |
| 52 | Mauritius | 37.3 |
| 53 | Greece | 36.5 |
| 54 | Estonia | 36.3 |
| 55 | Cambodia | 36.1 |
| 56 | Samoa | 36.1 |
| 57 | Romania | 35.9 |
| 58 | Hungary | 35.8 |
| 59 | South Korea | 35.7 |
| 60 | Fiji | 35.6 |
| 61 | Andorra | 35.3 |
| 62 | Iraq | 35.1 |
| 63 | Czechia | 35.0 |
| 64 | France | 34.9 |
| 65 | North Korea | 34.8 |
| 66 | Seychelles | 34.0 |
| 67 | South Africa | 34.0 |
| 68 | Uzbekistan | 34.0 |
| 69 | Kuwait | 33.5 |
| 70 | Pakistan | 33.0 |
| 71 | Vanuatu | 33.0 |
| 72 | Yemen | 32.5 |
| 73 | Chile | 31.6 |
| 74 | Montenegro | 31.6 |
| 75 | Portugal | 30.5 |
| 76 | Botswana | 30.4 |
| 77 | Japan | 30.1 |
| 78 | Brunei Darussalam | 30.0 |
| 79 | Sweden | 29.8 |
| 80 | Argentina | 29.4 |
| 81 | Israel | 28.9 |
| 82 | Spain | 28.6 |
| 83 | United States | 28.4 |
| 84 | Morocco | 28.2 |
| 85 | Switzerland | 28.1 |
| 86 | Singapore | 28.0 |
| 87 | Poland | 27.9 |
| 88 | Austria | 27.7 |
| 89 | Palau | 27.3 |
| 90 | Finland | 26.9 |
| 91 | Congo | 26.8 |
| 92 | Italy | 26.6 |
| 93 | Saudi Arabia | 26.5 |
| 94 | Malta | 26.4 |
| 95 | Belgium | 25.8 |
| 96 | Cuba | 25.5 |
| 97 | Bahrain | 25.3 |
| 98 | Zambia | 25.1 |
| 99 | Netherlands | 24.4 |
| 100 | Slovenia | 24.4 |
| 101 | Uruguay | 24.4 |
| 102 | Namibia | 24.2 |
| 103 | Germany | 24.1 |
| 104 | Iran | 24.1 |
| 105 | Mozambique | 23.0 |
| 106 | DR Congo | 22.7 |
| 107 | Ireland | 22.5 |
| 108 | Luxembourg | 22.4 |
| 109 | Burkina Faso | 22.1 |
| 110 | Zimbabwe | 21.8 |
| 111 | Guyana | 21.7 |
| 112 | Qatar | 21.7 |
| 113 | Gambia | 21.4 |
| 114 | Bolivia | 20.5 |
| 115 | Sierra Leone | 20.5 |
| 116 | Guatemala | 20.1 |
| 117 | Rwanda | 20.1 |
| 118 | Mexico | 19.9 |
| 119 | Kenya | 19.5 |
| 120 | Mauritania | 19.3 |
| 121 | Bahamas | 18.8 |
| 122 | Paraguay | 18.6 |
| 123 | Ecuador | 18.4 |
| 124 | Denmark | 17.8 |
| 125 | Malawi | 17.5 |
| 126 | Burundi | 17.4 |
| 127 | Cabo Verde | 17.3 |
| 128 | United Kingdom | 17.3 |
| 129 | Guinea-Bissau | 17.0 |
| 130 | Norway | 17.0 |
| 131 | Eswatini | 16.5 |
| 132 | Brazil | 16.2 |
| 133 | Australia | 15.6 |
| 134 | Mali | 15.6 |
| 135 | Oman | 15.5 |
| 136 | Canada | 15.3 |
| 137 | Belize | 15.1 |
| 138 | Barbados | 15.0 |
| 139 | Jamaica | 15.0 |
| 140 | New Zealand | 15.0 |
| 141 | Eritrea | 14.7 |
| 142 | Dominican Republic | 14.6 |
| 143 | Liberia | 14.3 |
| 144 | El Salvador | 14.1 |
| 145 | Tanzania | 14.0 |
| 146 | Chad | 13.8 |
| 147 | Niger | 13.7 |
| 148 | Cameroon | 13.2 |
| 149 | Peru | 13.2 |
| 150 | Senegal | 13.1 |
| 151 | Uganda | 13.0 |
| 152 | Costa Rica | 12.9 |
| 153 | Colombia | 12.4 |
| 154 | Togo | 12.3 |
| 155 | Haiti | 12.2 |
| 156 | Iceland | 11.9 |
| 157 | Benin | 11.8 |
| 158 | Turkmenistan | 10.6 |
| 159 | Sao Tome and Principe | 10.1 |
| 160 | Ethiopia | 8.8 |
| 161 | Panama | 7.7 |
| 162 | Nigeria | 6.9 |
| 163 | Ghana | 6.6 |
Read More: Cities With The Best Health Care (Full List of Cities)