Countries with the Most Twitter Users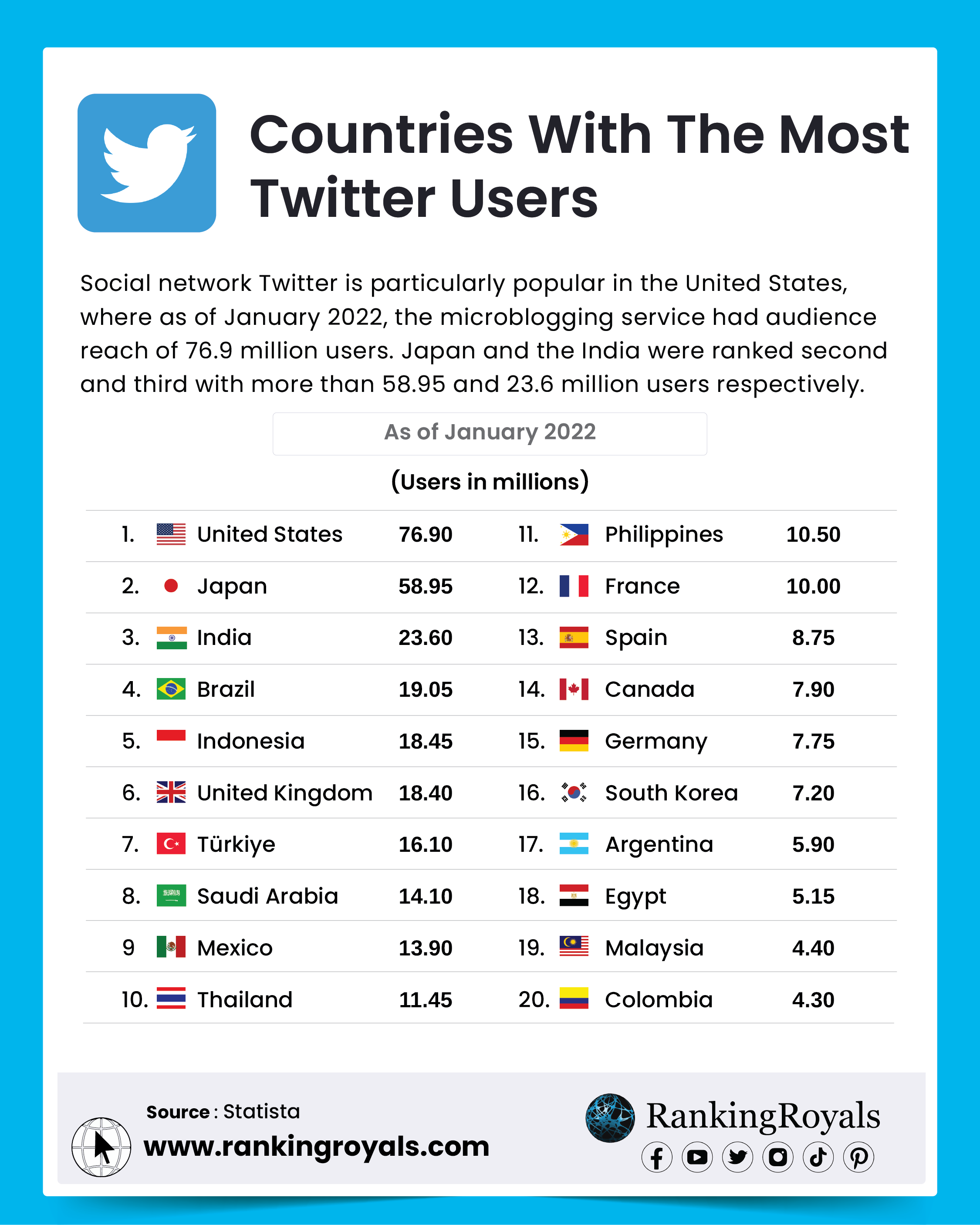 Twitter is one of the world's most popular social media site, with millions of users engaging daily on the Platform. Although Twitter's audience is spread around the world, it does not have a uniform distribution of users. Actually, the Platform's popularity varies widely from country to country. The ability to understand the distributed news of Twitter users within each country can provide invaluable information on how it is being utilised across parts of the world, as well as its possible use for a wide variety of purposes like promotion, public policy campaigns or SocialActivism. We'll take a look at the most important countries that use Twitter and examine some of the factors that could help them become popular on this Platform.
Facts about Twitter users:
Twitter's monthly active users amount to 556 million as of January 2023.

Every day, about 500 million Tweets are sent, which leads to over 200 billion tweets per year.

Twitter Ranks as the 14th Most Popular Social Network

Of the 92% of Tweets, 10% of Twitter users are responsible.

48% of Users Turn to Twitter to Get the Latest News.

Elon Musk Bought Twitter for $44 Billion On October 28, 2022.

Adults in the United States spend six minutes on Twitter on average every day.

Young people aged 25 to 34 are the most used age group worldwide on Twitter.

Twitter is Mostly Male-Dominated, Making Up 70.4% of Their User Base.
What are some changes Elon Musk made on Twitter?
Job cuts

Executive clearout

Changes to verification

Silver and gold ticks

Blocking alternative ways to View Twitter

Curation

Controversial accounts reinstated

Content moderation and account reinstatement plans

Charging for video content

Placating advertisers
What are the latest features on Twitter?
Twitter has introduced several new features recently. Some of the latest features include a decluttered UI with a sidebar menu for easier navigation, real-time reply, retweet, and like counts, and the ability to share videos, images, and GIFs all in the same tweet. In addition, swiping on a video in your Twitter feed will display more related content. Another highly anticipated feature that was introduced is the Edit Tweet feature.
The following are the top 10 countries with the most Twitter users as of January 2022:
1. United States
With an estimated 76.9 million users, the U.S. has the largest user base on Twitter in the world. In the US, Twitter has also become one of the most rapidly expanding social media platforms.
Twitter users are statistically younger, wealthier, and more politically liberal than the general population in the United States. According to Pew, they also have a much better education than US adults at large: 42 per cent of the users in the sample hold some college degree, compared with 31 per cent overall.
2. Japan
Japan is one of the world's strongest markets for Twitter. Twitter is the second most widely used Social Media Platform after LINE in Japan, with over 58.95 million users, which is 52.3% of the total population.
3. India
India is ranked as the third most Twitter users worldwide. There are 23.6 million Twitter users in India. 
4. Brazil
Brazil is the world's 5th largest social media market and by far the biggest in South America. The social networking audience is set to increase from 165 million users in 2022 to 188 million by 2027, as more than two third of its population has access to social media platforms.
Brazil had the most Twitter users in Latin America, focusing a total of 19.05 million users on the social media platform. Between 2023 and 2027, it was estimated that the number of Twitter users in Brazil would continue to grow at a yearly rate of 2.2 million (+11.01 per cent). This forecast estimates that the number of Twitter users will increase to 22.15 million by 2027 for the 4 th year in a row. Notably, the number of Twitter users was continuously growing over the past years.
Distribution of Twitter Users in Brazil by age group
Age(18-29)—34%

Age(30-39)—30%

Age(40-49)—21%

Age(50+)—15%
5. Indonesia
The number of Twitter users in Indonesia reached 18.45 million in 2022, which is equivalent to 4.23% of the total Twitter users worldwide, which reached 436 million. This is an increase of 31.3% compared to the previous year, which had 14.05 million users. Indonesia ranks below Brazil, which has 19.05 million Twitter users, while the United States ranks first with 76.9 million Twitter users.
6. United Kingdom
As of January 2022, the overall number of Twitter users in the United Kingdom was 18,4 million. In the survey, 43% of participants indicated that they had used Twitter at least once every day, while 19% claimed to be accessing it on a daily basis. The average time adult users spent on Twitter was a little over 4 minutes in the UK.
In 2020, the Twitter penetration rate among internet users in the UK was 45%. In the United Kingdom, approximately 25 to 34-year-olds make up the primary age group of Twitter users. Men and women accounted for 58.5% and 41.5% of Twitter users, respectively.
7. Turkiye
At the beginning of 2022, there were 16.10 million Twitter users in Turkey. This implies that at the time, on average, Twitter Advertising Reach in Turkey amounted to 18.9 per cent of the total population.
8. Saudi Arabia
Saudi Arabia had 14.10 million users on Twitter in early 2022. That means that at the time, in Saudi Arabia, Twitter had an advertising audience of 39.6 per cent of the population.
9. Mexico
In Mexico, Twitter, at the beginning of 2022, with 13.90 million users. This meant that at the time, Twitter had reached 10.6 per cent of Mexico's population with its advertising.
10. Thailand
There were 11.45 million Twitter users in Thailand at the beginning of 2022. This shows that at the time, Twitter had an ad reach in Thailand of 16.4 per cent of the Thai population.
Twitter FAQ
1. How many Americans use Twitter as an information source?
According to the Pew Research Center, 12 percent of Americans are using it as a data source.
2. What is the number of brands that use Twitter for marketing?
In the case of major brands with more than 100 employees, 66 % are using Twitter for marketing purposes.
3. What's the number of mobile users on Twitter?
According to Google, 80% of Twitter's use comes from mobile devices.
4. How many Twitter users are in India?
There are 23.6 million Twitter users in India.
5. How much is contributed by the top 10% of Twitter users?
According to the Pew Research Center, the top 10% of tweeters in the US will contribute 92% of all tweets in 2020, up from 80% in 2018.
6. How many Twitter verified users?
Twitter has more than 420,000 verified accounts as of Q4 2022.
7. What is Twitter's blue tick?
A blue tick on Twitter means that the account has an active Twitter Blue subscription and meets its eligibility requirements. Anyone wishing to get the blue tick beside their name has to pay $84 (£67) a year.
8. What is the Twitter bird's name?
Larry The Bird is the bird that appears on Twitter's logo. A famous American sports personality Larry Bird, who was a basketball star in America, inspired the bird's name.
9. When did Elon Musk buy Twitter?
On April 14, 2022, Elon Musk began his acquisition of Twitter and closed it on October 27, 2022. In buying the social media service, he's closed a $44 billion deal.
Read More Top 10 Social Media Influencers 2023