Countries With The Most Volcanoes in 2023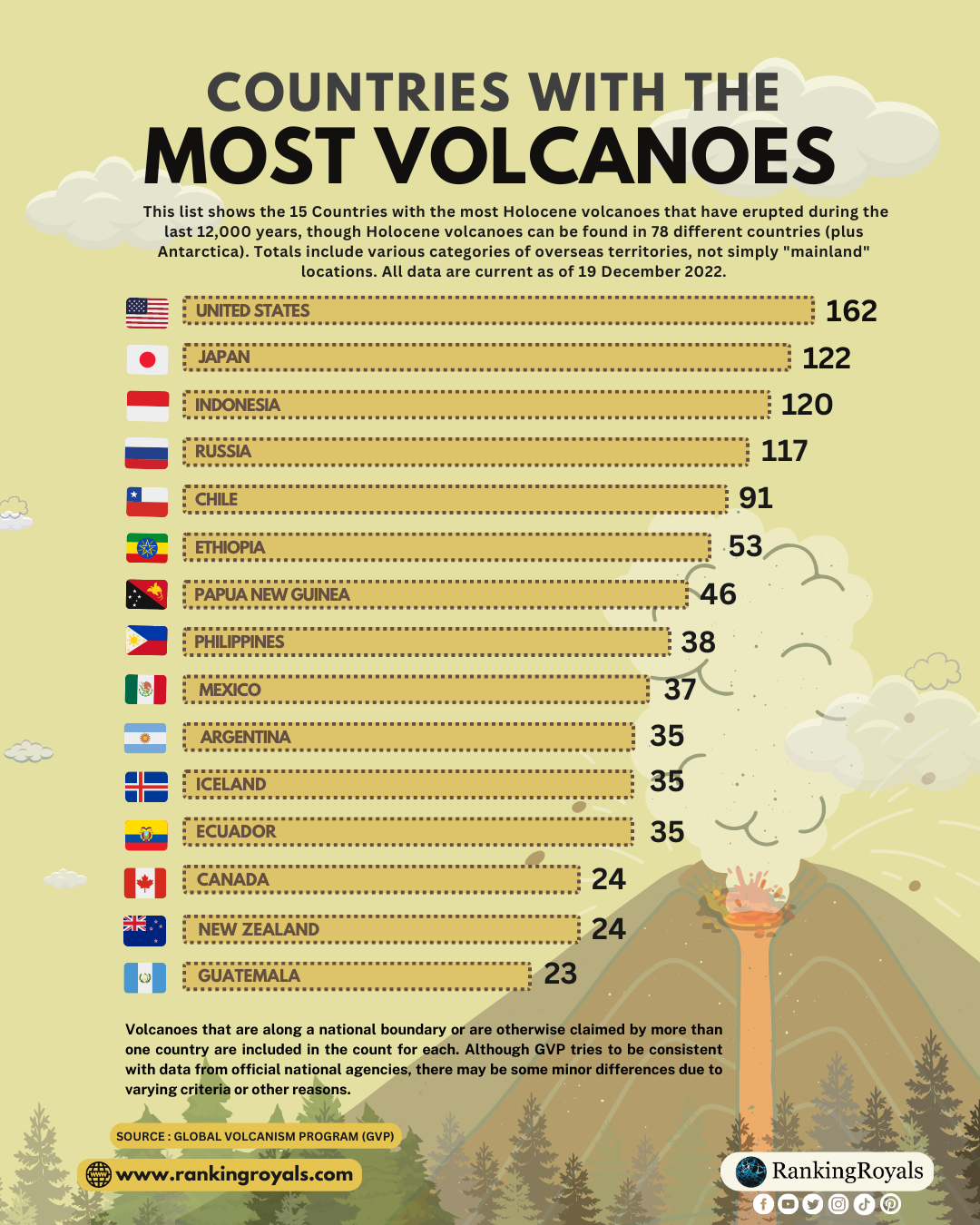 There have been about 1,500 volcanic eruptions in the last 11,500 years, the present geological epoch known as the Holocene period, as reported by the Global Volcanism Program.
These tend to occur in lines or clusters that follow the boundaries between different tectonic plates. It is deceptive to map the world's volcanoes according to country, as the same geological highway connects the vast majority.
1. United States (162)
When comparing countries with volcanoes, the United States ranks first. As may be seen, there are 162 currently active volcanoes throughout the country. Volcanic eruptions happen annually in Alaska, where most volcanoes are located. Colorado, Nevada, Arizona, New Mexico, Idaho, Utah, Hawaii, California, and Washington are among the states with the most active volcanoes in the United States, with Alaska. Kilauea, located in Hawaii, is the world's largest volcano and has been erupting continuously for the past 280,000 years.
2. Japan (122)
Japan is the second country with the most volcanoes, with 122. Japan contains approximately 10 percent of the world's active volcanoes. Most of Japan's mountains are volcanic, luring people from around the world with their beauty and charisma. Hokkaido, Chubu, Kanto, and Tohoku contain most of Japan's volcanoes. In addition, Mount Fuji is a well-known volcano in Japan.
3. Indonesia (120)
Experts estimate that more than 197 million Indonesians live within 100 kilometers of an active volcano, and another 9 million live within just 10 kilometers. Indonesia is home to a large number of volcanoes.
With only 121 Holocene volcanoes spread throughout nearly 17,000 islands, Indonesia lags behind Japan. The Indonesian volcano Krakatoa is one of the most well-known in the world and is now erupting. The stunning crater lakes in Indonesia's volcanic mountains are one of the country's most famous natural attractions. They have had enormous spiritual significance to the inhabitants for many years.
There are 129 active volcanoes among Indonesia's total of 147. They dispersed across Sumatra islands, Celebes, Java, Bali, Nusa Tenggara, Maluku, Lesser Sunda, and Sulawesi.
4. Russia (117)
Russia contains 117 volcanoes. The Kamchatka Peninsula includes the most significant number of volcanoes on the eastern side of Russia. In the Kamchatka Peninsula, there are 29 active volcanoes. Klyuchevskaya Sopka is the largest active volcano in the Northern Hemisphere and the tallest active peak in the Northern Hemisphere. Bolshaya Udina is one of the volcanoes once believed to be extinct, but seismic activity was detected in 2017. However, nobody knows when the mountain last exploded.
5. Chile (91)
Experts say that about 40 of them could start to erupt in the future. In addition, Chile has a string of volcanoes that are second only to Indonesia in terms of how active they are.
Llama and Villarica are two of the most active volcanoes in Latin America, and they are both in this country. The country is between the South American Tectonic Plate and the Nazca Plate, an oceanic tectonic plate in the eastern Pacific Ocean basin. A river of hot magma makes the plates move slowly. As a result, the plates move apart or hit each other, and this underground movement is what makes volcanoes.
6. Ethiopia (53)
According to volcanologist David Pyle, "almost 53 volcanoes are likely to have erupted in the past 10,000 years" along the Ethiopian rift. As a result, Ethiopia is the world's seventh most geologically active nation.
There are seven volcanoes in the world where lava is actively being produced. Erta Ale, Ethiopia, is home to not one but two lava lakes, one of which is still actively erupting 100 years after it formed.
7. Papua New Guinea (46)
With its location in Oceania, Papua New Guinea is home to 46 active volcanoes. Manam Island, home to one of the most active volcanoes in the South Pacific, is currently experiencing an eruption of its own. Frequent reports have indicated that Manam experiences modest explosive eruptions.
8. Philippines(38)
The Philippines is situated in the Pacific Ring of Fire, which accounts for its abundance of active volcanoes (currently 38).
Volcanoes in this country have been called the deadliest and most expensive in the world.
As much as 22 percent of historical eruptions, including those of Mayon and Taal, have caused significant damage to the country and resulted in fatalities.
More lahars, mudflows, and tsunamis than anywhere else in the world occur in the Philippines due to volcanic eruptions.
In January 2020, a 9-mile-tall column of ash rose from the Taal volcano and drifted as far as 40 miles away, reaching as far as the nation's capital of Manila. There was a massive lightning storm and 144 tremors caused by the eruption. Over a quarter of a million people had to leave their homes.
The following is a list Most Volcanoes by Country in 2023.
Ranks
Country
Total Holocene Volcanoes
1
United States
162
2
Japan
122
3
Indonesia
120
4
Russia
117
5
Chile
91
6
Ethiopia
53
7
Papua New Guinea
46
8
Philippines
38
9
Mexico
37
10
Argentina
35
11
Ecuador
35
12
Iceland
35
13
Canada
24
14
New Zealand
24
15
Guatemala
23
16
Kenya
21
17
Tonga
21
18
El Salvador
20
19
Antarctica
19
20
France
18
21
Nicaragua
17
22
Peru
17
23
Vanuatu
17
24
Colombia
14
25
Italy
13
26
Portugal
13
27
United Kingdom
13
28
Yemen
11
29
Bolivia
10
30
China
10
31
Costa Rica
10
32
Turkey
10
33
Eritrea
8
34
Saudi Arabia
8
35
Solomon Islands
8
36
Spain
8
37
Uganda
7
38
Tanzania
6
39
Armenia
5
40
Dominica
5
41
Greece
5
42
Madagascar
5
43
Australia
4
44
Chad
4
45
Djibouti
4
46
DR Congo
4
47
Sudan
4
48
Algeria
3
49
Cameroon
3
50
Equatorial Guinea
3
51
Fiji
3
52
Honduras
3
53
Iran
3
54
Mongolia
3
55
Rwanda
3
56
South Korea
3
57
Azerbaijan
2
58
Cape Verde
2
59
Comoros
2
60
Georgia
2
61
Grenada
2
62
India
2
63
Netherlands
2
64
North Korea
2
65
Norway
2
66
Panama
2
67
Saint Kitts and Nevis
2
68
Samoa
2
69
South Africa
2
70
Taiwan
2
71
Vietnam
2
72
Burma (Myanmar)
1
73
Germany
1
74
Jordan
1
75
Niger
1
76
Saint Lucia
1
77
Saint Vincent and the Grenadines
1
78
Syria
1