Rice Production (Top 116 Countries)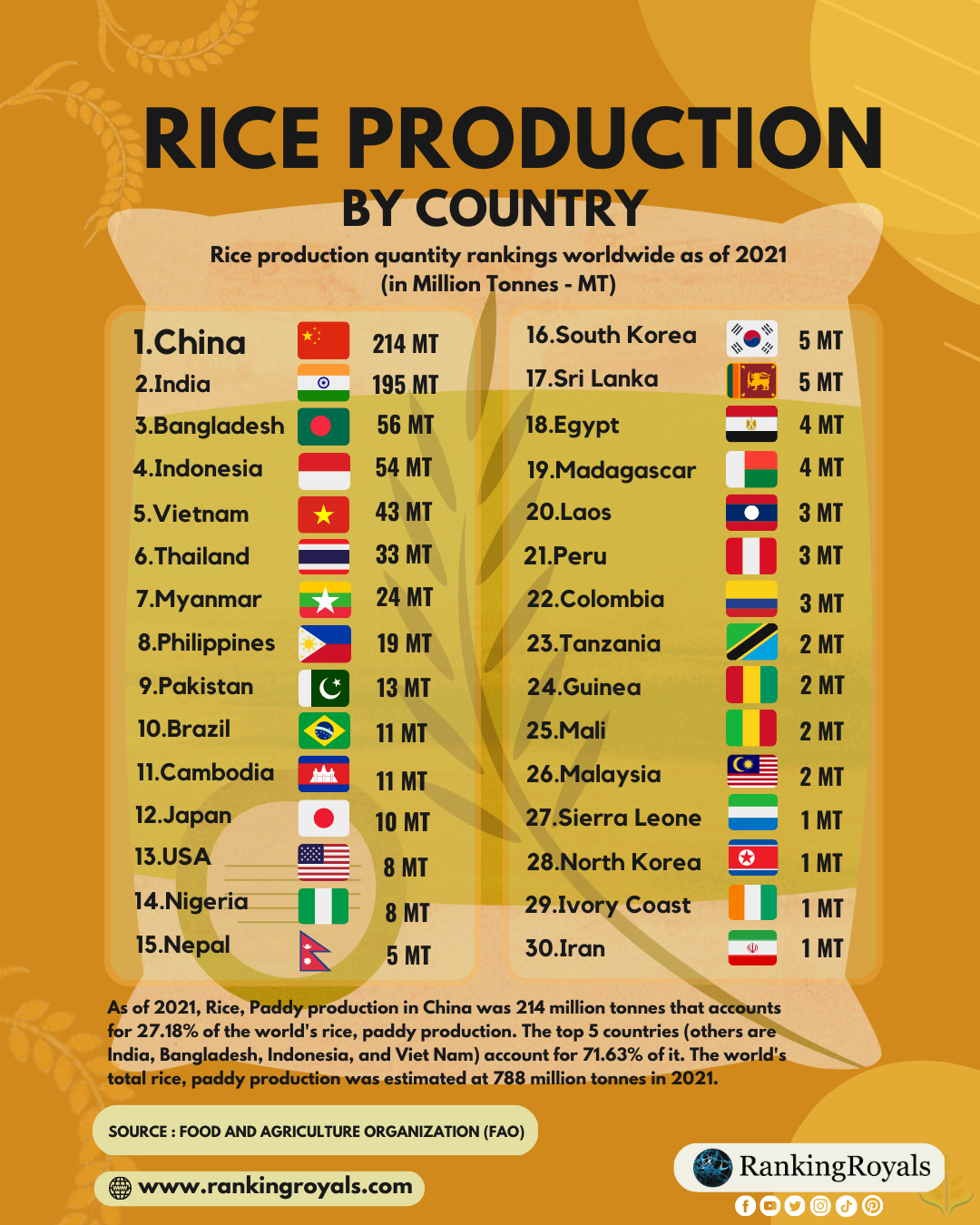 Over fifty percent of the world's population relies on food crop as a substantial portion of their nutrition. It is estimated that rice provides more than one-fifth of the calories consumed by humans worldwide. In addition, rice is considered an essential part of the diet throughout most of Asia, Latin America, Africa, and the Caribbean. It provides more than one-fifth of the calories consumed globally.
1. China
China makes the most rice of any country in the world. It is the most vital cereal crop in China, and about 65% of the people there eat rice daily. Nearly 95% of the rice grown in China is done in the traditional way, which involves extended periods of flooding and a lot of hard work. It produces and eats 30% of all the rice made and consumed worldwide. China has done many things to increase rice production. It also led to restrictions on trade and new rules meant to raise farmers' incomes and keep up with domestic food demand. Through international organizations like IRRI, China is doing a lot of research to find ways to increase yields that are good for the environment. The Country's high production will likely keep the market steady over the next few years.
2. India
India is the world's second-largest rice producer. Producing more rice than any other country, China dominates the global market. Although it requires temperatures around 25 degrees Celsius and more than 100 cm of rainfall, it is a staple meal in India's eastern and southern areas. The world's annual rice output is projected to reach 120 million tons by 2020-21, up from 53.6 million tons in 1980.
Some parts of India have higher production rates than others because they have more accessible water and soil. India's top five rice-producing states are West Bengal, Uttar Pradesh, Andhra Pradesh, Punjab, and Tamil Nadu.
Regarding Basmati rice, India is the world leader in exports. Most of India's Basmati rice comes from Himachal Pradesh, Punjab, Jammu and Kashmir, Haryana, Delhi, Uttarakhand, and Western Uttar Pradesh.
3. Bangladesh
Bangladesh is the world's third-largest rice producer in the world. About 145 million people in Bangladesh eat rice every day. It gives nearly 48% of the jobs in rural areas, about two-thirds of the calories, and about half of the protein that the average person in the CountryCountry needs. In Bangladesh, the rice industry makes up half of the agricultural GDP and one-sixth of the national income.
Rice is grown by almost all of the 13 million farm families in the Country. About 10.5 million hectares are used to grow rice. This number has stayed nearly the same for the past 30 years.
About 75% of all cropped land and more than 80% of all irrigated land are used to grow rice. So, rice is a vital part of how the people of Bangladesh make a living.
In 1971, when only about 70.88 million people were living in Bangladesh, the Country produced about 10.59 million tons of rice. But the Country now makes about 25 million tons of food to feed its 135 million people. This shows that rice production increased much more quickly than the population. In addition, modern rice varieties have been planted on about 66% of the rice land, which makes up about 73% of the Country's total rice production. This has made it possible for rice production to go up.
4. Indonesia
Indonesia is the fourth biggest Country in the world for making rice. Yet, almost every year, it still has to bring in rice (although usually to keep the reserves safe). This is happening because farmers need to be using the best ways to grow rice and because each person eats a lot of rice (and the massive population). As a result, Indonesia is one of the places that consume the most rice in the world. In 2017, each person in the Country ate nearly 150 kilograms of rice. Myanmar, Vietnam, and Bangladesh were the only countries that consumed more rice per person.
Indonesia's rice is mainly grown by small-scale farmers, not big private or government-owned businesses. About 90 percent of the rice grown in Indonesia comes from smallholder farmers. Each farmer owns an average of fewer than 0.8 hectares of land.
5. Vietnam
Rice has been necessary for Vietnam's food security for a long time. For many years, the government worked to boost rice production, first for the domestic market and then for export. As a result, since 1993, Vietnam has become a significant net rice exporter. In 2015, 28 million tons of rice were made. In the past, the Country grew by making a lot of low-quality rice and selling it to Asian, African, and Middle Eastern governments at a low price.
Vietnam is a country that has a lot of advantages when it comes to making rice. At the moment, the rice industry is an essential part of Vietnam's social and economic growth. According to the International Rice Research Institute, 82% of the Country's arable land is used to grow rice. About 52% of Vietnam's rice comes from the Mekong River Delta, and 18% comes from the Red River Delta.
In the Red River and Mekong deltas, rice is the primary source of income for more than 15 million smallholder farmers. However, the number of smallholders who can make a living from rice is decreasing. For example, in the Mekong delta province of An Giang, where rice is grown, the average family only makes $100 per month.
6. Thailand
As a staple meal and major export, rice has played a significant role in Thailand's history. Despite its diminishing significance, it still accounts for around 55 percent of the world's arable land. In Thailand, rice is the staple food for almost 80% of the population, with an annual per capita intake of 100.8 kilograms.
Thailand's 3.7 million farmer households tend to the Country's roughly 10 million hectares of rice farms. Harvesting around 30 million tons of paddy each year is possible, split evenly between the rainy and dry seasons.
7. Myanmar
In Myanmar, rice is still the leading food. Myanmar is the seventh Country in the world that makes the most rice. Moreover, rice is the Country's most important crop. It is grown on over 8 million ha, which is more than half of the Country's arable land.
This makes rice the Country's most important crop in terms of GDP and food security for the Country and worldwide. From 1995 to 2010, the Country's rice production went from 18 million to 22 million tonnes. The growth is due to the area getting bigger and the yield going up because of better techniques. However, even though production has grown significantly, Myanmar's rice exports have dropped considerably during this time.
It was blamed on the Country's rapid population growth, which meant that more food was needed. Even though the amount of rice eaten per person in the Country has gone down from 170 kg to 141 kg between 1990 and 2009, the total amount of rice consumed has gone up by more than 60% in the same period because the population has grown.
9. Pakistan
Rice is the second most important staple food in our Country, after wheat. It is also the second most important cash crop in Pakistan. Its production comprises 34% basmati (fine) types and 66% coarse types. In the last few years, farmers have been planting more land with rough hybrid varieties, leading to more coarse mixed types.
Rice makes up 2.4% of the value added to agriculture and 0.5% of the Gross Domestic Product (GDP). There's no doubt that Pakistan's rice industry is essential for export income, domestic jobs, rural development, and reducing poverty. Rice is a staple food in Pakistan and also a cash crop.
In FY2021-22, the crop was planted on 3,537 thousand hectares, up 6.1% from the year before, when it was planted on 3,335 thousand hectares. During FY2021-22, rice production reached a record-high 9.323 million tons, 10.7% more than the 8.420 million tons produced the year before. The land used to grow rice has risen in the last few years.
Since Pakistan makes more rice than it needs each year, there is often a surplus that can be sold to other countries. Floods and monsoons have killed almost 1,700 people in Pakistan, mainly in Sindh and Balochistan provinces, which have been hit the hardest. Hundreds of thousands of homes, schools, hospitals, and agricultural lands have also been destroyed. Most of the summer crops have been destroyed by the floods, but the cash crop of rice has survived and can be exported for a good amount of money. This is a real blessing. The rice crop has been recovered in the Country.
10. Brazil
With an annual average production of 11 million tons, Brazil ranks as the world's tenth-largest rice producer. Mercosur members include Argentina, Paraguay, and Uruguay, of which the Country is one. More than 7 million tons of rice are shipped out of this economic bloc annually.
Irrigated farming in the subtropical south area of Brazil, encompassing the states of Parana, Santa Catarina, and Rio Grande do Sul, accounts for 75% of the crop (9 million tons) produced in the Country. This area has the vast majority of the world's exportable grain supply. The local market is the primary emphasis of other growing regions.
The following is a list of the largest rice-producing countries in the world.

| Ranks | Country Name | 2021 (in Million Tonnes) |
| --- | --- | --- |
| 1 | China | 214,403,870 |
| 2 | India | 195,425,000 |
| 3 | Bangladesh | 56,944,554 |
| 4 | Indonesia | 54,415,294 |
| 5 | Viet Nam | 43,852,729 |
| 6 | Thailand | 33,582,000 |
| 7 | Myanmar | 24,910,000 |
| 8 | Philippines | 19,960,170 |
| 9 | Pakistan | 13,984,009 |
| 10 | Brazil | 11,660,603 |
| 11 | Cambodia | 11,410,000 |
| 12 | Japan | 10,525,400 |
| 13 | United States | 8,699,720 |
| 14 | Nigeria | 8,342,000 |
| 15 | Nepal | 5,621,710 |
| 16 | South Korea | 5,211,037 |
| 17 | Sri Lanka | 5,149,596 |
| 18 | Egypt | 4,841,327 |
| 19 | Madagascar | 4,391,386 |
| 20 | Laos | 3,870,000 |
| 21 | Peru | 3,474,307 |
| 22 | Colombia | 3,326,529 |
| 23 | Tanzania | 2,688,000 |
| 24 | Guinea | 2,475,325 |
| 25 | Mali | 2,420,245 |
| 26 | Malaysia | 2,418,148 |
| 27 | Sierra Leone | 1,978,905 |
| 28 | North Korea | 1,854,841 |
| 29 | Ivory Coast | 1,659,000 |
| 30 | Iran | 1,595,345 |
| 31 | DR Congo | 1,580,620 |
| 32 | Taiwan (ROC) | 1,560,870 |
| 33 | Ecuador | 1,504,214 |
| 34 | Italy | 1,459,310 |
| 35 | Argentina | 1,453,187 |
| 36 | Senegal | 1,382,120 |
| 37 | Uruguay | 1,309,000 |
| 38 | Ghana | 1,231,200 |
| 39 | Paraguay | 1,180,600 |
| 40 | Russia | 1,076,412 |
| 41 | Dominican Republic | 1,006,394 |
| 42 | Turkey | 1,000,000 |
| 43 | Venezuela | 788,423 |
| 44 | Spain | 617,180 |
| 45 | Guyana | 559,113 |
| 46 | Bolivia | 550,182 |
| 47 | Benin | 519,667 |
| 48 | Kazakhstan | 503,771 |
| 49 | Nicaragua | 491,815 |
| 50 | Afghanistan | 458,572 |
| 51 | Burkina Faso | 451,000 |
| 52 | Oceania | 437,147 |
| 53 | Mauritania | 428,400 |
| 54 | Australia | 422,978 |
| 55 | Iraq | 422,463 |
| 56 | Panama | 406,370 |
| 57 | Cameroon | 362,294 |
| 58 | Uzbekistan | 334,226 |
| 59 | Uganda | 303,283 |
| 60 | Suriname | 263,749 |
| 61 | Mexico | 257,041 |
| 62 | Liberia | 255,600 |
| 63 | Chad | 242,647 |
| 64 | Greece | 241,650 |
| 65 | Cuba | 225,786 |
| 66 | Guinea-Bissau | 213,918 |
| 67 | Ethiopia | 200,000 |
| 68 | Mozambique | 189,000 |
| 69 | Kenya | 186,000 |
| 70 | Portugal | 175,900 |
| 71 | Haiti | 155,000 |
| 72 | Costa Rica | 151,018 |
| 73 | Togo | 150,000 |
| 74 | Malawi | 147,100 |
| 75 | Chile | 146,085 |
| 76 | Rwanda | 131,758 |
| 77 | Burundi | 120,000 |
| 78 | Turkmenistan | 82,828 |
| 79 | Tajikistan | 67,000 |
| 80 | Zambia | 65,876 |
| 81 | France | 62,340 |
| 82 | Bulgaria | 58,120 |
| 83 | Honduras | 53,820 |
| 84 | Morocco | 50,901 |
| 85 | Ukraine | 49,480 |
| 86 | Kyrgyzstan | 46,338 |
| 87 | Timor-Leste | 45,455 |
| 88 | Gambia | 41,900 |
| 89 | Bhutan | 40,508 |
| 90 | Guatemala | 33,000 |
| 91 | Comoros | 31,135 |
| 92 | South Sudan | 26,024 |
| 93 | Sudan | 25,000 |
| 94 | El Salvador | 24,000 |
| 95 | Niger | 22,397 |
| 96 | North Macedonia | 18,962 |
| 97 | Belize | 14,990 |
| 98 | Romania | 14,980 |
| 99 | Angola | 10,514 |
| 100 | Fiji | 10,368 |
| 101 | Azerbaijan | 10,062 |
| 102 | Hungary | 9,520 |
| 103 | South Africa | 3,080 |
| 104 | Zimbabwe | 2,908 |
| 105 | Solomon Islands | 2,748 |
| 106 | Brunei Darussalam | 2,675 |
| 107 | Gabon | 1,703 |
| 108 | Somalia | 1,632 |
| 109 | Congo | 1,000 |
| 110 | Eswatini | 1,000 |
| 111 | Papua New Guinea | 880 |
| 112 | Saudi Arabia | 814 |
| 113 | Trinidad and Tobago | 351 |
| 114 | Algeria | 314 |
| 115 | Micronesia (Federated States of) | 175 |
| 116 | Puerto Rico | 167 |