Most Combat Tanks By Country 2023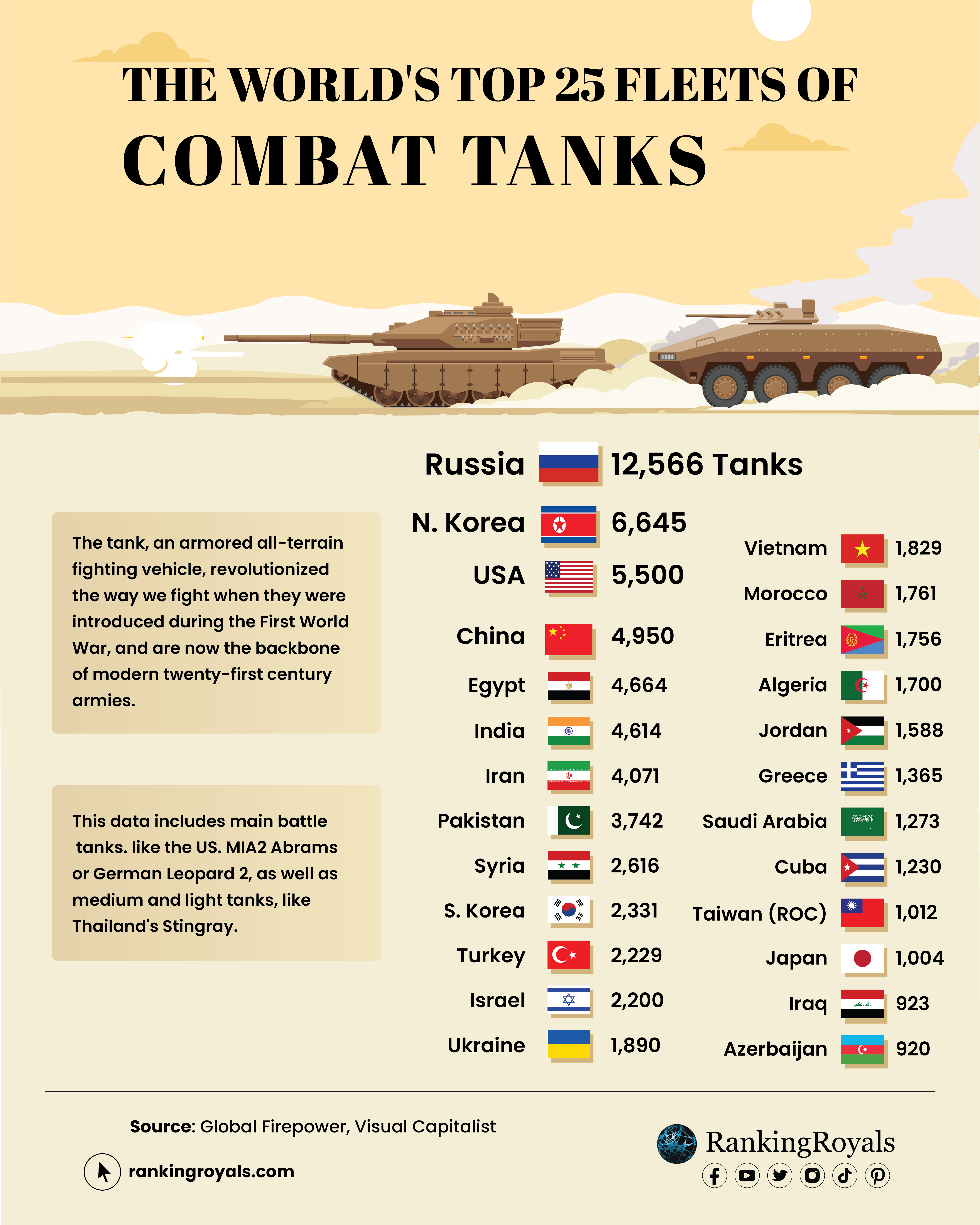 During World War I, the tank, an armored all-terrain battle vehicle, changed the face of warfare forever. Since then, tanks have remained a staple of 21st-century militaries despite predictions to the contrary from some experts.
These rankings cover a wide range of tanks, from heavy main battle tanks like the U.S. M1A2 Abrams and the German Leopard 2 to medium and small tanks like Thailand's Stingray. 
Russia
The Russian Federation owns the most tanks worldwide, a total of 12,556 ranging from the reliable T-72 series to the cutting-edge T-14 Armata. This is greater than the United States and North Korea (6,645), tied for third place (5,500).
Only a tiny percentage of Russia's almost 13,000 current combat tanks are main battle tanks. According to a Russian source, in 2021, the country's active main battle fleet consisted of about 2,600 tanks (400 T-72 variants, 800 T-80s, and 1,000 T-90s).
In reality, only a fifth of those tanks is considered modern since they have cutting-edge fire control systems and sighting. These tanks include the T-72B3/B3M, T-80-BVM, and T-90A/M. It has struggled to perform on the Ukrainian battlefield due to low morale, weak supplies, and rigid tactics despite having more than six times as many tanks as Ukraine (12,556 vs. 1,890).
North Korea 
Since the Korean War (1950–1953), when the Democratic People's Republic of Korea's first armored force, the 105th Armored Brigade, invaded South Korea with 120 Soviet-made T-34/85 tanks, the country has maintained its armored capabilities.
When the Korean War ended, the North Korean army restocked its arsenal with Soviet T-34/85 tanks, followed by T-55s and Chinese-modified Type 59s. Along with indigenous patterns like the Chonma-ho "Flying Horse" and the Pokpung-ho "Storm," these are likely still in use despite being decades old.
United States
The United States does not have to worry about a future ground invasion, having Mexico and Canada as neighbors. As a result, such a large MBT is impractical for a country with such a powerful naval and air force. That is not to say, however, that the country's armed forces are not adequately supplied; in fact, thousands of tanks are still used by the country's military worldwide. 
Incorporating the ubiquitous M1 Abrams and its variations, the United States maintains the third-largest MBT fleet in the world at 8,850. The M1A3 Abrams is the future of the country's MBTs, and its technology may soon be on par with South Korea's most sophisticated MBT, the K2 Black Panther.
China
With around 9,151 tanks, the People's Republic of China has the second-largest MBT force in the world. China loves the Type 96 MBT and the Type 59 MBT, but it also has many Type 99 MBTs. These are very advanced military vehicles, and China has many of them. The Type 99 MBTs also have armor with laser defense systems and a 125 mm gun that can be fired at around 50 meters per second.
The following is a list of most battle tanks by country 2023.
| Ranks | Country | Total Tanks |
| --- | --- | --- |
| 1 | Russia | 12,566 |
| 2 | North Korea | 6,645 |
| 3 | United States | 5,500 |
| 4 | China | 4,950 |
| 5 | Egypt | 4,664 |
| 6 | India | 4,614 |
| 7 | Iran | 4,071 |
| 8 | Pakistan | 3,742 |
| 9 | Syria | 2,616 |
| 10 | South Korea | 2,331 |
| 11 | Turkiye | 2,229 |
| 12 | Israel | 2,200 |
| 13 | Ukraine | 1,890 |
| 14 | Vietnam | 1,829 |
| 15 | Morocco | 1,761 |
| 16 | Eritrea | 1,756 |
| 17 | Algeria | 1,700 |
| 18 | Jordan | 1,588 |
| 19 | Greece | 1,365 |
| 20 | Saudi Arabia | 1,273 |
| 21 | Cuba | 1,230 |
| 22 | Taiwan | 1,012 |
| 23 | Japan | 1,004 |
| 24 | Iraq | 923 |
| 25 | Azerbaijan | 920 |
| 26 | Belarus | 862 |
| 27 | Myanmar | 715 |
| 28 | Turkmenistan | 680 |
| 29 | Cambodia | 644 |
| 30 | Thailand | 587 |
| 31 | Poland | 569 |
| 32 | Armenia | 519 |
| 33 | Mongolia | 470 |
| 34 | Ethiopia | 468 |
| 35 | Brazil | 466 |
| 36 | Uzbekistan | 420 |
| 37 | Argentina | 414 |
| 38 | Romania | 413 |
| 39 | Bulgaria | 410 |
| 40 | Madagascar | 386 |
| 41 | Switzerland | 380 |
| 42 | Kuwait | 367 |
| 43 | Lebanon | 361 |
| 44 | Venezuela | 352 |
| 45 | Spain | 327 |
| 46 | Libya | 325 |
| 47 | Indonesia | 314 |
| 48 | Kazakhstan | 300 |
| 49 | Bangladesh | 281 |
| 50 | United Arab Emirates | 274 |
| 51 | Chile | 270 |
| 52 | Germany | 266 |
| 53 | Peru | 261 |
| 54 | Georgia | 243 |
| 55 | Serbia | 242 |
| 56 | Finland | 239 |
| 57 | United Kingdom | 227 |
| 58 | France | 222 |
| 59 | Kyrgyzstan | 215 |
| 60 | Democratic Republic of the Congo | 214 |
| 61 | Nicaragua | 198 |
| 62 | Italy | 197 |
| 63 | South Africa | 195 |
| 64 | Mozambique | 186 |
| 65 | Sri Lanka | 182 |
| 66 | Bahrain | 180 |
| 67 | Uganda | 180 |
| 68 | Nigeria | 177 |
| 69 | Hungary | 176 |
| 70 | Singapore | 170 |
| 71 | Sudan | 170 |
| 72 | Angola | 156 |
| 73 | Tunisia | 145 |
| 74 | Qatar | 138 |
| 75 | Laos | 130 |
| 76 | Bosnia and Herzegovina | 124 |
| 77 | Oman | 121 |
| 78 | Sweden | 121 |
| 79 | South Sudan | 120 |
| 80 | Kenya | 111 |
| 81 | Ecuador | 110 |
| 82 | Yemen | 100 |
| 83 | Chad | 90 |
| 84 | Canada | 82 |
| 85 | Croatia | 75 |
| 86 | Zambia | 75 |
| 87 | Australia | 59 |
| 88 | Austria | 56 |
| 89 | Republic of the Congo | 53 |
| 90 | Norway | 52 |
| 91 | Czechia | 50 |
| 92 | Mali | 50 |
| 93 | Malaysia | 48 |
| 94 | Slovenia | 48 |
| 95 | Botswana | 45 |
| 96 | Denmark | 44 |
| 97 | Tanzania | 42 |
| 98 | Albania | 40 |
| 99 | Zimbabwe | 40 |
| 100 | Portugal | 37 |
| 101 | Tajikistan | 37 |
| 102 | Bolivia | 36 |
| 103 | North Macedonia | 31 |
| 104 | Slovakia | 30 |
| 105 | Honduras | 22 |
| 106 | Namibia | 20 |
| 107 | Netherlands | 18 |
| 108 | Uruguay | 17 |
| 109 | Dominican Republic | 12 |
| 110 | Guatemala | 12 |
| 111 | Ivory Coast | 10 |
| 112 | Paraguay | 10 |
| 113 | Central African Republic | 3 |
| 114 | Sierra Leone | 2 |