Most Expensive & Cheapest Cities in the World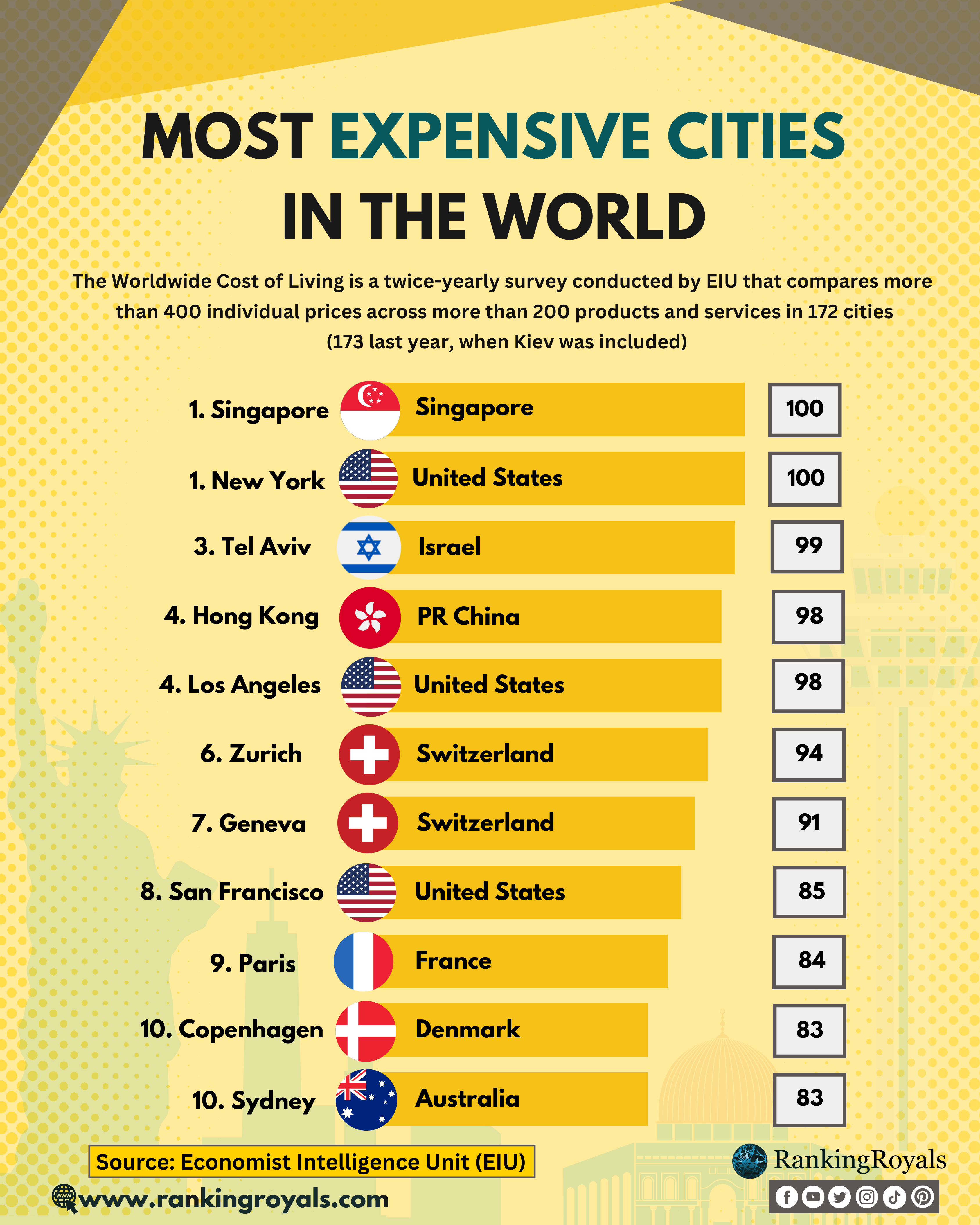 The EIU (Economist Intelligence Unit) just released a report of the most expensive cities in the world in 2022. To make this list, they picked 172 cities worldwide and looked at more than 400 price tags for more than 200 goods and services in each town. The list shows New York and Singapore are the most expensive places to live in 2022.
The latest EIU Worldwide Cost of Living (WCOL) survey shows that prices in the world's biggest cities have increased by an average of 8.1% in local currency over the past year. 
This is the fastest rate in at least 20 years. It shows that the war in Ukraine and China's continued restrictions on covid-19 has caused a global crisis in living costs.
Tel Aviv, which ranked first the year before, is now in third position. Hong Kong and Los Angeles rounded out the top four most expensive places.
Facts About Most Expensive Cities:
Eight times in the last ten years, Singapore has topped this study.

San Francisco moved to eighth place, up from twenty-four last year. 

Sydney entered the top ten due to the strong exports that boosted the Aussie currency.

As interest rates remained low, Tokyo and Osaka fell 24 and 33 places, respectively, in the rankings.

Due to the Ukraine war, trade restrictions have increased the cost of food and household products.

The rankings of the six most expensive Chinese cities all improved, with Shanghai entering the top 20.

The cheapest places in the world are Damascus, the capital of Syria, and Tripoli, the capital of Libya.

Moscow and St. Petersburg, two major Russian cities, have risen 88 and 70 in the rankings due to Western sanctions that have led to increased prices and the robust energy markets and banking restrictions supporting the rouble.
What are the Most Expensive Cities?
1. Singapore, Singapore
Singapore is well-known for being one of Asia's most expensive cities. Because the country is so tiny, there is little land. Also, as the demand for real estate has gone up, the supply has gone down. This has made the market for real estate very competitive. Also, Singapore only has a few natural resources, so it has to rely on ports to bring in things like water and natural gas energy.
Singapore is known as a global financial hub, which is why so many digital nomads and ex-pat workers from the United States and the United Kingdom choose to live there. But both renting and buying a home in Singapore is more expensive.
1. New York, United States
For the first time, New York is at the top of the list, tied with Singapore, which has often been at the top. People from all over the USA and the rest of the world come to this city, which is full of opportunities, to try to make a name for themselves. So, it's not surprising that living in New York City costs so much.
Moving to New York City is the best choice if you want to find a better job or try something new. There's always something to do in this city, which has a lot of cultural sites and never-ending ways to have fun. Whether or not the price is worth it depends on where you reside in the city and what you work for a having to live.
3. Tel Aviv, Israel
Tel Aviv has everything, from stunning beaches to vibrant nightlife and restaurants of the highest kind. However, all of this enjoyment comes at a high price. Tel Aviv, the largest city in Israel, is known for its vibrancy and is one of the most expensive cities, even for people whose income is in dollars, euros, or other major currencies.
In Tel Aviv, you may always expect to pay a high rent. This is one of Israel's most popular tourist sites, and its standards are equivalent to those of more expensive European towns like Rome and Paris. Consequently, the same apartment in Tel Aviv would cost far more than any other Israeli city.
3. Hong Kong, China
Asia leads the list of the top 10 most expensive places to live in. Thus Hong Kong's position at the top is not surprising. Moreover, Hong Kong is renowned for attracting some of the world's most successful and wealthy business people and tens of thousands of expatriates.
Hong Kong is renowned for attracting some of the world's most successful and wealthy business people and tens of thousands of expatriates.
It is not so much the cost of rent that makes it the most expensive city in the world but the competitive demand for housing and all the city's activities, such as its various markets, nightlife, and attractions.
3. Los Angeles, California
Los Angeles is the third most expensive city in the world. People think of rich, beautiful movie stars when they think of Los Angeles, but the movie and TV industries only make up a small part of the city's booming economy. Los Angeles port, one of the busiest ports in the world, is also important to the city's economy. The city has a high cost of living because manufacturing is active, and there are a lot of interesting new businesses. In addition, some ZIP codes, like the much-talked-about 90210, increase housing costs.
As of July 2022, about 3.9 million people were living in the city.
26 Los Angeles has a median home value of $991,551. 27 The average income for a family is about $65,290. 26 In Los Angeles, a family of four with two adults who work would need a net income of $97,687. 28 About 17% of people in the city live below the poverty line, compared to 11.4% of people in the country.
6. Zurich, Switzerland
Zürich is the sixth world's priciest city. The northern region of Lake Zurich is home to Switzerland's financial capital, which is renowned for its waterfront promenades, luxury shopping, and world-class chocolate. Unfortunately, it also has the highest rental costs of any Swiss city.
The reputation of Zurich as a costly metropolis is well-deserved. Both general household costs and home ownership costs are affected by this. The good news is that the net compensation is competitive with the best in the world, and there are many available jobs for international candidates.
7. Geneva, Switzerland
The city of Geneva, home of the world's largest water fountain, the Jet d'Eau, is renowned for its abundance of high-end restaurants and boutiques. That level of comfort, however, is costly. As a result, Geneva is one of the most international cities in the world, with more than 40 percent of its population not holding a Swiss passport despite the city's high cost of living.
Many people from other countries choose to make Geneva their permanent home because it is such a beautiful and dynamic city. 
8. San Francisco, United States
San Francisco is the home of 815,000 people as of July 2022.
Each day, people choose to leave San Francisco. It's hardly surprising given the city's reputation for having an unaffordable cost of living and housing.
Most homes in the city cost more than $1.6 million. However, tourism, information technology, and financial services are the city's most lucrative businesses.
After paying all their bills, a family of four consisting of two working adults would need $128,878 a year in income.
14 However, as of June 2022, the unemployment rate has fallen to 2.6%, a decrease from the previous year's. Unemployment in the region was 6.4% in June of 2021. 
9. Paris, France
The City of Love is home to outstanding works of architecture, food, and fashion, so it is no surprise that the cost of living in the French capital, Paris, is high. Growing demand for housing and retail space combined with a shortage of options on both fronts makes it challenging to find affordable real estate. As a result, the cost of real estate continues to rise.
10. Copenhagen, Denmark
Denmark's capital city has been a popular place for tourists to visit for a long time. But Copenhagen is usually a short trip, which could be better for digital nomads trying to save money. Denmark is one of the countries with a high quality of life. Because of this, the cost of living there is very high.
Still, this Nordic city is constantly changing as many people from other countries and is a hub for creativity and new ideas. So for many digital nomads and ex-pats from other countries, it makes perfect sense to try their luck in Copenhagen. It's a great place to live a whole life.
10. Sydney, Australia
Sydney is currently the most expensive place in Australia (and the 10th most expensive city in the world), with over twice as high as Melbourne, the country's second most expensive city, and continuing to rise. For this reason, the eastern suburbs of Sydney have become extremely popular among Australia's high-income earners. Edgecliff, Point Piper, and Darling Point are all examples of affluent Sydney suburbs with median annual incomes over $180,000.
Sydney is Australia's most populous city and the most populous city in all of Oceania. Sydney's real estate rates are sky-high because of the city's status as a global financial and cultural hub, competing even with New York's. Sydney's financial services, creative industries, and communications technology sectors are all booming, making the city an attractive option for those seeking employment. In addition to having a substantially lower unemployment rate than the rest of Australia, at 3.8%, the city is responsible for about half of the country's economic growth.
The following is a list of the Top 10 Most Expensive Cities in the World.
| Ranks | Cities | Country | Index |
| --- | --- | --- | --- |
| 1 | Singapore | Singapore | 100 |
| 1 | New York | United States | 100 |
| 3 | Tel Aviv | Israel | 99 |
| 4 | Hong Kong | PR China | 98 |
| 4 | Los Angeles | United States | 98 |
| 6 | Zurich | Switzerland | 94 |
| 7 | Geneva | Switzerland | 91 |
| 8 | San Francisco | United States | 85 |
| 9 | Paris | France | 84 |
| 10 | Copenhagen | Denmark | 83 |
| 10 | Sydney | Australia | 83 |
The following is a list of the Top 10 Cheapest Cities in the world.
| Ranks | Cities | Country | Index |
| --- | --- | --- | --- |
| 161 | Colombo | Sri Lanka | 38 |
| 161 | Bangalore | India | 38 |
| 161 | Algiers | Algeria | 38 |
| 164 | Chennai | India | 37 |
| 165 | Ahmedabad | India | 35 |
| 166 | Almaty | Kazakhstan | 34 |
| 167 | Karachi | Pakistan | 32 |
| 168 | Tashkent | Uzbekistan | 31 |
| 169 | Tunis | Tunisia | 30 |
| 170 | Tehran | Iran | 23 |
| 171 | Tripol | Libya | 22 |
| 172 | Damascus | Syria | 11 |