Best Countries for Quality of Life (Top 87 Countries)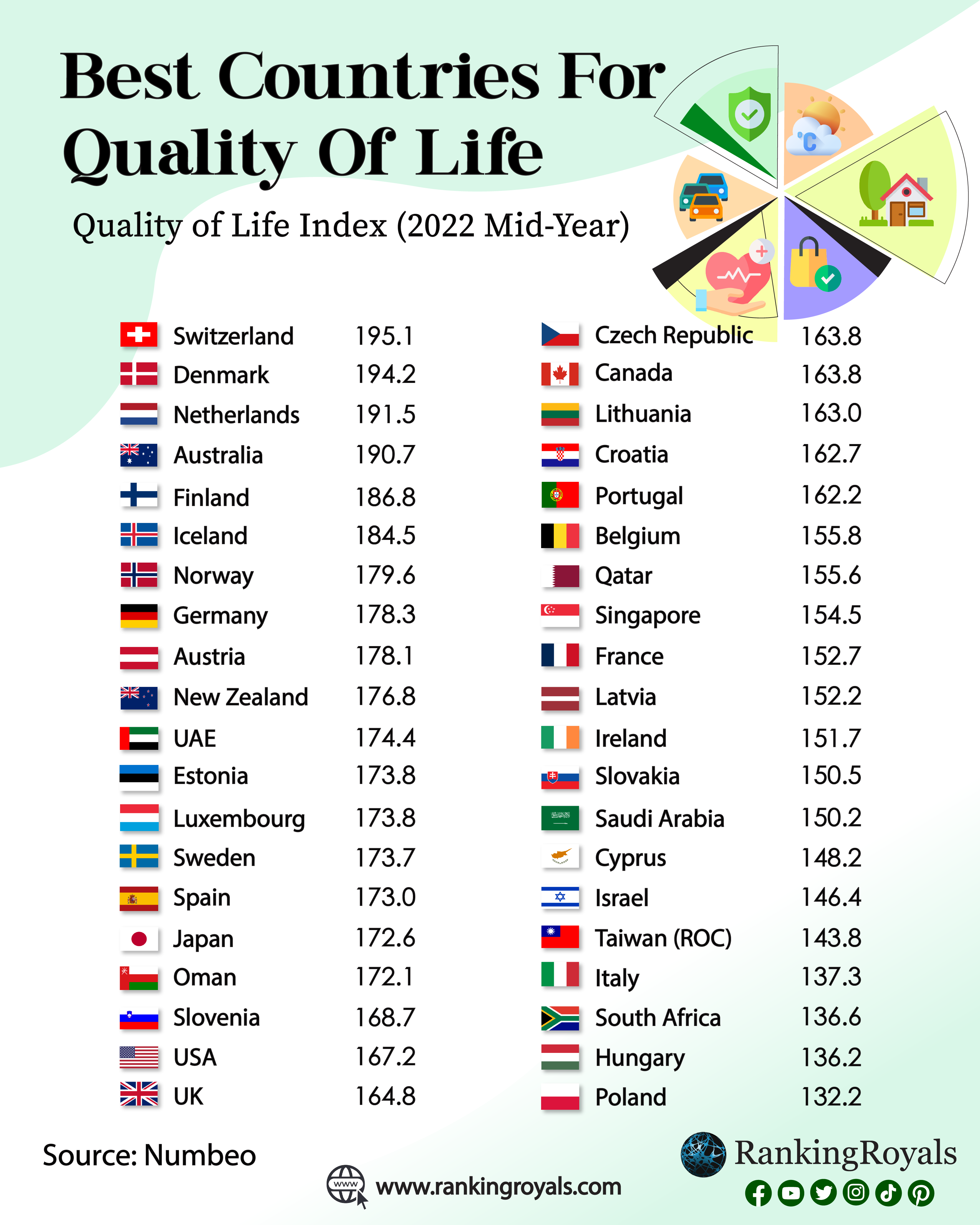 People are getting more interested in living in another country than ever before. This could be because they are retiring, moving for work, wanting to try something new, or dreaming of a way of life they can't have in their own Country. When moving to a new place, there are many different things to consider. For example, you should consider the cost of living, the housing market, job opportunities, the availability of education and child care, the Country's culture, and any language barriers you may face.
The Quality of life in a country is among the most important factors to consider, and for many individuals, this is the deciding factor. Some nations have an extremely low quality of living, whereas others have a high standard of living.
When calculating the Quality of Life Index, the following factors are considered:
Purchasing power

Healthcare & safety

Cost of living 

Property price relative to income 

Commuting times

Pollution & Climate
Numbeo ranks the following 12 nations as having the highest Quality of life worldwide as of mid-2022.
1. Switzerland  
Switzerland ranks first in 2022 for Quality of Life on Numbeo, with a score of 195.06. It has a low cost of living and a high purchasing power index score, as well as an acceptable property price ratio to income ratio. Apart from being one of the safest countries in the world, its healthcare system is also well-regarded. There is a low crime rate, and people go from around the world to enjoy the region's breathtaking natural beauty, many outdoor recreation possibilities, and delicious food. This beautiful European nation offers a variety of tempting possibilities for those seeking a home base from which to explore the world.
2. Denmark  
The Country with the second-highest Quality of Life ranking in the world in 2022 is Denmark, with a score of 194.15. Denmark achieved one of the highest healthcare index scores. It was voted the best among the top 10 for healthcare. South Korea, Japan, and Taiwan are the only nations that, according to Numbeo, rank higher than Denmark in healthcare. The Country's safety ranking is comparable to that of Austria and Finland, and its climate index is superior to that of the leader on this list. Denmark is often recognized as the happiest nation on earth.
3. Netherlands
The Netherlands ranked third place on the Quality of life index. With over 78% of the population in the working class employed and earning a living wage, most workers can get by with a reasonable amount of leisure time throughout the workweek. When compared to other countries, this one has above-average health care and educational opportunities, and its citizens are understandably proud of this fact. The Country's security system and agencies adhere to the greatest standards of professionalism and strongly disapprove of corrupt acts, contributing to a life expectancy of over 83.
As a result of the Country's high literacy rate (over 90%), its residents can freely express their political will, and the government is relatively stable. Also, it boasts a wonderful atmosphere and beautiful landscapes for formal and casual indoor and outdoor events. Hence, it has achieved a position among the world's top ten best-quality-of-life nations.
4. Australia  
Australia ranks fourth in the world for Quality of Life, with a score of 190.72. Australia has the second-best buying power index score and rates highest on the cost of living index out of all the countries on the list. Australia's ranking on the safety index is equivalent to that of New Zealand, placing it behind EU nations on the list.
Australia also obtains a good grade for its healthcare, surpassing the top-ranked Country in this category. Its recreation and natural environment are also big draws, with some of the most beautiful beaches in the world and great snorkeling and scuba diving on the Great Barrier Reef continuing popular tourist and local attractions.
5. Finland
Finland is among the top ten countries with the highest Quality of life. The Country has a small population, and the government has made sure that it has the best medical care and education. The Country has a stable government and a good system for finding work for working-age people. The system made the economy stable and possible for the people to do well. 
6. Iceland
Iceland is ranked number 6 in the world for having the best Quality of life in 2022. It has a good cost of living compared to its income, but its income-to-property price ratio is low compared to the other top 10 countries. The safety index is a big part of why Iceland has such a high score for Quality of life. Iceland has always been named the safest Country worldwide by the Global Peace Index.
7. Norway
Norway has a small population, with just over 5 million people. The Country has one of the best security systems in the world. The system does a good job of giving its people jobs that pay enough for them to meet their basic needs.
Their health system works well, and their education system is the envy of many other countries. The people are friendly and welcoming, the Country has enviable social structures that make life enjoyable, and the average life expectancy is high. It has an excellent standard of living and is one of the world's best locations to live.
8. Germany  
Germany is undoubtedly one of the most powerful economic powers in the world, ranking eighth overall. Germany's property price-to-income ratio is one of the finest, according to the statistics, making it possible for middle-class families to own their own land despite the Country's relatively high cost of living. In comparison to Austria, Germany scores lower on the safety and healthcare indices but higher on the traffic commute time and climate indices.
9. Austria  
The cost of living in Austria is very high, but the ratio of property prices to income is better than in New Zealand, making it easier to buy land. Safety and health care are also very good in the Country, making it a great place to start a family, raise a family, or even retire.
Even the Country's recreation leaves little to be desired. Some of Europe's best ski resorts are in the Austrian alps, and nature lovers love the epic hiking trails of Tirol. People also go to Vienna, which is the capital, because it has great restaurants, a lively culture, historic buildings, and a lot of museums.
10. New Zealand
New Zealand has a small portion of the population, which helps the Country be wealthy and have enough resources. The employment rate is pretty high, and people of working age have jobs that are important to them and pay very well.
The government is stable and working, and there isn't much corruption. The healthcare system is also above average. Education gets the most attention, and the economy stays strong. 
11. United Arab Emirates
The UAE is a popular destination for internationals seeking to live and work in the Country, who frequently move there for employment possibilities. The Country's hospitable business climate and prosperous job market in nearly all industries make it a honeypot for individuals seeking a better living and a higher career ladder. In addition, the UAE scores highly in terms of discretionary income, pay growth, and job opportunities, allowing it to create a solid reputation as a destination where individuals can work their way to the top and raise their families.
With a score of 174.37 on Numbeo's quality of life index, the United Arab Emirates is one of the finest places to live due to its exceptional Quality of life, modern housing, world-class, affordable medical facilities, exceptional private schools, safety, low crime rates, and well-developed, futuristic infrastructure. Dubai and Abu Dhabi are two of the finest cities for Quality of living in the United Arab Emirates (UAE).
12. Estonia
Estonia, a stunning country in Northern Europe, is home to many impressive medieval structures and a warm and welcoming population. This little Baltic Country has a high quality of life index score of 173.83, making it a popular destination for immigrants and permanent residents alike. Environmental Quality, education, social connections, and personal safety are all areas where the Country excels in comparison to others throughout the world.
Estonia boasts enticing business and visa options, and its cost of living is modest in comparison to those of many European countries. The Country also has the third-most businesses started per capita of any European country, indicating that it is certainly a land of opportunity for those who are ready to put in the effort. Estonia, especially in its capital city of Tallinn, comes out as forward-thinking in its approach to tackling problems, what with its ubiquitous free Wi-Fi.
The following is a list of the Best Countries for Quality of Life
| Ranks | Country | Quality of Life Score |
| --- | --- | --- |
| 1 | Switzerland | 195.1 |
| 2 | Denmark | 194.2 |
| 3 | Netherlands | 191.5 |
| 4 | Australia | 190.7 |
| 5 | Finland | 186.8 |
| 6 | Iceland | 184.5 |
| 7 | Norway | 179.6 |
| 8 | Germany | 178.3 |
| 9 | Austria | 178.1 |
| 10 | New Zealand | 176.8 |
| 11 | UAE | 174.4 |
| 12 | Estonia | 173.8 |
| 13 | Luxembourg | 173.8 |
| 14 | Sweden | 173.7 |
| 15 | Spain | 173 |
| 16 | Japan | 172.6 |
| 17 | Oman | 172.1 |
| 18 | Slovenia | 168.7 |
| 19 | United States | 167.2 |
| 20 | United Kingdom | 164.8 |
| 21 | Czech Republic | 163.80 |
| 22 | Canada | 163.80 |
| 23 | Lithuania | 163 |
| 24 | Croatia | 162.69 |
| 25 | Portugal | 162.19 |
| 26 | Belgium | 155.80 |
| 27 | Qatar | 155.6 |
| 28 | Singapore | 154.5 |
| 29 | France | 152.69 |
| 30 | Latvia | 152.19 |
| 31 | Ireland | 151.69 |
| 32 | Slovakia | 150.5 |
| 33 | Saudi Arabia | 150.19 |
| 34 | Cyprus | 148.19 |
| 35 | Israel | 146.4 |
| 36 | Taiwan (ROC) | 143.80 |
| 37 | Italy | 137.30 |
| 38 | South Africa | 136.60 |
| 39 | Hungary | 136.19 |
| 40 | Poland | 132.19 |
| 41 | Puerto Rico | 131.10 |
| 42 | Romania | 131.10 |
| 43 | South Korea | 130.80 |
| 44 | Bosnia And Herzegovina | 129.4 |
| 45 | Bulgaria | 129 |
| 46 | Greece | 127.1 |
| 47 | Mexico | 126.9 |
| 48 | India | 124.4 |
| 49 | Costa Rica | 122.9 |
| 50 | Uruguay | 122.7 |
| 51 | Malaysia | 121.6 |
| 52 | Serbia | 120.4 |
| 53 | Ecuador | 120.3 |
| 54 | Turkey | 119.5 |
| 55 | Georgia | 119.2 |
| 56 | Kuwait | 118.8 |
| 57 | Tunisia | 117.3 |
| 58 | Panama | 115.3 |
| 59 | Jordan | 113.7 |
| 60 | Ukraine | 112.1 |
| 61 | Argentina | 110.1 |
| 62 | North Macedonia | 109.8 |
| 63 | Belarus | 109.6 |
| 64 | Azerbaijan | 108.8 |
| 65 | Morocco | 107.2 |
| 66 | Malta | 106.1 |
| 67 | Brazil | 104 |
| 68 | Hong Kong (SAR) | 103.9 |
| 69 | Russia | 103.2 |
| 70 | Pakistan | 103.1 |
| 71 | Colombia | 102.9 |
| 72 | Chile | 102.9 |
| 73 | Thailand | 101.9 |
| 74 | Lebanon | 97.7 |
| 75 | Indonesia | 96.9 |
| 76 | Kazakhstan | 96.6 |
| 77 | China | 95.6 |
| 78 | Egypt | 91.2 |
| 79 | Kenya | 90.9 |
| 80 | Vietnam | 86.3 |
| 81 | Philippines | 81.40 |
| 82 | Peru | 81.3 |
| 83 | Venezuela | 73 |
| 84 | Iran | 69.40 |
| 85 | Sri Lanka | 68.90 |
| 86 | Bangladesh | 68.5 |
| 87 | Nigeria | 45.1 |
Read More Most Peaceful Countries ( Top 163 Countries)