Largest Banana Producing Countries (History)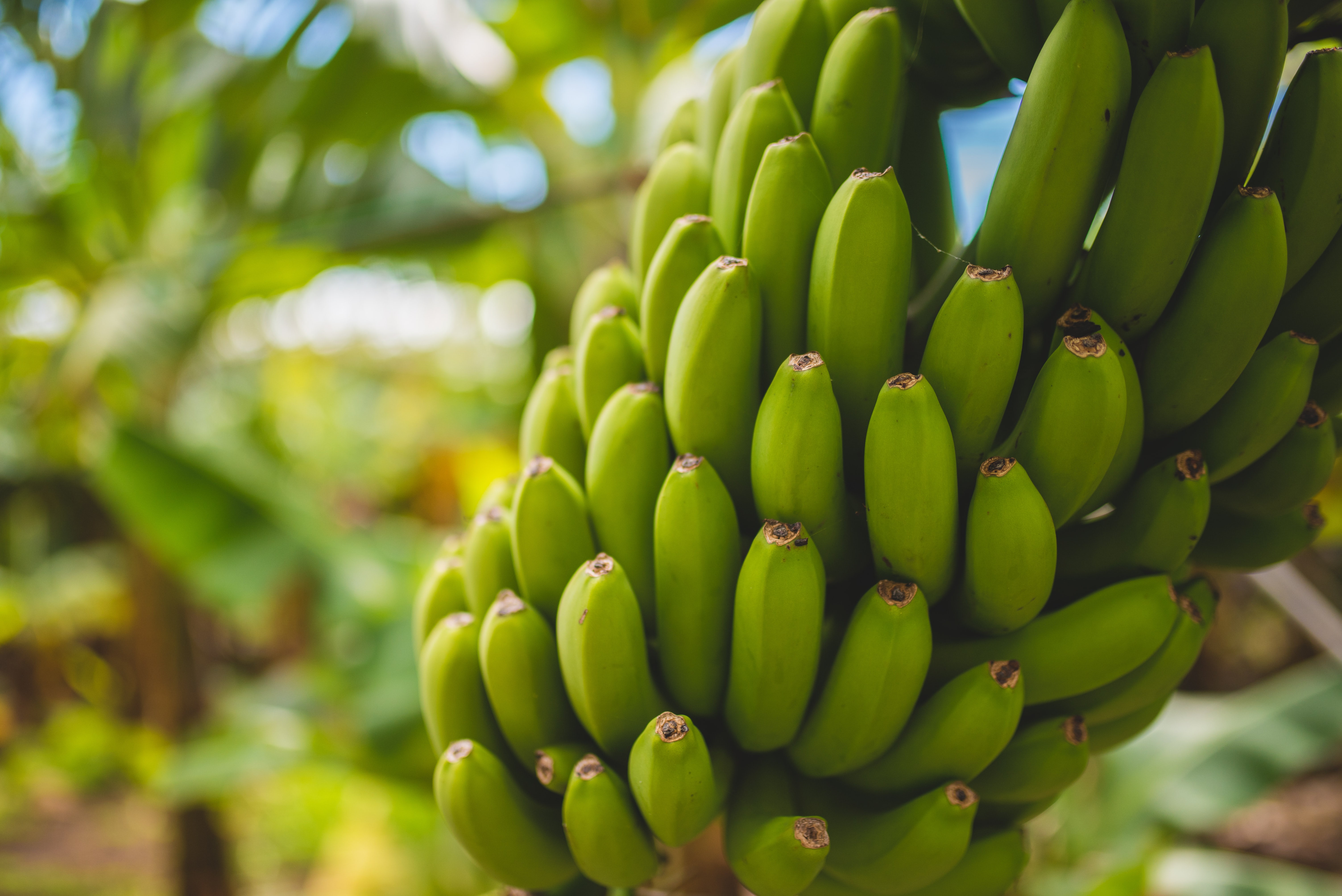 Bananas are grown in 135 tropical and subtropical nations and foreign territories. In 2021, India produced 33 million metric tons of bananas, which accounted for 26,40% of global banana production.
The top four nations (China, Indonesia, Brazil, and Ecuador) account for 53.79% of the total. In 2021, global banana production was expected to reach 125 million metric tons.
West Papua is the location of the biggest banana trees in Indonesia. Musa ingens is their scientific name, while ndowin or apit sepoh is their local name.
The majority of bananas are consumed in the nation of origin. The following list ranked the top banana-producing countries in 2021.
| Ranks | Country | 2021(In Tonnes) |
| --- | --- | --- |
| 1 | India | 33062000 |
| 2 | China | 12061344 |
| 3 | Indonesia | 8741147 |
| 4 | Brazil | 6811374 |
| 5 | Ecuador | 6684916 |
| 6 | Philippines | 5942215 |
| 7 | Angola | 4345799 |
| 8 | Guatemala | 4272645 |
| 9 | Tanzania | 3588510 |
| 10 | Costa Rica | 2556767 |
| 11 | Colombia | 2413769 |
| 12 | Mexico | 2405891 |
| 13 | Peru | 2378045 |
| 14 | Viet Nam | 2346878 |
| 15 | Rwanda | 2143866 |
| 16 | Kenya | 1985254 |
| 17 | Oceania | 1696171 |
| 18 | Thailand | 1341978 |
| 19 | Papua New Guinea | 1290345 |
| 20 | Egypt | 1285129 |
| 21 | Burundi | 1278300 |
| 22 | Dominican Republic | 1262834 |
| 23 | Lao People's Democratic Republic | 1166540 |
| 24 | Cameroon | 1132649 |
| 25 | Sudan | 934297 |
| 26 | Turkey | 883455 |
| 27 | Ethiopia | 849717 |
| 28 | Bangladesh | 826151 |
| 29 | Democratic Republic of the Congo | 807157 |
| 30 | Mozambique | 797628 |
| 31 | Côte d'Ivoire | 619140 |
| 32 | Venezuela | 533190 |
| 33 | Mali | 500983 |
| 34 | Malawi | 421905 |
| 35 | Spain | 409110 |
| 36 | Madagascar | 382197 |
| 37 | Panama | 379350 |
| 38 | Honduras | 360771 |
| 39 | South Africa | 351574 |
| 40 | Australia | 346035 |
| 41 | Taiwan (ROC) | 337144 |
| 42 | Morocco | 336138 |
| 43 | Cambodia | 331052 |
| 44 | Malaysia | 330642 |
| 45 | Nepal | 318338 |
| 46 | Bolivia | 300871 |
| 47 | Haiti | 264342 |
| 48 | Cuba | 241978 |
| 49 | France | 228900 |
| 50 | Guinea | 225462 |
| 51 | Zimbabwe | 189499 |
| 52 | Argentina | 176619 |
| 53 | Israel | 147038 |
| 54 | Pakistan | 141975 |
| 55 | Liberia | 140251 |
| 56 | Iran (Islamic Republic of) | 130165 |
| 57 | Yemen | 114503 |
| 58 | Ghana | 108379 |
| 59 | Nicaragua | 103855 |
| 60 | Belize | 99467 |
| 61 | Paraguay | 97470 |
| 62 | Congo | 86244 |
| 63 | Lebanon | 83501 |
| 64 | Puerto Rico | 77471 |
| 65 | Jamaica | 64732 |
| 66 | Saint Vincent and the Grenadines | 61551 |
| 67 | Comoros | 46750 |
| 68 | Burkina Faso | 46033 |
| 69 | Jordan | 38359 |
| 70 | Senegal | 35500 |
| 71 | Equatorial Guinea | 30341 |
| 72 | Portugal | 24990 |
| 73 | Togo | 24314 |
| 74 | Somalia | 23532 |
| 75 | Samoa | 22196 |
| 76 | Dominica | 21170 |
| 77 | Benin | 20081 |
| 78 | Gabon | 18577 |
| 79 | Oman | 18417 |
| 80 | Guyana | 17625 |
| 81 | Vanuatu | 16855 |
| 82 | Eswatini | 14762 |
| 83 | Bahamas | 10209 |
| 84 | El Salvador | 9789 |
| 85 | Mauritius | 9629 |
| 86 | Guinea-Bissau | 8325 |
| 87 | Suriname | 7945 |
| 88 | Fiji | 7586 |
| 89 | Kiribati | 7330 |
| 90 | Saint Lucia | 6009 |
| 91 | Cyprus | 5630 |
| 92 | Greece | 5170 |
| 93 | Cabo Verde | 4930 |
| 94 | Sao Tome and Principe | 4827 |
| 95 | Trinidad and Tobago | 3410 |
| 96 | Grenada | 3253 |
| 97 | Bhutan | 3174 |
| 98 | Palestine | 3145 |
| 99 | United States | 2776 |
| 100 | Micronesia | 2039 |
| 101 | Seychelles | 1994 |
| 102 | Brunei Darussalam | 1364 |
| 103 | Timor-Leste | 1290 |
| 104 | Barbados | 1011 |
| 105 | Tonga | 821 |
| 106 | Zambia | 698 |
| 107 | United Arab Emirates | 553 |
| 108 | Solomon Islands | 319 |
| 109 | Tuvalu | 289 |
| 110 | Algeria | 233 |
| 111 | Maldives | 157 |
| 112 | Syrian Arab Republic | 142 |
| 113 | Japan | 18 |
| 114 | Antigua and Barbuda | 5 |
Largest Banana Producing Countries from 1961 to 2021 (History)
Banana Production by Region in 2021
| Rank | Region | 2021(In Tonnes) |
| --- | --- | --- |
| 1 | Asia | 68,041,140 |
| 2 | Africa | 22,941,960 |
| 3 | South America | 19,421,820 |
| 4 | Central America | 10,188,530 |
| 5 | Caribbean | 2,017,980 |
| 6 | Ocenia | 1,696,170 |
| 7 | Europe | 668,170 |
| 8 | North America | 2780 |
Read More: World's Richest Cities by GDP (Nominal)