Orange Production By Country (Top 118 Countries)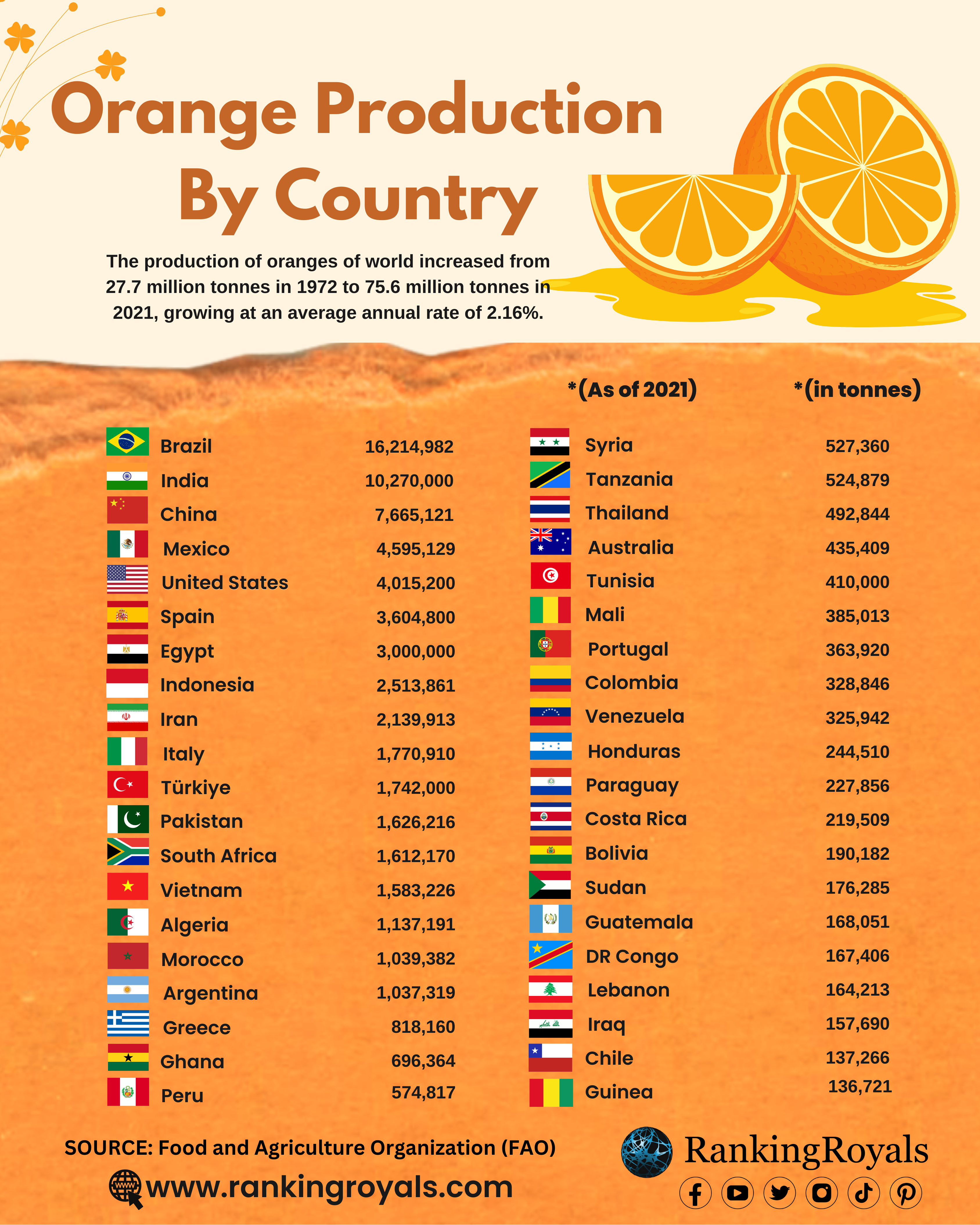 Orange production is a big part of agriculture in many countries and a big part of the world economy. In addition, oranges have a lot of Vitamin C and can be eaten fresh, in juice, or as part of cooked foods like marmalade and jam.
Oranges are a very important part of the world's citrus fruit production, making up more than half of all citrus fruits. In the last 30 years, the number of oranges grown and eaten has grown by 3.5% per year. Over the same period, the production of processed orange goods and their exports have increased by 4.4%. This is because transportation has improved, and the cost of packaging has decreased. 
Governments and other groups are trying to help producers deal with the impact of climate change and other problems by giving them money and additional support. Farmers can get low-interest loans and protection plans through these programs.
In addition to these steps, consumers can help support sustainable orange production by picking products certified as sustainable or organic. This can help spur farmers to use environmentally friendly technologies and farming methods that are good for the land.
Facts About Orange Production by Country:
Oranges are citrus fruit, a good vitamin C, folate, and potassium source.

Around 2500 BC, the first oranges were grown in China. In the 9th century, the Moors brought oranges to Europe.

The word for "fragrant" in Sanskrit is "naranga," which is where the word "orange" comes from.

Oranges were once a luxury item available only to the wealthy.

Oranges were once considered a luxury item and were only available to the wealthy.

The orange tree is the most widely cultivated fruit tree in the globe.

Every year, 78,699,604 tonnes of oranges are produced all over the world.

There are over 600 orange varieties.

Asia was the world's largest producer of citrus fruit in 2021, producing approximately 83.6 million metric tonnes.

Orange trees can survive up to 100 years and reach a height of 10 meters.

Brazil produces more oranges annually than any other nation. A vast majority are used to make orange juice.

In 2021, China produced just under 56 million metric tonnes of citrus, about 70% of all the citrus grown in Asia that year.

In America, orange juice is the most popular fruit drink.

Florida produces more oranges than any other state in the U.S.

Over 35 million orange trees exist in Spain.

Orange peels contain essential oils and can be utilized in cooking, cleaning, and fragrance production.

Oranges have a glycemic index that is low, which means that people with diabetes can eat them and that they can help control their blood sugar levels.

Oranges are a favorite snack for athletes, which can help improve endurance and reduce muscle pain.

Oranges have a long shelf life. They can stay fresh at room temperature for up to two weeks and in the fridge for up to six weeks.
Health Benefits of Eating Oranges:
This citrus fruit is an excellent source of antioxidants, which slow down the aging process on the inside and outside. It is also a great way to clean the liver, kidneys, and bowels. Orange also helps protect us from heart disease because it improves circulation, controls blood pressure, and lowers the number of triglycerides in the blood.
One of the benefits of oranges that not many know about is that they are antidepressants, just like the other citrus foods. People with sadness, anxiety, anger, and aggression feel better after eating this fruit or just being around its natural scent.
What are the most popular types of oranges?
There are numerous varieties, each with flavor, texture, and nutritional profile. Navel oranges, Valencia oranges, Blood oranges, Cara Cara oranges, Satsuma oranges, and Mandarin oranges are among the most popular varieties of oranges. Navel oranges are typically consumed fresh or used in salads and desserts because they are seedless, possess a sweet and juicy flavor, and lack seeds. Valencia oranges are used to make orange juice and other beverages. They have a thin peel and a sweet and sour flavor. Commonly used in salads and desserts, blood oranges have distinctive red flesh with a sweet and slightly sour taste. 
Cara Cara oranges have pinkish-red flesh with a sweet and slightly sour taste, are seedless, and are typically consumed fresh or used in salads. Satsuma oranges are small, seedless, simple to peel, and have a sweet and delicate flavor. Mandarin oranges are also small, have no seeds, and are easy to peel. However, it tastes sweet and sour.
What is the importance of producing oranges?
Orange production is essential for multiple reasons. First, oranges are full of nutrients in fruit that can be consumed fresh or as juice, which can help maintain a healthy immune system, prevent chronic diseases, and enhance overall health.
Additionally, oranges are a vital agricultural product that provides substantial economic benefits to producers, agribusinesses, and communities. The orange sector supports millions of jobs globally, contributes to expanding local economies, and provides essential nutrition and income to countless households.       
Here is a list of the Top Orange Producing Countries in the world according to FAO:
| Rank | Country | Total Production (In Tonnes) |
| --- | --- | --- |
| 1 | Brazil | 16,214,982 |
| 2 | India | 10,270,000 |
| 3 | China | 7,665,121 |
| 4 | Mexico | 4,595,129 |
| 5 | United States | 4,015,200 |
| 6 | Spain | 3,604,800 |
| 7 | Egypt | 3,000,000 |
| 8 | Indonesia | 2,513,861 |
| 9 | Iran | 2,139,913 |
| 10 | Italy | 1,770,910 |
| 11 | Turkey | 1,742,000 |
| 12 | Pakistan | 1,626,216 |
| 13 | South Africa | 1,612,170 |
| 14 | Viet Nam | 1,583,226 |
| 15 | Algeria | 1,137,191 |
| 16 | Morocco | 1,039,382 |
| 17 | Argentina | 1,037,319 |
| 18 | Greece | 818,160 |
| 19 | Ghana | 696,364 |
| 20 | Peru | 574,817 |
| 21 | Syria | 527,360 |
| 22 | Tanzania | 524,879 |
| 23 | Thailand | 492,844 |
| 24 | Australia | 435,409 |
| 25 | Tunisia | 410,000 |
| 26 | Mali | 385,013 |
| 27 | Portugal | 363,920 |
| 28 | Colombia | 328,846 |
| 29 | Venezuela | 325,942 |
| 30 | Honduras | 244,510 |
| 31 | Paraguay | 227,856 |
| 32 | Costa Rica | 219,509 |
| 33 | Bolivia | 190,182 |
| 34 | Sudan | 176,285 |
| 35 | Guatemala | 168,051 |
| 36 | DR Congo | 167,406 |
| 37 | Lebanon | 164,213 |
| 38 | Iraq | 157,690 |
| 39 | Chile | 137,266 |
| 40 | Guinea | 136,721 |
| 41 | Kenya | 120,867 |
| 42 | Uruguay | 119,646 |
| 43 | Ecuador | 117,382 |
| 44 | Taiwan | 115,121 |
| 45 | Yemen | 114,609 |
| 46 | Nicaragua | 109,030 |
| 47 | Dominican Republic | 98,302 |
| 48 | Zimbabwe | 97,906 |
| 49 | Madagascar | 83,897 |
| 50 | Haiti | 78,226 |
| 51 | Malawi | 69,389 |
| 52 | Jamaica | 69,123 |
| 53 | Mozambique | 67,000 |
| 54 | Cambodia | 64,635 |
| 55 | El Salvador | 58,983 |
| 56 | Senegal | 58,000 |
| 57 | Belize | 54,479 |
| 58 | Libya | 52,997 |
| 59 | Nepal | 47,558 |
| 60 | Israel | 46,572 |
| 61 | Jordan | 45,803 |
| 62 | Eswatini | 45,463 |
| 63 | Laos | 42,603 |
| 64 | Ethiopia | 41,890 |
| 65 | Côte d'Ivoire | 41,173 |
| 66 | Panama | 39,347 |
| 67 | Central African Republic | 33,589 |
| 68 | Japan | 28,053 |
| 69 | Guyana | 23,790 |
| 70 | Suriname | 18,825 |
| 71 | Cyprus | 18,060 |
| 72 | Bhutan | 15,966 |
| 73 | Togo | 15,309 |
| 74 | Benin | 14,772 |
| 75 | Albania | 12,725 |
| 76 | Puerto Rico | 12,153 |
| 77 | Palestine | 11,484 |
| 78 | Somalia | 10,895 |
| 79 | France | 10,630 |
| 80 | Cuba | 9,770 |
| 81 | Malaysia | 9,738 |
| 82 | Montenegro | 9,141 |
| 83 | Sri Lanka | 8,797 |
| 84 | New Zealand | 8,275 |
| 85 | Liberia | 7,831 |
| 86 | Guinea-Bissau | 6,947 |
| 87 | Dominica | 6,109 |
| 88 | Azerbaijan | 4,518 |
| 89 | Zambia | 4,156 |
| 90 | Trinidad and Tobago | 4,139 |
| 91 | Bangladesh | 3,739 |
| 92 | Bahamas | 3,688 |
| 93 | Botswana | 3,586 |
| 94 | Afghanistan | 2,794 |
| 95 | Rwanda | 2,459 |
| 96 | Georgia | 2,300 |
| 97 | Congo | 2,202 |
| 98 | Namibia | 2,021 |
| 99 | Timor-Leste | 1,849 |
| 100 | Tajikistan | 1,784 |
| 101 | Philippines | 1,607 |
| 102 | Fiji | 1,422 |
| 103 | New Caledonia | 1,405 |
| 104 | Malta | 920 |
| 105 | Tonga | 860 |
| 106 | Burkina Faso | 620 |
| 107 | Saint Vincent and the Grenadines | 585 |
| 108 | Grenada | 581 |
| 109 | Croatia | 550 |
| 110 | French Polynesia | 479 |
| 111 | Brunei Darussalam | 447 |
| 112 | Saint Lucia | 323 |
| 113 | Kuwait | 252 |
| 114 | Bosnia and Herzegovina | 134 |
| 115 | Russian Federation | 72 |
| 116 | Seychelles | 44 |
| 117 | Cook Islands | 9 |
| 118 | Djibouti | 5 |
Read More Global Motor Vehicle Sales By Country