Tomato Production By Country (Top 165 Countries)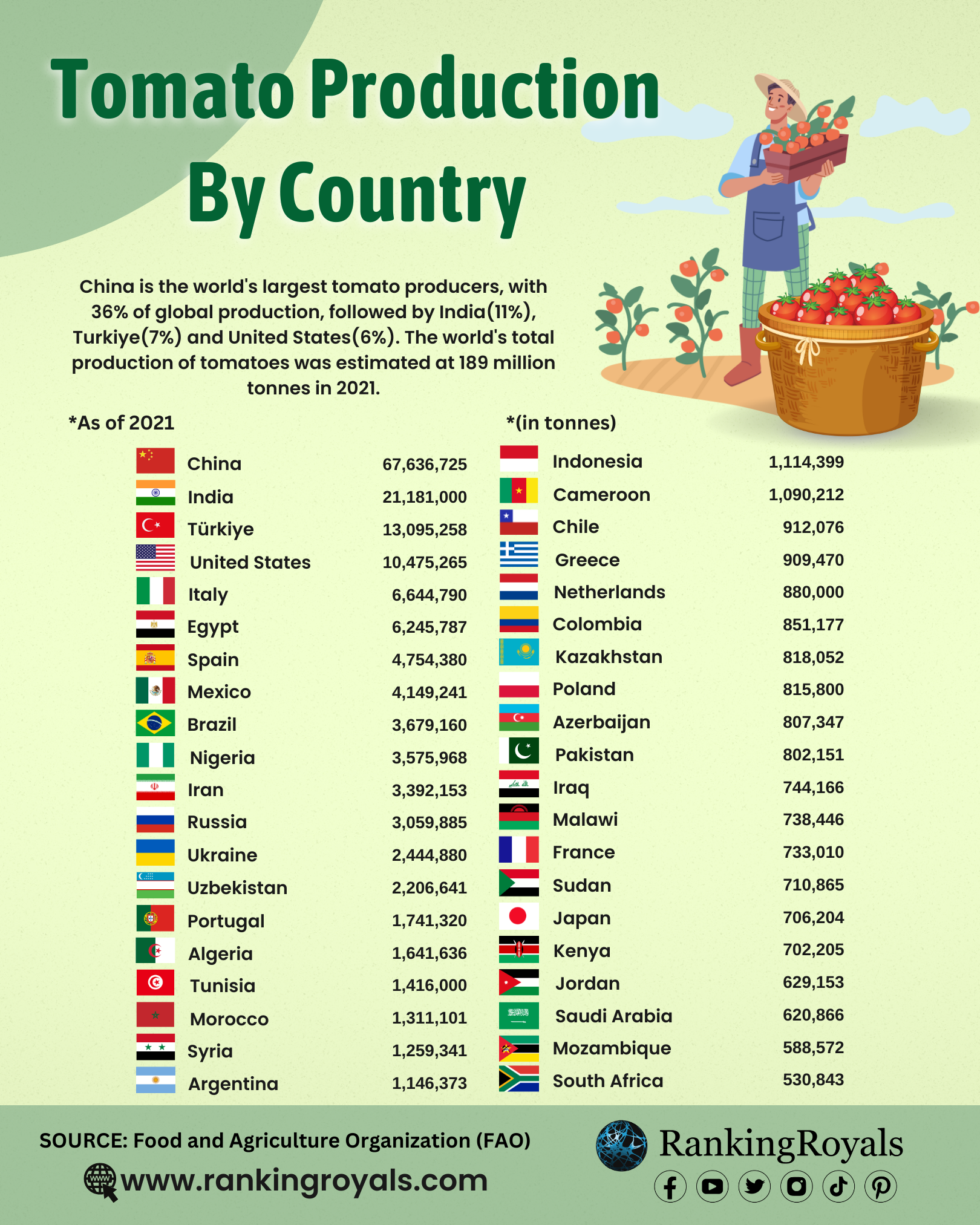 Tomatoes are one of the world's most widely grown and eaten crops. They are known for their high nutritional value and ability to be used in many ways in the kitchen. Tomatoes grow best in warm weather and need soil that drains well, lots of sunshine, and regular watering. They can be grown in many places, from small home gardens to big farms used for business.
Depending on the size of the job, tomatoes can be picked by hand or with a machine. Most of the time, the fruit is picked when it is fully ready. It can then be sold fresh or turned into sauces, ketchup, and canned tomatoes.
Facts about Tomato Production
The tomato is an extremely common food that is grown all over the world. 

The Food and Agriculture Organisation (FAO) reports that in 2021, more than 189 million tonnes of tomatoes were grown worldwide.

Tomatoes came from the Andes, where they grew wild in Peru, Bolivia, Chile, and Ecuador, now countries. The first people to grow the fruit were the Incas and Aztecs. They did this as early as 700 AD.

The word tomato comes from an Aztec word called "tomatl." 

The first tomatoes grown were small and yellow, called "golden apples."

Tomatoes came to Europe for the first time in the 1600s.

The Guinness Book of Records reports that Oklahoma's biggest tomato was grown in 1986 and weighed 3.5 kg (7.7 lbs).

China is the biggest source of tomatoes in the world. In 2021, around 36% of the world's tomatoes will come from China. 

Italy is known for its tomato-based food and is one of the top countries that make processed tomato goods like canned tomatoes and tomato paste.

Egypt grows the most tomatoes in Africa, with Nigeria and Algeria coming in second and third.

Italy grows the freshest tomatoes in Europe, and Spain comes in second.

Brazil and Mexico grow the most tomatoes in South America, and Brazil is the biggest seller of fresh tomatoes in the United States.

China, India, and other Asian nations significantly produce tomato purée and other tomato-based products.

The global demand for organic tomatoes is rising, and Spain, Italy, and the United States are among the primary producers of organic tomatoes.

California is the leading producer of tomatoes in the United States, followed by Florida and Ohio.

Tomatoes are part of the Solanaceae family, including potatoes, eggplants, and peppers.

Tomatoes are a popular crop for house gardeners because they are simple to cultivate and yield a large harvest in a small area. 
Health Benefits of Tomatoes
Tomatoes are delicious food and also good for your health in many ways. They contain vitamins and minerals, such as vitamins A, C, K, potassium, and folate. Also, the antioxidant lycopene, found in tomatoes in large amounts, has been linked to a lower chance of heart disease and some types of cancer, like prostate cancer. Tomatoes are also good for your eyes, skin, blood sugar levels, and stomach. This is because they are high in fiber. Adding tomatoes to your diet is an easy way to improve your health and enjoy their rich, tangy flavor in many meals.
Tomatoes are also low in calories and fat, which makes them the best choice for people who are trying to stay at a healthy weight or lose weight. They also have a lot of water and fiber, which may help in digestion and stop overeating. Tomatoes are also a good source of the chemical potassium, which can help reduce the risk of heart disease and lower blood pressure. They also have several good plant compounds, like flavonoids and carotenoids, with anti-inflammatory and antioxidant qualities that can help protect against chronic diseases.
Fruit or vegetable?
To be precise, tomatoes are fruits. In reality, however, we treat them as vegetables, serving them alongside the main course rather than as a sweet.
Types of Tomatoes:
Tomatoes are available in countless varieties at supermarkets, greengrocers, and market vendors. Here are some types are:
Classic: your familiar vital part. Great all-purpose vegetable, excellent for salads, barbecuing, baking, and frying.
Cherry: a small, sweet fruit. It goes well in a salad and is a kid's choice. There are red, golden, orange, and yellow ones.
Cocktail: somewhat bigger than cherry toms but equally as sweet. Delicious, both raw and prepared.
Plums and baby plums have an oval form that stands out. Because they have a fleshy texture, they are perfect for the grill and a natural choice for pasta recipes and pizzas.

Big and juicy beef. Good for stuffing and cooking whole.
The life cycle of a tomato plant
The type or variety of tomatoes directly affects how long it takes for the plant to live. Small, fixed fruits tend to grow faster, while beefsteak and many rare types take longer. Tomato plant typically takes between 60 and 100 days from planting seeds to harvesting. However, some very early types, like "Subarctic," can be picked in less than 50 days after planting.
How long does a tomato plant take to bear fruit?
Depending on the type of tomato plant, it can take two to three weeks for the flowers to turn into fruit. Several early types have been made that can produce fruit as soon as 50 days after being planted. However, on average, most types take between 60 and 100 days after the transplant.
Here is a list of the largest tomato producers by country, according to FAO:
| Rank | Country | Total Production (In Tonnes) |
| --- | --- | --- |
| 1 | China | 67,636,725 |
| 2 | India | 21,181,000 |
| 3 | Turkey | 13,095,258 |
| 4 | United States | 10,475,265 |
| 5 | Italy | 6,644,790 |
| 6 | Egypt | 6,245,787 |
| 7 | Spain | 4,754,380 |
| 8 | Mexico | 4,149,241 |
| 9 | Brazil | 3,679,160 |
| 10 | Nigeria | 3,575,968 |
| 11 | Iran | 3,392,153 |
| 12 | Russia | 3,059,885 |
| 13 | Ukraine | 2,444,880 |
| 14 | Uzbekistan | 2,206,641 |
| 15 | Portugal | 1,741,320 |
| 16 | Algeria | 1,641,636 |
| 17 | Tunisia | 1,416,000 |
| 18 | Morocco | 1,311,101 |
| 19 | Syria | 1,259,341 |
| 20 | Argentina | 1,146,373 |
| 21 | Indonesia | 1,114,399 |
| 22 | Cameroon | 1,090,212 |
| 23 | Chile | 912,076 |
| 24 | Greece | 909,470 |
| 25 | Netherlands | 880,000 |
| 26 | Colombia | 851,177 |
| 27 | Kazakhstan | 818,052 |
| 28 | Poland | 815,800 |
| 29 | Azerbaijan | 807,347 |
| 30 | Pakistan | 802,151 |
| 31 | Iraq | 744,166 |
| 32 | Malawi | 738,446 |
| 33 | France | 733,010 |
| 34 | Sudan | 710,865 |
| 35 | Japan | 706,204 |
| 36 | Kenya | 702,205 |
| 37 | Jordan | 629,153 |
| 38 | Saudi Arabia | 620,866 |
| 39 | Mozambique | 588,572 |
| 40 | South Africa | 530,843 |
| 41 | Canada | 515,013 |
| 42 | Romania | 500,200 |
| 43 | Tajikistan | 479,759 |
| 44 | Tanzania | 463,965 |
| 45 | Bangladesh | 447,815 |
| 46 | Guatemala | 439,062 |
| 47 | Israel | 374,117 |
| 48 | Ghana | 368,319 |
| 49 | Niger | 362,487 |
| 50 | Turkmenistan | 357,271 |
| 51 | South Korea | 348,983 |
| 52 | Australia | 336,888 |
| 53 | Cuba | 317,232 |
| 54 | Albania | 314,470 |
| 55 | Belarus | 297,767 |
| 56 | Burkina Faso | 291,171 |
| 57 | Oman | 283,274 |
| 58 | Belgium | 282,670 |
| 59 | Lebanon | 271,027 |
| 60 | Benin | 266,685 |
| 61 | Peru | 243,651 |
| 62 | Kyrgyzstan | 231,053 |
| 63 | Philippines | 225,451 |
| 64 | Libya | 219,519 |
| 65 | Mali | 219,038 |
| 66 | Armenia | 200,249 |
| 67 | Dominican Republic | 192,959 |
| 68 | Malaysia | 186,621 |
| 69 | Venezuela | 183,019 |
| 70 | Hungary | 171,770 |
| 71 | Senegal | 155,050 |
| 72 | North Macedonia | 154,164 |
| 73 | Serbia | 135,108 |
| 74 | Kuwait | 122,251 |
| 75 | Bulgaria | 116,420 |
| 76 | Thailand | 115,415 |
| 77 | Palestine | 104,312 |
| 78 | Germany | 101,770 |
| 79 | Taiwan | 98,340 |
| 80 | Rwanda | 93,587 |
| 81 | Sri Lanka | 89,669 |
| 82 | Yemen | 89,541 |
| 83 | Nicaragua | 87,196 |
| 84 | Bolivia | 77,116 |
| 85 | Honduras | 75,972 |
| 86 | United Arab Emirates | 75,509 |
| 87 | North Korea | 66,341 |
| 88 | Austria | 59,770 |
| 89 | Costa Rica | 58,459 |
| 90 | Paraguay | 57,775 |
| 91 | Georgia | 56,800 |
| 92 | Ecuador | 55,277 |
| 93 | Bosnia and Herzegovina | 52,892 |
| 94 | DR Congo | 50,523 |
| 95 | Côte d'Ivoire | 48,804 |
| 96 | Ethiopia | 42,182 |
| 97 | New Zealand | 41,083 |
| 98 | Madagascar | 40,864 |
| 99 | Qatar | 39,502 |
| 100 | Switzerland | 38,640 |
| 101 | Uganda | 37,654 |
| 102 | Finland | 37,590 |
| 103 | Uruguay | 35,073 |
| 104 | Jamaica | 29,524 |
| 105 | Zambia | 25,931 |
| 106 | Zimbabwe | 25,301 |
| 107 | Moldova | 25,300 |
| 108 | Guyana | 24,313 |
| 109 | Somalia | 23,727 |
| 110 | Slovakia | 23,240 |
| 111 | El Salvador | 22,522 |
| 112 | Sierra Leone | 20,092 |
| 113 | Puerto Rico | 18,935 |
| 114 | Croatia | 18,790 |
| 115 | Panama | 18,455 |
| 116 | Sweden | 17,460 |
| 117 | Angola | 16,810 |
| 118 | Cyprus | 15,140 |
| 119 | Lithuania | 13,950 |
| 120 | Norway | 13,321 |
| 121 | Czechia | 12,870 |
| 122 | Denmark | 11,390 |
| 123 | Cabo Verde | 11,200 |
| 124 | Mauritius | 9,603 |
| 125 | Botswana | 9,073 |
| 126 | Namibia | 8,891 |
| 127 | Slovenia | 8,770 |
| 128 | Malta | 8,420 |
| 129 | Bahamas | 7,855 |
| 130 | Bahrain | 7,800 |
| 131 | Eswatini | 5,445 |
| 132 | Latvia | 5,300 |
| 133 | Togo | 5,145 |
| 134 | Ireland | 3,770 |
| 135 | Congo | 3,709 |
| 136 | Liberia | 3,556 |
| 137 | Montenegro | 2,400 |
| 138 | Haiti | 2,389 |
| 139 | Trinidad and Tobago | 2,190 |
| 140 | Mongolia | 1,985 |
| 141 | Djibouti | 1,889 |
| 142 | Fiji | 1,633 |
| 143 | French Polynesia | 1,449 |
| 144 | Iceland | 1,234 |
| 145 | Belize | 1,175 |
| 146 | Grenada | 903 |
| 147 | Tonga | 852 |
| 148 | Estonia | 830 |
| 149 | Comoros | 694 |
| 150 | Timor-Leste | 573 |
| 151 | Papua New Guinea | 545 |
| 152 | Barbados | 439 |
| 153 | Dominica | 436 |
| 154 | Seychelles | 434 |
| 155 | Gabon | 417 |
| 156 | Suriname | 384 |
| 157 | Bhutan | 289 |
| 158 | Saint Lucia | 234 |
| 159 | Maldives | 227 |
| 160 | Brunei Darussalam | 138 |
| 161 | Saint Kitts and Nevis | 118 |
| 162 | Antigua and Barbuda | 71 |
| 163 | Luxembourg | 50 |
| 164 | Hong Kong SAR | 45 |
| 165 | Singapore | 34 |