10 Most Beautiful Waterfalls in the World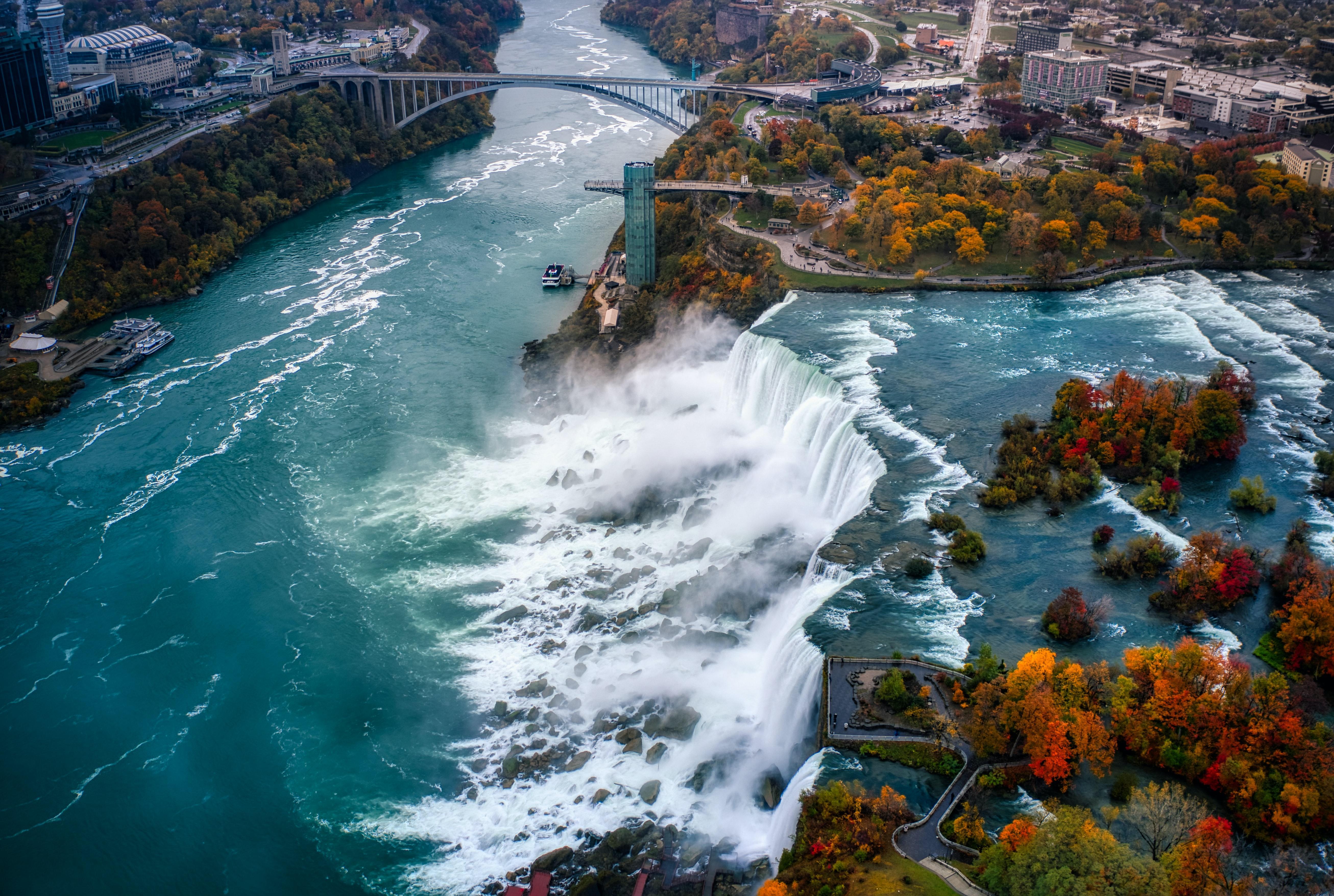 The planet has many stunning and enthralling sights to offer. Towers, temples, and buildings are some examples of man-made vistas. These things are primarily dependent on a man's capacity to make something exquisite.
On the other side, natural sights such as mountains, seas, and waterfalls can be included. Natural vistas are more about allowing nature to take its course and generate lovely scenery. There are many beautiful things in our environment for which we should be grateful and begin to appreciate them more.
One of them is waterfalls. Waterfalls' beauty is incentive enough to travel. Falls are like seeing rivers run vertically, tall and spectacular, short and wide, or a group of falls in one vista. They're also excellent reminders that our world produces its beauty, which we can only admire as bystanders.
let us know the specifics
1. NIAGARA FALLS (P

lace-

New York and Canada)
Falls height: 
167ft 
Niagara Falls, North America's most powerful waterfall, is located in Buffalo, New York, on the international boundary between Canada and the United States. It's broken down into three sections: On the American side, there are the 167-foot-high American Falls and the 181-foot-high Bridal Veil Falls; on the Canadian side, there are the 158-foot-high Horseshoe Falls.
The Maid of the Mist travels on both banks of the Niagara River. The 600-passenger ship gets so close to the action that passengers are given rain ponchos to protect them from the intense downpour.
What is the best time to leave? Visit between May and September for clear skies and the best chance of seeing a waterfall rainbow. While visitors should not anticipate the falls to freeze during their visit in the winter, they should dress warmly or risk becoming cold.
The falls are a 25-minute drive north of Buffalo on I-190.
2. HANAKAPI'AI FALLS (P

lace–Kauai, Hawaii)
Hanakapi'ai is reminiscent of the Jurassic Park movie's ancient, pristine beauty (minus the dinosaurs). A thin water mist descends 300 feet from volcanic-rock cliffs engulfed by tropical rain forests. Even better, you can reach there by taking the wonderfully gorgeous Kalalau Trail, which runs for 11 kilometers along the island's northern coast and follows the lush, green Na Pali Coast.
The trailhead is located 15 minutes north of Hanalei, Kauai. The climb takes two to four hours round trip, depending on your fitness level and how long you stay at the beach and waterfall.
When should You leave? From mid-September to December and from January to May, you'll discover the best airfare and accommodation prices. When temperatures can reach the 90s, avoid trekking the trail in August. Make sure to arrive early because the parking lot at Ke'e Beach fills up quickly.
3. VICTORIA FALLS (P

lace-Zimbabwe and Zambia)
This waterfall is about a mile wide and more than twice as high as Niagara Falls. 
This gusher's sheer size is incredible. On clear days, the spray may be seen from up to 30 miles away. As a result, baboons, elephants, and hippos may frequently be seen along Victoria's coastlines.
However, tourist numbers have decreased due to concerns that the waterfall is drying up. Local officials, however, stress that, despite the decline in water levels, the waterfall is not at imminent risk of disappearing. So, even though the dry season is ending, the falls are still worth seeing if you're in Zambia.
Victoria Falls is around eight kilometers away from Livingstone, Zambia. Most visitors fly into Livingstone International Airport, then take a shuttle to their accommodation, where tour companies pick them up and drive them to the falls.
What is the best time to leave? The pleasant weather boosts Victoria Falls' appeal throughout the year. On the other hand, Summers can be too hot and dry to see the falls in all their glory. Therefore the most incredible views are between March and August when the sky is clearest.
4. ANGEL FALLS (P

lace-Venezuela)
Some water evaporates before it reaches the pool below because Angel Falls is so high. As a result, the waterfall appears out of nowhere when seen from the bottom.
Unlike other waterfalls, this one is supplied by rainfall from tropical clouds rather than snowmelt, a lake, or a river. Unfortunately, it's impossible to go to and from Angel Falls without a guide, so you'll need to hire one.
The water flows into Devil's Canyon from a crack near the peak of the Auyán-tepui tabletop mountain. 
Because you must fly to get to this UNESCO World Heritage site, it provides one of the most thrilling travel experiences. However, the pilot occasionally flies quite near the top of the waterfall, so it's not for the faint of heart.
Angel Falls is in Canaima National Park, an on-site airstrip for tourists to and from Caracas.
The proper time to visit is between July and November when the waterfalls are at their most potent.
5. IGUAZÚ FALLS (P

lace-Argentina)
Iguaz is a network of 275 waterfalls that span over two miles and are so massive that Eleanor Roosevelt exclaimed, "poor Niagara," when she first saw them. 
In 2011, it was named one of the New Seven Natural Wonders of the World. So whether you're taking a gap year in South America or simply visiting Brazil for a vacation, you won't want to miss the Iguaz Falls, one of the world's most beautiful waterfalls. Iguaz is located 670 miles north of Buenos Aires (a 90-minute flight).
The greatest time to visit is in October when the lowest costs and the weather is mild (75 to 85 degrees Fahrenheit). However, Argentines and Brazilians throng the falls throughout January, February, and Easter. Also, avoid the rainiest months of the year, May and July.
6. GULLFOSS FALLS (P

lace- Iceland)
Gullfoss, commonly known as the Golden Falls, is a waterfall on the Hvita River that flows through a gorge in Iceland's southwest. It is 105 feet (32 meters) tall and has a summer capacity of 140 cubic meters per second and a winter capacity of 80 cubic meters per second.  
In Iceland, his waterfall is a well-known tourist attraction. Along with other Iceland tourist attractions like Pingvellir and Haukadalur's geysers, it forms the Golden Circle. The Golden Circle is a famous tourist attraction that encompasses most of Iceland's attractions.
Because it served as the inspiration for one of the waterfalls in the popular animated series "Avatar: The Last Airbender," this place became well-known.  
When the ice has melted and the temperatures are at their hottest, June, July, and August are the best months to visit.
7. PLITVICE FALLS (P

lace-Croatia)
Plitvice Falls are a series of waterfalls in Croatia's Plitvice Lakes National Park, one of the country's oldest and largest national parks. This park is situated on the boundary of two Croatian counties: Lika- Senj, and Karlovac. The area is famous for its 16 cascading lakes connected.
The Upper and Lower Lakes are the two portions of the lakes. Since 1979, it has been a UNESCO World Heritage Site. The waterfall's height is believed to be about 255 feet (77 meters), making it a breathtaking sight.
The proper time to visit is From May through September. The weather is consistently pleasant and sunny.
8. SUTHERLAND FALLS (P

lace-South Island, New Zealand)
Sutherland Falls is a waterfall in New Zealand's Milford Sound region. With a height of 1 904 feet, it has long been thought to be the highest waterfall in New Zealand.
However, Terror Falls in the Poseidon Valley and Browne Falls are nearby. In Doubtful Sound, they all pass through a slope that makes them feel it is the tallest.
A Scottish man named Donald Sutherland found this waterfall in 1880. He claimed that the falls were 1000 meters high, making them the world's highest waterfall.
Later, the falls were investigated and inspected, and the people discovered that the height was only 580 meters, far less than Sutherland predicted.
The water that cascades into the falls come from Lake Quill, which was named for the first person to hike up the hill to see it. The Quintin Public Shelter on Milford Track is about a 90-minute walk from the foot of this waterfall.
Summer in New Zealand is finest, from December to February, when the days are long, and the temperatures linger around 70°F. 
9. LANGFOSS WATERFALL (P

lace-Norway)
Langfoss cascades down a cliff, retaining touch with the rocks the entire way down rather than dropping in a straight line like other waterfalls.
Langfoss isn't Norway's tallest or widest waterfall, but its combined height (2,008 feet) and width (205 feet) are spectacular. In the summer, the slope in the distance turns brilliant green with fresh flora, giving a stunning contrast to the falls' whitewater and the charcoal-gray rocky outcroppings.
It's one of Norway's few natural waterfalls that hasn't been tapped for hydroelectric electricity.
You may drive 246 miles (approximately five hours) from Oslo to Etne, the little village where Langfoss flows; alternatively, you can fly directly from Oslo to Haugesund and drive 43 miles to Etne.
The ideal months to visit Langfoss are June through September when the weather is at its most pleasant.
10. KAIETEUR FALLS (P

lace-Potaro- Siparuni, Guyana)
According to the amount of water flowing over it, the Kaieteur Falls are the world's most splendid single-drop waterfall. This waterfall is part of the Kaieteur National Park by the Potaro River.
It's in Guyana's Potaro-Siparuni area, in an Amazon rainforest part. From where it plunges from the sandstone and conglomerate rock to its first break, it stands 741 feet tall.
This cascade is four times the height of Niagara Falls and nearly double that of Victoria Falls. As a result, Kaieteur Falls is one of the most powerful waterfalls globally, capable of falling at a tremendous size and producing a large volume of water. Six hundred sixty-three cubic meters per second is the average flow rate in this waterfall.
A party of Europeans led by British geologist Charles Barrington Brown found the falls in 1870. According to a Patamona Indian mythology, Kaieteur was named after Kai, the Patamona tribe's chief, who gave himself to Makonaiama by kayaking over the waterfalls.
Conclusion
Travelers love waterfalls. Waterfalls are so valued that national parks frequently preserve them, some even declared as UNESCO World Heritage Sites.
Every year, tourists flock to the world's most beautiful waterfalls in search of their therapeutic properties.
Read More 10 Most Beautiful Cities in Italy