Top 15 Luxury Brands in the World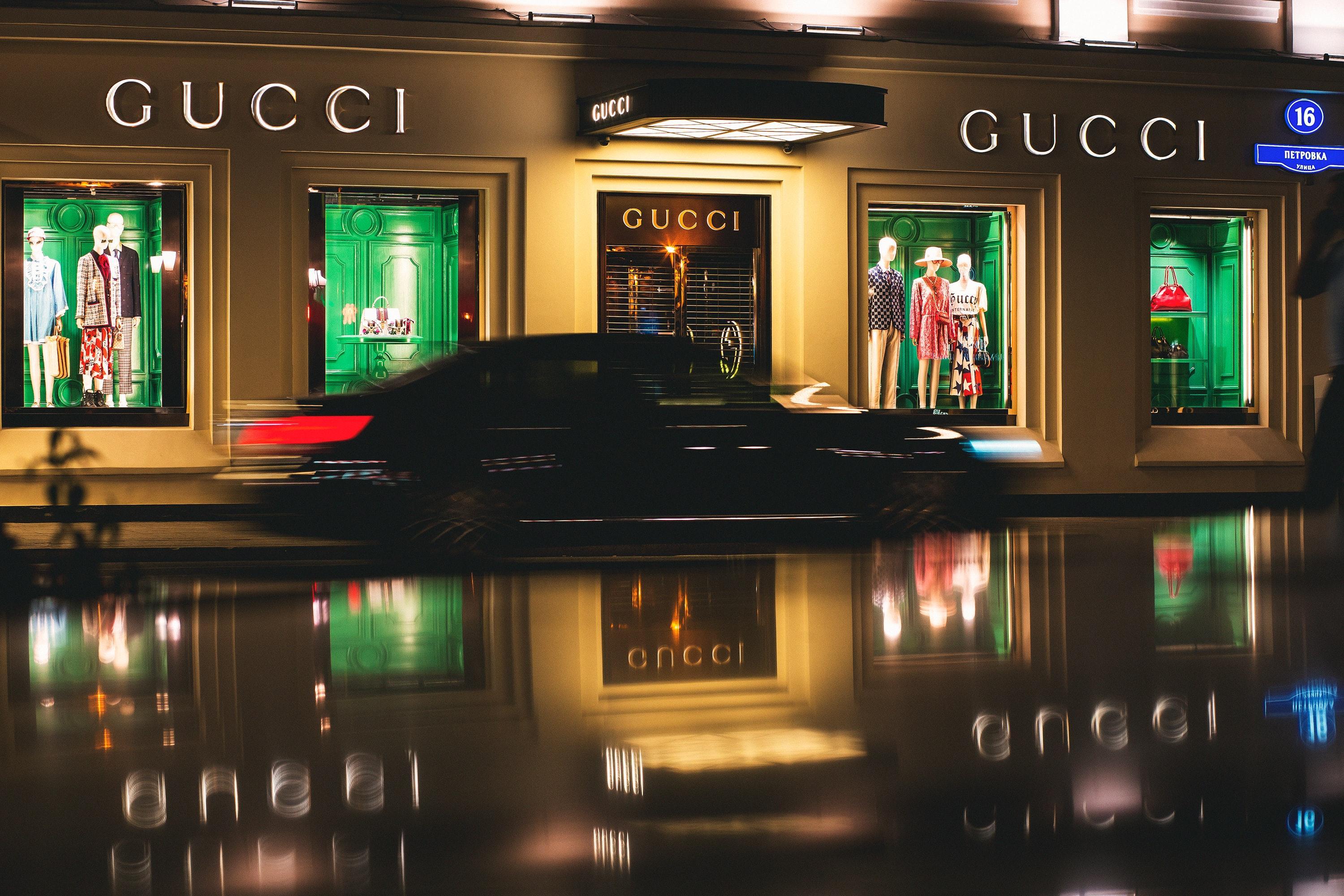 Some of us will never know what it's like to be truly free when it comes to money, but those who are 'rich and free' live a life of luxury. The best items and services are waiting for their instruction and wallet. Here is a list of the world's top luxury brands, which only the wealthy can afford but which we may admire.
People appreciate branded things, mainly clothing, for a variety of reasons. Quality, comfort, lifespan, and the ability to fit into a specific socioeconomic group! So, if you want to enhance your brand game, check out these 15 Luxury Clothing Brands from around the world.
While a 'regular' T-shirt from these manufacturers can cost hundreds of dollars, some people believe they are well worth the investment! Are you curious about these names?
1. Gucci
Gucci, one of the world's most prestigious luxury brands, was founded in Florence, Tuscany, by Guccio Gucci in 1921. Kering, the worldwide luxury business, now manages this Italian fashion, apparel, and leather products brand. Because of their exquisite craftsmanship, inventive design, and attention to detail, their works are considered the ultimate display of social status. In addition, their ageless designs have established them as a fashion authority. So it's no surprise that celebrities, style icons, Internet stars, and fashion influencers love this brand.
The goal is to give the brand an air of exclusivity, making customers feel "above" the majority. To get the idea of how expensive Gucci is, a pair of checkered shorts cost $880!!!
Gucci uses digital storytelling and heightened e-commerce to remain one of the industry's best-in-class digital performers. The brand is continuously experimenting online, from digital gifting with split payments to AR-powered try-on capabilities on Snapchat and the Gucci App.
2. Louis Vuitton
The Louis Vuitton luxury brand, adorned with an LV monogram and encompasses leather goods, purses, trunks, shoes, watches, jewelry, perfumes, and accessories, is a division of the LVMH group of enterprises. Louis Vuitton began the company in 1854 in Paris. He started his career as a trunk manufacturer, pioneering flat-bottom trunks of Trianon canvas, which were lightweight and airtight at the time. For a year before opening his store, Louis Vuitton worked as the personal box-maker and packer of the Empress of France.
The Louis Vuitton brand has a devoted celebrity following, with many well-known actors, models, and singers proudly serving as brand ambassadors. As a result, it is currently the most valuable brand.
The brand offers both men and women a wide range of ready-to-wear styles. LV has it all, from opulent outerwear to fashionable swimwear. However, expect to pay at least $600 for a plain T-shirt!
3. Dior
Christian Dior, a French fashion designer from Normandy, launched the firm in 1946. Solely Dior boutiques sell this brand, which only sells shoes and clothes. Since 2018, Pietro Beccari has served as the CEO of Christian Dior Couture.
With a starting price of $3000, Dior is one of the most expensive clothing companies globally. You read that correctly! It was even one of the first firms to promote the phrase "haute couture" and bring the famed "Royal gown" to the upper crust. Princess Diana, for example, favored Dior because of the delicate, handcrafted pieces company gives. Some dresses take between 100 and 200 person-hours to make, so this brand is so expensive! Although Dior is primarily a women's fashion house, it is increasingly becoming a significant participant in men's fashion.
4. Hermès
Hermès is a luxury French fashion house founded in 1837. Leather products, lifestyle accessories, home furnishings, fragrances, jewelry, timepieces, and ready-to-wear are among its specialties. The label has been in the family for five generations and is a global symbol of class. Hermes has a long history in quality equestrian leather goods, but they are currently best recognized for their handbags and other high-end things.
Imagine ordering a gown and waiting months, if not years, to wear it! Hermès for the win! Hermès is a French fashion house that produces apparel, handbags, and accessories. Given that the products are entirely handmade, it is one of the most expensive designer labels in the world. Every lace and stitch is meticulously created by a single artist specializing in the craft. For that cause, only a small percentage of products make it to market. The inflated price tags are due to the tremendous demand and low availability! For example, an essential Hermès scarf will set you back at least $400!!
5. Prada
Mario Prada founded the Italian luxury fashion business in 1913. Prada products (particularly the bags) have been noted for a long time because they are often composed of high-quality leather and durable synthetics. 
Prada is arguably one of the most expensive apparel manufacturers globally, with an outfit starting at $2000. Prada is an Italian fashion house known for its high-end leather items. This brand only entered the clothing market and held its debut runway show in 1999. Prada is preferred by many celebrities, like Taylor Swift and Jennifer Aniston, for its colorful patterns and delicate embroideries. In addition, Prada is known for its fashion-forward ensembles that (mainly) appeal to a younger demographic!
6. Givenchy
Givenchy was founded in France by designer Hubert De Givenchy in 1952. Givenchy is a member of the Pret-a-Porter. It is owned by the luxury giant LVMH. It is a world-renowned fashion house recognized for its haute couture clothing, accessories, perfumes, and cosmetics.
Hubert de Givenchy was a well-known French fashion designer who specialized in couture and ready-to-wear. He first opened his home in 1952 and quickly achieved international acclaim. For example, his costumes for Audrey Hepburn in the film "Breakfast at Tiffany's" are still admired. LVMH currently owns the brand.
Givenchy is for you if you're willing to pay $1000 for a plain t-shirt. Givenchy is a worldwide recognized clothing brand linked with luxury and high-end goods. After clothing Audrey Hepburn in the legendary film "Breakfast at Tiffany's," the brand became instantly popular. Givenchy is one of the most expensive fashion houses, selling some of the most expensive garments. Read this if you're ready for a minor heart attack! The Little Black Dress was sold for a staggering $923,187! Not so small any longer!
7. Dolce & Gabbana
Dolce & Gabbana is an Italian luxury fashion brand founded by Italian designers Domenico Dolce and Stefano Gabbana in Legnano in 1985. S.R.L. Dolce & Gabbana They met in a Milan bar in 1982 and collaborated on a fashion line for Giorgio Correggiari. Dolce & Gabbana is known for transforming the classic masculine suit into a statement of strength and confidence for women. The two renowned designers developed leather pantsuits embellished with sequins, traditional pinstripes, and much more early in their careers.
Thanks to D&G's appeal, the elite fly down to Italy solely to shop their favorite pieces from the exclusive brand outlets and enjoy a 'premium' experience, thanks to D&G's appeal. Domenco Dolce and Stefano Gabbana, two well-known Italian designers, own Dolce and Gabbana. The firm is known for creating one-of-a-kind silhouettes for weddings and celebrations. Your guess was correct! A D&G outfit will set you back tens of thousands of euros!
8. Rolex
Rolex, the Swiss luxury watchmaker, has fallen to sixth position on the list this year. Despite sticking to its brick-and-mortar roots, Rolex is the most sought-after luxury watch on the internet. The world-famous luxury watchmaker is also ranked number 80 on Forbes' list of the world's most valuable brands, worth $9.5 billion in 2021.
Every year, new watch models generate the majority of online discussions about Rolex. However, the rising resale value of old Rolex watches also creates interest in the brand. 
Although Rolex does not offer e-commerce, the growing popularity of online luxury resale sites has increased the number of people who can buy Rolex watches online.
The Swiss watch industry is under pressure, especially the entry-level brands, after Apple Timepieces outsold the whole Swiss watch sector in terms of watches sold last year. As young wealthy consumers form a more significant segment of the consumer market, only time will tell if the brand's renown can sustain current sales levels.
9. Armani
In today's world, Armani's labels have been consolidated into three primary lines: Giorgio Armani, Armani Exchange, and Emporio Armani, of which EA7 is a part.
It has the look and feels of an authentic luxury brand. Giorgio Armani is not only one of the most well-known and renowned brands in the fashion and luxury industries, but it is also one of the world's most valuable fashion enterprises.
This international fashion label is prominent among society's elite for retaining 'exclusiveness.' Staying ahead of trends and times is the key to its success! Every piece in this series is a true reflection of Armani's aesthetic and sense of style. While Giorgio Armani is the primary brand, which produces Oscar dresses and high-end suits, the group also includes three other sub-brands. Emporio Armani, EA7, and A/X Armani Exchange are the brands in question.
10.

Fendi
Adele and Edoardo Fendi founded the premium fashion house Fendi in Rome in 1925. The brand is recognized for its fur and fur accessories, as well as it's leather goods. The brand is noted for its style, elegance, and craftsmanship. LVMH purchased Fendi in 2000. Fur and fur accessories, ready-to-wear, leather products, shoes, fragrances, eyeglasses, clocks, and accessories are prevalent nowadays. Fendi is an Italian luxury fashion business that produces fur, ready-to-wear, leather products, shoes, fragrances, eyewear, clocks, and accessories. 
Fendi may be a lesser-known brand than Gucci or Armani, but it has a market value of $640 million. The handbags and ready-to-wear collections of this Italian luxury design house are well-known. The company feels it can provide excellent and extravagant goods to its clients by investing in the correct materials. After Karl Lagerfield became creative director and produced the FF logo, the brand shifted tremendously. Fendi is known for using animal furs extensively in all of their products, which has caused quite a stir among animal rights activists!
11. Stella McCartney
Stella Nina McCartney, the daughter of Sir Paul and Linda McCartney, is a British fashion designer noted for her fur-free and leather-free clothing and celebrity clients. She designed Madonna's wedding gown and Meghan Markle's wedding reception gown and went on to outfit actresses Gwenyth Paltrow, Liv Tyler, Naomi Campbell, and Kate Moss, to mention a few. 
Like her luxury fashion label of the same name, high-end fashion labels Stella McCartney has always been a champion for animal welfare and the environment. She debuted a partnership with Hunter in September 2019, and more recently, and perhaps more oddly, with Adidas and their Stan Smith line.
She founded Stella McCartney in 2001 as part of a joint venture with Gucci, which is now known as Kering. Her debut perfume, Stella, was published in 2003, and her organic skincare products were released in 2007.
12. Balenciaga
In 1917, Cristóbal Balenciaga launched his first boutique in San Sebastian, Spain, mainly catering to the aristocracy and royal family members. The firm now has the title of being the world's longest-running fashion enterprise.
Balenciaga is first on the list of the world's most valuable clothing labels, with $10.24 billion. The high-end designer label from France is a major player in women's fashion, coveted by many celebrities and stars. When Balenciaga debuted its most costly "T-Shirt Shirt" in 2018, it delivered its customers a harsh awakening. A simple T-shirt with a long sleeve t-shirt costs $1290. It was strange, yet it worked for the company! If you still want to possess a Balenciaga, have a few thousand bucks in your bank account.
Tunic dresses, balloon jackets, high-waisted baby doll dresses, cocoon coats, balloon skirts, sack dresses, and high-waisted dresses and coats shaped like kimonos are all credited to the designer. He also used bold materials, hefty textiles, and exquisite embroidery. Jacques Bogart S.A. purchased the mansion after Cristobal Balenciaga died in 1972. Kering now owns the Balenciaga fashion house.
Balenciaga's Triple S model from 2017 and the 2016 Speed Trainer were instant hits when they first came out. The Triple S sneakers were instrumental in establishing the ugly dad shoe fad, although they lacked the same enthusiasm as the Speed Trainers. Only time will tell if the Balenciaga Track 2 sneakers can return the company to its prior high in 2021.
Balenciaga made a daring move in the digital world in December 2020, launching their AW21 collection within the video game Afterworld: The Age of Tomorrow. Customers could connect via any computer or smartphone using a QR code to explore the game's various sections while learning about Demna Gvasalia's new ideas.
13. Chanel
In 1910, Gabrielle Chanel, better known as Coco, opened her first independent business selling hats. She then reinvents women's clothing by integrating elements from the masculine wardrobe to release the women's corset and bodice. Today, clothing, fragrances, handbags, and watches are all part of the Coco Chanel brand. The "little black dress," Chanel No. 5 perfume, and Chanel suit are among the brand's most well-known products.
However, Chanel's starting price is $3500, putting it beyond reach for most people. Chanel is credited with designing the iconic "Little Black Dress" in the 1920s, which is still prevalent in today's fashion world.
14. Ralph Lauren
The company's brands vary from Chaps to Lauren Ralph Lauren, Polo Ralph Lauren, Double RL, Ralph Lauren Childrenswear, and Denim & Supply Ralph Lauren to the total luxury Ralph Lauren Purple Label and Ralph Lauren Collection.
Ralph Lauren is an American design house best known for its Polo Pony emblem and the polo T-shirt. The company sells ready-to-wear and footwear lines in the luxury goods segment. Many people linked RL with high-end sportswear because of its official outfitter status at Wimbledon. On the other hand, the company made sure to keep its ties to the glamour world by designing some of the most stunning red carpet gowns. There's even a section dedicated to wedding and partywear outfits.
15. Emilio Pucci
Emilio Pucci, Marquis de Barsento, the famed Italian fashion designer and politician, is well-known for his tight shantung "Pucci" pants and his vibrant kaleidoscope of multicolored designs and jersey dresses and blouses. LVMH, the Paris-based company with the world's most excellent roster of prestige brands, owns several premium Italian companies, including Pucci. Underwear, knitwear, swimwear, and accessories were all designed by Pucci. He also dabbled in pottery and perfume, and men's fashion design. Braniff Airways flight attendants wore the first of its kind colorful, less formal uniforms he designed. Emilio Pucci frames are handcrafted in Italy and have long been the gold standard for quality and overall appearance.
Pucci's fashion designs have won numerous honors. Icons like Sophia Loren, Jackie Kennedy, and Madonna, to name a few, wore his designs. Pucci began his career designing one-piece ski suits. However, the company now offers a diverse range of products, including stylish clothing, accessories, fragrances, and even porcelain.
Conclusion
A luxury brand is varied by its high degree of quality, exclusivity, and premium price tag. There can be no luxury without branding. When purchasing a present, you often choose a brand first, followed by the goods, depending on your budget. You could also consider a product from a specific brand.
Read More The World's Most Valuable Startups