Most Popular Social Media Platforms 2023 (Top 15)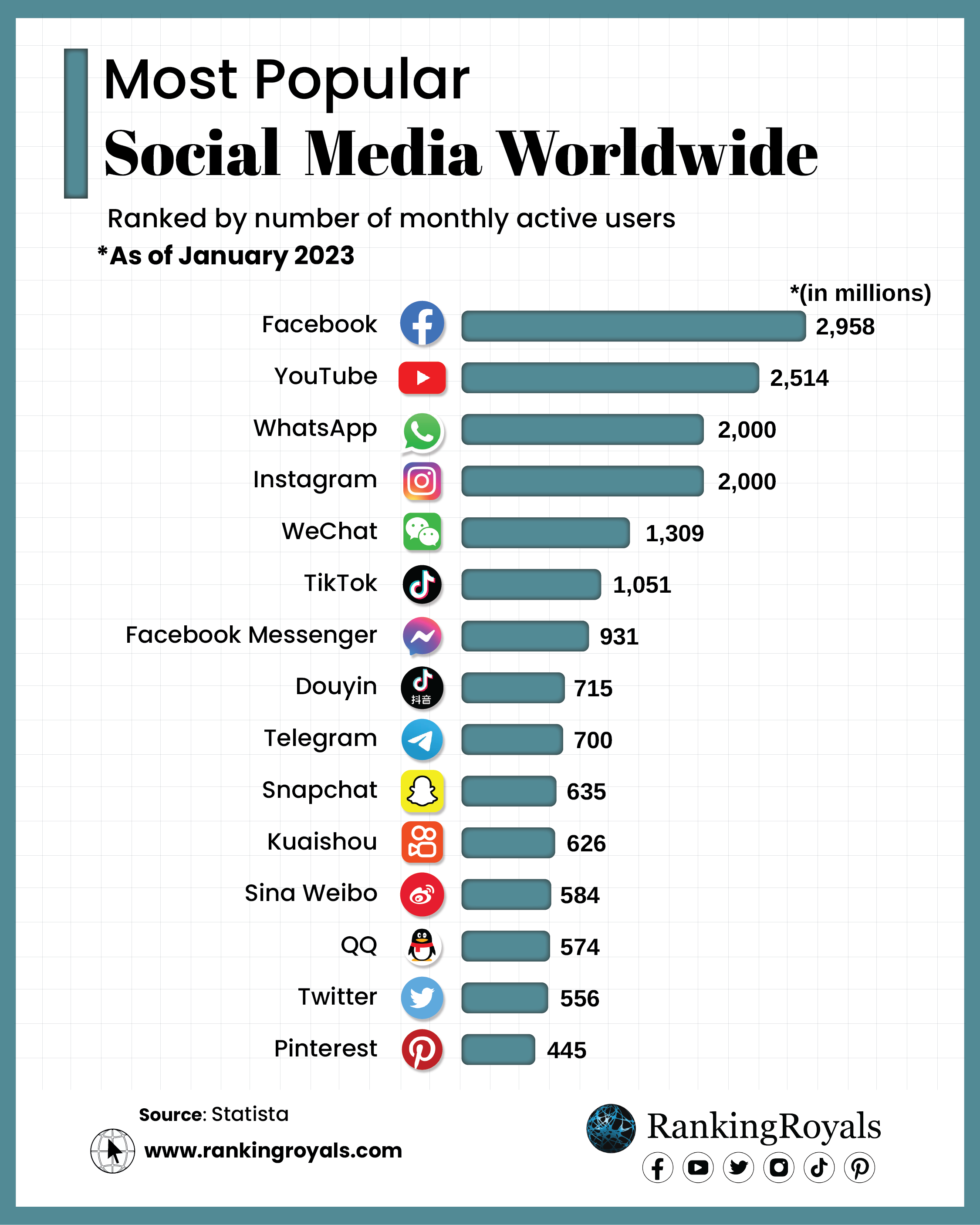 Social media refers to various online platforms and tools that enable individuals to create, share, and exchange information, ideas, and content within virtual communities and networks. Social media use has grown in popularity and prevalence over the years, as it offers numerous advantages and opportunities for individuals, enterprises, organisations, and society. 
Social media has revolutionised how we connect, communicate, and consume content globally. Because billions of people use these platforms daily, they have become integral to our existence. New features and capabilities are routinely added to social media platforms, which continue to gain in popularity. This article will examine the most prominent social media platforms, their defining characteristics, and what makes them so widespread.
The following are the top 15 most popular social media sites worldwide as of January 2023:  
1. 
Facebook 
Facebook is a well-known social media site that was started in 2004 by Harvard College students Mark Zuckerberg and his friends. Initially limited to Harvard students, membership was eventually extended to other North American universities, and then membership was made available to anyone over 13. Facebook has roughly three billion monthly active users and is the world's third most visited website as of 2023.
By adjusting the privacy settings on their Facebook profiles, users can share text, photos, and multimedia with their contacts or the general public. In addition, they can join groups with similar interests, communicate directly with Messenger, and receive updates on the activities of their Facebook acquaintances and the pages they follow.
Facebook has undergone numerous changes and has been involved in several controversies, including user privacy concerns, political manipulation, mass surveillance, false news, and hate speech. However, it remains a significant platform for connecting with others and sharing one's life. It is also used for marketing and advertising purposes by businesses.
Facts about Facebook:
As of 2023, almost 3 billion people use Facebook every month. This makes it the third most visited website in the world.

As of the 4th quarter of 2022, more than 2 billion people use Facebook daily.

About 35 minutes a day is how long the average Facebook user spends on the site.

Facebook paid US$1 billion for Instagram in 2012 and US$19 billion for WhatsApp in 2014.

Menlo Park, California, is home to Facebook's main office.

Mark Zuckerberg has trouble seeing red and green colours, so blue is the colour he can see best. This is why the main colour in Facebook's image is blue.

The Like button on Facebook was going to be called the Awesome button at first.

According to research done by the Pew Research Centre in 2021, about seven out of ten U.S. adults (69%) use Facebook. Young adults ages 18 to 21 are the most likely to use Facebook.
2. YouTube
YouTube is a free online video-sharing platform that enables users to upload, see, and share videos. Established in 2005, it has become one of the most prominent and influential websites. YouTube has billions of users and millions of videos ranging from user-created to media company-produced content.
The platform lets users locate and watch videos on various topics, including music, athletics, and educational content. In addition to remarking, liking, and sharing videos, users can also subscribe to the channels of their favourite content creators. As a result, YouTube has revolutionised the entertainment industry by enabling new forms of content creation and distribution and has become a significant source of income for many content creators.
To maximise the effectiveness of a YouTube video, content creators must optimise their videos with pertinent keywords, detailed descriptions, and high-quality thumbnail images. Moreover, YouTube's algorithm prioritises videos with high view time, engagement, and retention rates.
Facts About Youtube:
YouTube was established on Valentine's Day, February 14, 2005.

The first YouTube video, "Me at the Zoo, " was uploaded by co-founder Jawed Karim.

YouTube was originally conceived as "Tune in Hook Up," a video courting website.

In November 2006, Google acquired YouTube for $1.65 billion.

"Baby Shark Dance" has over 12 billion views, making it the most-viewed video on YouTube ever.

It is the second most visited website worldwide, with over 2.5 billion monthly active users.

Over 500 hours of video is uploaded to YouTube every minute.

As of April 2023, the YouTube channel with the most subscribers is T-Series, an Indian music video channel with over 240 million subscribers.
3. WhatsApp
Wh is a popular messaging app platform that lets individuals talk to each other through text messages, voice messages, phone calls, and video chats. The app was first released by Jan Koum and Brian Acton in 2009. Since then, it has grown to have more than 2 billion daily users, making it one of the most popular ways to talk to people worldwide.
WhatsApp's intuitive interface is one of the app's best features. Users can send messages and call friends with just a few phone taps. The app is also available on a wide range of devices, such as smartphones and desktop computers, so users can stay in touch wherever they are.
Another important thing about WhatsApp is that it is safe and private. The app encrypts messages and calls from start to finish, so only the sender and the receiver can read or hear them. This ensures that talks on the app are safe and private and that third parties can not listen in or read them.
People can also make groups on WhatsApp so that more than one person can talk to each other simultaneously. This tool is great for planning events, sharing news and updates, and keeping in touch with friends and family.
Facts about WhatApp:
More then 2 billion people use WhatsApp every month around the world.

In 2022, people who used WhatsApp did so for about 17 hours per month.

WhatsApp can be used in over 40 languages on the iPhone and up to 60 on Android.

Facebook paid $19 billion for WhatsApp in 2014 when it bought it.

In 2020, WhatsApp added a feature that lets people send messages that instantly disappear after seven days.

The app was first made just for iPhone users, but later it was made available for Android, Blackberry, and Windows Phone devices.
4. Instagram 
Instagram is a social media site where people can share photos and videos with people who follow them. It was made in 2010, and now more than 2 billion people use it every month, making it one of the most famous apps in the world. One of the best things about Instagram is that you can add effects and edit photos to make them look better. In addition, users can share pictures and videos, add captions, tag other users, and use hashtags to make their posts easier to find.
Instagram also has many different features, such as Stories, IGTV, Reels, Shopping, and more. Stories are short posts that disappear after 24 hours. IGTV, on the other hand, lets people post longer videos. Reels are short movies usually set to music and only last 15 seconds. Finally, shopping is a part of the app that lets users buy things without leaving the app.
It is more than just a place to share photos and videos. It has become a powerful way for businesses and influencers to build their brand and sell themselves. Instagram's algorithm is designed to show users relevant and interesting content, so businesses must create high-quality content connecting with their audience. Overall, Instagram is a lively and always-changing platform with something for everyone, whether you want to share your personal life with friends or grow a business or brand.
Facts About Instagram:
Instagram was published for the first time on October 6, 2010.

Instagram has more than 2 billion active users per month.

More than sixty per cent of its users tune in daily.

Instagram is the second-most-active social network behind Facebook, which holds the top spot.

@instagram has the most Instagram followers with over 597 million, followed by @cristiano with over 539 million.

Over 75.5 million Instagram users have liked a photo of Lionel Messi and the Argentine national football team after winning the 2022 FIFA World Cup.

Daily, over 500 million Instagram accounts utilise Instagram Stories.

Instagram is a prominent platform for influencer marketing, with 93% of marketers claiming to use the platform for influencer campaigns.

The parent entity of Instagram is Facebook, which acquired Instagram for $1 billion in 2012.

As of January 2023, nearly 31 per cent of Instagram's global audience was between the ages of 18 and 24, while 30.3% of users were between the ages of 25 & 34. 15,7 per cent of all users were between 35 and 44.
5. WeChat    
WeChat is a popular messaging application and social media platform first introduced in China. In recent years, it has become popular due to its user-friendly interface, extensive feature set, and large user base.
WeChat is a messaging application that lets users send text and voice messages, conduct voice and video calls, and share photos and videos with their contacts? It also has many social media features, such as a "Moments" feed where users can share updates and photos with their peers.
WeChat's "official accounts" feature, which allows businesses and organisations to establish their own accounts and interact directly with customers and followers, is one of its most notable features. In addition, WeChat's robust payments system enables users to pay for products and services within the app, and it has become an integral part of China's payment ecosystem.
Facts About WeChat:
WeChat was launched by Chinese tech giant Tencent on January 21, 2011.

In China, WeChat is known as Weixin. 

WeChat has over 1.3 billion monthly active users in 2023.

WeChat is extensively utilised in China and has become an indispensable tool for many citizens.

WeChat supports languages besides Mandarin Chinese, including English, Japanese, and Spanish.

WeChat has a "Moments" feed where users can share photos and status updates with their contacts.
6. TikTok
TikTok is a social networking platform where people can make, share, and find short movies. It was made by a Chinese tech company called ByteDance and released in 2016. Initially then, it has grown into a global phenomenon with over one billion daily users.
TikTok videos are limited to 60 seconds in length and can be about dance, music, comedy, attractiveness, and many other topics. Additionally, users can follow other users, like and remark on films, and share them on other social media platforms.
TikTok's algorithm uses machine learning to customise the content users see on their feeds based on their hobbies and how they use the app. This is one of the app's most unique features. This has helped it become famous and has made it a good place for people who make content to reach many people. 
Lastly, TikTok is a fun, creative, and engaging tool that has caught the attention of millions of people worldwide, making it an important part of the social media landscape.
Facts About TikTok:
TikTok was first introduced to the Chinese market in September 2016 beneath the name Douyin and was subsequently introduced to the international market under the name TikTok in September 2017.

TikTok has over one billion active users worldwide, with Asia and Latin America comprising most of its audience.

Sixty per cent of the app's users are between the ages of 16 and 24, indicating the app's popularity among younger demographics.

TikTok is renowned for its viral challenges and trends, with users worldwide creating and sharing innovative content.

ByteDance, the parent company of TikTok, is valued at approximately $220 billion, making it one of the most valuable enterprises in the world.

In 2022, It was the most downloaded mobile application, with over 672 million downloads. 
7. Facebook Messenger 
Facebook Messenger is an app for sending and receiving messages. It was released by Facebook in 2011. The stand-alone app lets users send and receive messages, photos, videos, voice notes, and other files and make voice and video calls. At the moment, 931 million people use it every month.
Messenger lets businesses connect with their customers through chatbots and automate customer service conversations. Businesses can also use Messenger to promote their goods and services and help customers.
Messenger lets you chat with groups of people, send reactions, and add emojis to your texts. Users can also use their bank card or PayPal account to send money to their friends through Messenger.
Privacy concerns have been raised about Messenger over the years, but Facebook has made several changes to make the app safer and more private. Currently, Messenger users can encrypt their messages from end to end. This ensures that only the intended readers can decrypt and read the messages.
Facts About Facebook Messenger:
Messenger was launched for the first time on the Facebook website on August 9, 2011.

Facebook launched dedicated Messenger applications for iOS and Android in 2014.

With 931 million monthly users, Facebook Messenger is the second most popular iOS app ever.

By 2023, over 100 billion Facebook Messenger messages will be sent daily across Facebook's family of applications. This equates to roughly 36 trillion communications per year.

Facebook introduced Messenger Rooms in 2020, allowing up to 50 people to simultaneously attend a video call.

Messenger has several hidden features, including a football game, a chess game, and a setting for Dark Mode.
8. Douyin
ByteDance developed the Chinese app Douyin, which was released in September 2016. It is the Chinese equivalent of TikTok, the international version of the application. Initially known as A.me, in December 2016, it was renamed Douyin. The app has become popular in China with 715 million monthly active users as of 2023.
Users can construct and upload short-form videos ranging from 3 seconds to 10 minutes on Douyin. In addition, the app frequently includes music and permits users to speed up or slow down videos. As a result, Douyin has evolved into a comprehensive platform that enables users to engage in e-commerce, influencer marketing, and other forms of digital entertainment. As of 2018, TikTok was also available in China under Douyin, enabling Chinese users access to the app's international version.
Facts About Douyin:
The app enables users to create and upload short-form videos ranging from three seconds to ten minutes.

With 715 million active users as of 2023, Douyin has acquired considerable popularity in China.

In English, the moniker "Douyin" translates to "shaking sound."

There are some distinctions in features and content between Douyin and TikTok due to cultural and geographical considerations.
9. Telegram 
Telegram was a messaging service that acquired widespread popularity as a means of sending messages in the early 20th century when telegraph prices fell sufficiently. It was introduced in 2013 and had 700 million active users per month. It enabled the transmission of text-based messages over a telegraph network, allowing people to send messages over vast distances efficiently and quickly. In addition, the system resulted in the development of automated systems such as teleprinters and punched tape transmission, which led to the creation of novel telegraph codes such as the Baudot code. 
Despite being unable to compete with letter mail in terms of price, telegrams remained a popular method of sending messages until the end of the 20th century, when internet-based alternatives became more prevalent. However, the inability of telegrams to compete with the speed advantage of the telephone caused its decline after 1920. It is a cloud-based instant messaging application that enables users to send and receive encrypted messages, photos, videos, and files. 
The application supports end-to-end encryption, self-destructing messages, and creating organisations with up to 200,000 members. As a result, privacy- and security-conscious individuals and organisations frequently use Telegram.
Facts About Telegram:
Pavel and Nikolai Durov, who also founded the popular Russian social network Vkontakte (VK), created Telegram.

Telegram was introduced as a cloud-based instant messaging application on August 14, 2013.

Globally, there are over 700 million monthly active Telegram users.

Telegram enables users to establish groups with up to two hundred thousand members.

Telegram is unlike many other messaging applications in that it is free and contains no advertisements. 

In 2017, Telegram introduced voice conversations, and in 2020, video calls.

The Channels feature of Telegram enables users to broadcast communications to a large audience.
10. Snapchat 
Snapchat is a popular social media site where people can share photos and videos that vanish shortly. The app is different because it focuses on sharing moments as they happen instead of carefully crafted posts. It has become especially popular with younger people, who often use it to talk to their friends and share news about their daily lives.
It has several other features, such as masks that change how people's faces look and a map that shows where friends are. The app also has a way to send messages and have group chats. It also has a feature called "Stories," which lets users assemble a collection of photos and videos that their fans can see.
Businesses have also started advertising on Snapchat to take advantage of its success. Snapchat has many ways to advertise, from paid lenses and filters to full-screen ads between Stories. Companies can reach Snapchat's young, highly engaged users with these choices.
Facts About Snapchat:
Snapchat launched for the first time on September 16, 2011.

It was formerly known as "Picaboo."

Every day, more than 293 million people use Snapchat.

Daily, more than five billion photos and videos are shared on Snapchat. 

More than 70% of the app's users are under 34, indicating its popularity among younger generations.

In 2022, Snapchat generated $4.6 billion in revenue.

In 2015, the first Snapchat filter was introduced.

Snapchat is available in 37 different languages.
11. Kuaishou 
Kuaishou is an app for sharing videos that have become very popular in China, especially in rural areas, over the past few years. Since its start in 2011, the platform has become one of the country's most popular short-form video apps, with over 626 million monthly active users as of 2023.
Unlike other video-sharing apps like TikTok, Kuaishou has a very rural feel. Many of the videos on it are of people living in China's rural areas. Many people on the site use it to show what they do daily and share bits of their culture. This gives viewers a real look at life in rural China.
Marketers have also started to use Kuaishou to reach China's growing rural customer market. In addition, the company has been aggressively expanding into foreign markets in the past few years. It has launched localised app versions in places like Brazil and Thailand.
Facts About Kuaishou:
Kuaishou Technology is a Beijing-based holding company known for creating a mobile app for sharing brief videos, social networking, and video editing with special effects.

As of 2023, the corporation was founded by Hua Su and Cheng Yixiao in 2011 and had over 626 million, monthly active users.

In Pakistan and Indonesia, the app is known as Snack Video, whereas in international markets, it is known as Kwai.

Douyin, or TikTok outside of China, is Kuaishou's primary competitor.

Kuaishou is more prevalent among older users outside China's Tier 1 cities than Douyin.
12. Sina Weibo 
Sina Weibo is a Chinese microblogging website that was founded in 2009 and has over 584 million active monthly users as of 2023. It has an identity verification policy, mobile applications for multiple platforms, and Twitter-like features. 
Weibo introduced Stories and VLOG, displays users' IP addresses, and supports Super-Hashtags. Paid Promotion to boost post visibility and Weilingdi are additional services. However, together with the Chinese government, Weibo imposes stringent censorship controls. 
Weibo has sponsored Villarreal CF, unveiled an aeroplane with a special livery, and is a CCTV Spring Festival Gala partner. In addition, Weibo had posts that broke records and users with the most followers.
Facts About Sina Weibo: 
Sina Weibo is a microblogging site that Sina Corporation started on August 14, 2009.

As of 2023, it had more than 584M monthly active users, making it one of China's most well-known social media sites. 

Weibo started Stories and VLOG. It also shows users' IP addresses and has Super-Hashtags.

Weibo has a strategy for verifying users' identities and mobile apps for different platforms.
13. QQ  
QQ is a social networking application created by the Chinese technology behemoth Tencent. It provides messaging, voice and video conferencing, and social sharing features. One of the most prominent messaging apps in the world, QQ has over 574 million monthly active users, primarily in China. Users can also construct profiles, share photos and videos, and connect with family and friends.
The application also includes QQ tokens, a virtual currency that can be used for various online purchases within the QQ ecosystem. Tencent has become one of the largest internet corporations in the world due to QQ's success in China.
Young people in China frequently use QQ to communicate with friends and family, in addition to entertainment and online gaming.
Facts About QQ:
Tencent In February 1999, QQ was introduced in China under the name OICQ.

In 2009, Tencent debuted its web-based QQ, with the most recent version being 3.0.

QQ supports instant messaging, voice and video conferencing, and social sharing.

QQ has a virtual currency known as QQ tokens that can be used for online transactions within the QQ ecosystem.
14. Twitter
Twitter is a popular social networking site where people can send and read short messages of up to 280 characters. These messages are called "tweets." With the Twitter app, people can use their phones to connect with the platform while on the go. In addition, users can look at their timelines, tweet, share, like, follow, and send direct messages to other users with the Twitter app. 
Users can also look for topics, hashtags, and accounts that interest them through the app. In addition, Many features of the Twitter app make it easy to stay up with the latest news, trends, and conversations on Twitter. For example, users can change how they get notified, hide their accounts, and limit who can see their tweets. The platform also has a dark mode and can be used in multiple languages. 
Last but not least, the Twitter app is a best way to stay in touch with your fans and keep up with the latest news and trends worldwide.  
Facts About Twitter:
Twitter was founded by Jack Dorsey, Evan Williams, Biz Stone, and Noah Glass on March 21, 2006.

On March 21, 2006, "just starting up my twttr" was the first tweet, which was sent by Jack Dorsey.

As of 2023, Twitter has 556 million monthly active users worldwide.

On average, Twitter sends approximately 6,000 tweets per second, corresponding to over 350,000 tweets per minute, 500 million tweets per day, and about 200 billion tweets per year.

According to the Pew Research Centre, 23% of Americans use Twitter.

As of January 2023, the account with the most followers on Twitter is @barackobama, with over 133 million followers, followed by @Elonmusk, with over 127 million followers. 

Larry is the moniker of Twitter's bird logo, after former NBA player Larry Bird.

The character limit for U.S. subscribers has been increased to 4,000, more than 14 times the 280-character limit for non-subscribers and Twitter Blue users outside the U.S.
15. Pinterest
Pinterest is a social media platform where people can find ideas, save them, and share them with other people. Pinterest has more than 445 million unique users every month, and it has a lot of different things to look at, from DIY crafts and recipes to fashion and home decor. In addition, users can organise their thoughts on boards that are easy to find later. One thing that makes Pinterest stand out is that you can use keywords to search for images, which makes it a valuable tool for study and planning.
 Pinterest can also be used for business. For example, companies can use it to show off their goods and services and get more people to visit their websites.
Facts About Pinterest:
Pinterest was initially established in December 2009.

As of 2023, Pinterest has over 445 million monthly active users.

Pinterest is currently the third-fastest-growing platform after Snapchat and LinkedIn.

Over 200 billion pins are stored on Pinterest.

83% of Pinterest users who view a brand's content on the platform make a purchase. 

76.2 per cent of Pinterest users are female, compared to just over 17 per cent of male users.
The USA and China account for the most high-profile social platforms:
Most of the top social networks with over 100 million users started in the United States. However, services like the Chinese social networks WeChat, QQ, and the video-sharing app Douyin have become popular in their regions because they have content and meaning that are relevant to them. Because Douyin is so famous, the platform has made a version of its network that can be used worldwide. It is called TikTok.
How many people use social media?
In general, the leading social networks are available in multiple languages, allowing users to communicate with friends or people, political, or economic boundaries. Social networking sites are projected to have 3.96 billion users by 2022. These numbers are expected to increase as mobile device usage and social networks gain traction in formerly unserved markets.
Lastly, Social media platforms have become an essential part of our lives because they bring together people from all over the world and give them a place to talk to each other. According to our data, with billions of people between them, Facebook, Instagram, Twitter, and TikTok are still some of the most popular social media sites in the world. As technology changes and new platforms emerge, seeing how the social media environment changes and grows will be interesting.
Read More Most Popular Luxury Brands (Top 20)