Most Technologically Advanced Countries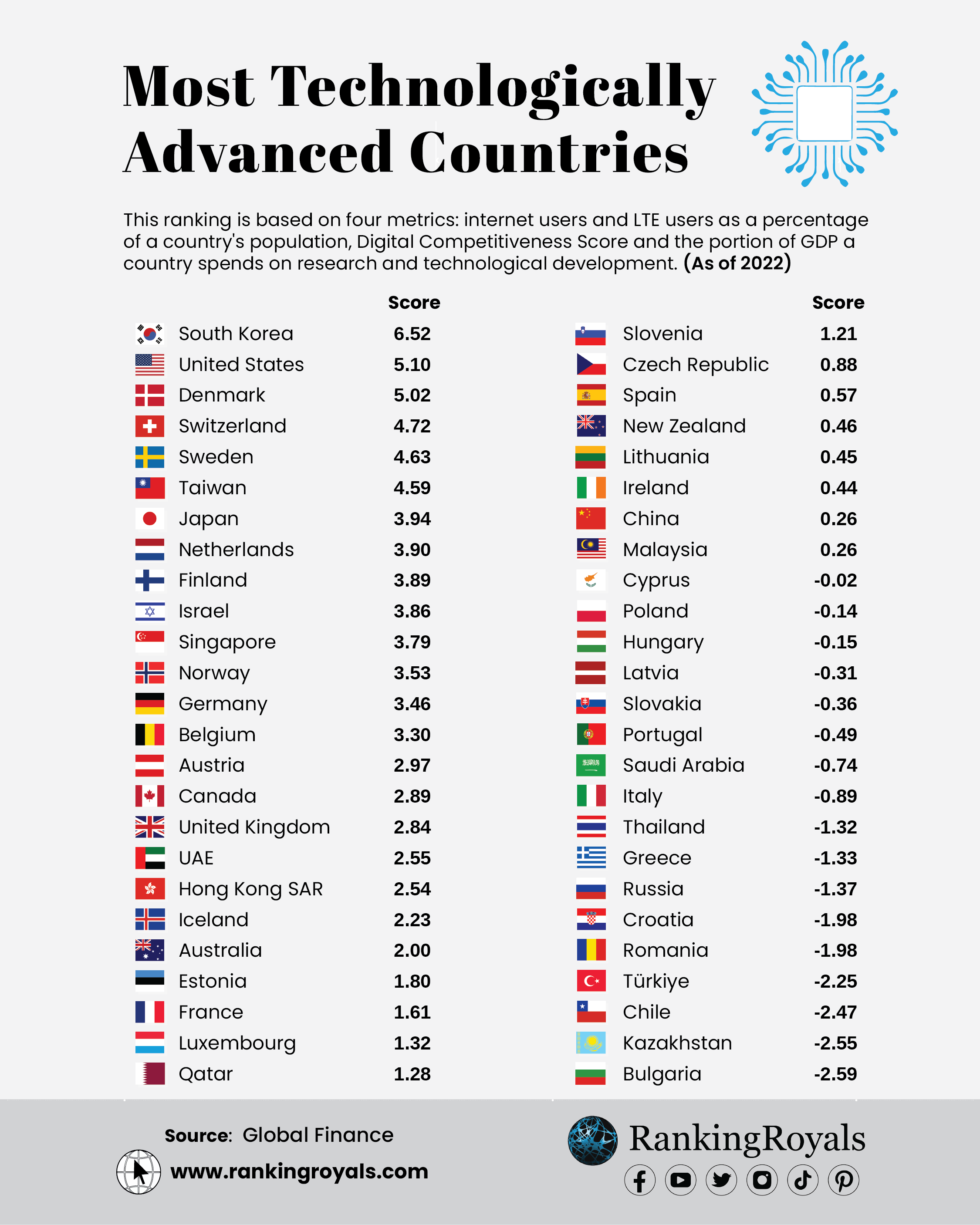 When we speak of the most advanced technology countries, we are referring to nations that have made significant scientific and technological advances. These nations are renowned for their innovative research, inventions, and high-tech industries. They have made substantial R&D investments, and their administrations have developed policies and infrastructure to support the development of the technology sector.
Factors:
Internet users as a proportion of a nation's total population

LTE users as a share of the total population

Digital Competitiveness Score

The portion of GDP a government spends on research and development
Facts:
The most technologically advanced country worldwide is South Korea, followed by the United States, Denmark, and Switzerland.

As usual, most of the top spots were taken by East Asia and Europe countries. Ten of the top 20 countries were in Europe, and the other ten were in East Asia.

Nordic nations, such as Denmark (3) and Sweden (5), dominate the top ten.

Despite having nearly 100 percent of their populations connected to the Internet, the UAE, and Qatar have low levels of innovation and invest a modest portion of their GDP in R&D.
Top 10 Technologically Advanced Countries In The World 2022.
1. South Korea (Score: 6.52)
South Korea is the location of some of the world's largest technology corporations. For instance, Samsung is a global leader in consumer electronics, while LG is renowned for its innovative household appliances. Not only have these companies made significant contributions to the country's technological advancements, but they have also contributed to industry innovation and competition.
South Korea is constructing smart cities with advanced infrastructure and IoT technologies to improve its citizens' quality of life. The nation is investing significantly in AI research and development to become a world leader in AI technology. South Korea is at the top of robotics technology, with companies such as Hyundai Robotics and Hanwha Robotics developing innovative robots for various industries. The country is also investing in virtual and augmented reality technology, with Samsung and LG developing VR headsets and AR spectacles. In addition, South Korea was the first nation to introduce a nationwide 5G network, which will likely change the telecommunications industry by facilitating new technologies such as self-driving cars.
What types of technologies is South Korea famous for?
OLED Displays, which provide high-quality images and minimal power consumption, were initially developed by Korean corporations, including LG and Samsung.

South Korea is also a top maker of smart home devices like smart speakers, smart locks, and smart thermostats. Samsung, LG, and Naver have made some well-known smart home goods.

South Korea was one of the first nations to launch a 5G network and is now a pioneer in adopting 5G technology. Several telecommunications companies, including SK Telecom and KT, invest heavily in 5G infrastructure and services.

South Korea is known for its 

video game industry

, with companies like 

NCsoft, Nexon

, and 

Webzen

 developing popular online games.

South Korea's video game industry is well-known, with NCsoft, Nexon, and Webzen developing prominent online games.
2. United States (Score: 5.10)
The USA is one of the countries with the most modern technology. The nation focuses on research and development and invests significantly in scientific progress. This has resulted in the development of various innovative technologies that have revolutionized multiple industries.
A robust and innovative private-sector drives technological progress in the United States. The United States is home to many leading technology corporations, including Apple, Microsoft, and Google. These corporations are responsible for creating many of the technologies we use in our daily lives today.
Advanced technologies such as GPS, radar, and traffic management systems are utilized in the United States' extensive transportation network. In addition, the country employs technology, such as electronic medical records, telemedicine, and medical imaging technologies, to improve healthcare outcomes. The United States is also a leader in the technology-dependent entertainment industry. Streaming services, virtual reality, and video games are examples. To reduce its carbon footprint, the nation also invests in renewable energy technologies, such as solar and wind power.
What types of technologies is the United States famous for?
The US has a long history of creativity in the aerospace industry. Companies like Boeing, Lockheed Martin, and NASA have been at the top of making new planes, spaceships, and satellites.

The US is home to many leading medical technology companies, like Johnson & Johnson and Pfizer.

PayPal, Stripe, and Square are the fintech companies developing new payment systems, lending platforms, and other financial services.

Companies like Tesla, Waymo, and Uber are at the top of this industry. They are trying to make transportation systems safer, more efficient, and better for the environment.
3. Denmark (Score: 5.02)
Denmark has technology that is among the best in the world, like a robust communications network and fast Internet. This has helped the country join the digital age and become a star in e-commerce and other digital fields.
Denmark is also known for how much it cares about green technologies and the environment. The country has big plans to cut carbon emissions, and many Danish companies are at the top of finding ways to use green energy. Denmark's focus on sustainability has made it a leader in the green technology industry, and its innovative ways of managing energy and resources are known worldwide.
The Danish government has invested money into developing smart city technologies, such as smart traffic systems and monitors that measure the amount of pollution in the air. The fintech business in Denmark is growing quickly, with companies coming up with new ways to pay and offer financial services. The government is also spending money building 5G networks to meet the rising demand for fast Internet and connections. 
The country is still investing in green energy, especially wind power, and has plans to build new wind farms in the ocean. The government is also looking into how AI and machine learning can be used in different fields, such as healthcare and finance.
What types of technologies is Denmark famous for?
Denmark is the world leader in wind energy, using wind power to make more than 40% of its electricity.

Some of the best companies worldwide in the life sciences are based in the country. These companies include Novo Nordisk, Lundbeck, and Coloplast.

Some of the world's leading shipbuilders, such as Maersk and Danfoss, are in Denmark.

Some of the best software companies in the world, like Unity Technologies and Sitecore, are based in the country.

Some well-known companies in the country are Universal Robots and Mobile Industrial Robots.
4. Switzerland (Score: 4.72)
Switzerland is home to many IT companies, such as Logitech, which makes computer accessories and is a world leader in this field. The country is known for its highly skilled workers, software creation, networking, and security expertise. Pharmaceuticals, biotechnology, and medical technology are essential to the country's strong life sciences business. 
Switzerland is also becoming a center for innovation in blockchain and cryptocurrencies. Switzerland's governing system makes it easy for cryptocurrency startups to get started. This has led to a lot of blockchain companies moving to Switzerland. The country is also home to the Crypto Valley, an area in the canton of Zug where many cryptocurrency and blockchain startups are based.
Also, Switzerland puts a lot of money into artificial intelligence. For example, the Swiss AI Lab and the Swiss Center for Electronics and Microtechnology are two AI study centers in Switzerland. There are also a lot of AI and machine learning companies in Switzerland.
Switzerland is the leader in mobile payments. Most Swiss banks give out debit and credit cards that can be used to make payments without touching anything. Many shops and restaurants also accept payments made without touching anything. In addition, innovative home technology is in a lot of Swiss homes. This lets people handle their heating, lighting, and other systems from anywhere using their phones or other devices. 
Many Swiss towns are investing in smart city technology, which uses sensors and other technology to develop city services and the quality of life for residents. For instance, Zurich has smart parking systems that let cars use a mobile app to find open parking spots.
What types of technologies is Switzerland famous for?
Switzerland is home to numerous pharmaceutical industry leaders, including Novartis and Roche.

The Swiss aviation industry is robust, with companies like Pilatus and RUAG developing innovative aircraft and aviation technologies.

The country's food and drink business is known for its innovative technologies, such as the Nespresso coffee system.

The Swiss corporation ABB and Georg Fischer are global leaders in the machinery and automation industries.
5. Sweden (Score: 4.63)
Spotify is a Swedish music streaming service that has become very popular worldwide. Since it started in 2006, the company has grown into one of the most well-known music streaming services. Swedes also made Skype a way to talk to people online. When the platform came out in 2003, people liked it immediately because they could use it for video calls and instant chat. 
Sweden has been cutting-edge in making and using 5G technology. Ericsson, a Swedish global networking and telecommunications company, has been at the forefront of building 5G networks and infrastructure. 
Sweden is also putting a lot of money into research and development for artificial intelligence. Several AI research centers have been set up in the country, and companies like Peltarion and Element AI are working on making AI technologies that are at the cutting edge.
Sweden has a very advanced digital payment system; smartphone payments are the most popular. For example, Swish is a mobile payment system that lets people immediately send each other money using their phone numbers. In addition, Sweden is known for caring about the environment and has several green technology projects. One of these projects is Gavleborg, which wants to be free of carbon emissions by 2030.
What types of technologies is Sweden famous for?
Some of the most famous game companies in the world are based in the country. These include Mojang Studios, which made Minecraft, and King Digital Entertainment, which made Candy Crush.

Sweden is one of the best places to do research and development in science. Some of the biggest companies in the biotech business are AstraZeneca, Elekta, and BioArctic.

Companies like Klarna, iZettle, and Trustly are leading the way in Sweden's growing fintech business.
6. Taiwan (Score: 4.59)
Taiwan is a leader in creating smart manufacturing technologies and has embraced Industry 4.0. The government is working hard to make 5G technology better and has made a lot of progress in this area. 5 Companies like MediaTek and Qualcomm have made g chipsets, and Taiwan has several places to try them.
Taiwan's health technology business is growing quickly. Companies like Quanta Computer, Foxconn, and Asus are investing in developing healthcare devices and solutions.
Taiwan has implemented several smart transport systems, such as a bike-sharing program and an electronic system for collecting tolls. Several virtual reality (VR) companies are based in the country, and VR is being used increasingly in gaming, education, and tourism. The Taiwanese government has set up online tax filing and e-government portals, among other digital services, to make it easy for individuals to use government services.
What types of technologies is Taiwan famous for?
Taiwan is one of the largest nations in the world that makes electronics. Companies like TSMC, UMC, and MediaTek are big players.

Many computer hardware and software companies, like Acer, Asus, and HTC, are based in the country with a thriving startup environment.

Taiwan is one of the biggest places where industrial robots are made. Companies like Foxconn and HIWIN Technologies make a wide range of robots.

Taiwan has made substantial investments in biotechnology research and development, with Medigen and TaiMed Biologics at the forefront of this field.
7. Japan (Score: 3.94)
Japan is one of the world's leaders in robotics. Companies like Honda, Sony, and Toyota are making advanced robots for industry, healthcare, and entertainment, among other things. For example, SoftBank Robotics made the humanoid robot Pepper, which is used in shops, hotels, and hospitals to help customers and give them service.
Japan is also investing money into developing artificial intelligence technology, which will likely significantly affect the healthcare, finance, and manufacturing industries. The government has set a national AI strategy to encourage research and development.
These companies were among the first to make consumer goods like TVs, smartphones, and digital cameras.
Japan is a leader in developing and using 5G technology, which promises to make mobile connections faster and more reliable. The biggest phone companies in the country have been putting a lot of money into making 5G networks and gadgets.
Japan is also a leader in nanotechnology, manipulating matter at the atomic and molecular levels. Several study institutes and centers have been set up in the country to help nanotechnology grow.
What types of technologies is Japan famous for?
Some of the Largest tech companies Worldwide are based in Japan. These include Sony, Panasonic, and Toshiba.

Japan is also known for its car companies, such as Toyota, Nissan, and Honda, which make some of the world's most stable and fuel-efficient cars.

Japan's Shinkansen high-speed rail network is a marvel of engineering and technology. Trains can go as fast as 320 km/h (200 mph) on this system. 
8. Netherlands (Score: 3.90)
The Netherlands is one of the world's biggest exporters of agricultural products and has developed many innovative technologies to increase efficiency and sustainability. For example, the Dutch invented cell-cultured meat, vertical farming, seed technology, and robotics in milking and harvesting; they are at the forefront of innovations that reduce water consumption and carbon and methane emissions. 
Low-lying vulnerable to flooding, the Netherlands has developed advanced water management systems to defend against this threat. For example, the nation has built an extensive network of dikes, dams, and canals that control water flow. In addition, the Dutch have created technologies like the Room for the River project, which employs natural methods to reduce the danger of flooding.
The startup ecosystem in the Netherlands is prospering, with Amsterdam being a prominent location for tech startups. Numerous startups are developing innovative technologies to combat climate change and other environmental problems in a nation with a solid commitment to sustainability.
The Netherlands is a leader in 3D printing, with companies creating innovative applications such as 3D-printed prosthetics, customized dental prostheses, and even entire homes. TU Delft, the country's premier research institution, has been at the vanguard of 3D printing research for many years. 
What types of technologies is the Netherlands famous for?
The Dutch are creating innovative technologies like the Hyperloop, a high-speed transportation system that might change travel. 

ASML is a Dutch manufacturer of photolithography equipment used to manufacture semiconductor circuits.

The Dutch corporation TomTom manufactures GPS navigation devices and mapping software.

Philips Healthcare is a leading developer of medical imaging technologies, such as MRI and CT scanners and healthcare information technology systems.
9. Finland (Score: 3.89)
Finland's economy is renowned for its technological innovation and research and development enthusiasm. Historically, the government has spent a sizable share of GDP on R&D, and this trend continues today. In addition, public and private research receives government support, and many research organizations and universities are at the top of their fields. 
Finland is known for its innovative culture, which values originality and resourcefulness. As a result, the nation's public infrastructure, including the Internet, public transportation, and healthcare, is all highly developed. This framework lays a solid groundwork for further technological development and widespread implementation.
As a global leader in telecommunications, Nokia was instrumental in establishing Finland as a center of technological innovation. As a result of Nokia's rise and fall, many of its former employees have started their businesses or joined other startups.
What types of technologies is Finland famous for?
Rovio, a Finnish firm, developed the immensely successful Angry Birds mobile game. Over three billion people have downloaded the game. 

Finnish developer Supercell is well-known for its mobile games, such as Clash of Clans and Clash Royale. 

UltraRope, a lightweight carbon-fiber hoisting technology developed by Kone, a global pioneer in the lift and escalator industry, enables lifts to travel higher than ever.

Companies like Nestle, which manufactures renewable diesel and biofuels, and Wartsila, which develops intelligent energy solutions. 
10. Israel (Score: 3.86)
Israel has made significant technological advances in various sectors, such as high-tech industries, agriculture, and defense. Israel is renowned as the "startup nation," and its high-tech industry is thriving. It has one of the world's highest startup concentrations per capita, with many ventures focusing on cybersecurity, software development, and artificial intelligence, such as the navigation app Waze. As a result, Israeli companies have developed technologies that have become indispensable to our daily lives.
Israel is the global authority in military technology. The nation has developed sophisticated missile defense systems, such as the Iron Dome, which has proven highly effective at intercepting rocket launches in Israel.
Additionally, Israel has become a world authority in artificial intelligence. 
Strong computer science and mathematics foundations have enabled the country to develop cutting-edge artificial intelligence (AI) technologies used in various applications, including autonomous vehicles, chatbots, and predictive analytics. Additionally, Israeli firms have developed AI technologies for the healthcare, cybersecurity, and financial services industries.
What types of technologies is Israel famous for?
Israel is frequently called the "Cyber Nation" because of its expertise. Check Point Software Technologies and CyberArk are global pioneers in developing cybersecurity solutions.

Mobileye is a high-tech device that helps drivers stay away from accidents.

Desalination, wastewater treatment, and water reuse are just a few of the innovative water management technologies that Israel has created. Desalination technology is at the leading edge of innovation at IDE Technologies.
Here is a list of the Most Technologically Advanced countries:
| Rank | Country | Score |
| --- | --- | --- |
| 1 | South Korea | 6.52 |
| 2 | United States | 5.09 |
| 3 | Denmark | 5.02 |
| 4 | Switzerland | 4.72 |
| 5 | Sweden | 4.63 |
| 6 | Taiwan | 4.59 |
| 7 | Japan | 3.94 |
| 8 | Netherlands | 3.90 |
| 9 | Finland | 3.89 |
| 10 | Israel | 3.86 |
| 11 | Singapore | 3.79 |
| 12 | Norway | 3.53 |
| 13 | Germany | 3.46 |
| 14 | Belgium | 3.30 |
| 15 | Austria | 2.97 |
| 16 | Canada | 2.89 |
| 17 | United Kingdom | 2.84 |
| 18 | United Arab Emirates | 2.54 |
| 19 | Hong Kong SAR | 2.54 |
| 20 | Iceland | 2.23 |
| 21 | Australia | 2.00 |
| 22 | Estonia | 1.80 |
| 23 | France | 1.61 |
| 24 | Luxembourg | 1.32 |
| 25 | Qatar | 1.28 |
| 26 | Slovenia | 1.21 |
| 27 | Czech Republic | 0.88 |
| 28 | Spain | 0.56 |
| 29 | New Zealand | 0.46 |
| 30 | Lithuania | 0.45 |
| 31 | Ireland | 0.44 |
| 32 | China | 0.26 |
| 33 | Malaysia | 0.26 |
| 34 | Cyprus | -0.02 |
| 35 | Poland | -0.14 |
| 36 | Hungary | -0.15 |
| 37 | Latvia | -0.31 |
| 38 | Slovak Republic | -0.36 |
| 39 | Portugal | -0.49 |
| 40 | Saudi Arabia | -0.74 |
| 41 | Italy | -0.89 |
| 42 | Thailand | -1.32 |
| 43 | Greece | -1.33 |
| 44 | Russia | -1.37 |
| 45 | Croatia | -1.98 |
| 46 | Romania | -1.98 |
| 47 | Turkey | -2.25 |
| 48 | Chile | -2.47 |
| 49 | Kazakhstan | -2.54 |
| 50 | Bulgaria | -2.59 |
| 51 | Brazil | -3.12 |
| 52 | Argentina | -3.15 |
| 53 | South Africa | -3.22 |
| 54 | Mexico | -3.77 |
| 55 | Ukraine | -4.15 |
| 56 | Jordan | -4.41 |
| 57 | Botswana | -5.05 |
| 58 | India | -5.09 |
| 59 | Peru | -5.15 |
| 60 | Indonesia | -5.16 |
| 61 | Philippines | -5.51 |
| 62 | Colombia | -5.8 |
| 63 | Mongolia | -6.21 |
| 64 | Venezuela | -8.09 |
In conclusion, technological progress can vary across industries and fields. In addition, technological advancement does not inherently correlate with overall progress or success in other areas. Nevertheless, a robust technology sector can substantially contribute to a nation's economic growth and competitiveness in the global marketplace.
Read More Global Motor Vehicle Sales By Country