World's Busiest Airports by Cargo Traffic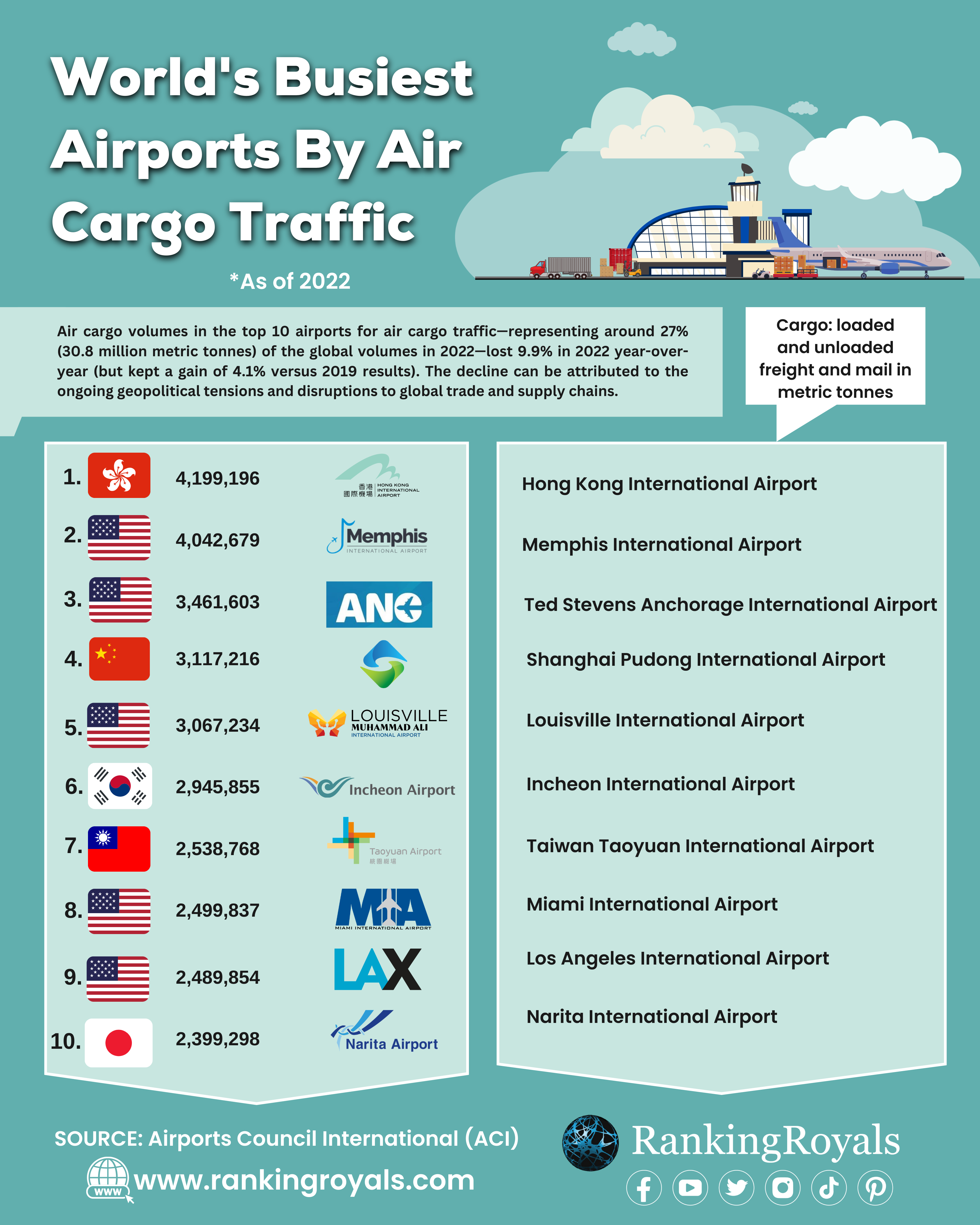 Air cargo is an integral part of the global logistics industry, allowing for transporting goods and products across vast distances and international borders. In recent years, the industry has experienced significant growth due to the expansion of e-commerce, the globalisation of trade, and the rising demand for quick and efficient transportation services. As a result, airports throughout the globe have become increasingly vital hubs for air cargo operations, with some handling millions of tonnes of cargo annually.
Air cargo volumes are projected to have dropped by 6.7% compared to the previous (-1.7% versus 2019) to close to 117 million metric tons in 2022.
Air cargo volumes in the top ten airports for air cargo traffic, which accounted for approximately 27% (30.8 million metric tonnes) of global volumes in 2022, decreased by 9.9% year-over-year in 2022 (but maintained a gain of 4.1% compared to 2019 results). Ongoing geopolitical tensions and disruptions in global trade and supply channels are responsible for the decline.
The following are the top 10 busiest airports by air cargo traffic as of 2022, according to Airports Council International (ACI):
1. Hong Kong International Airport
Hong Kong International Airport has been the globe's busiest international cargo airport since 1996. However, the total amount of goods that went through HKIA in 2022 was about 4.2 million metric tonnes, 16.4% less than in 2021. At the moment, HKIA has 55 spots for cargo planes to park.
Hong Kong International Airport (HKIA) has world-class cargo handling facilities. Hong Kong Air Goods Terminals Limited runs SuperTerminal 1, one of the world's biggest places to handle air goods. The terminal is meant to handle 2.6 million tonnes of freight a year. It takes up about 17 hectares of land.
Asia Airfreight Terminal Company Limited is another service provider. Its terminal is built to handle about 1.5 million tonnes a year. The Cathay Pacific Cargo Terminal, which is 11 hectares, is designed to move 2.6 million tonnes of cargo each year. The Central Asia Hub at HKIA, which is 3.5 hectares, can handle more than 35,000 packages and 40,000 papers an hour. It is getting bigger, and when the work is done, its capacity should go up by 50%.
Additionally, Hongkong Post's Air Mail Centre, situated on approximately two hectares of land, processes 700,000 pieces of mail per day. The government previously proclaimed its intention to redevelop the Air Mail Centre to increase its handling capacity. In parallel, a premium logistics facility is being constructed at HKIA, which is anticipated to increase cargo volume at HKIA by 1.7 million tonnes per year when operating at full capacity.
The Airport Freight Forwarding Centre (AFFC) is a one-stop logistics centre which offers warehouse and office space to freight forwarders for gathering and distribution. Tradeport Logistics Centre also offers custom-designed logistics services such as inventory management, order processing and delay assembly.
2. Memphis International Airport
Memphis International Airport (MEM) has been the largest cargo airport in North America for 21 years and the second busiest in the world. In 2022, more than 4 million metric tonnes of cargo were moved, 9.8% less than in 2021.
The FedEx World Hub is also proudly located in MEM. FedEx has more than 11,000 people working at its Memphis hub, and over 34 million square feet of airport property are rented out. FedEx runs nearly 400 flights daily, and its Memphis hub handles more than 180,000 packages and 245,000 documents every hour.
United Parcel Service (UPS), which has a site of about 134 acres, is also a big part of MEM. The current size of their buildings is 293,000 square feet, and as they continue to grow, that number will soon rise to 424,000 square feet. The UPS expansion will up UPS's packing sorting capability to 59,800 packages per hour. Once the expansion is complete, UPS will employ about 950 employees at MEM.
MEM has extensive facilities and distribution options on its doorstep. Cargo East has a ramp area that is about 1.4 million square feet. 
The building is more than 36,000 square feet and has high security, cold storage, and storage for dangerous materials. It also has business-friendly lobbies, reception areas, front office administration and management spaces, and storage for hazardous materials. In addition, you can rent short-term space in a business building in the airport area. Spaces are between 4,000 and 200,000 square feet. 
3. Ted Stevens Anchorage International Airport
Ted Stevens Anchorage International Airport, which is 5 miles southwest of downtown Anchorage, is a major airport in the U.S. state of Alaska. The airport is named after Ted Stevens, who was a senator from Alaska from 1968 to 2009. It is part of the Federal Aviation Administration's National Plan of Integrated Airport Systems for 2017–20211.
The airport is known for being a big place for goods, and in 2020 and 2021, it had the most cargo flights ever. More than 3.46 million metric tonnes of air goods went through the airport, 4.3% less than in 2021. 
The airport has a cargo terminal open 24 hours a day, seven days a week. The airport's northern and southern parts have two cargo storage areas. There are also places to store goods at the airport, including places to keep things cool, cold, or warm. Giant new warehouses of this airport would allow any of the airport's nearly 30 international carriers, such as China Airlines or Korean Air, to stockpile items for efficient shipment. 
4. Shanghai Pudong International Airport
Shanghai Pudong International Airport (PVG) is one of China's busiest airports and one of the busiest cargo centres in the world, with many foreign and domestic cargo carriers establishing bases there. 
Regarding cargo throughput, Shanghai Pudong Airport ranked first among all terminals on the Chinese mainland in 2022. Last year, Shanghai's airports reached a volume record of approximately 4 million tonnes. 
Its Cargo Terminal is one of the largest single air cargo terminal operators. It operates three terminals in Shanghai Pudong to provide air cargo handling services. In addition, Shanghai Airport Group, Lufthansa Cargo, and JHJ Logistics Management have formed a Sino-German joint venture called PACTL. 
A new cargo area is proposed for the fourth phase of Shanghai Pudong Airport's expansion project, which has been initiated. This fourth phase consists of six components:
The terminal area

The aviation zone

The transport facilities

The municipal engineering support facilities

The new eastern cargo area

The auxiliary facilities
These initiatives are estimated to cost a total of $49.8 billion. 
Goodman Pudong Airport Logistics Park is a world-class warehouse facility located adjacent to Pudong International Airport's third runway. The facility is between 4,000 and 198,000 square metres in size. FedEx has also opened a new facility, the largest at Shanghai Pudong International Airport. In addition to a dedicated Customer Care Centre, the facility contains cold chain facilities. 
5. Louisville International Airport
The Louisville Muhammad Ali International Airport (SDF) is ranked third in North America and fifth globally. In 2022, the airport handled more than 3 million metric tonnes of cargo, a 0.5% increase from 2021. It is the primary central operation centre for United Parcel Service (UPS), which launched its new overnight delivery service using SDF in 1982. The airport has a 350-acre apron for additional aircraft and initially employed 135 individuals who sorted 2,000 shipments on the first night.
Worldport, UPS's all-points international air express gateway, is located between parallel SDF runways and connects Louisville to 220 countries and territories. UPS initially invested $1 billion in Worldport, which now encompasses 5,2 million square feet of cutting-edge technology and 155 miles of package sifting conveyor belts. Worldport, which opened in 2002, has remained the dedicated home base of UPS's global aviation network and UPS Airlines, the world's leading cargo carrier. The air network of Worldport comprises international air hubs in Ontario, Canada; Shanghai, China; Miami, Florida (to serve Latin America); Koln, Germany; Hong Kong; and a recently completed intra-Asia hub in Shenzhen, China.
The UPS Worldport at Louisville International Airport is the world's largest entirely automated facility for package handling. The operation handles an average of two million parcels daily and more than 300 flights daily. UPS chose to locate its global logistics facility, Worldport, in Louisville due to several significant factors:
proximity to population centres

the airport's strong record for remaining open in inclement weather 

the community's quality of life 

the willingness of city and state governments to work together
6. Incheon International Airport
Incheon International Airport (ICN) is the sixth busiest airport for freight in the world. In 2022, it moved more than 2.94 million metric tonnes of cargo, which is 11.5% less than in 2021. 
The phase four growth began in 2017 and will cost about KRW4.8tn ($4.8bn). It is expected to be finished in 2024. The expansion will enable the airport to manage 600,000 flights, 106 million passengers, and 6,300,000 tonnes of cargo annually. 
At the same time, 24 cargo planes can be parked at Incheon International Airport. The cargo facilities can handle up to 2.7 million tonnes of goods in 1,389,000 square feet.
All three cargo terminals have automated systems for moving cargo, such as workstations and tools for moving cargo, as well as refrigerators, freezers, and rooms that keep the temperature constant. In that order, Korean Air, Asiana Airlines, and IIAC Foreign Carrier Cargo Terminal run them.
As of December 2022, 25 airlines fly cargo-only routes from Incheon Airport to 107 cities in 43 countries. There are 20 destinations in China, 6 in Japan, 10 in Southeast Asia, 27 in North America, 5 in Central and South America, and 18 in Europe.
7. Taiwan Taoyuan International Airport
Taiwan Taoyuan International Airport (TPE) is the 7th busiest airport in cargo traffic in 2022. That year, Taiwan Taoyuan international airport handled more than 2.5 million tonnes of goods. However, this was 9.7% less than in 2021.
Farglory Free Trade Zone Co., Ltd. has a D.G. room, a refrigerator, a freezer, a room for controlling temperature and humidity, a room for live animals, a room for valuables, and a place for a crane and dry ice. In addition, Taiwan Air Cargo Terminal Limited (TACT) offers services for general cargo, fragile goods, express cargo, precision instruments, perishables, oversized cargo, live animals, thermostatic storage, valuable cargo, refrigerated and refrigeration goods, dangerous goods, premises and parking-space rental, and ULD storage. In addition, JAL International Cargo has a cooler that can be used to store ULDs.
After adding 1,600 sq. m to its warehouse in 2021, Taiwan Air Goods Terminal Co could handle 15 per cent more goods. During the same time, the Farglory Free Trade Port Zone operator is building a cold-chain warehouse that will be done in the second quarter of 2023.
By 2030, when it plans to open a third runway, the airport company also wants to build a new goods park. These new buildings should help the airport handle 4.02 million tonnes of freight by 2040. 
8. Miami International Airport
Miami International Airport (MIA) is the fourth busiest airport in the U.S. and the eighth busiest in the world regarding cargo traffic. The airport handled approximately 2.5 million metric tonnes of cargo in 2022, a 0.8% decrease from 2021. 
Two significant facility expansions at MIA were completed in 2021 due to the cargo volume's sustained and robust upward trend. In November 2021, DHL Express concluded a $78-million renovation and expansion of its Miami International Airport (MIA) hub. The investment, including a fully automated parcel sorting system, nearly doubled the facility's sorting capacity and warehouse space to 206,000 ft2. In addition, DHL Express increased its workforce by 70% to 731 employees in 2021 at its new facility to facilitate its expansion.
FedEx Express completed a $72.2 million, 138,000-square-foot expansion of its centre at MIA in December 2021, bringing its total facility size to more than 282,000 square feet. The improvements include a new customs clearance area and the largest cold chain facility in the FedEx global network. 
Seven cargo transporters with national and international reach operate at Miami International Airport. They collaborate with passenger and freighter airlines and local and international businesses to make MIA the international cargo leader. Their range of services comprises but is not limited to, the shipment of pharmaceuticals, electronics, agricultural and other perishables, salmon, livestock and other animals, apparel, and e-commerce. 
9. Los Angeles International Airport
Los Angeles International Airport is among the busiest airports for cargo because it is the centre for North American and Asia-Pacific international trade. In addition, its strategic location and location in one of the world's most dynamic economies make it an ideal transportation hub. 
In 2022, LAX handled over 2.48 million metric tonnes of cargo, a 7.6% decrease from 2021. However, the value of commerce at Los Angeles International Airport increased by 9.93 per cent from 2021 to 2022, reaching $153.13 billion. Exports totalled $61.46 billion, an increase of 8.28 per cent, while imports totalled $91.67 billion, an increase of 11.07 per cent.
Federal Express remains the dominant airfreight carrier at LAX, accounting for 11.75 per cent of total freight cargo, followed by Polar Air Cargo and Atlas Air Inc, with 7.5 and 7.2 per cent of total freight cargo, respectively. Kalitta Air LLC remained the leading mail carrier, transporting 45.85 per cent of all mail cargo.
LAX's convenience and effectiveness as a major air cargo distribution hub are bolstered by the ready availability of vital ancillary services, particularly for Pacific Rim traders. More than 800 goods forwarders and 360 customs house brokers are located in the Los Angeles metropolitan area to expedite air cargo delivery.
10. Narita International Airport
Narita International Airport (NRT) is one of the busiest cargo airports due to its location in the Tokyo metropolitan area, one of the world's largest economic hubs. It is also a hub for many airlines and cargo flights. In 2022, Narita International Airport reported a freight volume of about 2,4 million metric tonnes, a 9.3% decrease from 2021. 
Narita International Airport is constructing new facilities to aid shippers, freight forwarders, airlines, and other clients in conducting business with greater efficiency and security. The extent of the facility (warehouse area) is roughly 200,000m2, and the cargo handling capacity is 2.4 million tonnes per year.
Narita's international air cargo logistics provide high-quality, streamlined cargo management through the integrated airport and off-airport facilities. In the vicinity of Narita Airport, forty corporations operate 42 international logistics facilities covering nearly 450 000 square metres. This is Japan's greatest international air cargo logistics hub.
The Cargo Terminal at Narita International Airport transports various export goods, including electronic, electrical, and mechanical components, to global markets. First, cargo for export is brought to bonded airport-area warehouses, and then Customs clearance procedures are carried out. It is then transferred to the airport's respective export warehouses for packaging into ULDs and loading onto aircraft destined for its final destinations around the globe.
Lastly, air cargo traffic is vital to global trade and commerce, and the busiest airports for air cargo around the globe reflect this significance. The ten busiest terminals for air cargo traffic are located in Asia, Europe, and North America, with Hong Kong International Airport coming in first place. These airports manage millions of tonnes of cargo annually, transporting goods and products vital to numerous industries and businesses around the globe. Moreover, as air cargo demand rises, these airports will likely remain at the vanguard of global logistics, facilitating international trade and economic expansion.