20 Best Airlines In The World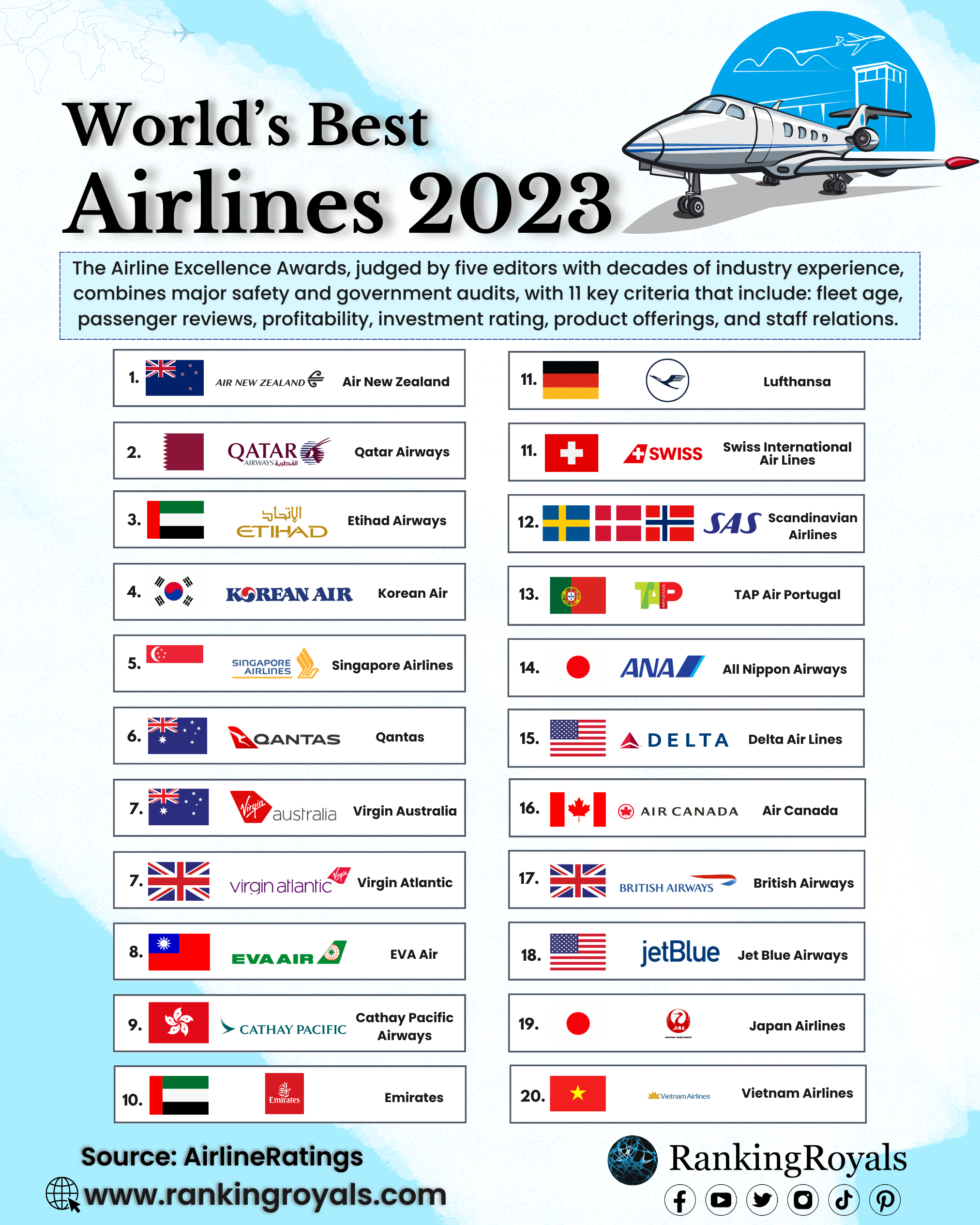 1. Air New Zealand
Air New Zealand is a New Zealand owned and operated airline. In 18 countries, mostly in the Pacific Region, Air New Zealand operates charter passenger flights from its base at Auckland to a total of 20 domestic and 30 International destinations. The airline has been a part of the Star Alliance since 1999.
The airline transported over 17 million passengers per year prior to COVID-19 and had 3,400 flights a week. Currently, Air New Zealand has a fleet of Airbus 320s, A320neo family aircraft, Boeing 777, and 787 airplanes, as well as an additional regional fleet of ATR 72 & Bombardier Q300 paraplanes. At present, there are 105 aircraft operated by the carrier.
2. Qatar Airways
Qatar Airways is a state airline of Qatar. The airline is a hub and spoke operator, connecting around 173 international destinations across Africa, Asia, Europe, America, and Oceania from its base in Hamad International Airport by a fleet of 237 aircraft located at the Qatar Airways Tower in Doha. More than 50,000 people work for the Qatar Airways Group. Since October 2013, this carrier has been a part of the Oneworld Alliance.
The airline carried only over 18.5 million passengers during the period from fiscal year 2022 onwards.
3. Etihad Airways
One of the two National Carriers in the United Arab Emirates, Etihad Airways is also one of the country's two biggest air carriers. The company's headquarters are located in Khalifa City, Abu Dhabi, a few kilometers from Abu Dhabi International Airport. In November 2003, the airline began its operations. It's the second largest air carrier in the UAE, after Emirates. The word Etihad means "the union" in Arabic.
With 79 Airbus and Boeing aircraft in its fleet, the airline operated over 1,000 flights per week to 130 destinations for passengers and cargo across the Middle East, Africa, Europe, Asia, Australia, and North America. The airline has celebrated the milestone of carrying 10 million passengers in 2022.
4. Korean Air
The flag carrier of South Korea, Korean Air, is the biggest airline in the nation in terms of fleet size, foreign flights, and destinations. Korean Air is a founder member of the airline alliances SkyTeam and SkyTeam Cargo. In terms of passengers carried, it is one of the world's 10 best five star airlines and one of the world's 20 best international cargo airlines. Korean Airlines was certified a five star airline by Skytrax for the year 2023.
In fifty countries on five continents, including destinations for cargo services, the airline operates to a total of 12 domestic and almost 150 international destinations. Korean Air transported about 5.7 million passengers in 2021, down from approximately 7.5 million during the previous year.
5. Singapore Airlines
Singapore Airlines is the flag carrier for Singapore, which operates its main hub in Singapore Changi Airport. Since the 1990s, the airline has been rated by Skytrax as a five star airline and five times as the best airline in the world. Singapore Airlines is the only operator of the ultra long-range (ULR) variant of the Airbus A350-900 and was the first to enter service with both the Boeing 787-10 and the Airbus A380, the biggest passenger aircraft in the world. Regarding revenues passenger kilometers, it ranks among the world's 15 biggest carriers and 10th for international passengers transported.
Singapore Airlines' fleet has 157 aircraft registered as of May 2023, including 148 passenger planes and 9 freighters. There are 75 destinations in the world where the airline operates.
6. Qantas
Australia's leading airline and biggest carrier is Qantas Airways. It was founded in November 1920 and began its international flights in May 1935; it is the second oldest continuously operated airline. The Oneworld Airlines Alliance was founded by Qantas. 
Qantas operates in a total of 25 countries and has 124 aircraft, serving 64 local destinations and 34 international destinations. Qantas, the flag carrier of Australia, carried an overall total of 21.25 million passengers during the financial year 2022.
7. Virgin Australia
Virgin Australia is an Australian owned and operated airline. To use the Virgin name, it is the largest airline in terms of fleet size. Virgin Blue began to operate services on 31 August 2000 with two aircraft flying in the same direction. After Ansett Australia's collapse in September 2001, it sprang into being a dominant carrier on the Australian domestic market. Since then, it has been operating directly from the Brisbane, Melbourne, and Sydney airports to 32 cities in Australia.
The headquarters of the airline is situated at South Bank, Queensland. It was founded with the help of British entrepreneur Richard Branson and his predecessor Brett Godfrey, who were also founders of Virgin Group. Virgin Australia Group flights carried a total of 25.5 million passengers in the financial year 2019. The carrier has a fleet of 99 aircraft and flies to 37 destinations in the world.
7. Virgin Atlantic
Virgin Atlantic, a British airline, is considered to be the most luxurious airline in the world. It's been flying since 1984 and will celebrate 30 years of existence in 2014. It's owned by the Virgin Group of Sir Richard Branson. It is 51 % controlled by the Virgin Group and 49 % held by Delta Air Lines. The company's headquarters are located in Crawley, West Sussex, United Kingdom, close to Gatwick Airport. It also holds a Civil Aviation Authority (CAA) Type Operating License. The airline joined the SkyTeam airline alliance on 2 March 2023. 
The airline operates to 32 destinations around the world using a fleet of 41 aircraft.
8. EVA Air
EVA Airways, of which "EVA" stands for Evergreen Airways, is one of the two largest airlines in Taiwan – the other being China Airlines. It serves more than 40 International destinations in Asia, Australia, Europe, and North America with its own passenger and dedicated freight services. EVA Air's offices are located at the airport in Luzhu, Taoyuan City.
EVA Air operates a mixed Airbus and Boeing fleet with Airbus A330, Airbus A321, Boeing 777, Boeing 787, and ATR 72 operated by UNI Air on passenger or freighter flights. In 2022, the airline transported 2,2 million passengers. There were 86 aircraft in EVA Air on 1 June. There are now 64 destinations within four continents served by EVA Air. Since 18 June 2013, EVA Air has become a member of the Star Alliance.
9. Cathay Pacific Airways
The flag carrier of Hong Kong is Cathay Pacific Airways, which has its head office and main base in Hong Kong International Airport. Scheduled passenger and cargo flights are offered by the airline's operations and subsidiaries to over 190 locations throughout the world, including joint ventures and codeshares.
Cathay Pacific has a fleet consisting of Airbus A330, Airbus A321neo, Airbus A350, and Boeing 777 aircraft. Cathay Cargo operates two models of the Boeing 747.
10. Emirates
Emirates is among the two flag carriers of the UAE, the other being Etihad Airways. In 2019, it was also the leading carrier in the Middle East, flying more than 3,000 flights a week from its center at Terminal 3 of Dubai International Airport. With its fleet of almost 300 aircraft, it serves over 150 towns in 80 countries on every continent except Antarctica. Emirates SkyCargo is carrying out the cargo operations. In 2022-23, Emirates operated 43.6 million passengers representing an increase of 123% over the previous year, and seat capacity increased by 78%.
Emirates is the world's fourth-largest airline by scheduled revenue passenger miles flown. Emirates is also the second-largest airline By freight tonne miles flown. Emirates is one of the few airlines that is composed entirely of Boeing and Airbus widebody aircraft and is one of the few airlines that operates a fleet of all Airbus and Boeing widebody aircraft, excluding Emirates Executive. Since March 2023, Emirates has been the largest Airbus A380 operator in the world, operating 119 aircraft, one of which is now in retirement.
Read More: World's Busiest Airports By Domestic and International Passenger Traffic