Safest Airlines In The World 2023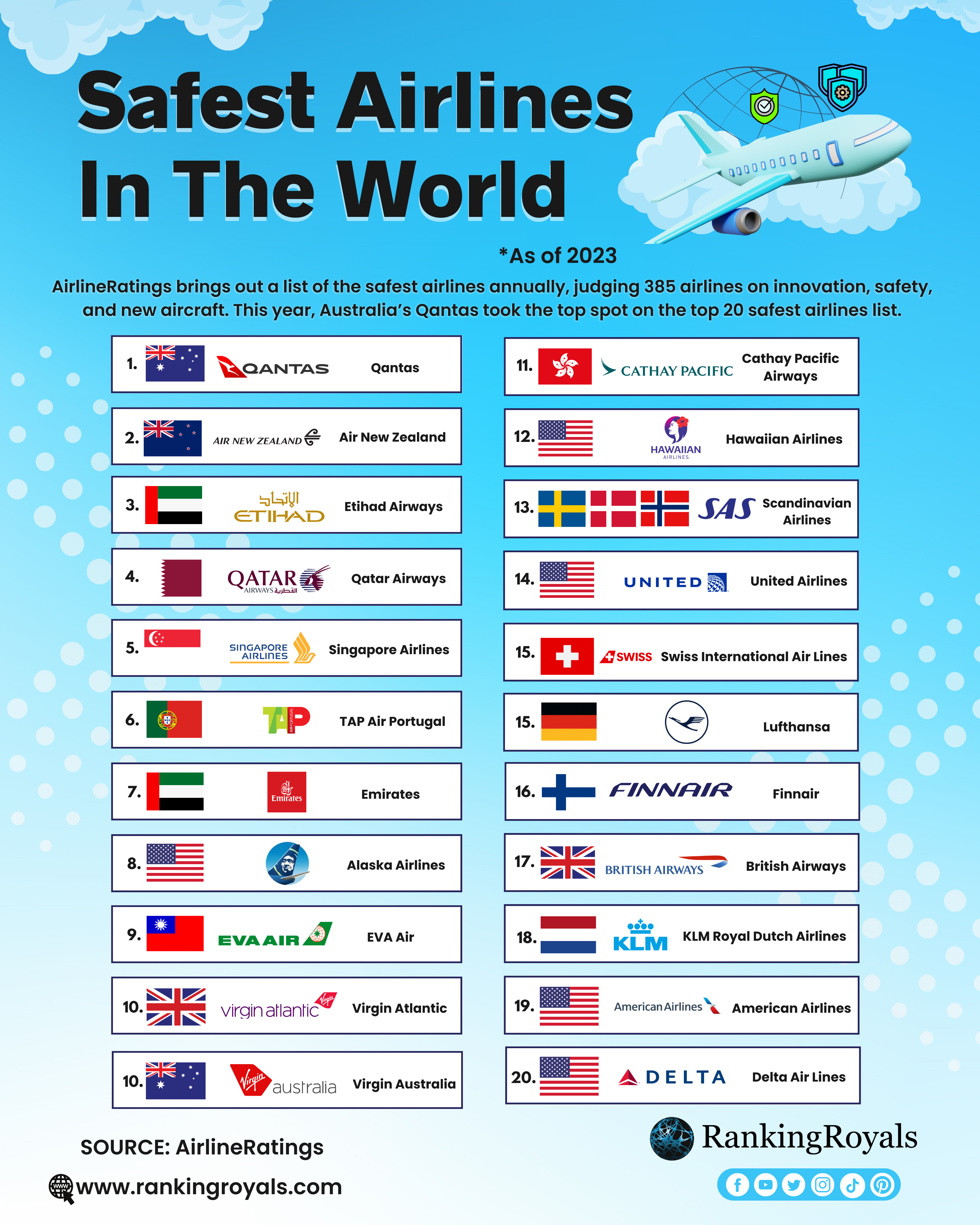 Qantas has been ranked the world's safest airline for 2023, previously ranked second-best in 2022. AirlineRatings.com, which compiled the numbers, recognizes the Australian carrier as the most experienced in the business based on its over 100 years of service. 
How many accidents occurred in 2022 across the globe?
There were five fatal accidents on 32.2 million flights in 2022. In contrast to 2021, however, key global airline safety metrics demonstrated conflicting results. Including both passenger and cargo flights, there were 39 incidents in 2022, up from 29 in 2021, but still less than the average of 43 accidents per year from 2018 to 2022. 
The number of fatal accidents decreased from seven to five in 2021, with one jet and four turboprop accidents, but the number of fatalities on board increased from 121 to 158. As measured by the number of accidents per one million flights, the total accident rate in 2018 was 1.21, an increase from 1.13 in 2021 but a decrease from the five-year average of 1.26. In 2022, there were 32,2 million flights, compared to 25.7 million in 2021.
Facts about Safest Airlines
Qantas beat out more than 384 other airlines worldwide to return to the top.
Around the globe, there are more than 5,000 carriers.

In 2020, foreign and domestic flights decreased by 75.6% and 48.8%, respectively. This made 2020 the worst year ever.

Round windows are used to avoid accidents.

Most plane crashes happen in the first three minutes after takeoff and the last eight minutes before landing.

Alaska Airlines is the only carrier based in the United States to make it into the top 8.
Azul Airlines of Brazil was the most on-time airline in 2022. JAL, ANA, LATAM Airlines, and Delta Air Lines were the most on-time airlines.
Daocheng Yading is the airport with the highest height.
Emirates operates over 3,600 flights per week to over 140 countries.

Each airline can receive seven stars for its unwavering commitment to passenger safety.

Qatar Airways offers deep discounts on hotel bookings (starting at $14/night) to travelers with a minimum 12-hour delay.  
Factors in Ranking
These airlines are industry leaders in terms of
Safety
Innovation, and
The introduction of new aircraft.
The incident of Crashes over five years.
audits from the leading associations and governing bodies in aviation
Fleet age
Pilot training
Severe incidents over two years
How They follow COVID guidelines when making their conclusions.
How the flight crew handles the incidents
1. Qantas (Australia)
Qantas is the most experienced airline because it is still the oldest airline. It continually adds new planes to its fleet, enabling the longest possible nonstop flight time. Thus, Qantas was ranked sixth in 2022's best airlines ranking. However, in 2023, it ranked first. Nonetheless, it's an Australian service.
Qantas has been at the top of aviation safety innovation for quite some time, contributing to the creation of technologies like the Future Air Navigation System, automatic landings, and precision approaches around mountains in any weather. Over the next decade, it will receive the 12 Airbus A350-1000s, 20 Airbus A321 XLRs, and 20 Airbus A220s it ordered lately to update its fleet.
A commonly held belief is that Qantas has never had an airplane accident. However, eight people died in mishaps, and one plane was shot down between 1927 and 1945. The shoot-downs and about half of these accidents happened during WWII. Qantas last had a deadly accident in 1951. Qantas has been the safest carrier in the world for the past seven years, from 2012 through 2019 and again in 2021 and 2023.
Find out what's new with this carrier. First, Qantas has wholly revamped its in-flight meal service. Meals on regional, domestic, and international flights will now be larger, and additional options will be available. Qantas's onboard and lounge dining services investment is the largest of the previous decade. This follows a $1 billion profit for the carrier in the first half of the fiscal year 2023. In addition, in October 2022, a new menu design was implemented for the home economy, expanding the selection to include vegetarian and plant-based alternatives. Originally called Queensland and Northern Territory Aerial Services, the airline has since changed its identity. This company, unfortunately, lost a significant amount of money because of covid-19.
Qantas has announced that it will lay off 6,000 people and seek fresh funding of A$1.9 billion to survive the pandemic. In addition, Qantas announced in November 2020 that foreign passengers must show proof of COVID-19 vaccination.
Qantas purchased 12 Airbus A350-1000s in May 2022 so that by the end of 2025, it could offer nonstop flights between Sydney and London. This was in response to the "post covid" situation.
2. Air New Zealand (New Zealand)
Air New Zealand, which topped last year's list, came in at No. 2 this year. Air New Zealand is ideal for the product quality and safety of the aviation industry. Air New Zealand's fleet of aircraft was relatively new and outfitted with various features that helped reduce the company's carbon footprint by 22% over the last decade. In addition to biofuels, more efficient flight paths, and electric ground support vehicles at airports and hangars, this airline has taken additional environmentally favorable steps.
The airplane's appearance is unique. Various designs were inspired by The Lord of the Rings, Air New Zealand's anniversary, and the All Blacks rugby team. Consequently, Air New Zealand is reasonably accommodating. Occasionally, it is the least expensive option. As a result, this airline is the finest option for long-haul, premium economy, and economy-class travel in the Pacific.
3. Etihad Airways (UAE)
Etihad Airways ranked third as the safest airline in the world. Its doors first opened in 2003. Data from 2020 indicates that the airline travels over a thousand times per week to over 120 different locations.
As the second biggest airline in the UAE, it serves the country well. Union is what the Arabic word Etihad implies. The airline has only been around for 15 years, but it has earned a stellar image thanks to its use of cutting-edge long-haul planes like the Boeing 787 Dreamliner and the Airbus A380 superjumbo.
First and business-class passengers can enjoy luxurious amenities like The Residence, an in-flight residence that costs $23,000. As part of its ongoing network performance evaluation, the airline suspended service to South Africa at the beginning of 2021. Etihad, however, began operating a twice-weekly service to Tel Aviv, Israel, in April 2021.
4. Qatar Airways (Qatar)
Qatar Airways was voted the best airline of 2022. Qatar was named first because of its "cabin innovations, passenger service, and commitment to keep running during the pandemic." But as of 2023, it was fourth.
Qatar Airways is the leading airline of Qatar. It goes to 150 places. It works hard to meet its customers' wants and needs.
This company is known for having comfortable and safe flights—people who ride it also like that the seats are very smooth.
Qatar Airways is a good way to fly but it will cost you a lot. However, in 2021, it will still be seen as the best choice. It was the best because it had service in business class.
5. Singapore Airlines (Singapore)
Singapore Airlines got many awards due to its widely acknowledged high standards. One characteristic distinguishing Singapore Airlines as a top-tier airline is its exceptional customer service. In addition to providing modern entertainment options, spacious cabins, and a commitment to making travel a personal experience, the airline is renowned for providing luxurious flight experiences in all cabin classes.
The bird-shaped Singapore Airlines logo was designed as a tribute to the silver kris or keris, a local dagger.
Singapore Airlines will withdraw its Airbus A380 and the first-class suite from New York on May 15, 2023. Skytrax awarded Singapore Airlines the 2019 World's Best Cabin Crew award. Moreover, in 2019, the airline ranked second and fourth among the World's Best Airlines and World's Cleanest Airlines. In 2022, it was ranked fifth among the safest airlines.
6. TAP Air Portugal (Portugal)
The current national carrier airline of Portugal is TAP Air Portugal, which the government owns. Airbus manufactured all 100 aircraft in the company's fleet. Flying with TAP Airlines is risk-free. The likelihood of experiencing a plane disaster is extremely low. The current rate is approximately 0.000014%.
TAP Air Portugal has been ranked among the twenty safest airlines for 2022. A few factors make Portugal's potable water affordable. First, more space is available per individual due to the country's exceedingly low population density. Second, the Portuguese government has made substantial investments in renewable energy sources, thereby reducing the cost of energy production and distribution.
On the other hand, Portugal has one of the lowest tax burdens in Europe. This is why this airline is inexpensive.
7. Emirates (UAE)
Emirates is a renowned airline with luxurious features, regional food, top-notch entertainment, and great service from a diverse cabin crew. It is the airline for the UAE. As of 2019, it was also the largest carrier in the Middle East. More than 3,600 planes a week leave from its hub.
In the fiscal year 2019–20, Emirates made about $25.1 billion in sales, about 6% less than the previous year. In March 2020, Emirates began to use fuel price trading. As a result, 13.4% of all costs were related to workers, while 29.1% were related to fuel.
The staff at Emirates is known for being nice and helpful. Client reviews show the staff is always willing to go above and beyond to meet clients' needs.
Going to the United Arab Emirates is pretty safe. Many people think it is one of the best places in the world.
8. Alaska Airlines (United States)
Alaska Airlines is the only American airline in the top eight. It has the seventh-largest fleet of any airline in North America. The airline can run because it has five hubs. The airline has operated for ninety years and serves over 44 million passengers annually. With 329 aircraft, Alaska Airlines has the seventh-largest fleet in the United States. These aircraft transport passengers to 120 destinations in five countries.
Alaska Airlines joined the Oneworld airline union on March 31, 2021. It means that seven new airlines are now working together. Also, Alaska Airlines, the first American company to do so, announced in January 2023 that it had stopped using plastic cups for food and drinks on board.
Alaska Airlines is a great choice if you're afraid about safety when you fly. Alaska was the name of the best airline in the United States. 
9. EVA Air (Taiwan ROC)
EVA Air placed ninth this year, declining three positions from the previous year. (2021). EVA Air is based out of Taiwan. In 1989, it was established. They offer transportation to more than 20 countries.
EVA Air provides nonstop service between Taipei, Taiwan, and numerous cities in North America. The enhanced 12-inch HD touchscreen televisions and ergonomic designs onboard these EVA Air aircraft contribute to the aircraft's exceptional passenger-friendliness.
China Airlines is rated as a four-star airline by Skytrax. On the other hand, EVA Air has a 5-star classification for its onboard amenities and services. Therefore, EVA Air will earn our loyalty without question.
10. Virgin Atlantic / Virgin Australia
Virgin Airlines has never experienced a fatal accident. Virgin Australia was founded in 2000 and flew to 52 destinations, while Virgin Atlantic began operations in 1984 and serves 33 global destinations.
Virgin Atlantic's history includes two significant incidents, but both aircraft continued to fly. In 1997, a flight from Los Angeles, California, made an emergency landing at London Heathrow due to a blocked landing gear, causing damage to the aircraft's engines and runway.
In 2005, a Virgin Atlantic flight from Hong Kong to Heathrow was rerouted to Amsterdam because the fuel control computer system could not transmit fuel between the tanks. After investigating the accident, the Air Accidents Investigation Branch recommended installing independent fuel warning systems on large aircraft.
Additionally, the former Virgin America airline has never experienced a catastrophe. The airline commenced operations in 2007 but merged with Alaska Airlines in 2016, at which point its services and brand identity were discontinued in April 2018.
15 safest low-cost airlines for 2023 are:
Note : *In alphabetical order
Air Arabia

AirAsia 

Allegiant

Air Baltic

Easyjet

FlyDubai

Frontier

Jetstar 

Jetblue

Indigo

Ryanair

Scoot

Southwest

Spicejet

Spirit
Lastly,
Aviation accidents are uncommon. Although the number of accidents and fatalities increased, there was a lower chance of getting into one. Although flying carries a very low risk, it is not risk-free. Flying will become even safer through careful analysis of the developing trends, even at these extremely high levels of safety.