Beer Consumption Per Capita (Top 181 Countries)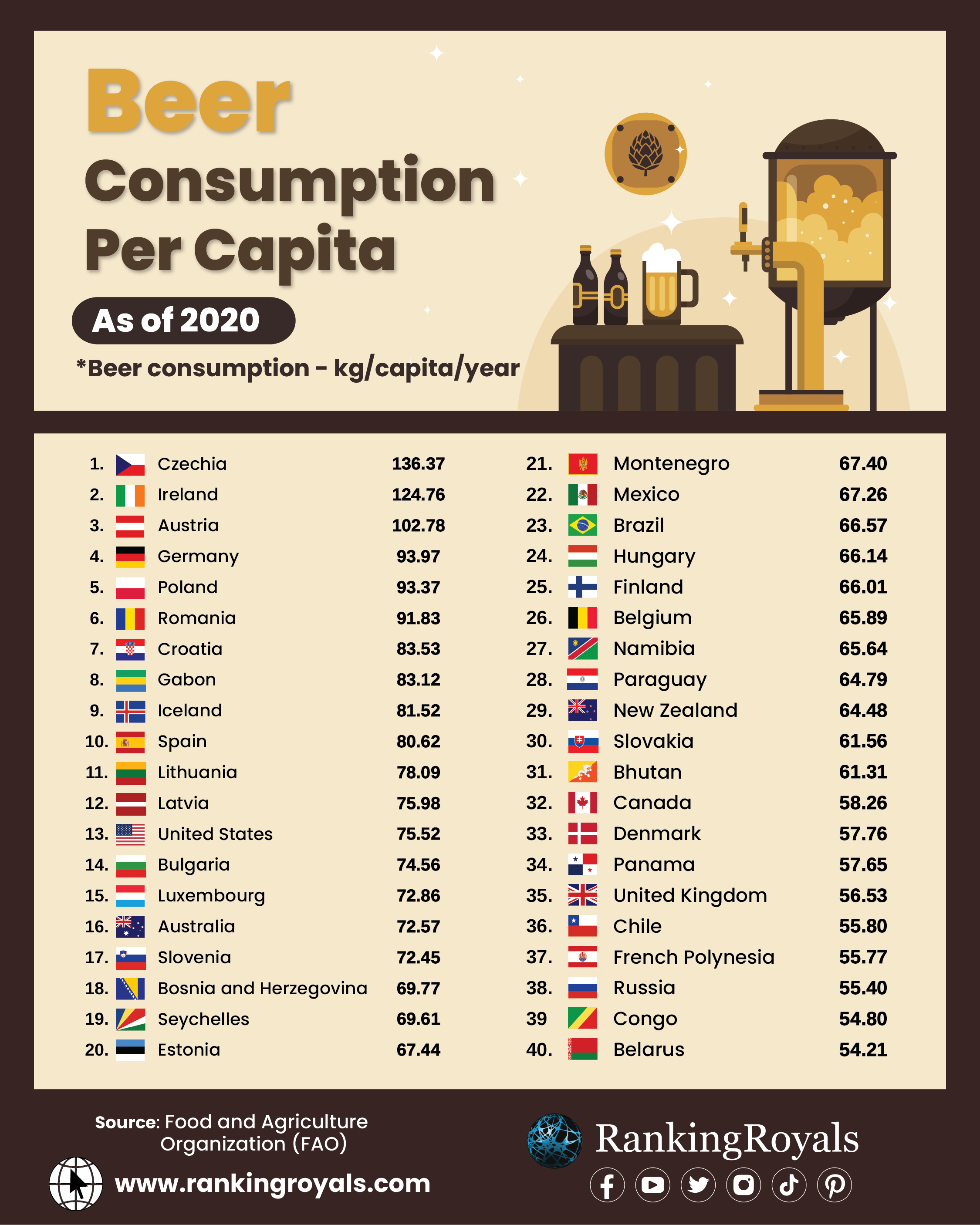 Facts About Beer:
The most popular alcoholic drink in the world is beer. Around the world, people drink over 50 billion liters of beer a year.

Beer is one of the oldest beverages in the world, originating as early as 5,000 BC.

Budweiser is the world's most famous beer.

The United States has a National Beer Day.

The world's most expensive beer costs $503,300.

Japan celebrates its 'BeerFes' annually.

The first country to have a beer museum was the Czech Republic.

With 67.5% alcohol by volume, the world's most powerful beer is Venom Snake.

The basic ingredients of a beer are grains, hops, yeasts, and water.
Top 5 Beer-Consumed Countries
1. Czechia       
 In 2020, the Czech Republic consumed 136.37 kg of beer per capita, which has long been known as one of the world's biggest beer drinkers and famous worldwide for its high-quality local production. The Czechia drinks more beer per capita than any other country in the world. The consumption of beer amounted to 14.37 million hectoliters by 2021. 
It's cheaper to drink beer, compared with water from the bottle, in Prague. People from the Czech Republic prefer to drink beer in pubs rather than at home. It's an opportunity to meet friends when you drink beer. Czech beer is divided into the basic categories: lehké – "light" beer brewed below 8° Balling and with less than 130 Kj per 100ml; výčepní – "tap" beer, though it can be bottled, brewed between 8° and 10°; ležák – "lager" beer, brewed between 11° and 12.99°; speciál – "special" beer, brewed above 13°.
It is not possible to say which Czech beer is the best, given that the Czech Budvar (Budweiser) beer is called "the beer of kings" because of the royal preference for this beer in the early 16th century.
The Czechs consume most Czech beer. In order of popularity: Budvar, Plzeňský Prazdroj (Pilsner Urquel), Radegast, Velkopopovický Kozel, Staropramen, Gambrinus and then a long list of beers produced by minor regional brewers. Around 50 breweries and over 70 small brewing companies in the Czech Republic offer a variety of beers.
Why do Czech people drink so much beer? The Czechs drink a lot of beer because they've got a long tradition, they taste good, and they're cheap. In fact, it is the Czech Republic that has a worldwide monopoly on beer consumption. At a restaurant, beer is usually cheaper in comparison to soda or juice.
2. Ireland       
In 2020, the average volume of beer consumed by Irish people was 124.76 kg. The consumption of beer amounted to approximately 3.7 million hectoliters in 2021. Why do Irish people drink so much beer? People in Ireland are drinking beer for a lot of reasons. According to Addiction Blog, Irish people drink alcohol for the same reasons other populations drink, such as modeling by parents or peers, stress relief, and normal development and coming-of-age transitions. Irish alcohol consumption has historically been greatly influenced by British cultural traditions as well as Ireland's unfavorable climate. Ireland is the largest beer drinker, with nearly 60% of its beers being lagers, while 35% are stout and less than 4.8% are ale. Cider's share of sales also grew year-on-year to 5.8%, while the market share of both wine (29.3%) and spirits (24.7%) slumped from 2021.
Due to consumers' demand and the widespread promotion of this product, which accounted for 1.7% of beer volume until now, there has been a "significant increase" in sales of nonalcoholic beers. Last year, beer with zero alcohol content increased by 25%, and over the last five years, there's been a fourfold increase in the market share of unalcoholic beers. If continued promotion takes place, it is expected that Ireland will develop a major zero-alcohol beer market in the coming years.
Beer continues to be Ireland's most popular alcoholic drink, according to an annual report on the Irish beer market from the Ibec Group, and its share increased by 8 % to 43.5% in national alcohol markets. In Ireland, the excise duty on beer is the second highest in the EU, after Finland, with 28% of the price of a beer going to the government in VAT and excise duty.
3. Austria       
Austria is a country that loves beer and has been for centuries. Beer, the most delicious and refreshing drink in Austria, has a long tradition. Beer producers in Austria have been making this popular beer consisting of water, hops, and malts since the 14th century. In 2020, the volume of beer consumed per capita in Austria increased to 102,78 kg. In Austria, the consumption of beer in 2021 was approximately 8.7 million hectoliters. The quality and flavor of the beer are influenced significantly by the high-quality water that Austrians are fond of. Austria has the highest density of breweries in Europe, with one brewery for every 56,860 inhabitants. There are over 600 beers in total produced by around 140 small and large breweries. Vienna is famous as the origin of the Viennese lager beer. It is proof of the rich tradition of beer in Vienna, which has still produced frothing innovations for new small breweries.
4. Germany 
Germany's culture is deeply rooted in beer. The German beer is produced in accordance with the Reinheitsgebot, which allows only water, hops, and malt to be used as ingredients; beers not exclusively using barley malt, such as wheat beer, must have a top-fermented content. In 2020, Germans consumed 93.97 kg of beer per person.
It's their beer that Germans love, and every day of the country, they drink. In 1516, German law on beer purity entered into force in Bavaria. That legislation stipulated that all beer produced by the Bavarians would need to be pure water, hops, and malts. The German Purity Act, however, did not confine itself to Bavaria. It crept into Germany over the years and was adopted as the national law on breweries in 1906. Today, beer purity is the oldest law on food in the world.
Germany's attitude to beer is very relaxed. You can drink beer before driving a car and voting in national elections at the age of 16! This licensing age applies only to beer and wine; it is 18 for spirits and harder drinks.
In Germany, beer drinking is a huge part of the culture; it has its own word, 'Bierernst'.It means, yes, serious beer, which highlights just how important beer is to Germans! Oktoberfest is the greatest beer festival in the world, and it's a sign of Germany's love for beer. There are many types of Beer in Germany, such as Helles/Pilsner, Traditional Bock Beer and Maibock, Doppelbock and Eisbock, Dunkel, Oktoberfest/Märzen, Schwarzbier, Hefeweizen, Weizenbock and Dunkelweizen, Rauchbier, Altbier, and Kölsch.
5. Poland
In Polish culture, drinking is an important part of social life and often has a connection with hospitality, friendship, or celebration. In 2020, Poland was expected to consume nearly 93.37 kg of beer, making it the fifth-largest country in the world. Poland's production of 36.9 million hectolitres is the 3rd biggest beer producer in Europe. Poland's beer culture and many varieties are well known. The most popular Polish beers are Żubr, Okocim, Tyskie, and Żywiec.
There are a lot of well-known beer brands in Poland, such as Żywiec, Tyskie, and Lech, which have been exported all over the world. Poland has been enjoying a growth of craft beer culture over the past few years, as more and more little independent breweries are opening up all over the country. The popularity of craft beer in Poland is growing as new and different tastes are explored. In Poland, there is also an increasing occurrence of craft beer festivals, offering a chance to taste different beers and meet with the people behind them.
As a result, 80% of Poland's beer is now owned by three companies. A total of 97 breweries, including microbrews and contracted breweries, were operating in Poland at the end of 2013. The number of Polish breweries increased to a total of 200 in 2017. The excise duty paid by the Polish government on beer sales amounted to about PLN 3.097 billion in 2009. There are 207,900 full-time jobs due to the production and sale of beer. 
Here is a list of beer consumption by country, according to FAO:
Rank
Country
Per Capita (kg)
1
Czechia
136.37
2
Ireland
124.76
3
Austria
102.78
4
Germany
93.97
5
Poland
93.37
6
Romania
91.83
7
Croatia
83.53
8
Gabon
83.12
9
Iceland
81.52
10
Spain
80.62
11
Lithuania
78.09
12
Latvia
75.98
13
United States
75.52
14
Bulgaria
74.56
15
Luxembourg
72.86
16
Australia
72.57
17
Slovenia
72.45
18
Bosnia and Herzegovina
69.77
19
Seychelles
69.61
20
Estonia
67.44
21
Montenegro
67.4
22
Mexico
67.26
23
Brazil
66.57
24
Hungary
66.14
25
Finland
66.01
26
Belgium
65.89
27
Namibia
65.64
28
Paraguay
64.79
29
New Zealand
64.48
30
Slovakia
61.56
31
Bhutan
61.31
32
Canada
58.26
33
Denmark
57.76
34
Panama
57.65
35
United Kingdom
56.53
36
Chile
55.8
37
French Polynesia
55.77
38
Russia
55.4
39
Congo
54.8
40
Belarus
54.21
41
Sweden
54.13
42
Antigua and Barbuda
52.54
43
Portugal
51.98
44
Switzerland
51.75
45
Azerbaijan
51.48
46
Dominican Republic
51.37
47
Saint Lucia
50.51
48
Serbia
50.01
49
Netherlands
49.52
50
Colombia
46.87
51
Norway
46.8
52
Trinidad and Tobago
45.04
53
South Africa
45.03
54
Suriname
44.93
55
New Caledonia
44.36
56
Viet Nam
40.45
57
South Korea
40.35
58
Peru
39.58
59
Ukraine
39.4
60
Uruguay
39.24
61
Argentina
39.07
62
Kazakhstan
36.92
63
Ecuador
36.6
64
Mauritius
35.47
65
Cyprus
35.13
66
Italy
34.74
67
Bolivia
34.29
68
Guyana
33.67
69
Angola
33.52
70
North Macedonia
33.12
71
Cabo Verde
32.9
72
Malta
32.56
73
Botswana
31.89
74
Belize
30.98
75
Taiwan
30.66
76
Mongolia
30.61
77
Cambodia
29.77
78
Albania
29.19
79
France
28.67
80
Republic of Moldova
28.4
81
Saint Vincent and the Grenadines
27.94
82
Eswatini
27.74
83
Thailand
27.28
84
Cuba
26.66
85
Barbados
25.7
86
Greece
25.16
87
Cameroon
24.64
88
Jamaica
24.03
89
China, mainland
23.84
90
Honduras
22.24
91
Fiji
21.77
92
Saint Kitts and Nevis
21.61
93
Hong Kong SAR
20.57
94
Macao SAR
19.84
95
Samoa
19.72
96
Japan
19.7
97
Israel
19.38
98
Burundi
19.37
99
Zambia
18.48
100
Guatemala
18.38
101
Georgia
18.33
102
Grenada
18.19
103
Lesotho
17.27
104
El Salvador
16.18
105
Rwanda
15.54
106
Philippines
15.43
107
Tunisia
14.94
108
Zimbabwe
14.87
109
Costa Rica
14.06
110
Micronesia
13.99
111
Ethiopia
13.59
112
Côte d'Ivoire
13.32
113
Bahrain
13.25
114
Sao Tome and Principe
13.1
115
Mozambique
11.83
116
Dominica
11.64
117
Nicaragua
11.13
118
Benin
10.97
119
Solomon Islands
9.98
120
Türkiye
9.76
121
Armenia
9.15
122
Nigeria
9.09
123
Papua New Guinea
8.79
124
Ghana
8.77
125
Malaysia
8.53
126
Kenya
8.04
127
Uzbekistan
7.18
128
Burkina Faso
6.92
129
Bahamas
6.77
130
Tanzania
6.68
131
Kiribati
6.51
132
Uganda
6.41
133
Togo
6.33
134
Madagascar
6.31
135
Venezuela
6.19
136
Guinea-Bissau
5.86
137
Sri Lanka
5.64
138
Central African Republic
5.61
139
Malawi
5.15
140
Sierra Leone
4.88
141
DR Congo
4.85
142
Laos
4.84
143
Tajikistan
4.18
144
Kyrgyzstan
4.06
145
Lebanon
3.74
146
Algeria
3.73
147
Qatar
3.59
148
Nepal
3.56
149
Liberia
3.37
150
Chad
2.88
151
Myanmar
2.58
152
Guinea
2.48
153
South Sudan
2.22
154
Maldives
2.2
155
Oman
2.19
156
Morocco
2.16
157
Senegal
2.16
158
North Korea
1.79
159
Nauru
1.57
160
Mali
1.38
161
Gambia
1.25
162
Djibouti
1.13
163
Iraq
1.13
164
India
1.02
165
Iran
0.85
166
Egypt
0.83
167
Timor-Leste
0.81
168
Jordan
0.78
169
Indonesia
0.7
170
Vanuatu
0.6
171
Comoros
0.56
172
Niger
0.56
173
Haiti
0.22
174
Turkmenistan
0.15
175
Syria
0.14
176
Sudan
0.04
177
Pakistan
0.03
178
Bangladesh
0.02
179
Libya
0.02
180
Afghanistan
0.01
181
Mauritania
0.01