Beer Exports by Country (Top 124 Countries)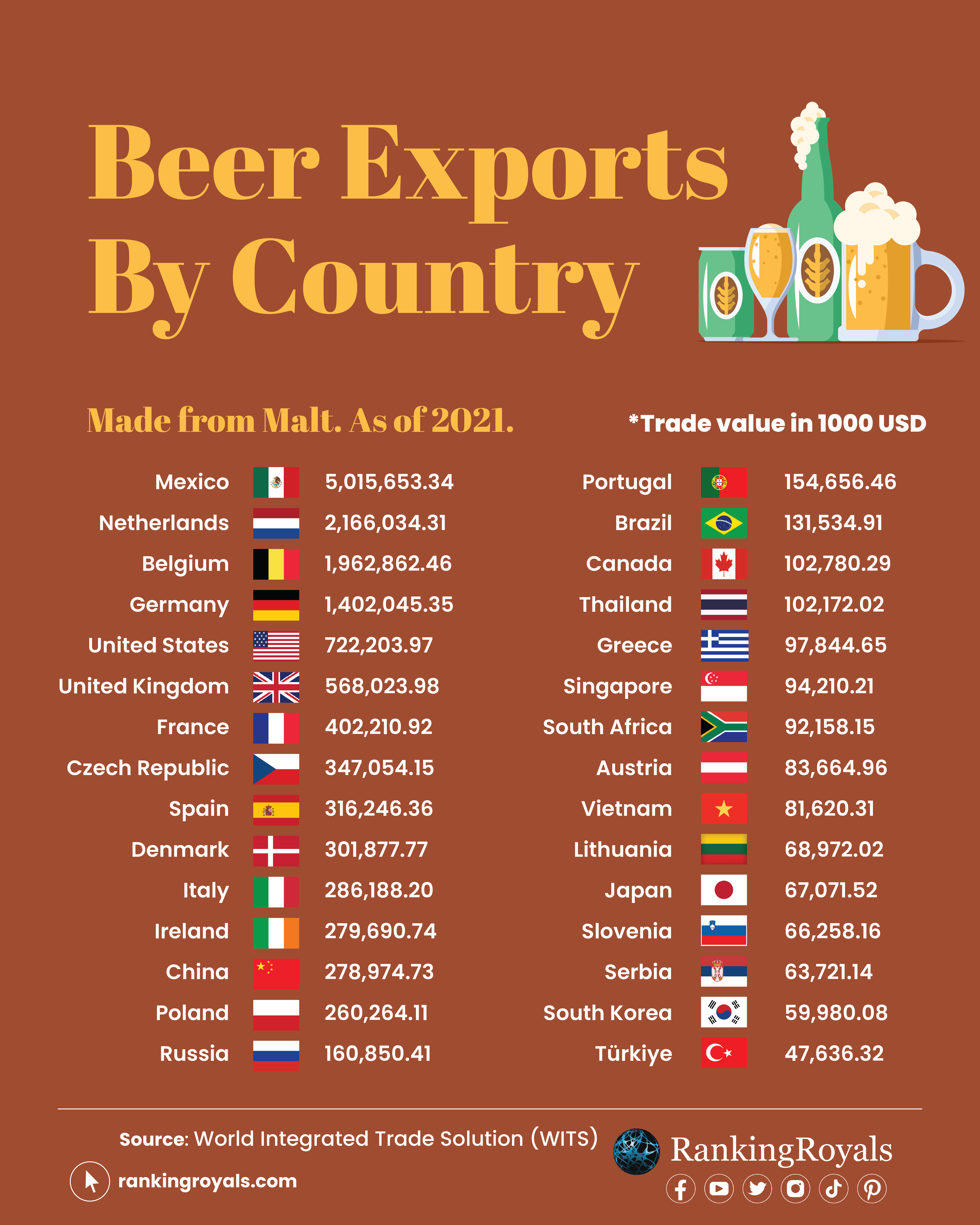 Beer has been the world's most famous drink for a long time. After a long day, there's nothing better than popping a cold one or having a beer at a barbecue. Beer comes in so many different kinds, flavors, and shapes that it's no surprise that it's such a popular and loved drink worldwide. In 2022, the world beer market was worth $660 billion, according to IMARC. Group. In the next five years, the market is expected to grow at a CAGR of 1.9%, hitting $747.7 billion by 2028.
Facts About Beer Exports:
Mexico is the biggest exporter of beer in the world.
Mexico's beer exports were valued at $5.016 Billion, accounting for 30.3% of global sales.
The Netherlands is the European Union's largest exporter of Beer followed by Belgium and Germany.
China is Asia's largest exporter of beer followed by Thailand, Singapore and Vietnam.
Brazil is the largest exporter of beer in South America.
Mexico's share of exports has almost doubled in the last eight years. In 2013, it was only 16.4%.
Corona, Mexico's most popular beer brand owned by Belgian company Anheuser-Busch InBev (AB InBev), is exported to more than 120 nations.
Mexico's three largest beer companies are Anheuser-Busch InBev (ABI), Heineken, and Constellations Brands.
Lagers, pilsners, and Vienna lagers are the most widely consumed types of Mexican Beer.
Craft beer is becoming increasingly famous worldwide, and many small, independent breweries are exporting their products to new markets. There are more than 8,000 craft breweries in the United States. These breweries make many different kinds of Beer.
Foreign direct investment in the beverage industry reached $288 million in 2021.
Beer is the 216th most traded product in the globe.
In countries such as Mexico and Brazil, light lagers are the most popular, whereas, in Europe, Belgian-style ales and stouts are in higher demand.
More than 1,300 brewers in Germany produce more than 5,000 Beer varieties.
In the Netherlands, pilsners, a light lager, are the most consumed type of Beer.
Two main breweries dominate French beer exports: Kronenbourg and Fischer. 
What are the top Exporters of Beer in the world?
Here are the top 12 exporters in the world. 
1. Mexico  
Mexico exports more Beer than any other country globally, even more than Belgium, Germany, and the Netherlands. It exported 3.63 million liters in 2021, 11.5% more than in 2020.
After the Mexican War of Independence, when European rules and taxes were no longer in place, beer production grew in Mexico.
The country places fourth in the world in terms of production. In 2021, it made 134.7 million hectoliters, 13.5% more than the previous year. By the end of the Mexican Revolution, more than 35 breweries were in the country. Then, in the early 1920s, the business started to get bigger, which started a chain of events that led to the beer market we have today. 
During the merging, smaller breweries were taken over by one of the "big two" breweries, Grupo Modelo or Cerveceria Cuautehmoc-Moctezuma, which became the biggest players in the Mexican beer market. Successful beers were made in large quantities and sold regionally or nationally, while less popular beers were taken off the market. In the past few years, craft beer from Mexico has become increasingly famous. Small breweries make a wide variety of styles and flavors. Cervecera Calavera, Cervecera Colima, and Cervecera Wendlandt are some of the most well-known Mexican craft beer names.
2. Netherlands  
The Netherlands dominates E.U. beer exports. Beer has been made in Holland at least since the Middle Ages, and the market is dominated by the country's most renowned brewery, Heineken. There will be 605 legal brewers in 2020. The Netherlands comes in at number two worldwide, but Mexico takes the first position because its exports are twice as high as those of the Netherlands. The most recent WITS statistics indicate that the Netherlands exported 1.8 billion liters of Beer in 2021, worth $2.2 billion.
Exports of Dutch Beer are heavily weighted toward European and North American markets, with the United States being the biggest buyer. However, Beer from other nations, like Belgium and Germany, is also exported from the Netherlands alongside its own domestic production. A wide range of beer types is produced in the Netherlands, from pilsners and lagers to Belgian-style ales and fruit beers. Many Dutch breweries have received prestigious international awards for their exceptional beers.
3. Belgium  
Belgium is one of the biggest producers of Beer in the world, and it is known for making high-quality and unique beers. A report from 2021 says that Belgium exported a total of 1.69 billion liters. The Netherlands, France, and the United States are the top places where Belgian Beer is sold. In 2020, France was the country that bought the most Belgian Beer, almost 25% of the total. The Netherlands, the United States, Italy, and Spain are also important markets for Belgian Beer. Most of the Beer that was sent abroad was low-alcohol lager beer, which is a type of Beer that is often found in Belgium. 
Small brewers, on the other hand, are still trying to get into new markets because the top two export countries are making more Beer on their own. In the United States, for example, a lot of small breweries make what they call "Belgian-style ales." Belgian brewers are especially interested in China and other Asian markets, which have been harder to get into but have huge sales potential.
Belgium is known for its wide variety of beer types, such as lambics, saisons, Trappist, and abbey beers. Many Belgian beers are made the same way they have been for hundreds of years, and some are kept for years before they are ready to drink.
4. Germany
The beer market in Germany is a vital and thriving sector of the country's economy. Germany made $1.40 billion in beer exports in 2021, with Italy, the Russian Federation, China, the United States, and the Netherlands as the top export destinations. Since the year 1000, monasteries in southern Germany have produced Beer for the general public. Weihenstephan and Weltenburg are two German distilleries dating back to the year 1000 that are still in operation. 
Pilsner, Hefeweizen, and Dunkel are well-known German beer varieties, along with the country's traditional brewing techniques. Beck's, Bitburger, and Warsteiner are the three most well-known German beer brands. The German beer industry is a considerable contributor to the country's economy, and beer exports play a major role in this contribution. The international demand for German Beer reflects the nation's long-standing manufacturing traditions and reputation for producing high-quality Beer.
 5. United States  
The U.S.A. is a major exporter and producer of Beer. Dutch West India Company established the very first commercial brewery in the United States. Budweiser was the first American Beer to be disseminated nationally. In the United States, other well-known brands include Coors Banquet, Miller Lite, Anchor Brewing Liberty Ale, Sierra Nevada Pale Ale, and Bud Light. These include Anheuser-Busch InBev, Molson Coors Beverage Company, Constellation Brands, Inc., Heineken, and others. In 2021, the United States exported $722.20 million worth of Beer, with the majority traveling to Chile, Honduras, Panama, Canada, Korea, Mexico, and Japan.
Canada is by far the most important market for American Beer, accounting for nearly fifty percent of all U.S.U.S. beer exports in 2021. South Korea has emerged as a rapidly expanding market for American craft beer, fueled by increasing demand for flavorful, high-quality Beer.
Historically, the United Kingdom has been a significant market for American Beer, with a particular emphasis on the hop-forward styles of Beer prevalent in the Pacific Northwest. Australia and Japan are also significant markets, with the prevalence of American craft beer increasing in both nations in recent years.
6. United Kingdom
The United Kingdom (U.K.U.K.) has a long history of brewing and exporting Beer, making it a significant player in the global beer market. In the 17th century, the United Kingdom introduced Beer to various regions of the globe through its extensive trading network. Beer was transported aboard ships as both a commercial commodity and a source of drinking water. Various regions of the globe produce a variety of beers influenced by British styles. Pale Ale, India Pale Ale, Porter, Mild, Imperial Russian Stout, Brown Ale, Bitter, Barley Wine, and Scotch Ale are a few of these varieties. In 2021, the United Kingdom exported a total of $568.02 million worth of Beer, with Ireland, the United States, the Netherlands, Canada, and France being the leading importers.
In addition to traditional ales, stouts, and lagers, the United Kingdom has a burgeoning craft beer culture. Numerous British breweries have garnered international renown for their high-quality and distinctive ales in high demand in international markets.
7. France
France is renowned for its wine, but its beer culture is also prospering. While beer consumption in France is lower than in some other European nations, French breweries produce a wide variety of high-quality beers that are enjoyed worldwide. France had 2300 breweries at the turn of the 20th century, but the Second World War destroyed the majority of them. After the midpoint of the twentieth century, however, French breweries made a resurgence. With some of the most well-known beer brands, such as Kronenbourg 1664, Pelforth, and Desperados, France is now one of the world's leading beer producers and exporters, with exports of $402.21 million in 202. Throughout the year, the main export destinations for French Beer were Spain, China, the United Kingdom, the Netherlands, and Italy. According to the most recent data from WITS, France exported approximately 509.74 million liters of Beer in 2021.
Additionally, France is renowned for its distinctive and flavorful beer varieties, including bière de garde and saison. Bière de garde is a traditional French beer that originated in Nord-Pas-de-Calais and is distinguished by its malty sweetness and complex flavor profile. Saison is a popular Belgian-style farmhouse lager in France that is known for its spicy, fruity flavor. Specialty beers, such as fruit, artisanal, and bières de garde, are the most widely exported varieties of Beer from France. (a style of Beer traditionally brewed in the northern part of France).
8. Czech Republic  
The Czechs are the world's largest consumers of Beer and also succeeded in its exportation. Forty percent of the country's beer production is exported to Germany, England, Slovakia, Sweden, and Russia. In 2021, the Czech Republic exported 546 million liters to the rest of the globe. Each year, beer-centered tourism attracts a large number of visitors. In 2012, beer production contributed 0.8% to the Gross Domestic Product. Beer paid approximately 28,506 billion Czech crowns in taxes for that year. In 2016, visitors drank 750 thousand hectoliters of Beer. The Czech Republic has had the lowest unemployment rate in the European Union for several years, and the beer industry has played a significant role in this, from agriculture to labor and service. 
Pilsner Urquell is one of the most well-known Czech beer brands and is exported to numerous countries. In addition, the popular Czech beer brands Budweiser Budvar, Staropramen, and Kozel are also available.
9. Spain
Spain has a long history with Beer, and the amount of Beer it exports has been going up gradually over the past few years. Spanish Beer h began in the small towns of Iberia. However, Beer is a big part of Spanish culture now, and it's served in many places and bars nationwide. Estrella Damm, mbar from Zaragoza, Estrella Galicia, and Turia Marzen are some of the most well-known Spanish beer names. In 2021, the country exported $316.25 million worth of Beer, most of which went to the United Kingdom, China, France, Portugal, and Equatorial Guinea.
Estrella Damm, Mahou, Cruzcampo, and San Miguel are some of the most popular Spanish beers sold outside of Spain. In the past few years, the craft beer market in Spain has also grown. This is because many small brewers there make high-quality, handcrafted beers. As a result, these craft beers are becoming more famous at home and abroad, and many are being sent to places like the U.S., Canada, and Japan.
10. Denmark  
Denmark has a long history of making Beer and a thriving craft beer scene. It has led to a big rise in beer exports in the last few years. The WITS says that in 2021, Denmark exported 312.57 million liters of Beer. The countries that buy the most Danish Beer are Germany, Sweden, and the U.KU.K. In 2021, more than half of all the Danish Beer sent abroad went to these three countries. Norway, the Netherlands, and the United States are also important export markets for Danish Beer. Carlsberg, Tuborg, Mikkeller, and Jacobsen are some of the most well-known Danish beer names.
The most popular kinds of Danish Beer to export are pilsners and lagers, but craft beers and specialty brews are also becoming more popular. Carlsberg, Tuborg, and Mikkeller are some of the most well-known Danish beer names. Denmark's craft beer business is growing, and there are a lot of small, independent breweries there that make new and interesting beers. 
11. Italy
Italy is the 11th largest beer exporter in the world. With a long history of making Beer and a growing craft beer scene, Italy is becoming a bigger player in the world beer market. Italian Beer has been around since the seventh century B.C. when it was made and drunk in Italy. In 2021, beer exports brought in $286.19 million for Italy's beer business. In 2021, the United Kingdom, the United States, Australia, Bulgaria, and China were likely to be the countries that buy the most Italian Beer. Peroni Nastro Azzurro, Moretti, Angelo Poretti, Menabrea, Castello, and Forst are some of Italy's most well-known beer names.
Italy is known for its wide range of beer types, such as lagers, ales, and specialty beers like fruit beers and sour beers. In the past few years, the craft beer scene in Italy has grown quickly. As a result, many small, independent breweries now make high-quality, one-of-a-kind beers popular in foreign markets.
12. Ireland
Ireland is well-known for its Beer, especially its stout, Guinness. In the Bronze Age, Irish Beer was known as beoier, which is now more commonly known as gruit. Ireland specializes in two Beer varieties: Irish red ale and stout. It is home to some of the globally renowned beer brands, including Harp Lager, Murphy's Irish Stout, O'Hara's Irish Stout, Smithwick's Irish Red Ale, etc. The country is also home to one of the world's most popular beverage brands, Guinness. In 2021, the nation's total exports of Beer generated $279.69 million. The United Kingdom, United States, France, Netherlands, Germany, Canada, and the Russian Federation are among the main markets for Irish Beer. The U.S.A. was the largest importer of Irish Beer in 2020, accounting for nearly 30 percent of total exports.
Although Guinness is the most well-known Irish beer brand, Ireland also produces lagers, ales, and stouts. In addition, the Irish craft beer industry has flourished in recent years, with numerous small, independent breweries making high-quality, distinctive beers in high demand in international markets.
What are the Top 10 Beer Producers in the World?
China (359.74 million hectoliters)
United States (203.57 million hectoliters)
Brazil (143 million hectoliters)
Mexico (134.71 million hectoliters)
Germany (85.44 million hectoliters)
Russia (82.12 million hectoliters)
Japan (44.56 million hectoliters)
Vietnam (42 million hectoliters)
Poland (38.24 million hectoliters)
Spain (38 million hectoliters)
Why is Mexican Beer so popular?
Their lagers' mellow and refreshing flavor contributes to their popularity. In addition, they are simple to drink, particularly on a hot summer day. Add a squeeze of lime, and you will be moved to a breezy heaven! 
What is the Largest Brewery in Europe?
Heineken International, headquartered in the Netherlands and established in Amsterdam in 1864, is Europe's largest brewery. In terms of sales, Heineken International runs more than 170 breweries in 70 countries, making it the world's second-largest beer brewing business.
Heineken, Amstel, Birra Moretti, and Murphy's are just a few of the more than 200 beer labels produced by the company's more than 70,000 workers. Heineken International is a global beer brand famous for its distinctive green barrels and commitment to environmentally responsible business practices.
Heineken International sponsors European athletic events like the UEFA Europa League, UEFA Champions League, and UEFA EURO 2020. In addition, the business has backed Formula One and Formula E races in addition to numerous festivals, performances, and Broadway productions.
What Is Beer Made Of?
 Beer is made from four essential primary ingredients.
  The following is a list of top exporters in the world.
| Rank | Country | Trade Value 1000 USD |
| --- | --- | --- |
| 1 |  Mexico | 5,015,653.34 |
| 2 |  Netherlands | 2,166,034.31 |
| 3 |  Belgium | 1,962,862.46 |
| 4 |  Germany | 1,402,045.35 |
| 5 |  United States | 722,203.97 |
| 6 |  United Kingdom | 568,023.98 |
| 7 |  France | 402,210.92 |
| 8 |  Czech Republic | 347,054.15 |
| 9 |  Spain | 316,246.36 |
| 10 |  Denmark | 301,877.77 |
| 11 |  Italy | 286,188.20 |
| 12 |  Ireland | 279,690.74 |
| 13 |  China | 278,974.73 |
| 14 |  Poland | 260,264.11 |
| 15 |  Russia | 160,850.41 |
| 16 |  Portugal | 154,656.46 |
| 17 |  Brazil | 131,534.91 |
| 18 |  Canada | 102,780.29 |
| 19 |  Thailand | 102,172.02 |
| 20 |  Greece | 97,844.65 |
| 21 |  Singapore | 94,210.21 |
| 22 |  South Africa | 92,158.15 |
| 23 |  Austria | 83,664.96 |
| 24 |  Vietnam | 81,620.31 |
| 25 |  Lithuania | 68,972.02 |
| 26 |  Japan | 67,071.52 |
| 27 |  Slovenia | 66,258.16 |
| 28 |  Serbia | 63,721.14 |
| 29 |  South Korea | 59,980.08 |
| 30 | Türkiye | 47,636.32 |
| 31 |  Ukraine | 43,700.59 |
| 32 |  India | 40,455.76 |
| 33 |  Estonia | 39,164.07 |
| 34 |  Sweden | 35,275.07 |
| 35 |  Malaysia | 32,028.38 |
| 36 |  Jamaica | 31,265.35 |
| 37 |  Croatia | 30,985.74 |
| 38 |  Belarus | 29,112.90 |
| 39 |  Hong Kong (SAR) | 28,822.44 |
| 40 |  Romania | 28,222.88 |
| 41 |  UAE | 28,204.70 |
| 42 |  Latvia | 27,706.36 |
| 43 |  New Zealand | 25,957.47 |
| 44 |  Hungary | 23,573.91 |
| 45 |  Dominican Republic | 19,264.22 |
| 46 |  Belize | 18,058.22 |
| 47 |  Kenya | 18,011.20 |
| 48 |  Luxembourg | 16,631.04 |
| 49 |  Togo | 16,441.31 |
| 50 |  Bulgaria | 14,335.43 |
| 51 |  Slovakia | 14,259.25 |
| 52 |  Australia | 14,014.86 |
| 53 |  Finland | 13,584.38 |
| 54 |  Nicaragua | 13,555.67 |
| 55 |  Angola | 12,405.95 |
| 56 |  Sri Lanka | 11,599.24 |
| 57 |  Guatemala | 11,029.92 |
| 58 |  Peru | 10,839.87 |
| 59 |  Norway | 10,479.39 |
| 60 |  Trinidad and Tobago | 8,688.34 |
| 61 |  Nigeria | 8,521.92 |
| 62 |  Costa Rica | 8,109.74 |
| 63 |  Burundi | 6,479.61 |
| 64 |  Indonesia | 5,705.69 |
| 65 |  Laos | 5,475.37 |
| 66 |  Morocco | 4,753.12 |
| 67 |  El Salvador | 4,714.71 |
| 68 |  Montenegro | 4,130.10 |
| 69 |  North Macedonia | 3,931.26 |
| 70 |  Iceland | 3,538.47 |
| 71 |  Honduras | 3,395.15 |
| 72 |  Bosnia and Herzegovina | 3,176.06 |
| 73 |  Lebanon | 3,122.33 |
| 74 |  Argentina | 3,087.39 |
| 75 |  Mozambique | 2,921.63 |
| 76 |  Switzerland | 2,912.57 |
| 77 |  Rwanda | 2,877.40 |
| 78 |  Colombia | 2,668.81 |
| 79 |  Georgia | 2,619.79 |
| 80 |  Uruguay | 2,312.36 |
| 81 |  Moldova | 2,260.03 |
| 82 |  Jordan | 2,154.14 |
| 83 |  Mauritius | 2,148.61 |
| 84 |  Samoa | 2,106.62 |
| 85 |  Egypt | 2,028.68 |
| 86 |  Eswatini | 1,845.04 |
| 87 |  Philippines | 1,841.23 |
| 88 |  Tunisia | 1,835.10 |
| 89 |  Ecuador | 1,737.36 |
| 90 |  Cyprus | 1,688.39 |
| 91 |  Benin | 1,648.03 |
| 92 |  Israel | 1,639.00 |
| 93 |  Armenia | 1,521.22 |
| 94 |  Suriname | 1,399.42 |
| 95 |  Ethiopia | 1,378.97 |
| 96 |  Grenada | 1,169.55 |
| 97 |  Senegal | 1,129.44 |
| 98 |  St. Vincent and the Grenadines | 1,040.73 |
| 99 |  Chile | 1,005.80 |
| 100 |  Cambodia | 947.6 |
| 101 |  Paraguay | 629.74 |
| 102 |  Tanzania | 593.94 |
| 103 |  Madagascar | 579.86 |
| 104 |  Nepal | 485.7 |
| 105 |  Mongolia | 458.74 |
| 106 |  Malta | 413 |
| 107 |  Barbados | 396.14 |
| 108 |  Guyana | 375.42 |
| 109 |  Myanmar | 324.20 |
| 110 |  Burkina Faso | 143.01 |
| 111 |  Fiji | 128.75 |
| 112 |  Botswana | 125.44 |
| 113 |  Bolivia | 92.17 |
| 114 |  Zimbabwe | 72.43 |
| 115 |  Aruba | 51.51 |
| 116 |  Oman | 41.7 |
| 117 | Kyrgyzstan | 24.85 |
| 118 |  Panama | 24.39 |
| 119 |  Azerbaijan | 15.86 |
| 120 |  Bermuda | 9 |
| 121 |  Zambia | 4.37 |
| 122 |  Uzbekistan | 1.37 |
| 123 |  Seychelles | 0.9 |
| 124 |  Congo | 0.57 |
Read More: Countries With the Highest Number of Airports (All Countries)