Countries With the Highest Number of Airports (All Countries)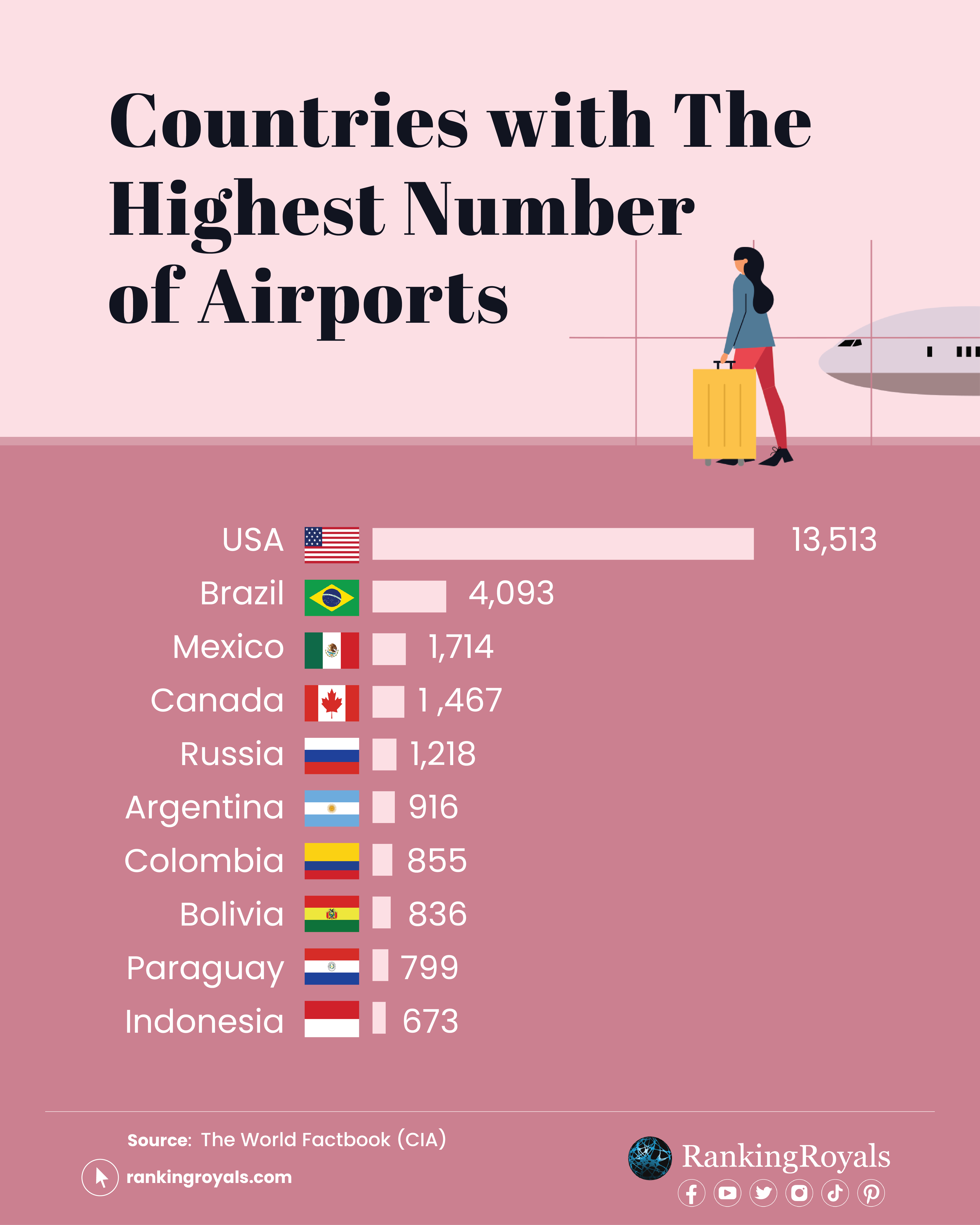 One of the quickest, safest, and most simple ways to get from one location to another is by Plane. In a matter of hours, you can cover thousands of kilometers. More than forty thousand runways can be found in every region of the World. An airport is a multi-building complex with runways and other takeoffs, landing, and aircraft servicing structures. Passengers can use their services to check in for their trip, have their bags picked up or delivered, and clear customs and immigration before boarding.
The majority of terminals within a country are only used for domestic travel. A limited number of airports facilitate international travel. An international airport is one that has facilities for customs, immigration, and border control, allowing passengers to travel between countries. The majority of international airports also offer domestic services.
Facts About Most Airports in the World:
With 4,093 airports, Brazil has the most airports in South America.

Hartsfield – Jackson Airport in Atlanta, Georgia, United States, is the busiest airport worldwide in terms of total traffic, including both passengers and cargo.

Hong Kong's Chep Lak Kok International Airport is the busiest airport in the World for cargo transport.

El Alto International Airport in Bolivia, at a height of 4,061 meters, holds the record for the highest airport in the World.

With 673 airports, Indonesia has the most airports in Asia.

Mataveri International Airport on Easter Island in the Pacific Ocean is the most remote airport in the World, located 3,559 kilometers from the west coast of Chile.

Atyrau International Airport in Kazakhstan is the World's lowest airport. It is 22 meters below sea level.
Why South America has the most airports?
It is the 4th largest continent in the World, and more than 400 million people live there.

It has so many airports because it has many different kinds of landscapes, like mountains, deserts, forests, beaches, etc.

Many airlines have established major hubs there to meet the rising demand for air travel to the area, as it is a famous tourist destination.

Due to the inadequate high-speed trains, South America has the most airports.
Which countries have the most airports?
Here are the 10 Most Airports by Country in the World.
1. United States (13,513)
The United States has more airports than any other nation. There are 13,513 operational airports, of which 102 facilitate international travel. Not surprisingly, it has 300 million people and is the World's third most visited Country.
Hartsfield-Jackson International Airport is the most significant. (Atlanta). With more than 100 million passengers per year, it is the World's busiest airport.
There is also the Los Angeles International Airport, O'Hare International Airport (Chicago), Dallas International Airport, John F. Kennedy International Airport, etc.
Why does the USA have so many airports?
There are population centers all over the United States, many people and goods are transported across the Country daily, and there is no high-speed rail, so there is only one way to travel the Country quickly by Plane.
2. Brazil (4,093)
Brazil has more than 200 million people and has about 4,093 airports. Holidays and carnivals are the best things for tourists to do in this Country. So, to help these tourists, the Country has opened up thousands of airports.
The largest airport is Brasilia International Airport, which has the airport code BSB. It also has a station that can handle more than 9 million people annually. This airport is one of the most up-to-date in Brazil.
3. Mexico (1,714)
Mexico is home to 125 million people and has 1,714 airports. People say that in this Country, there are many traditional festivals. The Country also has a unique culture. The nice weather is the final thing that brings people there. 
Benito Juarez International Airport has the airport code MEX and is its main airport. It is in Mexico City, which is in the eastern part of the Mexican megacity. MEX is the busiest airport in the Country because it can hold the most people. More than 40 million people go through this airport in Mexico every year.
4. Canada(1,467)
Canada has 1,467 airports. Most of these, though, are small. There are 17 major airports in Canada, and about 250 have regular flights. Of its 1,467 airports, the ones in Toronto, Montreal, and Vancouver are the most important.
More than 45 million people use the Toronto International Airport every year. Based on how many people use it, it is the 33rd biggest airport in the World. Pierre Elliott Trudeau International Airport and Vancouver International Airport come after it in importance.
5. Russia (1,218)
Russia is the fifth Country in the World with the most airports. Russia has a big and active aviation community. It was home to many plane factories and testing sites during World War II. It is also one of the largest countries in the World. All of these things led to Russia has a lot of airports. Interestingly, the Moscow Domodedovo Airport is Russia's biggest international airport. This airport is named after a town in Russia called Domodedovo.
6. Argentina (1,138)
Argentina has 1,138 airports, which puts it in sixth place. Ministro Pistarini International Airport, also called Ezeiza International Airport, is only 25 kilometers from Buenos Aires. It is the most important airport in the Country for foreign flights. It opened in 1949, and about 10 million people pass through it yearly.
Aeroparque Metropolitano Jorge Newbery, in the greater Buenos Aires area, has about 14 million passengers a year, more than Ástor Piazzolla International Airport.
7. Bolivia (855)
Bolivia is a country with fewer than one thousand airports (855). However, the International Airport Viru Viru, located 17 kilometers from the capital of Santa Cruz de la Sierra, is regarded as Bolivia's primary airport for passenger traffic.
Also, in Bolivia, we discovered La Paz International Airport and Jorge Wilstermann International Airport in Cochabamba.
8. Colombia (836)
Columbia used to not be very well known, but now it is a very important country. It has 836 airports. People have said that this nation is the best spot to spend time with family. Its weather, oceans, animals, and several things to do can make your vacation memorable.
El Dorado Airport in Bogota is the largest airport in all of Colombia. It is the most visited location in the Country. The airport is the third biggest hub in Latin America. In 2016, it was used for over half of the Country's air trips. More than 9.4 million people pass through this airport every year.
9. Paraguay (799)
In Central South America, Paraguay is the second-to-last Country with a maximum airport. It serves approximately 799 airports. In terms of passenger traffic, Silvio Pettirossi International Airport is the busiest of these airports. Annually, about 1.24 million passengers travel to and from this airport.
10. Indonesia (673)
Indonesia has 673 airports. Many efficient and modern airports support the nation's aviation industry. There are approximately 673 airports in the nation. Due to the volume of passengers, Soekarno-Hatta Airport in Jakarta is the busiest of these airports. It can accommodate about 58 million passengers annually.
What is World's largest airport?
The King Fahd International Airport in Dammam, Saudi Arabia, is, by a huge measure, the largest airport in the World. This old U.S. airbase is almost 300 square miles big, which is almost the same size as all five boroughs of New York City together. (302.6 mi2).
Which Country has no airport?
There is no airport in Vatican City, but heads of state and Vatican leaders use the Vatican City Heliport in the western part of the city. This is because the land area of the Holy See is only 0.44 km2 (0.17 sq mi), which is too small for an airport.
What is the longest runway in the World?
The longest runway in the World is at the Qamdo Bamda Airport in China. It is 18,045 feet long. Because the airport is high, it needs a long runway. (4,400 meters above sea level). High height slows down the engine and makes the Plane go faster. So, it needs a faster takeoff speed than usual, and longer takeoff and landing runs.
What is the World's Best Airline?
At the Skytrax World Airline Awards 2022, Qatar Airways was named the best Airline in the World for a record seventh time. Singapore Airlines and Emirates were the next two airlines on the list. 
What is the biggest airport in the U.S.?
Denver International Airport, which is the biggest airport in the USA, covers an area of 52.7 square miles or 135.7 square kilometers. It is one of the twenty busiest airports globally, handling approximately sixty million passengers annually. Since 1995, the airport has been functional.
Denver International Airport has flights to 215 locations, providing excellent connectivity. It is a vital hub for several prominent American airlines, including United and Frontier.
Here is a full list of countries with the most airports worldwide.
| Rank | Country | Total Airports |
| --- | --- | --- |
| 1 | United States | 13,513 |
| 2 | Brazil | 4,093 |
| 3 | Mexico | 1,714 |
| 4 | Canada | 1,467 |
| 5 | Russia | 1,218 |
| 6 | Argentina | 916 |
| 7 | Bolivia | 855 |
| 8 | Colombia | 836 |
| 9 | Paraguay | 799 |
| 10 | Indonesia | 673 |
| 11 | Papua New Guinea | 561 |
| 12 | Germany | 539 |
| 13 | China | 507 |
| 14 | Chile | 481 |
| 15 | France | 464 |
| 16 | United Kingdom | 460 |
| 17 | Venezuela | 444 |
| 18 | Ecuador | 432 |
| 19 | Australia | 418 |
| 20 | South Africa | 407 |
| 21 | India | 346 |
| 22 | Iran | 319 |
| 23 | Guatemala | 291 |
| 24 | Philippines | 247 |
| 25 | Sweden | 231 |
| 26 | Ukraine | 215 |
| 27 | Saudi Arabia | 214 |
| 28 | DR Congo | 198 |
| 29 | Kenya | 197 |
| 30 | Zimbabwe | 196 |
| 31 | Peru | 191 |
| 32 | Japan | 175 |
| 33 | Tanzania | 166 |
| 34 | Costa Rica | 161 |
| 35 | Pakistan | 151 |
| 36 | Algeria | 149 |
| 37 | Finland | 148 |
| 38 | Nicaragua | 147 |
| 39 | Libya | 146 |
| 40 | Spain | 135 |
| 41 | Cuba | 133 |
| 42 | Uruguay | 133 |
| 43 | Oman | 132 |
| 44 | Italy | 129 |
| 45 | Czechia | 128 |
| 46 | Poland | 126 |
| 47 | New Zealand | 123 |
| 48 | Guyana | 117 |
| 49 | Panama | 117 |
| 50 | Malaysia | 114 |
| 51 | Namibia | 112 |
| 52 | South Korea | 111 |
| 53 | Honduras | 103 |
| 54 | Angola | 102 |
| 55 | Iraq | 102 |
| 56 | Thailand | 101 |
| 57 | Mozambique | 98 |
| 58 | Turkiye | 98 |
| 59 | Iceland | 96 |
| 60 | Kazakhstan | 96 |
| 61 | Norway | 95 |
| 62 | Syria | 90 |
| 63 | South Sudan | 89 |
| 64 | Zambia | 88 |
| 65 | Egypt | 83 |
| 66 | Madagascar | 83 |
| 67 | North Korea | 82 |
| 68 | Denmark | 80 |
| 69 | Greece | 77 |
| 70 | Botswana | 74 |
| 71 | Croatia | 69 |
| 72 | Bulgaria | 68 |
| 73 | El Salvador | 68 |
| 74 | Sudan | 67 |
| 75 | Belarus | 65 |
| 76 | Burma | 64 |
| 77 | Portugal | 64 |
| 78 | Switzerland | 63 |
| 79 | Morocco | 62 |
| 80 | Lithuania | 61 |
| 81 | Chad | 59 |
| 82 | Ethiopia | 57 |
| 83 | Yemen | 57 |
| 84 | Suriname | 55 |
| 85 | The Bahamas | 54 |
| 86 | French Polynesia | 54 |
| 87 | Nigeria | 54 |
| 88 | Uzbekistan | 53 |
| 89 | Somalia | 52 |
| 90 | Austria | 50 |
| 91 | Belize | 47 |
| 92 | Nepal | 47 |
| 93 | Uganda | 47 |
| 94 | Afghanistan | 46 |
| 95 | Romania | 45 |
| 96 | Vietnam | 45 |
| 97 | Gabon | 44 |
| 98 | Mongolia | 44 |
| 99 | UAE | 43 |
| 100 | Israel | 42 |
| 101 | Latvia | 42 |
| 102 | Belgium | 41 |
| 103 | Hungary | 41 |
| 104 | Laos | 41 |
| 105 | Ireland | 40 |
| 106 | Central African Republic | 39 |
| 107 | Taiwan (ROC) | 37 |
| 108 | Dominican Republic | 36 |
| 109 | Solomon Islands | 36 |
| 110 | Slovakia | 35 |
| 111 | Cameroon | 33 |
| 112 | Malawi | 32 |
| 113 | Vanuatu | 31 |
| 114 | Mauritania | 30 |
| 115 | Niger | 30 |
| 116 | Liberia | 29 |
| 117 | Netherlands | 29 |
| 118 | Puerto Rico | 29 |
| 119 | Tunisia | 29 |
| 120 | Fiji | 28 |
| 121 | Jamaica | 28 |
| 122 | Kyrgyzstan | 28 |
| 123 | Congo | 27 |
| 124 | Ivory Coast | 27 |
| 125 | Serbia | 26 |
| 126 | Turkmenistan | 26 |
| 127 | Mali | 25 |
| 128 | Bosnia and Herzegovina | 24 |
| 129 | Lesotho | 24 |
| 130 | Tajikistan | 24 |
| 131 | Azerbaijan | 23 |
| 132 | Burkina Faso | 23 |
| 133 | Georgia | 22 |
| 134 | Senegal | 20 |
| 135 | Kiribati | 19 |
| 136 | Bangladesh | 18 |
| 137 | Estonia | 18 |
| 138 | Jordan | 18 |
| 139 | Sri Lanka | 18 |
| 140 | Cambodia | 16 |
| 141 | Guinea | 16 |
| 142 | Slovenia | 16 |
| 143 | Cyprus | 15 |
| 144 | Greenland | 15 |
| 145 | Marshall Islands | 15 |
| 146 | Eswatini | 14 |
| 147 | Haiti | 14 |
| 148 | Seychelles | 14 |
| 149 | Djibouti | 13 |
| 150 | Eritrea | 13 |
| 151 | Cook Islands | 11 |
| 152 | Ghana | 10 |
| 153 | North Macedonia | 10 |
| 154 | Cabo Verde | 9 |
| 155 | Maldives | 9 |
| 156 | Singapore | 9 |
| 157 | Guinea-Bissau | 8 |
| 158 | Lebanon | 8 |
| 159 | Sierra Leone | 8 |
| 160 | Togo | 8 |
| 161 | Turks and Caicos Islands | 8 |
| 162 | Armenia | 7 |
| 163 | Burundi | 7 |
| 164 | Equatorial Guinea | 7 |
| 165 | Kuwait | 7 |
| 166 | Moldova | 7 |
| 167 | Rwanda | 7 |
| 168 | Benin | 6 |
| 169 | Kosovo | 6 |
| 170 | Micronesia | 6 |
| 171 | Qatar | 6 |
| 172 | Saint Vincent and the Grenadines | 6 |
| 173 | Timor-Leste | 6 |
| 174 | Tonga | 6 |
| 175 | Guam | 5 |
| 176 | Mauritius | 5 |
| 177 | Montenegro | 5 |
| 178 | Northern Mariana Islands | 5 |
| 179 | Bahrain | 4 |
| 180 | Samoa | 4 |
| 181 | Svalbard | 4 |
| 182 | Trinidad and Tobago | 4 |
| 183 | Albania | 3 |
| 184 | American Samoa | 3 |
| 185 | Antigua and Barbuda | 3 |
| 186 | Bhutan | 3 |
| 187 | Cayman Islands | 3 |
| 188 | Grenada | 3 |
| 189 | Palau | 3 |
| 190 | Dominica | 2 |
| 191 | Hong Kong (SAR) | 2 |
| 192 | Luxembourg | 2 |
| 193 | Saint Kitts and Nevis | 2 |
| 194 | Saint Lucia | 2 |
| 195 | Akrotiri | 1 |
| 196 | Anguilla | 1 |
| 197 | Aruba | 1 |
| 198 | Barbados | 1 |
| 199 | Bermuda | 1 |
| 200 | Brunei | 1 |
| 201 | Curacao | 1 |
| 202 | Faroe Islands | 1 |
| 203 | Gambia | 1 |
| 204 | Gibraltar | 1 |
| 205 | Isle of Man | 1 |
| 206 | Jersey | 1 |
| 207 | Malta | 1 |
| 208 | Montserrat | 1 |
| 209 | Nauru | 1 |
| 210 | Niue | 1 |