Highest Remittance Receiving Countries (Top 176 Countries)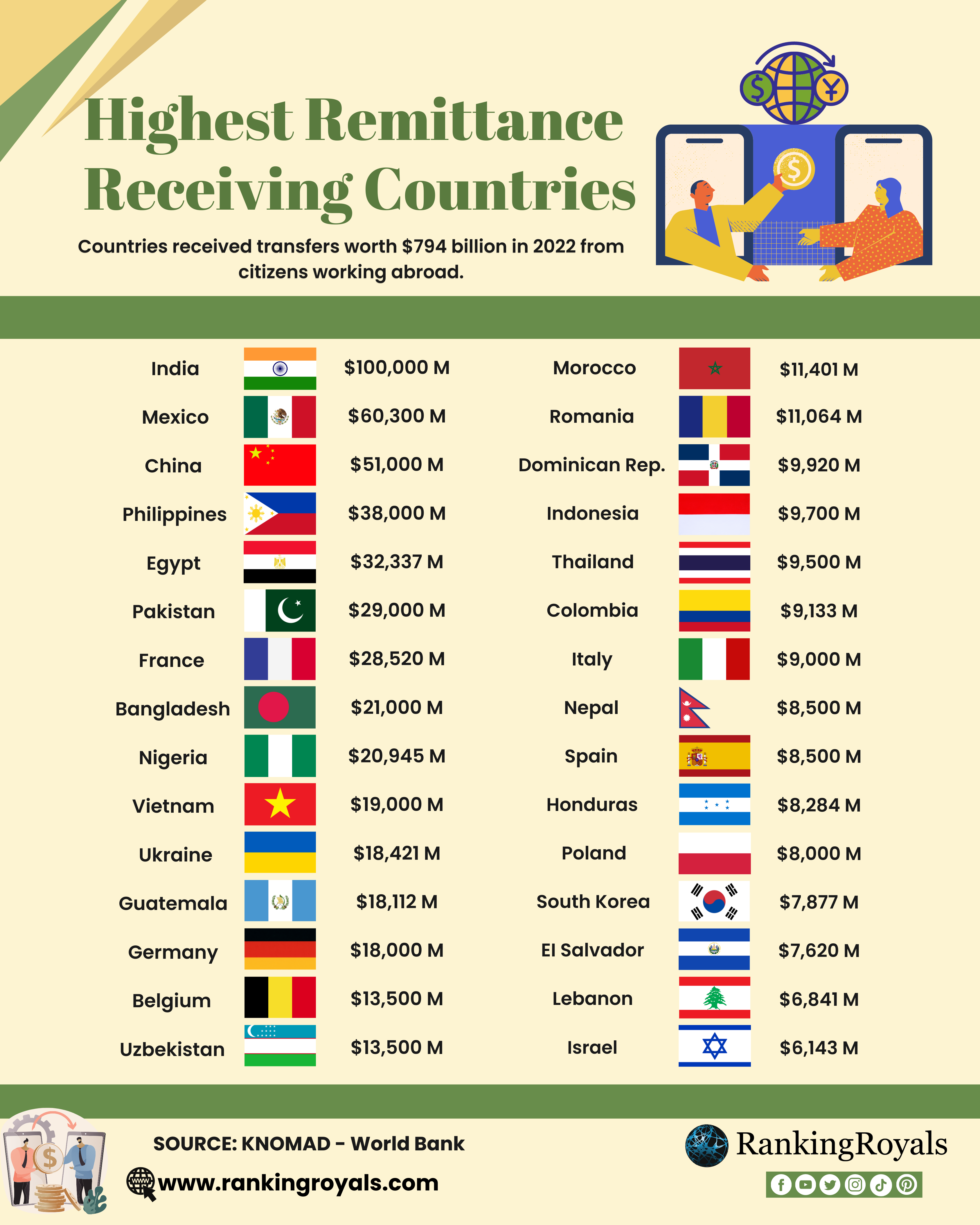 What is Remittance?
Send back is the literal meaning of remittance. Remittance means transferring funds or other forms of payment from one individual or organization to another, typically across international borders. It is commonly used to define money sent home by foreign workers to support their families or for other purposes.
Most commonly, money transfers are conducted electronically. This can be accomplished by a bank's electronic payment system or a money transfer service. It typically saves time, as digital transfers usually take less than ten minutes, making it the preferred method of sending money abroad. Through this procedure, a certain fee is assessed to the payer for the transfer.
Remittances are crucial for the residents of small, developing nations with low economic growth, as relatives working abroad send them a significant portion of their income through remittances. Remittances also play an essential role during natural disasters by contributing to relief funds.
Facts about Remittance
India consistently tops the list of the largest recipients of remittances for the past 15 years.

About one in nine individuals worldwide is supported by remittances from migrant workers.

The average amount that migrant workers send home every one to two months is between $200 and $300.

Remittances are at least three times more essential than international aid.

Each year, 200 million migrant workers send money home. This money supports 800 million people (on average, four people in a family).

In the last 20 years, remittances have grown five times.

More than half of remittances are sent to rural homes.

About 75% of remittances are used to pay for food, medical bills, school fees, or rent. 

Over 70 countries rely on remittances for at least 4 percent of their GDP.

Remittances can also make a country more dependent on money from outside the country and less likely to invest or grow its economy.
What are the highest remittance-receiving countries?
Here are the top remittance-receiving countries.
1. India ($100 Billion)
India is the leading recipient of remittances, receiving $100 billion in 2022, representing 2.9% of its GDP. According to the report, skilled Indian migrants residing in the richest nations, such as the United States, the United Kingdom, and Singapore, were sending more money home. Over time, Indians have moved away from performing low-paying labor in locations like the Gulf. In addition to wage increases, record-high employment, and a weakening rupee, other factors also contributed to growth.
The proportion of high-income nations' cash transfers to India increased to over 36% in 2020-21 from 26% in 2016-17. Contrarily, during this time span, the percentage contributed by the five Gulf countries (including Saudi Arabia and the United Arab Emirates) fell from 54% to 28%.
2. Mexico ($60.3 billion)
Mexico is the world's second-largest beneficiary of remittances. In 2022, Mexicans who live abroad sent home $60,3 billion. According to these numbers, Mexico receives the most money in Latin America. This increase in Mexico's remittance revenue is primarily attributable to the increase in wages earned by Mexicans who have migrated to the United States to work.
Remittances now surpass nearly all other sources of foreign income, including tourism, energy exports, and the majority of exports of manufactured goods. As a result, India receives more money from remittances than any other country. Each year, Indian immigrants send home approximately $100 billion.
3. China ($51 Billion)
China, home to one of the world's earliest civilizations, has one of the world's fastest-growing economies. It is also the world's most populous nation and the second largest by land area. While over 300 distinct languages are recognized in the country, Mandarin is the official language, and Han Chinese makes up 90% of the population.
China has many overseas Chinese with solid ties to their homeland despite their migration to other countries. These individuals may send money home to their families or invest in Chinese businesses and initiatives, thereby contributing to China's remittances. However, although its remittances are substantial, they only account for a minor portion of the country's gross domestic product. 
4. Philippines ($38 Billion)
The Philippines are made up of thousands of islands, so it's no surprise that they are very different from one another. The nearly 100 million people in the country speak hundreds of different local languages. In addition, many people from the Philippines live and work in other countries worldwide. These people are called foreign Filipino workers (OFWs). Many OFWs return money to their families and friends in the Philippines. This adds to the high amount of remittances that come into the country.
Filipinos usually work abroad to find better jobs, make more money, and help support their families in the Philippines. The money that OFWs send home is a big part of what keeps the Philippines economy going. It makes up a big chunk of the country's GDP.
Also, remittance service companies in the Philippines are constantly adding new technologies, like adding blockchain technology to the remittance platform so that money can be sent more quickly. For example, in August 2022, a company called Roxe, which builds blockchain infrastructure, announced a partnership with Cebuana Lhuillier, a business that helps people send money from one place to another. By combining Cebuana Lhuillier's many ways to send money and the Roxe blockchain network, this partnership wanted to make it easy for people in the Philippines to send money to other countries.
5. Egypt ($32.34 Billion)
Egypt has a lengthy and illustrious history spanning countless centuries. The country's ancient civilization is regarded as one of the most evolved and sophisticated of its time, as evidenced by the pyramids and the Sphinx. The ancient Egyptian empire, a center of art, science, and culture, was governed by pharaohs believed to be divine monarchs.
Remittances are one of Egypt's most significant sources of foreign currency. The annual remittances from Gulf Cooperation Council countries account for the greatest proportion. In FY2020/21, remittances from Gulf Cooperation Council countries are projected to reach $20.9 billion, up from $18.8 billion in FY2019/20, an increase of 11.1%. Saudi Arabia sent the largest quantity of remittances to Egypt in FY2020/21, totaling $11.2bn, followed by Kuwait with $4.4bn, the UAE with $3.4bn, Qatar with $1.5bn, Oman with $162m, and Bahrain with $104.1m.
6. Pakistan ($29 Billion)
Pakistan ranked sixth position on the highest remittance-receiving countries in the world. Between January and November of 2022, more than 54 percent of Pakistan's remittances came from the Gulf region. The preponderance of the population of the fifth largest country by population is under the age of 22. The Directorate of Economic and Business Affairs suggests that the country's export-driven economy has struggled to attract foreign investment due to its turbulent political climate and border tensions.
The Pakistani diaspora plays a crucial position in the country's economy. Inbound remittances total approximately $29 billion. Most of Pakistan's remittances come from the Gulf states, but Saudi Arabia and the United Arab Emirates contribute significantly.
7. France ($28.52 Billion)
France ranked eighth on the list of countries receiving the most remittances. In addition to delicious cuisine and wine, there are numerous historical sites to feast your eyes upon. France has (almost) everything necessary for a person's health and happiness. 
France receives remittances from migrants who reside and work in the country and transfer money home to their families and communities. According to the OECD, France has a significant immigrant population, with immigrants comprising approximately 13% of the total population. Most migrants originate from Algeria, Morocco, Tunisia, and sub-Saharan Africa. These migrants may send remittances to assist their families with housing, education, health care, and sustenance.
8. Bangladesh ($21 Billion)
Bangladesh ranked eighth on the list of countries receiving the most remittances. However, after four years of gradual growth, remittances decreased in 2022. In 2018, the country received $15.54 billion in remittances, followed by $18.35 billion in 2019, $21.75 billion in 2020, and $22.07 billion in 2021. However, Remittance inflow decreased by 3.56 percent, or approximately $786 million, from $22.070 billion in 2021 to $21.28 billion in 2022. (2021).
Saudi Arabia, the most popular destination for Bangladeshi migrants, generated 56% of all overseas employment through November of the previous year, followed by Oman, the United Arab Emirates, Singapore, Malaysia, Qatar, Kuwait, and Jordan.
Here is a complete list of the Highest Remittance receiving countries:
| Rank | Country | Total Remittance (In Million USD) |
| --- | --- | --- |
| 1 | India | 100,000 |
| 2 | Mexico | 60,300 |
| 3 | China | 51,000 |
| 4 | Philippines | 38,000 |
| 5 | Egypt | 32,337 |
| 6 | Pakistan | 29,000 |
| 7 | France | 28,520 |
| 8 | Bangladesh | 21,000 |
| 9 | Nigeria | 20,945 |
| 10 | Vietnam | 19,000 |
| 11 | Ukraine | 18,421 |
| 12 | Guatemala | 18,112 |
| 13 | Germany | 18,000 |
| 14 | Belgium | 13,500 |
| 15 | Uzbekistan | 13,500 |
| 16 | Morocco | 11,401 |
| 17 | Romania | 11,064 |
| 18 | Dominican Republic | 9,920 |
| 19 | Indonesia | 9,700 |
| 20 | Thailand | 9,500 |
| 21 | Colombia | 9,133 |
| 22 | Italy | 9,000 |
| 23 | Nepal | 8,500 |
| 24 | Spain | 8,500 |
| 25 | Honduras | 8,284 |
| 26 | Poland | 8,000 |
| 27 | South Korea | 7,877 |
| 28 | El Salvador | 7,620 |
| 29 | Lebanon | 6,841 |
| 30 | Israel | 6,143 |
| 31 | United States | 6,097 |
| 32 | Russia | 6,000 |
| 33 | Serbia | 5,400 |
| 34 | Brazil | 5,045 |
| 35 | Japan | 5,000 |
| 36 | Portugal | 4,694 |
| 37 | Ghana | 4,664 |
| 38 | Jordan | 4,646 |
| 39 | Czech Republic | 4,539 |
| 40 | Haiti | 4,532 |
| 41 | Ecuador | 4,468 |
| 42 | Georgia | 4,100 |
| 43 | Kenya | 4,091 |
| 44 | Croatia | 3,701 |
| 45 | Peru | 3,699 |
| 46 | Sri Lanka | 3,600 |
| 47 | West Bank and Gaza | 3,495 |
| 48 | Jamaica | 3,419 |
| 49 | Armenia | 3,350 |
| 50 | Tajikistan | 3,200 |
| 51 | Nicaragua | 3,126 |
| 52 | Kyrgyz Republic | 3,050 |
| 53 | Senegal | 2,711 |
| 54 | Austria | 2,700 |
| 55 | Switzerland | 2,631 |
| 56 | Sweden | 2,565 |
| 57 | United Kingdom | 2,501 |
| 58 | Hungary | 2,404 |
| 59 | Bosnia and Herzegovina | 2,400 |
| 60 | Slovak Republic | 2,300 |
| 61 | Moldova | 2,170 |
| 62 | Azerbaijan | 2,150 |
| 63 | Tunisia | 2,085 |
| 64 | Zimbabwe | 2,047 |
| 65 | Luxembourg | 2,000 |
| 66 | Netherlands | 2,000 |
| 67 | Myanmar | 1,900 |
| 68 | Algeria | 1,829 |
| 69 | Albania | 1,800 |
| 70 | Somalia | 1,735 |
| 71 | DR Congo | 1,664 |
| 72 | Malaysia | 1,620 |
| 73 | Kosovo | 1,600 |
| 74 | Denmark | 1,517 |
| 75 | Latvia | 1,500 |
| 76 | Bolivia | 1,403 |
| 77 | Belarus | 1,350 |
| 78 | Cambodia | 1,250 |
| 79 | Bermuda | 1,200 |
| 80 | South Sudan | 1,187 |
| 81 | Uganda | 1,131 |
| 82 | Mali | 1,094 |
| 83 | South Africa | 1,019 |
| 84 | Sudan | 1,013 |
| 85 | Argentina | 966 |
| 86 | Montenegro | 920 |
| 87 | Finland | 880 |
| 88 | Bulgaria | 850 |
| 89 | Slovenia | 800 |
| 90 | Australia | 737 |
| 91 | Madagascar | 718 |
| 92 | Turkey | 710 |
| 93 | Canada | 700 |
| 94 | Lithuania | 700 |
| 95 | Togo | 668 |
| 96 | Greece | 665 |
| 97 | Costa Rica | 654 |
| 98 | Estonia | 626 |
| 99 | Qatar | 624 |
| 100 | Iraq | 624 |
| 101 | The Gambia | 615 |
| 102 | Tanzania | 609 |
| 103 | Norway | 600 |
| 104 | Panama | 596 |
| 105 | Burkina Faso | 589 |
| 106 | Hong Kong SAR | 571 |
| 107 | Paraguay | 554 |
| 108 | Mozambique | 545 |
| 109 | Niger | 534 |
| 110 | Cyprus | 527 |
| 111 | Lesotho | 527 |
| 112 | Mongolia | 500 |
| 113 | Rwanda | 469 |
| 114 | Fiji | 450 |
| 115 | North Macedonia | 450 |
| 116 | Guyana | 400 |
| 117 | Cabo Verde | 375 |
| 118 | Kazakhstan | 370 |
| 119 | Cameroon | 365 |
| 120 | Cote d'Ivoire | 360 |
| 121 | Liberia | 351 |
| 122 | Afghanistan | 350 |
| 123 | Ethiopia | 327 |
| 124 | Samoa | 280 |
| 125 | Mauritius | 279 |
| 126 | Saudi Arabia | 273 |
| 127 | Malta | 271 |
| 128 | Malawi | 267 |
| 129 | Zambia | 260 |
| 130 | Tonga | 250 |
| 131 | Comoros | 250 |
| 132 | Ireland | 249 |
| 133 | Suriname | 221 |
| 134 | Benin | 209 |
| 135 | Laos | 200 |
| 136 | Timor-Leste | 185 |
| 137 | Sierra Leone | 179 |
| 138 | Guinea-Bissau | 178 |
| 139 | Trinidad and Tobago | 172 |
| 140 | Mauritania | 168 |
| 141 | Iceland | 164 |
| 142 | Eswatini | 148 |
| 143 | Belize | 142 |
| 144 | Curacao | 131 |
| 145 | Uruguay | 127 |
| 146 | Chile | 78 |
| 147 | Vanuatu | 75 |
| 148 | St. Vincent and the Grenadines | 70 |
| 149 | Grenada | 69 |
| 150 | Botswana | 56 |
| 151 | St. Lucia | 55 |
| 152 | Bhutan | 55 |
| 153 | Djibouti | 55 |
| 154 | Dominica | 52 |
| 155 | Burundi | 50 |
| 156 | Aruba | 44 |
| 157 | Namibia | 44 |
| 158 | Guinea | 41 |
| 159 | Solomon Islands | 40 |
| 160 | Oman | 39 |
| 161 | Antigua and Barbuda | 35 |
| 162 | St. Kitts and Nevis | 33 |
| 163 | Marshall Islands | 30 |
| 164 | Kuwait | 27 |
| 165 | New Zealand | 25 |
| 166 | Macao SAR, China | 17 |
| 167 | Angola | 16 |
| 168 | Kiribati | 15 |
| 169 | Cayman Islands | 14 |
| 170 | Sao Tome and Principe | 10 |
| 171 | Seychelles | 9 |
| 172 | Maldives | 5 |
| 173 | Gabon | 4 |
| 174 | Palau | 2 |
| 175 | Papua New Guinea | 2 |
| 176 | Turkmenistan | 1 |
Read More World's Richest Countries in 2023 (All 190 Countries)