World's Best Inflight Entertainment (Top 20)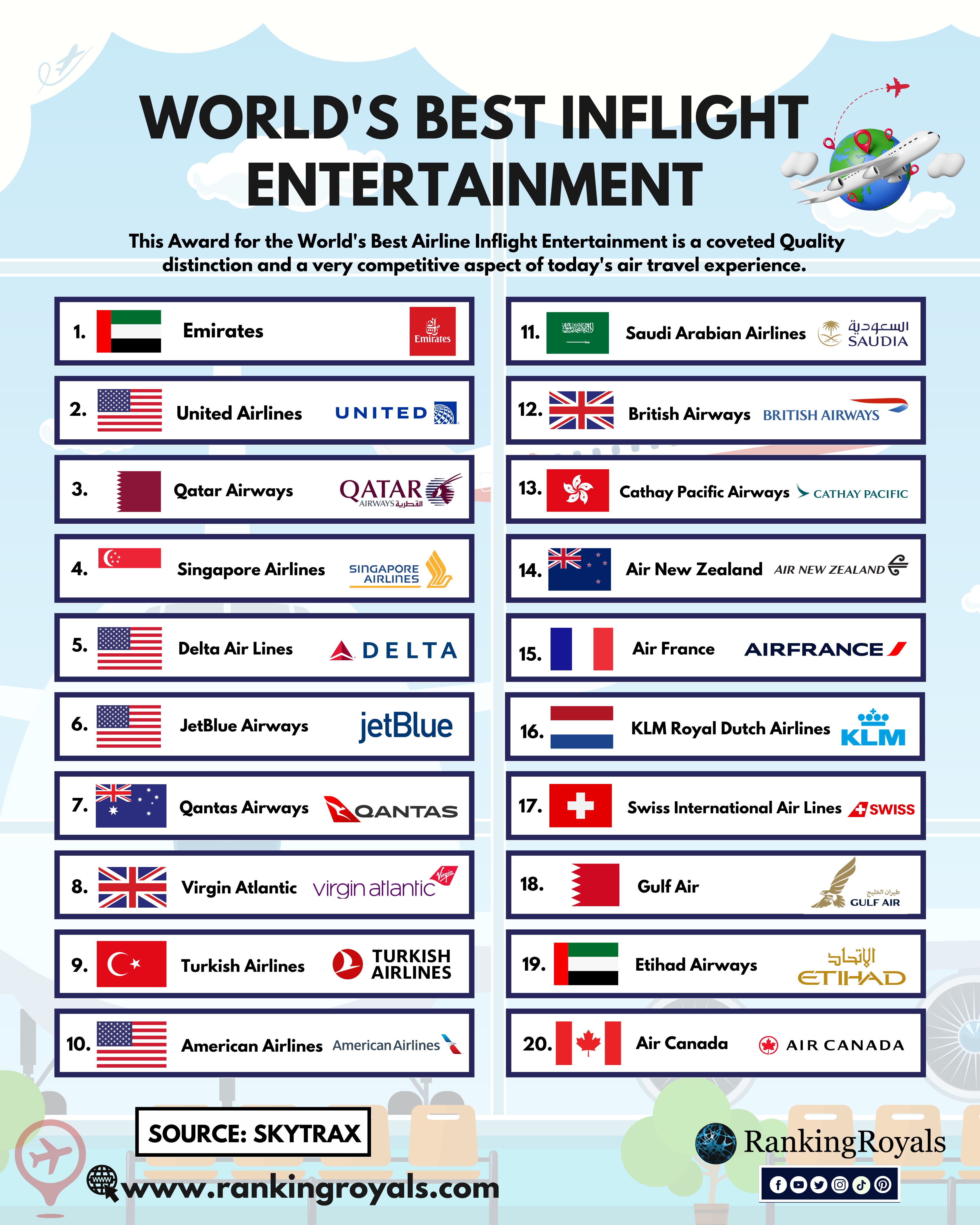 Inflight entertainment is a highly competitive part of modern air travel because of the great value placed on it. It is given to the airline that provides the highest quality and most extensive in-flight entertainment. Airlines that go above and beyond for their passengers in every way, including the quality and price of in-flight entertainment (such as movies, TV series, music, and games)
Facts about Best Airlines in the World
Emirates is the biggest international airline in the world, with flights to 158 locations in 85 countries.

In the first half of FY 2022-23, Emirates Airlines reported a net profit of $1.2 billion, a $2.72 billion improvement from the $1.6 billion deficit recorded in the corresponding period of 2021.

Emirates is the biggest operator of the Airbus A380 and Boeing 777 family of aircraft, with a total of 269 planes in its fleet.

The flight from New York to Singapore on Singapore Airlines is the longest flight in the world regarding distance. It is 9,537 miles long.

United Airlines' fourth quarter 2022 earnings were $843 million, up 31% from the same period in 2019.

In 2022, American Airlines Group had the biggest fleet and carried the most people of any airline worldwide.

During the fiscal year 2021/22, Qatar Airways Group had a net profit of US$1.54 billion, which was a record.

Hawaiian has been in business since 1929, making it one of the oldest airlines worldwide. However, it has never had a fatal crash or lost a hull.

In the first quarter of FY 22/23, Singapore Airlines made a net profit of $556 million.

The Airbus A380 is the biggest plane and one of the safest. It is an airplane that focuses on safety and has never been in a fatal crash.

Delta Air Lines was North America's most profitable passenger airline in 2021, with about 30 billion U.S. dollars in operating revenue, followed by American Airlines with 29.9 billion U.S. dollars in revenue. 
According to the 2022 winners of the World's Best Inflight Entertainment at the World Airline Awards, we've compiled a ranking of the best airlines for inflight entertainment for your viewing enjoyment.
This award is given to airlines with the best inflight entertainment selection and quality. From the selection and quality of movies, television shows, music, and games to the availability and functionality of onboard Internet, this award acknowledges airlines that aim to provide customers with an exceptional experience.
1. Emirates
Skytrax revealed that Emirates is the best airline in the world for inflight entertainment. Its new Ice system provides entertainment, which has more than 2500 movies, TV shows, songs, and games. Since this entertainment is available in more than one language, the airline was also great for attracting customers from all over the world. The airline also offers these audio descriptions and closed captions so people who have trouble seeing or hearing them can watch them. The ice system's high-tech, widescreen personal devices make for the best experience. Their most unique way to have fun is to learn a new language or rub up on one they already know. They can choose from Arabic, French, German, Italian, or Spanish.
2. United Airlines
United Airlines provides in-flight entertainment in the form of movie and music streaming. Accessible choices are displayed on the United Private Screening website. On some flights, you can watch movies on the seatback entertainment system and listen with free headphones. In addition, both domestic and international United Airlines and United Express flights with two cabins have complimentary WiFi access for all passengers.
3. Qatar Airways
Believe it or not, private jets with a butler, chef, and driver are real and not just a Hollywood fantasy. Etihad Airways offers its passengers the finest of the best with the option to purchase a lavish three-room suite while on a flight. In addition, passengers can unwind in the lap of luxury with a fully stocked beverage cabinet and a plush mattress on which to watch their favorite shows and movies.
Yet, the airline's first-class cabin is one of many places to relax in style. Blankets, new food, and special meals for kids are available in Etihad's economy class. You can reserve an entire row of seats for yourself or upgrade to a seat with more legroom. You can purchase WiFi packages to keep in touch with loved ones back on the ground or even make phone calls while in the air. And when your power is running low, you can charge everything at once.
There's also Atlas Magazine for your perusal pleasure. Check out the Etihad Apple Music playlist instead. Watch the latest rugby or Football game with some popcorn. Make sure you don't yell too loudly after your team scores a victory.
4. Singapore Airlines
Singapore Airlines' first-class suites are stunning, complete with an insanely comfortable bed (yep, you read that right), a sliding door, and a ton of additional space to yourself if you're willing to invest. In addition, having your very own bathroom means you may use it as a personal spa, complete with sink, lotions, and face mists.
The 1,400 in-flight entertainment options on Singapore Airlines include video games, films, television series, music, and more. When you've had enough of the movies, try your hand at some online gaming. When flying with your own electronics, there is no need to worry about battery life because of the numerous power ports available on board.
During some lengthier flights, business-class guests can borrow tablets. In addition, frequent fliers can use their KrisFlyer accounts to store their preferred films and music selections for their next flight. But, of course, you will only want the flight to finish if it stays this luxurious the whole time.
5. Delta Air Lines
The TV shows and movies offered by Delta Airlines are great for families with young children. Because there is a lot to choose from, they will be able to have fun for hours. The airline even has a program called "Sky Kids," with TV shows, stories, and songs for them to enjoy.
Delta has a wide range of Emmy-winning shows that adults can watch on-demand, so you can catch up on all the latest episodes. So, you would not have to worry about someone ruining your favorite show while you're on vacation. Want to hear some music instead? Spotify's curated playlists are fun to listen to.
6. JetBlue Airways
JetBlue's focus on the in-flight experience dates back to the airline's beginnings. Some flights even used to offer complimentary movies or free DirecTV on the seatback screens, though those perks have since been phased out. In 2022, however, JetBlue's entertainment options went far beyond those, making it the only airline to achieve a perfect grade after being compared to dozens of others.
In addition, to live TV, JetBlue now provides complimentary movies, WiFi, and in-flight messaging. Unlike on other airlines, JetBlue has individual seatback displays at every seat (so you can relax knowing that your iPad won't need to be constantly charged to enjoy the complimentary movies).
But if you insist on bringing your own iPad, rest assured that you can charge it on most flights. Although some of JetBlue's older planes don't have these, most of them do have USB power outlets, and some even have AC plugs.
7. Qantas
Qantas Airlines has various movies and television series to entertain you and your family. There is no shortage of Disney movies for kids (and adults) to enjoy, whether they are interested in watching the most recent live-action adaptation of a cherished animated classic or prefer to relive the experience of the past.
Passengers may watch many of the newest movies and TV episodes for free by downloading the airline's official app. Spotify also allows you to listen to your favorite music or audiobooks on demand. It doesn't matter how you choose to pass the time. You'll be entertained beyond belief and may even forget that you're stuck in the air for hours at an altitude of several thousand feet.
8. Virgin Atlantic
This London-based airline was the first to provide personal seatback screens with various programming options for passengers in all cabin classes in 1991. The Vera in-flight entertainment system offers a wide variety of movies and television shows worldwide, binge-watchable television series, a children's channel, hundreds of hours of music across many genres, and a wide selection of games like Battleship and Who Wants to Be a Millionaire. WiFi is available on the airline's Airbus A330, Airbus A340, Boeing 747, and Boeing 787 aircraft.
9. Turkish Airlines
The airline has the world-famous Universal Music Group as a partner, so passengers can choose from more than 750,000 songs. The devices also include recorded concerts, so users may close their eyes and imagine themselves dancing in the skies to their favorite band.
We've all done it: forgotten to bring a book on the plane, but fear not! Literary masterpieces are now available as downloadable audiobooks. Various movies and games are also available for travelers of all ages. When in the air, you can check your inbox and social media feeds, thanks to the availability of WiFi connections for all of your devices. To further spoil its passengers, Turkish Airlines provides an amenity kit on some flights that includes a toothbrush, toothpaste, sleep mask, socks, and lip balm.
10. American Airlines
American Airlines has now been switching a large portion of its fleet to a bring-your-own-device approach, with developed entertainment screens only available on a select number of planes, primarily those serving longer itineraries. In addition, American Airlines allows travelers to stream movies, TV episodes, and other entertainment on their own devices using the American Airlines app; however, you must bring your charger and extra batteries if you have them.
Read More Best Countries for Quality of Life (Top 87 Countries)