Maldives vs Bali: Which Destination is Best to Travel?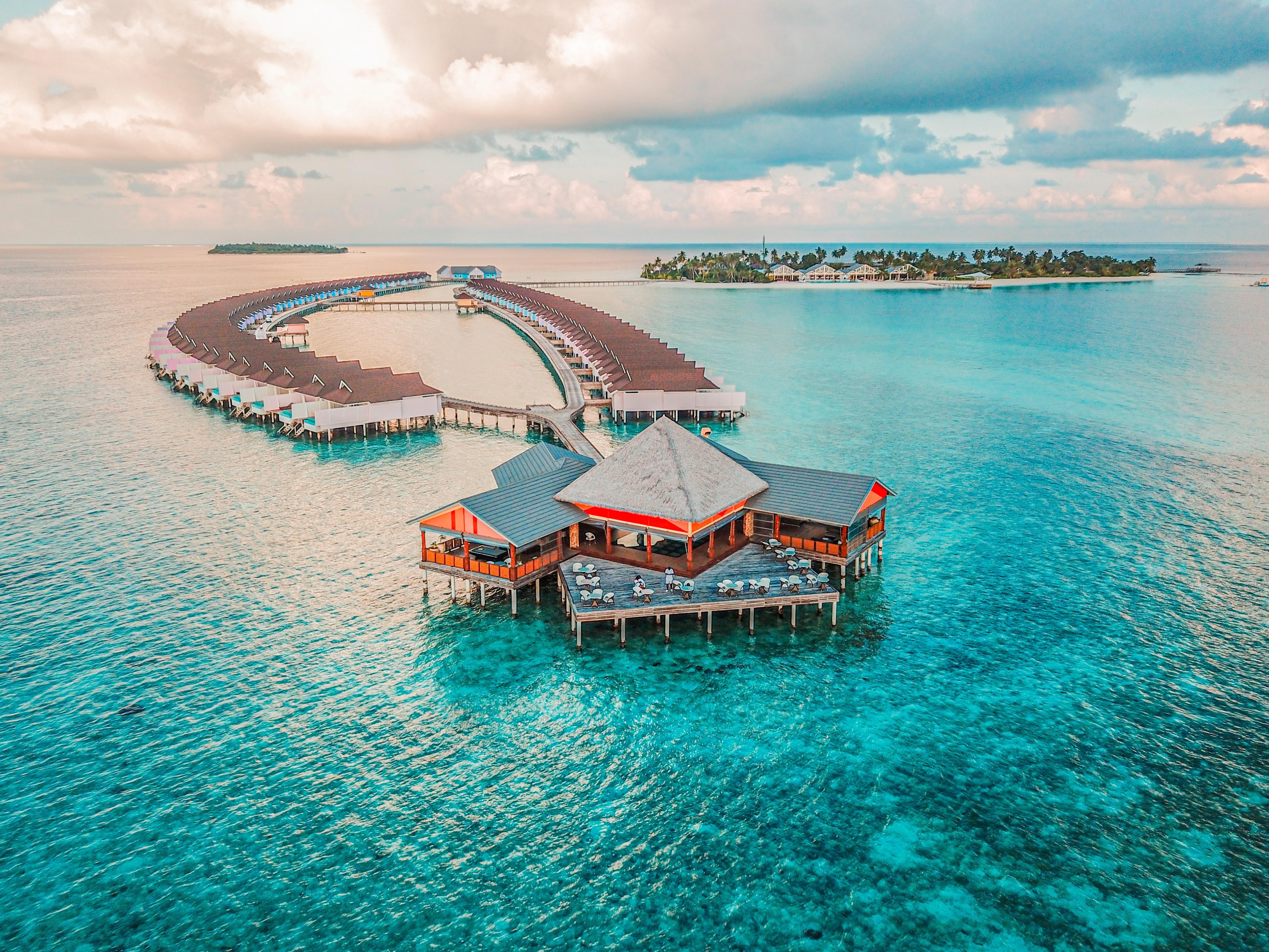 There are a few things to consider when booking flights to compare Bali vs. the Maldives for your honeymoon, anniversary getaway, or family tropical beach holiday.
Bali is known for its rich culture, breathtaking scenery, and peaceful atmosphere. So if you desire adventure and stunning scenery, as well as a honeymoon that is a little bit of relaxation mixed in with learning about a new culture, choose Bali over the Maldives.
Bali is the place if you're looking for a land adventure. The Maldives, on the other hand, offers more excellent sea options, with the Baa Atoll offering incredible snorkeling, diving, and undersea tours. Watersports are fantastic in the Maldives, and there are plenty of opportunities to experience them.
It isn't easy to choose between the two because both Bali and the Maldives are incredible bucket-list locations. But rest assured, no matter which option you choose, you'll have unforgettable memories from your trip.
Each Destination's Information About Bali
Bali is a stunning tropical jungle island off the coast of Indonesia. Towering volcanic mountains, beautiful rice terraces, gorgeous waterfalls, a distinct cultural history, and world-class surfing and diving are just a few attractions.
Beautiful waterfalls, climbing options, beautiful beaches, loads of hidden gems to uncover, world-renowned beach clubs, great (and affordable) jungle hotels, cliff-top villas and beach resorts, and some of the best food in Southeast Asia can all be found in Bali.
Bali is a terrific area to explore by motorcycle if you're looking for a bit of excitement. Unfortunately, many residents live in abject poverty. While the majority of the tourist hotels and resorts are well-built and maintained, many of the island's roads and infrastructure are in poor condition, and stray animals are a significant concern. Bali is typically a safe destination, but visitors should always be cautious to avoid falling prey to frequent tourist traps.
Maldives Information
The Maldives is an Indian Ocean country with over 1200 beautiful islands and atolls, white sand beaches, coral reefs, and many sea life.
The Maldives, in contrast to Bali, is exceedingly flat. The Maldives' tallest peak is only 7 feet above sea level! The Maldives is a tropical paradise where shoes are not required, and leisure is guaranteed.
Each island has its lagoon and offers a variety of water sports such as diving, snorkeling, fishing, jet-skiing, and stand-up paddleboarding. The Maldives is also well-known for having some of the world's top coral surf breaks!
At A Glimpse: Bali versus. Maldives
Honeymoon: Both
Budget-friendly: Bali
Luxury: The Maldives
Marine life: The Maldives
Water-based activities: The Maldives
Land-based activities: Bali
Adventure and exploration: Bali
Hiking: Bali
Cultural immersion: Bali
Beaches: The Maldives
Romantic vibes: The Maldives
Relaxing on the beach: The Maldives
Great food: Both
Visiting with kids or teens: Bali
For couples: The Maldives
For a group of friends: Bali
WHICH SEASON IS BEST FOR VISITING THE MALDIVES OR BALI?
Even though both countries are in Asia, the Maldives is somewhat north of the Equator, whereas Bali is just south. Therefore, while there is a dry and a monsoon season in each country, they occur at different times of the year.
The best time to visit both is usually during the dry season when temperatures are pleasant, and there is little rain. However, hotel prices skyrocket because the dry season is also the busiest tourist season.
The appropriate time to visit the Maldives: December to April
The appropriate time to visit Bali:  April to October
ARE THE MALDIVES MORE EXPENSIVE THAN BALI?
Bali is unquestionably less expensive than the Maldives.
In comparison to the Maldives, Bali is a significantly more affordable option. In contrast to Maldivian resorts, the lodging is inexpensive. Bali is unquestionably less expensive than the Maldives. Not only is the housing less expensive, but the food and activities are as well. The Maldives is thought to be a region with an abundance of magnificent coral reefs and diverse marine life.
Bali has a wide choice of hotel options, ranging from $20 per night to $1000. The housing is less expensive, but the food and activities are as well—meals in a local café range from around $10 to $50 in a fine dining establishment.
The Maldives are known for their all-inclusive luxury overwater bungalows. It's a must-do for anyone's bucket list, but it's not cheap. Accommodation on the resort islands starts at roughly $200 per night, but an all-inclusive overwater bungalow will set you back at least $1000 per night during high season.
There are also other native islands in the Maldives that offer low-cost accommodation starting at $60. During the off-season, you may get excellent prices on lodging in the Maldives. While traveling in the Maldives on a budget is doable, it is not generally known as a budget vacation.
Accommodation in the Maldives vs Bali
The Maldives and Bali provide a wide range of hotel options to suit most preferences and budgets. From basic guesthouses to ultra-luxurious all-inclusive villas, there's something for everyone.
It's also feasible to locate four or 5-star hotels for less than $150 per night throughout the island. For those seeking luxury, a private villa with a personal chef, butler, and driver in Uluwatu, Canggu, or Ubud starts at around $1,000 per night.
Cash is king in the Maldives. A luxurious overwater cottage might cost anywhere from $1,000 to $25,000 per night. The majority are all-inclusive, but some also provide half-board or just breakfast. On the other hand, local guesthouses can provide basic lodging and facilities for as little as $60 per night.
THINGS TO DO IN BALI:
Reef diving, hiking up volcanoes, white water rafting, shopping at local art and craft markets, visiting temples and rice terraces, cruising through the jungle on a scooter, immersing yourself in local culture, yoga classes, swimming under stunning waterfalls, and discovering hidden gems are just a few of the activities available. On the island, there are many fantastic places to visit that allow you to roam around and see different areas while eating at a variety of restaurants and cafés.
Where Should First-Time Visitors Stay in Bali?
Kuta 
It is a popular destination for partygoers and surfers. Seminyak is known for its sunset beach bars, fine dining, and shopping. For $20 a night, you may stay in a dorm room in Kuta or a local guesthouse in Ubud with views of the rice terraces. 
Canggu
It is the place to go if you're looking for a laid-back, boho-chic beach vacation.
Uluwatu
It is known for its high-end cliff-top resorts and beach clubs.
Ubud is known for its tranquility, breathtaking scenery, and relaxing getaways.
THINGS TO DO IN THE MALDIVES:
Because the Maldives is made up of so many islands and flats, most activities are water-based. Therefore, there isn't much hiking or driving to be found in this area. If you love the ocean, though, you'll enjoy The Maldives because it has incredible sea life and a variety of water sports such as snorkeling, diving, surfing, fishing, stand-up paddleboarding, and jetskiing.
If this is your first visit, you should know that each resort is situated on its atoll. You will most likely choose just one alternative to stay at for the duration of your vacation, as moving between the islands is challenging. It means you can only eat at the resort's restaurants and participate in their activities. Don't let this put you off; most resorts feature a variety of restaurants serving a variety of cuisines and a variety of activities to keep you entertained.
The Maldives' Best Honeymoon Resorts
1. Anantara Veli Maldives Resort
The adults-only Anantara Veli Maldives Resort is one of the most remote and romantic spots in the Maldives. This exquisite retreat is unquestionably one of the top honeymoon resorts in the Maldives, with 67 luxurious overwater and ocean bungalows, a lavish spa, open-air cinema, and the most brilliant crystalline lagoon.
2. Hurawalhi Island Resort
The Hurawalhi Island Resort is the epicenter of romance. This exquisite refuge will encourage you to extend your stay because it is so beautiful you'll think you're on a postcard. You may enjoy the tranquility, hang in a hammock, and soak up the sun in a gentle, loving embrace because there are no kids nearby to yell and splash in the infinity pool.
3. Lily Beach Resort & Spa
Because this is a family-friendly resort, an overwater bungalow will enhance your stay by providing more privacy and a private pool, a private deck, easy access to the ocean, and snorkeling around the lively reef right offshore.
4. Baros Maldives
Baros is an adults-only resort that is ideal for a luxury honeymoon. Guests get access to a variety of romantic activities, including boat excursions, destination meals, couples' spa treatments, and exquisite lodgings (think beach and overwater pool villas with canopied daybeds and a 24-hour butler). There are also yoga classes available.
Which of the Following Destinations should you Visit?
The Maldives should be your next vacation destination if you want solitude, spectacular sea life, white sand beaches, uber luxury, and all-inclusive overwater bungalows. However, a trip to the Maldives will almost certainly necessitate a more significant expense. While there are some inexpensive options, staying in an overwater place is a once-in-a-lifetime bucket list experience worth the money. Whatever your idea of a perfect honeymoon is, Bali has it all.
Bali has it all: yoga, surfing, exploring, pampering, wellness—whatever your idea of an ideal honeymoon is. This Indonesian island is breathtakingly beautiful. We're not only talking about the white sand beaches, terraced rice fields, breathtaking peaks, and tropical jungles. Properties set inside these impressive environs are so beautiful that it's hard to believe Mother Nature herself didn't create them. Panoramic views, fascinating design, one-of-a-kind amenities, and considerate service add to the wow factor. These honeymoon havens, from seaside resorts to eco-lodges, will help you forget about the long trek.
On the contrary, if you're searching for a vacation with more adventure, rainforests, waterfalls, plenty of adrenaline-pumping activities, and the opportunity to travel on a budget, a trip to Bali might be a better fit. So long as you don't mind the difficulties that traveling in an underdeveloped country entails. Bali is also a great spot to get magnificent luxury lodgings that are often less expensive than many other vacation destinations.
Read More 15 Longest Beaches in the World