Top 10 Greenest Cities in the World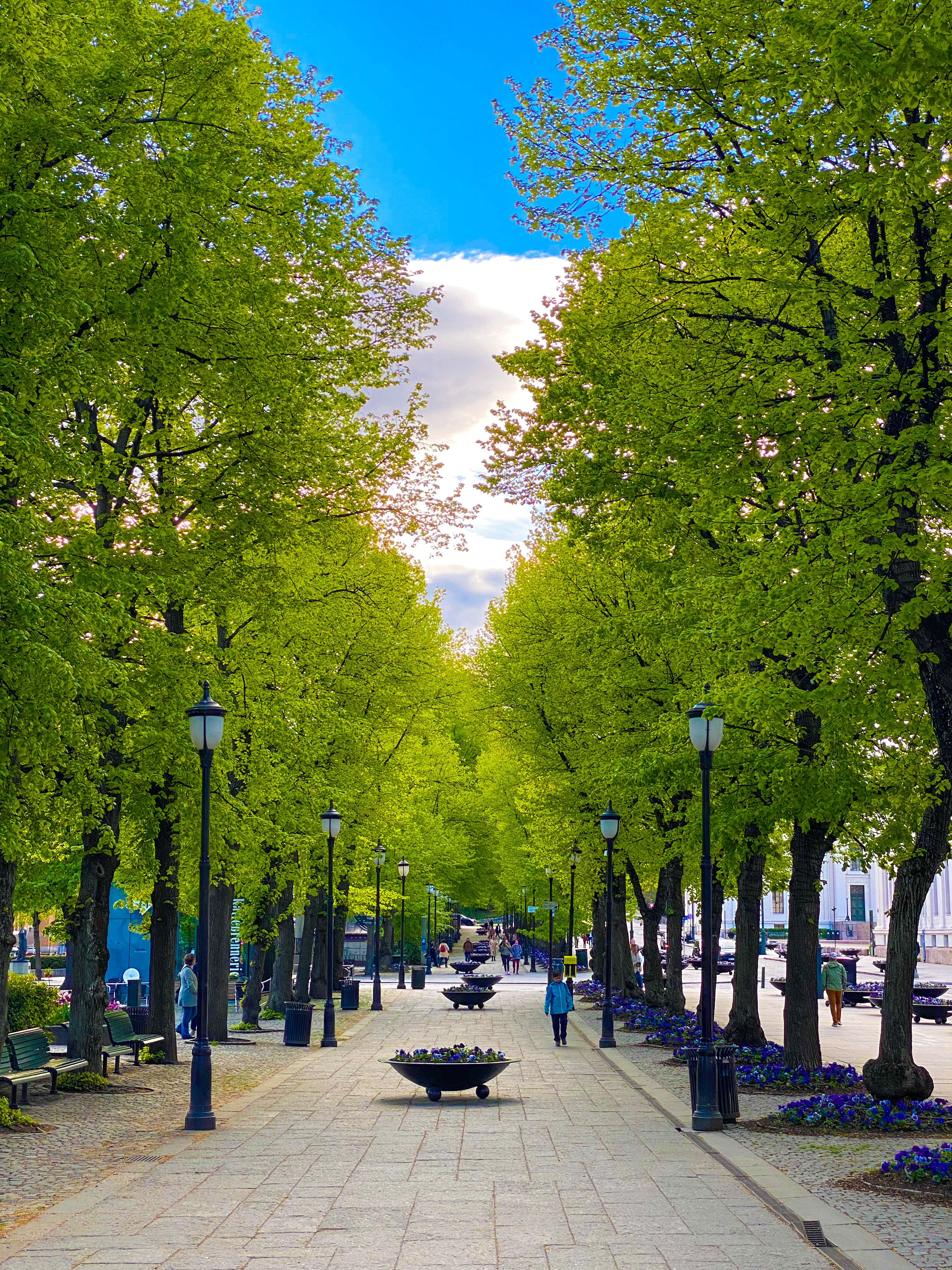 What is it that makes a city green? Resonance, a real estate, tourism, and economic development consulting firm, set out to create a ranking of the world's greenest towns.
The firm selected the ten greenest cities in the world by analyzing the most visited cities in the world as well as nine "green criteria."
A 'green city' aims to reduce its environmental effect by offering resources, collaborations, and a platform to adapt to climate change. These creative designs aim to minimize trash, increase recycling, cut emissions, enhance housing density while simultaneously increasing open space, and encourage the growth of local, sustainable companies.
The world's ten most visited cities are based on criteria. 
The criteria are-
The percentage of public green spaces, 
the rate of total energy needs met by renewable energy, 
the portion of the population who take public transportation to work, 
the level of air pollution, 
per capita water consumption, 
walkability, 
city-wide recycling, 
city-wide composting, 
and the number of farmer's markets.
1. Oslo, Norway
Percentage-68%
The European Commission has named Norway's capital the prestigious European Green Capital. Cycling lanes, public transportation infrastructure, and natural habitats have all been improved in the Norwegian capital.
In addition, its massive network of biodiverse streams and rivers has been repaired and made available to the public.
A Green Belt Boundary preserves wild areas from development in the city. According to the European Union, 60 percent of all new automobiles sold in Oslo were electric, and 56 percent of all public transportation trips in the city were powered by renewable energy.
The city's emissions are also decreasing, and it has committed to becoming carbon neutral by 2050.
2. Singapore, Singapore 
Percentage-47%
This city and island nation may be found at the southern tip of the Malay Peninsula and is known as one of the world's greenest cities. It is more commonly associated with skyscrapers, yet it has braided urban planning and nature throughout, even at its highest points.
As a result, the city is Asia's greenest, with the first Singapore Green Plan enacted in 1992 to address clean water, clean air, and clean land.
Despite being a small, dense, and resource-poor island, it has found ways to innovate with an eco-first strategy. Rooftop gardens are a way of life for the people.
The most famous is the massive SkyPark on top of the Marina Bay Sands complex, which features a spectacular infinity pool.
The Gardens by the Bay's awe-inspiring Supertree structures, which reach heights of up to 165 feet (50 meters), have come to symbolize Singapore's commitment to sustainability.
3. Sydney, Australia
percentage-46%
Sydney is Australia's most environmentally friendly city. As a result, we'll be known worldwide as a leader in environmental performance and emerging green sectors that drive economic growth.
Carbon emissions are minimized, and energy, water, and wastewater demands are lowered, thanks to a network of green infrastructure.
Central Sydney is easy to travel around, with a walking and cycling network and transit connections connecting our villages, city center, and the rest of inner Sydney.
4. Vienna, Austria
Percentage-45.5%
Due to the various parks, forests, and even agricultural land, Vienna is one of the greenest cities globally, with about half of the city consisting of green areas. Vienna is a green city.
The color green is abundant; more than half of the town is covered in green space, making Vienna one of the world's greenest cities.
The core of Vienna's parks, which the city's residents adore, are the gorgeous flowerbeds, rose gardens, lawns, and tree-lined walks.
There are 990 municipal parks in the capital city. As a result, Vienna has been named the world's "most liveable city for the eighth year in a row."
5. Chengdu, China
Percentage-42.3%
Chengdu is a model city for the "Garden City" idea and a shining star among sustainable development cities.
A new kind of sustainable urban development is the Garden City, where infrastructure and dwellings are well integrated into green spaces.
Chengdu has pledged to improve inhabitants' quality of life, environmental preservation, green development, and carbon reduction.
Since 2018, the city has developed an overarching strategy for industrial production layouts, attempting to steer its effect high-quality, human-centered, and environmentally sustainable.
As a result, Chengdu is ready to lead its residents on a trip to a sustainable future where they can enjoy a higher quality of life by living in a city within a park, according to the new Park City Initiative.
6. Zurich, Switzerland
Percentage-41%
Zurich has a lot of greenery, trees, canals, and parks, making it a highly green city. One will always come across drinking fountains with lovely and pure water when walking about the city.
Switzerland is an environmentally conscious country, and Zürich is one of the cleanest cities in the world.
Zurich is Switzerland's most significant international economic, financial, scientific, and artistic hub. A "2000-Watt Society" concept was conceived ten years ago at Zurich's Swiss Federal Institute of Technology.
An energy policy model explains how it is possible to utilize only as much energy as the world's energy reserves allow while remaining environmentally responsible.
As a result, this Swiss city can claim to be the world's greenest, having also topped the 'planet' sub-index, which weighed environmental issues such as energy, pollution, and emissions.
7. Shenzhen, China
Percentage-40.9%
One of China's largest and most productive cities, Shenzhen has experienced a substantial high-tech sector expansion in recent years. It resulted in significant increases in air and water pollution.
The findings prompted China's government to respond with a multi-year strategy to clean up the country using legislative and technical means.
They set a five-year goal of a 50 percent decrease in heavy air pollution days with a multi-billion dollar national budget (2020).
Shenzhen has chosen an integrated zero-emission transit concept to get its millions of residents to work, play, and see their families.
The city is enacting stronger laws, incentives, and support measures for all types of vehicles, including trucks, trains, rental cars, taxis, and private cars, to facilitate a speedy transition to low-carbon, zero-pollution transportation.
The city has implemented a municipal-level cap-and-trade emissions trading mechanism for industrial players bound by manufacturing processes.
According to the WWF, this is a "major advance by any criteria" because it is not simply a market mechanism for effective pollution reduction but an accurate social collaboration tool with shared risk, responsibility, and reward.
As a result, Shenzhen's daily life has altered considerably. The daily facemask walks and the din of stinky traffic are almost gone. 
New green lung parks and complexes, better housing, and improved air quality arrived. As a result, according to city data, Shenzhen has lowered its total average air pollution by roughly 50% in less than a decade.
8. Nanjing, China
Percentage-40.6%
Nanjing defies the perception of China as a gloomy, industrial, and polluted city that many Westerners incorrectly believe. On the contrary, this city is famous for being one of China's most beautiful and green. 
In and around Nanjing, there are numerous parks, lakes, and scenic spots that are all worth seeing. Unfortunately, Nanjing's air pollution is comparable to that of London and Paris, yet it can reach Hong Kong-like levels on some days.
The best part is that the city introduces green programs to solve its environmental challenges. First and foremost, you will observe that most city roadways, large and small, are lined with rows of trees that filter the air while also providing shelter from the sun.
The city intends to construct several "green towers," business buildings, houses, and hotels that are covered in shrubbery and plant life from top to bottom.
In addition to these initiatives, Nanjing is working on a low-carbon travel public service platform, including green credit and green store functionalities in the My Nanjing app.
9. Helsinki, Finland
Percentage-40%
Helsinki is the world's most functional and sustainable city. It places a high value on promoting environmentally friendly lifestyles and supports bicycles and public transportation.
It is a model city for sustainable development, and the European Commission has named it the European Capital of Smart Tourism.
Helsinki fosters an environment that encourages people to reduce excessive consumption and build environmentally friendly.
The city of Helsinki's strategy for 2017-2021 includes a target of becoming carbon-neutral by 2035, with an interim objective of reducing greenhouse emissions by 60% by 2030 to accomplish this ultimate goal.
10. Hong Kong
Percentage-40%
In Hong Kong, public green spaces make up to 40% of the total land area, which is a significant percentage compared to London and New York.
However, a deeper examination reveals that while most citizens occupy only one-fourth of the city's land, the city's largest parks are located in less densely populated areas.
The country parks and particular areas cover a total of 44 312 hectares. 
The bottom line
Initially, cities around the world were constructed without considering factors such as auditory pollution, CO2 emissions, air pollution, or green zones.
Today, however, these are critical considerations in ensuring residents' well-being and environmental conservation. Not only that, but they've become inextricably linked to entire urban development initiatives.
The ten cities in the ranking were chosen to present a broad geographical perspective of the world's cities and a range of levels of economic development, future growth expectations, and a diversity of sustainability issues.