Oldest People In The World (Top 100 People)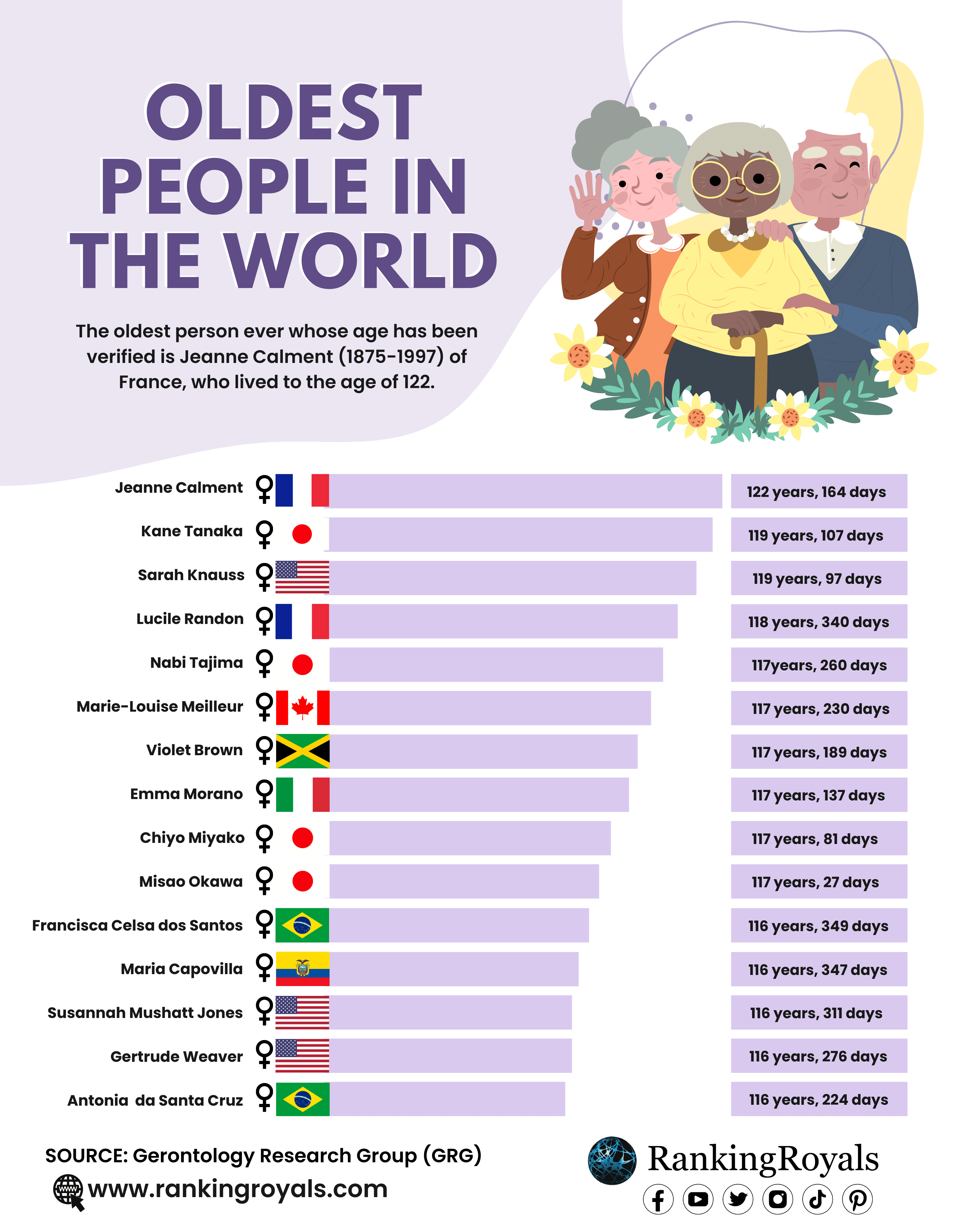 The world's oldest individuals are those who have lived the longest verified lifespans. Jeanne Calment, a French woman who reached 122 years and 164 days of age, was the oldest individual ever recorded. 
Numerous individuals have lived to be at least 100 years old, and a few have reached 115 or older. The study of longevity and the factors that contribute to living a long and healthy life is a subject of ongoing inquiry and interest.
Let's explore some of the oldest people around the world, their fascinating backstories, and their challenges.
1. Jeanne Calment (122 years, 164 days)
Jeanne Calment, who lived in France and died in 1997 at 122 years and 164 days, was the oldest verified human in history. She lived from 1875 until 1997. She was born in Arles, a small town in southern France, on February 21, 1875. Nicholas Clement and Marguerite Gilles were her parents, and she had one brother named Francois.
Jeanne Calment grew up in a rich family. Her father ran a successful store where he sold textiles and olive oil. She went to a school for girls run by nuns and liked to play tennis, swim, and ride her bike. She married Fernand Calment, a rich and famous shop owner, in 1896. In 1898, their daughter Yvonne was born.
Jeanne Calment said that her long life was due to a healthy diet that included olive oil, chocolate, and wine, as well as a happy outlook and a relaxed style of living. She was also known for having a smart mind and good humor. Even in her 120s, she still played bridge and kept an eye on the stock market.
When Jeanne Calment turned 113 in 1988, she became well-known, and the Guinness Book of World Records noted her long life.
On August 4, 1997, she died at the age of 122 years and 164 days. Researchers have looked into her long life a lot, and her case is used as a key example for studies on aging and living long.
2. Kane Tanaka (119 years, 107 days)
Kane Tanaka is a Japanese supercentenarian born in Wajiro, Fukuoka, Japan, on January 2, 1903. She is the oldest verified Japanese individual and, after Jeanne Calment, the second-oldest person ever. 
Tanaka grew up in a large family of seven siblings and attended school through the fourth grade before departing to assist with her family's udon noodle manufacturing and sales business. She married Hideo Tanaka at age 19 and had four children.
Tanaka worked in a munitions factory while her spouse served in the military during World War II. After the war, the couple returned to their homeland of Wajiro and established a family business selling mochi, a traditional Japanese sweet made from glutinous rice.
Tanaka's interest in playing board games and solving arithmetic problems began in her sixties, and she continued to appreciate these activities well into her one-hundredth year. In addition, she was renowned for singing karaoke at her nursing home.
The Guinness World Records recognized Tanaka, who is 116 years old, as the world's eldest living person in 2019. She has surpassed several longevity benchmarks, including becoming the oldest individual from Fukuoka Prefecture in 2017 and the oldest living person from Japan in 2020.
Kane Tanaka perished on April 19, 2022, at 119 years and 107 days old. Tanaka had expressed a desire to reach the age of 120, attributing her desire to her belief in God, family, sleep, hope, consumption of nutritious foods, and mathematical practice.  
3. Sarah Knauss(119 years, 97 days)
Sarah Knauss was an American supercentenarian born in Hollywood, Pennsylvania, on September 24, 1880. She was born in Allentown, Pennsylvania, to John and Mary (née Klotz) Clark and grew up there. Sarah had five older siblings, and she was the youngest.
Sarah married Abraham Lincoln Knauss in 1901, and the couple had four children. Sarah outlived her 1965-deceased husband and three of their offspring. She had twelve grandchildren, twenty-six great-grandchildren, and a handful of great-great-grandchildren.
Sarah Knauss was a seamstress at a local factory for many years, but she retired at 82 in 1962. She was well-known for her crocheting and literary interests. She also relished watching wrestling matches on television with her son and granddaughter.
In 1997, at the age of 116, Sarah Knauss became the oldest surviving person in the United States following the death of Marie-Louise Meilleur of Canada. She was also the second-oldest person in the world, following France's Jeanne Calment.
Sarah Knauss passed away at the age of 119 and 97 days on December 30, 1999. She was the world's oldest person at the time of her death, and The Guinness Book of World Records recognised her accomplishment.
4.
Lucile Randon (118 years, 340 days)  
Lucile Randon, also known as Sister André, is a French Roman Catholic nun born in Alès in the Gard department of southern France on February 11, 1904.
Lucile Randon grew up in an atheist household and was baptized at age 26. After serving as a governess for a wealthy family, she joined the Sisters of Saint Vincent de Paul at 40 in 1944, adopting Sister André in honor of her brother, who had perished in World War I.
She worked as a nurse and as a teacher at a school for females, ultimately achieving the position of the headmistress. During World War II, she also worked in a hospital in Vichy, where she helped conceal Jewish children from the Nazis. She continued to hold numerous church positions throughout her lifetime.
Sister André is well-known for her passion for music and her wit. She is also well-known for her longevity, having survived both World Wars I and II. At age 105, she moved into a Toulon retirement facility in 2009.
On January 17, 2023, Lucile Randon passed away at 118 years and 340 days old. She attributes her longevity to her faith, passion for music, and optimistic outlook. Despite her advanced age, she remained active and engaged, continuing to meditate, read, and watch television.
5. Nabi Tajima (117 years, 260 days) 
Nabi Tajima lived until April 2017, when she died at 117 years and 260 days. During that time, she was the oldest person in the world. She was born on August 4, 1900, in Kagoshima Prefecture, Japan, in the town of Kikai, which is on the island of Kikaijima.
Tajima was the only individual known to live and was born in the 1800s. She lived through the Meiji Restoration, World War I, the Showa era, and World War II, all of which were rough times in Japanese history. She also saw how things like cars, trains, and the internet changed over time.
Tajima got married when she was 19 years old and had nine kids, seven of whom grew up as adults. More than 160 people could call her their great-grandmother. She liked to spend time with her family and eat traditional Japanese foods like sushi and udon noodles in her later years.
In September 2017, at the age of 117 years and 41 days, the Guinness World Records said that Tajima was the oldest living person in the world. She said that she lived so long because she ate healthy things like vegetables and fish and got a lot of rest.
On April 21, 2018, Tajima died at a care home in Kikai. People worldwide were sad about her death, and she was recognized as a symbol of strength and long life.
6.
Marie-Louise Meilleur (117 years, 230 days) 
Marie-Louise Meilleur was born on Aug-29, 1880, in Kamouraska, Quebec, Canada. She lived to be 122 years old. When she passed away, she was the oldest known Canadian and the fourth oldest known person in the world.
Meilleur was one of her parents' eleven children, and she lived most of her life in a farming town in Ontario called Ste. Anne de Prescott. In 1900, she married Hector Meilleur. Together, they had 16 children, 11 of whom became adults. Meilleur was known for how hard she worked on the family farm. She helped do things like milk the cows and care for the chickens.
Meilleur was a devout Catholic who usually went to church her whole life. She was also known for loving to dance and listen to music. In her later years, Meilleur went to a nursing home in Corbeil, Ontario, where she stayed until she died on April 16, 1998, at the age of 117 years and 230 days.
People said that Meilleur lived a long, healthy life because he ate a lot of vegetables and fruits and had a good attitude about life. She was also physically busy and walked until she was 105 years old. In 1992, Meilleur was given the Order of Canada because of how long she had lived.
People worldwide are still motivated by Meilleur's legacy to live healthy, active lives and enjoy the easy things in life. Her life shows that age is just a number and that it is possible to live a long and happy life with hard work, determination, and a good mood.
7. Violet Brown (117 years, 189 days)
Violet Brown (born Mosse) was born in Trelawny, Jamaica, on March 10, 1900. She lived to be over 100 years old. From April 15, 2017, until she died on September 15, 2017, at the age of 117 years and 189 days, she was the oldest person in the world who could be proven.
Brown was one of six children who grew up in a small village in Jamaica. Brown's parents were farmers; when she was a child, she worked in the fields with them. She went to school until she was 10, but her parents could no longer pay for her to stay in school.
She got married to Augustus Brown in 1921, and they had six children together. Unfortunately, two of her children died before she did. Brown spent most of her time in the same house where she was born Duanvale, Jamaica. She was a faithful member of the Seventh-day Adventist Church and said that her long life was due to her faith in God, her hard work, and a healthy diet that included locally grown fruits and veggies.
In 2010, when Brown was 110 years old, Jamaican Prime Minister Bruce Golding visited her and told her how happy he was that she had lived so long. This made her a local hero. She also got a happy birthday letter from Queen Elizabeth II in 2015, when she turned 115.
Brown spent her later years in bed, and her family and carers cared for her around the clock. Even though her health was getting worse, she was still awake and happy.
Brown's death saddened many people in Jamaica, and she was praised as a national treasure. People from the government and the community paid their respects at her funeral. She was the oldest Jamaican ever and one of the oldest people in the world.
8. Emma Morano (117 years, 137 days)
Emma Morano was an Italian woman who was born in Civiasco, a small village in the Piedmont region of Italy, on November 29, 1899. From May 2016 until her death on April 15, 2017, she was known as the world's oldest alive person due to her 117 years of life.
Morano was born into a family of eight children and lived through two world wars, the rise and collapse of Fascism in Italy, and numerous technological and societal changes in the 20th century. She worked as a cook and factory worker and was married in 1926; however, their marriage was unhappy, and they divorced in 1938.
Morano gave birth to a son in 1938, who died six months later. She never had any more offspring and attributed her longevity to her eggs and raw meat diet. She believed her extended life was partially due to her genetics, as her mother had lived to 91.
Morano was a remarkable woman who experienced vast history and transformation. She was known for her quick intellect and ability to adapt to new situations. She continued to live independently until the age of 115 when she moved into a nursing facility.
Morano's existence exemplifies the strength of resilience and the human spirit. Despite confronting numerous difficulties and tragedies throughout her life, she remained determined to live life to the fullest and never gave up on her dreams and aspirations.
9. Chiyo Miyako (117 years, 81 days)
Chiyo Miyako was a supercentenarian who was born in Wakayama, Japan, on May 2, 1901. From April 2018 until her passing on July 22, 2018, at the age of 117 years and 81 days, she was the oldest living person in Japan and the world.
Before marrying Shoji Miyako in 1922, Miyako was raised in a large household with six siblings and worked in a local agriculture office. Miyako lived to witness her great-grandchildren and great-great-grandchildren.
Miyako was known throughout her long life for her love of music, especially the traditional Japanese instrument, the koto. She played the agency well into her 100s and reportedly had a gorgeous singing voice.
Miyako's healthy lifestyle may have contributed to her long life. For example, she was reported to have been a vegetarian who relished eating abundant fruits and vegetables and avoided alcohol and cigarettes.
Miyako later became a revered figure in her community and was frequently visited by friends and family. In addition, she was featured in some media interviews and documentaries about her long and fruitful life.
Miyako was remembered as a kind and gentle person who led an extraordinary existence upon passing in 2018. Her legacy continues to encourage individuals around the globe to live their lives to the fullest and cherish their loved ones.
10. Misao Okawa (117 years, 27 days)
Misao Okawa (on March 5, 1898 – the first of April 2015,) was a Japanese supercentenarian who, from June 2013 until her death in April 2015 at the age of 117, was officially recognised as the world's oldest living person. She was born in Tenma, Osaka, Japan, and resided in a Higashisumiyoshi-ku nursing home.
Okawa was born in Osaka as the daughter of a fabric merchant, and she grew up with five siblings. She wed in 1919, gave birth to three children, two still life, and has four grandchildren and six great-grandchildren. Her spouse passed away in 1931, and she did not remarry.
In her youth, Okawa was well-known for her passion for board games, particularly Othello and Japanese poetry. Additionally, she relished calligraphy and floral design. She claimed that she had never been unwell in her entire life, attributing her longevity to her sushi diet and ample rest.
In 2013, at the age of 115, Okawa was recognized as the world's oldest living person by the Guinness World Records. In March 2015, she commemorated her 117th birthday with a party attended by family and local officials.
On April 1, 2015, Okawa passed away peacefully in her slumber at 117 years and 27 days old. At the time of her demise, she was the third-oldest person ever recorded and the oldest in Japan. Her legacy continues to inspire individuals worldwide to live healthful and meaningful lives.
Here is a list of the top 100 oldest people in the world according to the Gerontology Research Group (GRG):
| Rank | Name | Gender | Birth Date | Death Date | Age | Country |
| --- | --- | --- | --- | --- | --- | --- |
| 1 | Jeanne Calment | Female | 21 February 1875 | 4 August 1997 | 122 years, 164 days | France |
| 2 | Kane Tanaka | Female | 2 January 1903 | 19 April 2022 | 119 years, 107 days | Japan |
| 3 | Sarah Knauss | Female | 24 September 1880 | 30 December 1999 | 119 years, 97 days | United States |
| 4 | Lucile Randon | Female | 11 February 1904 | 17 January 2023 | 118 years, 340 days | France |
| 5 | Nabi Tajima | Female | 4 August 1900 | 21 April 2018 | 117 years, 260 days | Japan |
| 6 | Marie-Louise Meilleur | Female | 29 August 1880 | 16 April 1998 | 117 years, 230 days | Canada |
| 7 | Violet Brown | Female | 10 March 1900 | 15 September 2017 | 117 years, 189 days | Jamaica |
| 8 | Emma Morano | Female | 29 November 1899 | 15 April 2017 | 117 years, 137 days | Italy |
| 9 | Chiyo Miyako | Female | 2 May 1901 | 22 July 2018 | 117 years, 81 days | Japan |
| 10 | Misao Okawa | Female | 5 March 1898 | 1 April 2015 | 117 years, 27 days | Japan |
| 11 | Francisca Celsa dos Santos | Female | 21 October 1904 | 5 October 2021 | 116 years, 349 days | Brazil |
| 12 | María Capovilla | Female | 14 September 1889 | 27 August 2006 | 116 years, 347 days | Ecuador |
| 13 | Susannah Mushatt Jones | Female | 6 July 1899 | 12 May 2016 | 116 years, 311 days | United States |
| 14 | Gertrude Weaver | Female | 4 July 1898 | 6 April 2015 | 116 years, 276 days | United States |
| 15 | Antonia da Santa Cruz | Female | 13 June 1905 | 23 January 2022 | 116 years, 224 days | Brazil |
| 16 | Tane Ikai | Female | 18 January 1879 | 12 July 1995 | 116 years, 175 days | Japan |
| 17 | Jeanne Bot | Female | 14 January 1905 | 22 May 2021 | 116 years, 128 days | France |
| 18 | Elizabeth Bolden | Female | 15 August 1890 | 11 December 2006 | 116 years, 118 days | United States |
| 19 | Besse Cooper | Female | 26 August 1896 | 4 December 2012 | 116 years, 100 days | United States |
| 20 | Maria Giuseppa Robucci | Female | 20 March 1903 | 18 June 2019 | 116 years, 90 days | Italy |
| 21 | Tekla Juniewicz | Female | 10 June 1906 | 19 August 2022 | 116 years, 70 days | Poland |
| 22 | Jiroemon Kimura | Male | 19 April 1897 | 12 June 2013 | 116 years, 54 days | Japan |
| 23 | Ana María Vela Rubio | Female | 29 October 1901 | 15 December 2017 | 116 years, 47 days | Spain |
| 24 | Giuseppina Projetto | Female | 30 May 1902 | 6 July 2018 | 116 years, 37 days | Italy |
| 25 | Jeralean Talley | Female | 23 May 1899 | 17 June 2015 | 116 years, 25 days | United States |
| 26 | Shigeyo Nakachi | Female | 1 February 1905 | 11 January 2021 | 115 years, 345 days | Japan |
| 27 | Maggie Barnes | Female | 6 March 1882 | 19 January 1998 | 115 years, 319 days | United States |
| 28 | Dina Manfredini | Female | 4 April 1897 | 17 December 2012 | 115 years, 257 days | United States |
| 29 | Shimoe Akiyama | Female | 19 May 1903 | 29 January 2019 | 115 years, 255 days | Japan |
| 30 | Hester Ford | Female | 15 August 1905 | 17 April 2021 | 115 years, 245 days | United States |
| 31 | Charlotte Hughes | Female | 1 August 1877 | 17 March 1993 | 115 years, 228 days | United Kingdom |
| 32 | Edna Parker | Female | 20 April 1893 | 26 November 2008 | 115 years, 220 days | United States |
| 33 | Mary Ann Rhodes | Female | 12 August 1882 | 3 March 1998 | 115 years, 203 days | Canada |
| 34 | Anonymous of Tokyo | Female | 15 March 1900 | 27 September 2015 | 115 years, 196 days | Japan |
| 35 | Margaret Skeete | Female | 27 October 1878 | 7 May 1994 | 115 years, 192 days | United States |
| 36 | Bernice Madigan | Female | 24 July 1899 | 3 January 2015 | 115 years, 163 days | United States |
| 37 | Gertrude Baines | Female | 6 April 1894 | 11 September 2009 | 115 years, 158 days | United States |
| 38 | Bettie Wilson | Female | 13 September 1890 | 13 February 2006 | 115 years, 153 days | United States |
| 39 | Shin Matsushita | Female | 30 March 1904 | 27 August 2019 | 115 years, 150 days | Japan |
| 40 | Iris Westman | Female | 28 August 1905 | 3 January 2021 | 115 years, 128 days | United States |
| 41 | Julie Winnefred Bertrand | Female | 16 September 1891 | 18 January 2007 | 115 years, 124 days | Canada |
| 42 | Maria de Jesus | Female | 10 September 1893 | 2 January 2009 | 115 years, 114 days | Portugal |
| 43 | Marie-Josephine Gaudette | Female | 25 March 1902 | 13 July 2017 | 115 years, 110 days | Italy |
| 44 | Susie Gibson | Female | 31 October 1890 | 16 February 2006 | 115 years, 108 days | United States |
| 45 | Casilda Benegas Gallego | Female | 8 April 1907 | 28 June 2022 | 115 years, 81 days | Argentina |
| 46 | Augusta Holtz | Female | 3 August 1871 | 21 October 1986 | 115 years, 79 days | United States |
| 47 | Valentine Ligny | Female | 22 October 1906 | 4 January 2022 | 115 years, 74 days | France |
| 48 | Hendrikje van Andel-Schipper | Female | 29 June 1890 | 30 August 2005 | 115 years, 62 days | Netherlands |
| 49 | Bessie Hendricks | Female | 7 November 1907 | 3 January 2023 | 115 years, 57 days | United States |
| 50 | Maude Farris-Luse | Female | 21 January 1887 | 18 March 2002 | 115 years, 56 days | United States |
| 51 | Mina Kitagawa | Female | 3 November 1905 | 19 December 2020 | 115 years, 46 days | Japan |
| 52 | Marie Brémont | Female | 25 April 1886 | 6 June 2001 | 115 years, 42 days | France |
| 53 | Yoshi Otsunari | Female | 17 December 1906 | 26 January 2022 | 115 years, 40 days | Japan |
| 54 | Koto Okubo | Female | 24 December 1897 | 12 January 2013 | 115 years, 19 days | Japan |
| 55 | Antonia Gerena Rivera | Female | 19 May 1900 | 2 June 2015 | 115 years, 14 days | United States |
| 56 | Chiyono Hasegawa | Female | 20 November 1896 | 2 December 2011 | 115 years, 12 days | Japan |
| 57 | Annie Jennings | Female | 12 November 1884 | 20 November 1999 | 115 years, 8 days | United Kingdom |
| 58 | Anonymous of Hyōgo | Female | 29 April 1907 | 30 April 2022 | 115 years, 1 day | Japan |
| 59 | Eva Morris | Female | 8 November 1885 | 2 November 2000 | 114 years, 360 days | United Kingdom |
| 60 | Kama Chinen | Female | 10 May 1895 | 2 May 2010 | 114 years, 357 days | Japan |
| 61 | Mary Bidwell | Female | 9 May 1881 | 25 April 1996 | 114 years, 352 days | United States |
| 62 | Sofia Rojas | Female | 13 August 1907 | 30 July 2022 | 114 years, 351 days | Colombia |
| 63 | Maria Gomes Valentim | Female | 9 July 1896 | 21 June 2011 | 114 years, 347 days | Brazil |
| 64 | Ophelia Burks | Female | 25 October 1903 | 27 September 2018 | 114 years, 337 days | United States |
| 65 | Kahoru Furuya | Female | 18 February 1908 | 25 December 2022 | 114 years, 310 days | Japan |
| 66 | Mary Josephine Ray | Female | 17 May 1895 | 7 March 2010 | 114 years, 294 days | United States |
| 67 | Goldie Steinberg | Female | 30 October 1900 | 16 August 2015 | 114 years, 290 days | United States |
| 68 | Kiyoko Ishiguro | Female | 4 March 1901 | 5 December 2015 | 114 years, 276 days | Japan |
| 69 | Maria do Couto Maia-Lopes | Female | 24 October 1890 | 25 July 2005 | 114 years, 274 days | Portugal |
| 70 | Ramona Trinidad Iglesias-Jordan | Female | 31 August 1889 | 29 May 2004 | 114 years, 272 days | Puerto Rico |
| 71 | Yukie Hino | Female | 17 April 1902 | 13 January 2017 | 114 years, 271 days | Japan |
| 72 | Delphine Gibson | Female | 17 August 1903 | 9 May 2018 | 114 years, 265 days | United States |
| 73 | Horacio Celi Mendoza | Male | 3 January 1897 | 25 September 2011 | 114 years, 265 days | Peru |
| 74 | Eugénie Blanchard | Female | 16 February 1896 | 4 November 2010 | 114 years, 261 days | France (Saint Barthélemy) |
| 75 | Venere Pizzinato | Female | 23 November 1896 | 2 August 2011 | 114 years, 252 days | Italy[m] |
| 76 | Neva Morris | Female | 3 August 1895 | 6 April 2010 | 114 years, 246 days | United States |
| 77 | Hide Ohira | Female | 15 September 1880 | 9 May 1995 | 114 years, 236 days | Japan |
| 78 | Blanche Cobb | Female | 8 September 1900 | 1 May 2015 | 114 years, 235 days | United States |
| 79 | Ethel Lang | Female | 27 May 1900 | 15 January 2015 | 114 years, 233 days | United Kingdom |
| 80 | Mila Mangold | Female | 14 November 1907 | 2 July 2022 | 114 years, 230 days | United States |
| 81 | Yone Minagawa | Female | 4 January 1893 | 13 August 2007 | 114 years, 221 days | Japan |
| 82 | María Antonia Castro | Female | 10 June 1881 | 16 January 1996 | 114 years, 220 days | Spain |
| 83 | Carrie Lazenby | Female | 9 February 1882 | 14 September 1996 | 114 years, 218 days | United States |
| 84 | Myrtle Dorsey | Female | 22 November 1885 | 25 June 2000 | 114 years, 216 days | United States |
| 85 | Yoshi Baba | Female | 3 June 1907 | 4 January 2022 | 114 years, 215 days | Japan |
| 86 | Iso Nakamura | Female | 23 April 1903 | 23 November 2017 | 114 years, 214 days | Japan |
| 87 | Faustina Sarmiento-Pupo | Female | 15 February 1905 | 16 September 2019 | 114 years, 213 days | Cuba |
| 88 | Cecile Klein | Female | 15 June 1907 | 13 January 2022 | 114 years, 212 days | Canada |
| 89 | Anna Eliza Williams | Female | 2 June 1873 | 27 December 1987 | 114 years, 208 days | United Kingdom |
| 90 | Walter Breuning | Male | 21 September 1896 | 14 April 2011 | 114 years, 205 days | United States |
| 91 | Eunice Sanborn | Female | 20 July 1896 | 31 January 2011 | 114 years, 195 days | United States |
| 92 | Grace Clawson | Female | 15 November 1887 | 28 May 2002 | 114 years, 194 days | United States[n] |
| 93 | Mitsue Toyoda | Female | 15 February 1902 | 25 August 2016 | 114 years, 192 days | Japan |
| 94 | Tase Matsunaga | Female | 11 May 1884 | 18 November 1998 | 114 years, 191 days | Japan |
| 95 | Kame Ganeko | Female | 10 April 1905 | 18 October 2019 | 114 years, 191 days | Japan |
| 96 | Yukichi Chuganji | Male | 23 March 1889 | 28 September 2003 | 114 years, 189 days | Japan |
| 97 | Tomás Pinales Figuereo | Male | 31 March 1906 | 24 September 2020 | 114 years, 177 days | Dominican Republic |
| 98 | Joan Riudavets-Moll | Male | 15 December 1889 | 5 March 2004 | 114 years, 81 days | Spain |
| 99 | Gustav Gerneth | Male | 15 October 1905 | 21 October 2019 | 114 years, 6 days | Germany |
| 100 | Fred Harold Hale, Sr. | Male | 1 December 1890 | 19 November 2004 | 113 years, 354 days | United States |
Read More Best Countries for Quality of Life (Top 87 Countries)