Cities With The Best Public Transport (Top 60 Cities)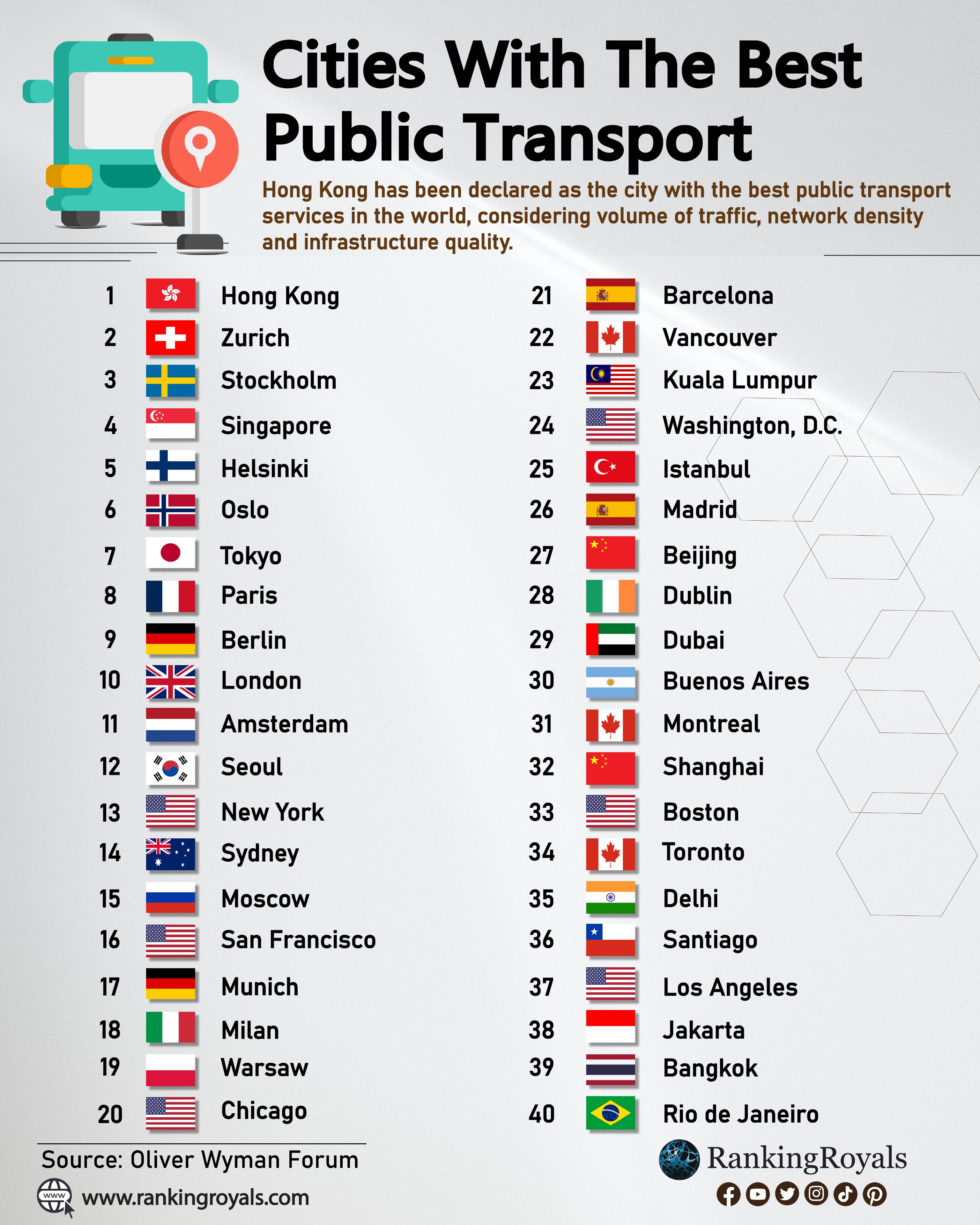 The way people live in a city is greatly affected by its public transportation system. For example, the best tourist spots have well-developed public transportation systems, like networks of trains, subways, buses, and boats that are paid for by the government and can get you to your destination quickly. Other benefits of public transportation are that it uses less energy and makes people safer. Bus transit is one of the most popular ways to get around on public transport. In addition, it provides street transportation along a vast network of lines.
Facts
Most of the world's best public transportation systems are in Europe.

In 2020, 8.93 million people in Hong Kong used public transportation on average daily.

Latin America has the highest number of daily bus rapid transit (BRT) users.

Regarding passenger travel, Sao Paulo is one of the busiest cities globally.

There are more than 180 operating metro systems worldwide.

China and India are anticipated to experience the greatest growth in their respective heavy-duty transit bus markets between now and 2022.
Factors
The study examined the public transportation systems in 60 significant cities across the globe. The following factors are considered for ranking the best public transport system in the world.
Volume of traffic
Network density
Infrastructure quality
system efficiency
social impact
affordability
Which cities have the best public transport system?
Here is a list of the top 15 best public transport systems.
1. Hong Kong
Hong Kong's public transportation ranks first in the world. The city's transportation system is praised for its high station density, excellent rail infrastructure, and affordable fares. With 5.8 million consumers per day, Hong Kong's transit system is among the world's most extensive. Seventy-five percent of the population is within one kilometer of a station due to the vast scale of the metro system. In addition, the system consistently obtains a 99.9% on-time delivery rate.
The affordability of this system's dependability is also noteworthy. The prices range from $0.50 to $7.50. Hong Kong residents are largely pleased with the cost dynamics of public transportation. In Hong Kong, selecting a mode of transportation at the beginning and conclusion of each workday is a necessity. The tiles at each station are color-coded, the trains have air conditioning, which is a blessing given the weather, and WiFi is available in every carriage for no cost. Even during rush hour, the large platforms at Admiralty, the hub of Hong Kong's legal industry, efficiently distribute the large crowds.
2. Zurich
Zurich's public transportation ranks second in the world. It is proud that it is easy to get around on foot, but it also has a great public transportation system. So, getting around within Zurich is easy and hygienic, and getting around outside of the city is the same. Because all of Zurich's public transportation is connected, you can use the same ticket on the train, bus, tram, and several boats. A network of frequent services links every place in the city, so people can see even more of their surroundings as they move around.
A network of frequent services links every place in the city, so people can see even more of their surroundings as they move around. Zurich's public transportation system is one of the best and most reliable in the world. So, it should be no surprise that streetcars and buses are the most popular ways to get around the city.
3. Stockholm
Stockholm's public transportation is ranked third best in the world. Stockholm's bus, train, subway, and ferry systems are all well-organized. The metro system, also known as The Metro, The Tunnelbana, or T-bana, is renowned for its pristine condition, impeccable safety, and extensiveness. Boats are an excellent mode of transit for tourists, providing convenient and picturesque access to popular attractions such as the opulent Drottningholm Palace and Grona Lund amusement park.
This transit system is distinguished by its artistic elements. The Stockholm Metro is the world's longest art gallery. More than ninety percent of the stations are adorned with paintings, mosaics, sculptures, and other artistic miracles with themes such as immigration, video games, and women's rights.
4. Singapore
The public transportation in Singapore is the fourth best in the world. It has the world's highest passenger satisfaction rate. It is an exceptionally remarkable achievement. 86% of municipal residents are satisfied with the public transportation system. In addition, Singapore offers modern electronic services, such as a recently upgraded travel planner, and ticketing options, such as the EZ-link card, which is simple to use and connects to an app.
The most cost-effective system in Singapore applies to both residents and visitors. Special tourist permits offer unlimited travel for just $7 for one day or $14.50 for three. Children also travel without charge.
5. Helsinki
Helsinki has the fifth-best public transportation in the world. Helsinki's yellow and green trams are the iconic symbols of the city. The transportation network, however, provides extra alternatives. In addition to subways and buses, the city provides access to the surrounding islands via ferry.
There are only two metro lines, so most residents rely on the city's twenty tram lines. Both residents and tourists have mentioned this as a perk, as they find it enhances the experience of traveling.
Too much reliance on trams can be inconvenient when the weather is icy, which happens for many months of the year and costs more than $3 for a single ticket.
6. Oslo
Oslo's public transportation is the sixth best in the world. The center of Oslo is small and easy to get around on foot. Nevertheless, Oslo's well-developed, modern transportation system makes navigating the city simple and convenient. As a result, it's easy to get around Oslo. Whether you walk or ride a bike, you won't have to go far.
A company called "Ruter" runs public transportation in Oslo. The local trains, ferries, city buses, regional buses, trams, and subway/metro systems are all covered by the Ruter ticketing system. Tickets can be bought at all of Ruter's places of business. Tickets cost about NOK 25 more if you buy them on the plane. To ride the subway or metro, you must always buy a ticket ahead of time. In Oslo, the system is called the T-Bane. Both people who live in the area and people who visit like it a lot.
From 1 to 5, many lines serve the city. All the lines meet in a tunnel in the middle of the city. The tram is an old and slow way to get around in Oslo. But it is a vital link to a lot of city neighborhoods. Also, tourists can use the tram to get to many different places.
7. Tokyo
Tokyo ranks seventh as the best public transport in the world. It's easy and quick to get around Tokyo, a big, busy city. Public transportation is the most useful but can be challenging to understand. Many different companies run the public transportation system in Tokyo. This makes it different from public transportation systems in other parts of the globe and can confuse tourists. There are more than ten transportation companies that sell tickets in Tokyo.
It has the largest urban rail network in the world. More than 3.5 billion people use it every year. Its rail system is one of the best worldwide. Eighty percent of jobs and people live within one kilometer of a metro or suburban rail station. Even though there can be delays during rush hour, Tokyo is known for being on time.
8. Paris
The public transportation in Paris is the seventh best in the world. Each year, 6.75 million people ride the trains in the City of Lights, which run almost around the clock because of smart steps like a plan to put more than 40,000 cameras in train stations. As a result, people think the system here is one of the safest worldwide.
Paris is also home to the world's most advanced electronic services. For example, the network is easy for locals and visitors because it has 2,400 real-time information screens.
9. Berlin
Berlin's public transportation is ranked ninth best in the world. The system serves 937 million people annually and is "affordable, easy to use, usually on time, and very thorough."
Berlin's transportation system will only get better in the years to come. In 2019, the city said it would spend almost $32 billion by 2032 to improve public transportation. Buses go to most places in Berlin, including the most popular tourist spots. The 45 lines that run in Berlin from midnight to 4:30 am may be better for tourists because they go everywhere in the city. Every bus that runs at night only leaves every 30 minutes.
The trains in Berlin are called "U-Bahn." It was built in 1902, and "underground railway" is what it means in German. Nine U-Bahn lines go both above and below ground.
10. London
London's public transportation is the 10th best in the world. About 85% of people in London are happy with the public transportation system, which is cheap, efficient, and up-to-date. London's public transportation is the central hub for rail, air, and road travel in the United Kingdom. The London Underground, also called "the Tube," was the first rapid transit system Worldwide. The 11 Underground Lines comprise a dense network in the middle of London. It connects important train stations, important business districts, and well-known places. Most of these lines go into the city from the suburbs.
The well-known Red buses are a quick and cheap way to get around London. Trams are also a good way to get around. You can buy a pass that lets you ride both buses and trams. The Docklands Light Railway is a network of automated light rail trains that serve the area around east London. The city's mayor is known for freezing public transportation fares at 2016 levels until 2020. This saves the average household up to $280 over those four years.
11. Amsterdam
Amsterdam's public transportation is the eleventh best in the world. Amsterdam's GVB, or rapid transit system, comprises metro lines, buses, trams, trains, and ferries. For the famous channels in the city, it is essential to have a way to cross water. Therefore, four subway lines serve the city. In addition, the 43 bus and 15 tram lines also serve it, making it a small city.
Locals in Amsterdam often get monthly passes, so they don't have to worry about buying tickets whenever they want to go somewhere. This, along with how clean the stations are helps to explain why most people are happy with the system.
The GVB is easy for travelers to use because it has one-time cards that can be used for transfers within an hour. There is also day and week passes that let you go as much as you want. Also, Amsterdam is known for how often people ride bikes there. When the city's infrastructure is combined with a good system, many people don't need cars to get around.
12. Seoul
Seoul's public transportation system is the fourteenth best in the world. Seoul's public transportation system is impressive because it serves a metro area with about 25 million people. Almost half of South Korea's people live there. Because of this, carts are less full than in Tokyo or Paris, where people have to be shoved in to fit, even though there is a lot of traffic. Even though it only has nine lines, the Seoul Metropolitan Subway can take people to almost every part of the city. There are also buses, but most tourists will only need to use them. Instead, a huge network of bus and subway lines links it to nearby cities.
Because the system works so well, there are rarely any delays. There is an English sign at every metro station, but not always on bus routes since non-resident foreigners don't use those as often.
The "Subway Safety Guard" app for phones uses the WiFi network to immediately report crimes on subway cars to the police.
Also, women can feel safer when they come home late at night from bus stops. About 600 convenience stores in Seoul have been named "Safe Havens for Women." This means women can go there if predators or abusive partners chase them.
13. New York
The public transportation in New York is the 13th best in the world. Many say that New York City's subway, which runs 24 hours a day, is the best public transportation in the United States. The metro transit authority runs the bus and subway systems. New York is easy to get around because it has a large subway system and buses that go to every part of the city and other cities nearby. There are also the ferry and a bike-sharing program.
But there are a lot of problems with the subway system in New York City. There are rumors that stations are full of rats, the air conditioning is broken, and trains are always late. But there's no denying that New York's public transportation makes it easy to get around. Most homes in the city don't have cars.
No one can argue that New York is still a very easy city to get around with public transportation. More than half of the houses in the town don't have cars.
People think New York's public transportation is one of the best in the world. 77% of the city's residents believe the city's facilities are good. The town also talks a lot about its new ideas, like reducing the system's energy use and adding bus-only lanes to speed up travel. This is also one of the best systems in the world when it comes to electronic services.
14. Sydney
Sydney's public transportation system is ranked 14th best in the world. With Sydney's public transportation, it's easy to get around. To get to the best tourist spots, sports arenas, and shopping areas, all you have to do is hop on a metro, train, ferry, bus, or light rail service.
The train is the most popular and convenient way to get around Sydney. Since the first passenger railway in New South Wales was built in 1855, nine lines run through the city and connect at Central Station.
Because Sydney is between the sea and the mountains, there are some places that local bus and train routes need help to get to. Sometimes, renting a car, taking a ferry, or sharing a bike or ride may be the most obvious choice.
15. Moscow
Moscow's public transportation system is ranked 15th best. Moscow got high marks for being inexpensive, useful, and effective. The system does a great job promoting sustainable development, and its growth is carefully thought out. Twelve metro lines take millions of people all over the city every day. People who live in cities can also use trains, buses, and trams. Many of the metro stations are also beautifully decorated with intricate patterns that remind people of Imperial Russia. This makes them some of the most beautiful places in the world. The city stands out because it lets people worldwide pay for things easily.
Because there are no signs in other languages, it may be hard for international travelers to use the system if they don't know at least a bit of Russian.
Here is a list of the cities with the best public transport in the world:
| Rank | City |
| --- | --- |
| 1 | Hong Kong |
| 2 | Zurich |
| 3 | Stockholm |
| 4 | Singapore |
| 5 | Helsinki |
| 6 | Oslo |
| 7 | Tokyo |
| 8 | Paris |
| 9 | Berlin |
| 10 | London |
| 11 | Amsterdam |
| 12 | Seoul |
| 13 | New York |
| 14 | Sydney |
| 15 | Moscow |
| 16 | San Francisco |
| 17 | Munich |
| 18 | Milan |
| 19 | Warsaw |
| 20 | Chicago |
| 21 | Barcelona |
| 22 | Vancouver |
| 23 | Kuala Lumpur |
| 24 | Washington, D.C. |
| 25 | Istanbul |
| 26 | Madrid |
| 27 | Beijing |
| 28 | Dublin |
| 29 | Dubai |
| 30 | Buenos Aires |
| 31 | Montreal |
| 32 | Shanghai |
| 33 | Boston |
| 34 | Toronto |
| 35 | Delhi |
| 36 | Santiago |
| 37 | Los Angeles |
| 38 | Jakarta |
| 39 | Bangkok |
| 40 | Rio de Janeiro |
| 41 | Mumbai |
| 42 | Atlanta |
| 43 | Houston |
| 44 | Doha |
| 45 | Dallas |
| 46 | Lima |
| 47 | Sao Paulo |
| 48 | Bogota |
| 49 | Lagos |
| 50 | Mexico City |
| 51 | Cairo |
| 52 | Abu Dhabi |
| 53 | Casablanca |
| 54 | Quito |
| 55 | Cape Town |
| 56 | Manila |
| 57 | Johannesburg |
| 58 | Riyadh |
| 59 | Nairobi |
| 60 | Jeddah |
Lastly,
A well-functioning system can encourage people to travel for business and leisure through urban areas. Nonetheless, it can also increase equal access to other modes of transportation, employment opportunities, and retail establishments.
Read More Best Countries for Quality of Life (Top 87 Countries)