Largest Oil Reserves By Country (Top 91 Countries)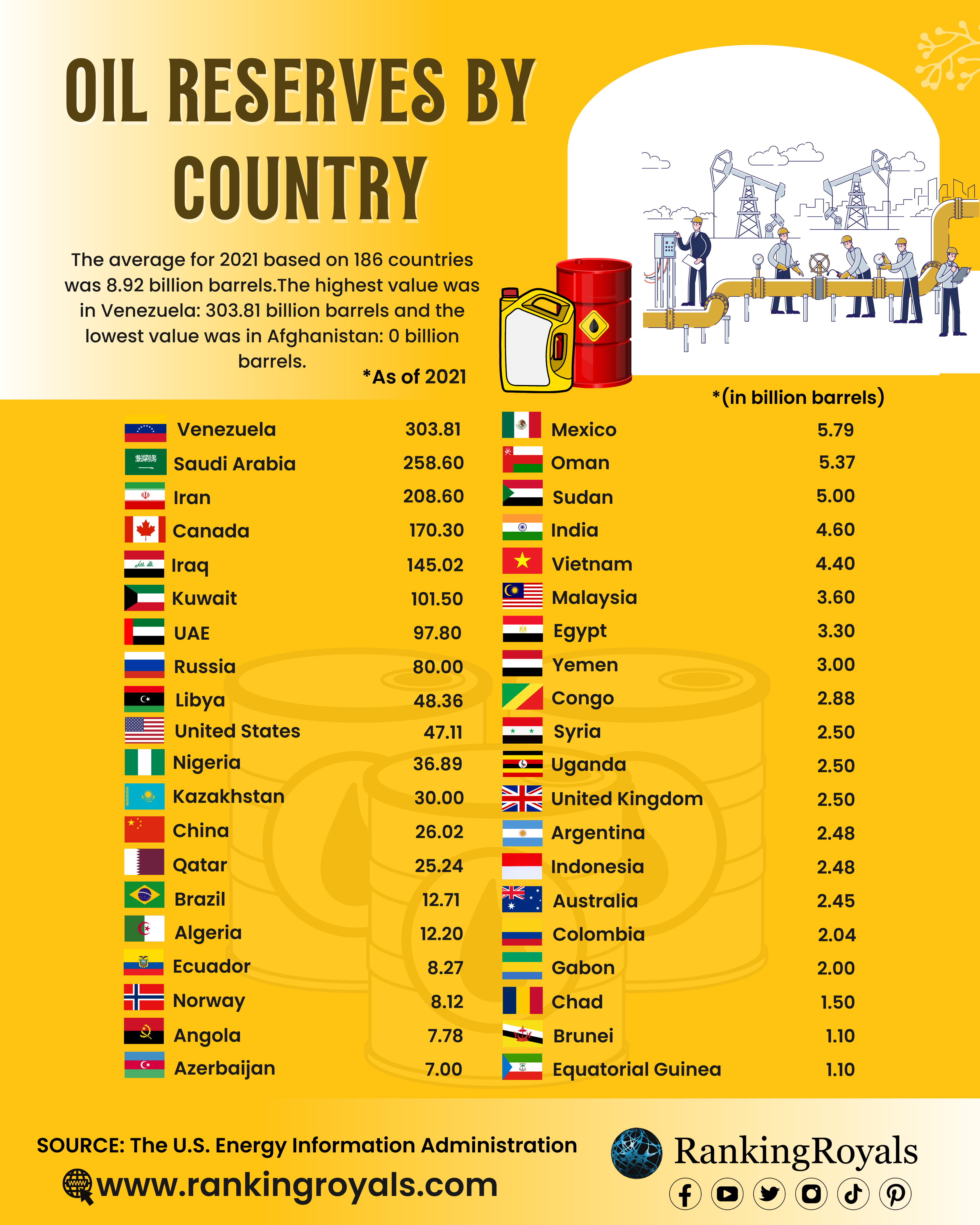 Since the oil industry started in the middle of the nineteenth century, it has provided much power, started wars, and changed geopolitics as nations compete to control the largest proven reserves. It was used as fuel for cars, to make electricity to light homes, run factories and tools, as a raw material for fertilizer, and as an ingredient in making plastics worldwide.
What is Petroleum or Crude oil?
Petroleum is a naturally occurring fossil fuel formed when dead organisms buried under a rock are subject to extended periods of heat and pressure. Once extracted from the ground, typically done by drilling, the crude Oil can be turned into products like gasoline, plastic, and pharmaceuticals. The many uses of Oil, combined with the importance of oil products, make it one of the most profitable materials in the world.
Facts About Oil Reserves by Country 
OPEC is made up of most of the countries with the most oil reserves in the world.

93.5% of the world's oil reserves are in just 14 countries.

Venezuela's oil reserves are the world's largest, with over 303.81 billion barrels of crude placed beneath its surface.

Between 2005 and 2015, nearly 200 billion barrels of proven oil reserves were identified. Boosted Venezuela from fifth to first in the globe.

With an average of over 9,125,000 barrels daily in 2021, Saudi Arabia makes more Oil than Venezuela. 

After the USA, Saudi Arabia is the second largest producer of Oil in the globe.

The majority of Saudi Arabia's Oil is more cost-effective and profitable to extract than Venezuela's heavy Oil.

In 2002, Canada went from having 5 billion barrels of proven oil reserves to having 180 billion barrels.

Abu Dhabi holds more than 90% of the UAE's reserves, followed by Dubai and Sharjah.

Countries such as Russia and the US are lower on the list of oil reserves but high on the list of oil-producing nations.

The United States consumes the most Oil of any country, 1.85 billion barrels daily.

The electronic item you're using right now was made with the help of petrochemicals, which come from Oil.

Oil is used to produce pharmaceuticals, sporting goods, and cosmetics.
Which countries have the most Oil reserves?
The following are the top 10 countries with the most oil reserves.
1. Venezuela (303.81 billion barrels)
Venezuela has far more proven oil reserves than any other country globally, even though its economy is in free fall and the middle of an explosive political crisis. The country has 303.2 billion barrels of Oil, which is almost 18% of all the Oil in the world. Most of this Oil is in the Orinoco Belt, which has an estimated capacity of more than 200 billion barrels and is the biggest oil reserve in the world. The economy of the South American country is significantly based on Oil, which makes up more than 90% of all exports.
The country's current problem is partly caused by the fall in oil prices worldwide and the fact that oil money was spent on social services instead of being put back into the oil industry. In addition, due to old pipelines and oil-extracting tools, Venezuela only makes 2.1 million barrels of Oil per day, 22% less than just five years ago and much less than the country's all-time peak of 3.8 million barrels per day in 1970.
But since 2020, Iran has been helping Venezuela fix up and maintain its refining facilities. This has helped the oil business in the area.
2. Saudi Arabia (258.6 billion barrels)
Saudi Arabia has the second-largest oil reserve in the world. For many years, the Kingdom of Saudi Arabia had the largest proven oil reserves in the world. However, new oil reserves found in Venezuela this century have moved it back into second place. Saudi Arabia has 258.6 billion barrels of Oil, far more than any other country in OPEC and the second most of any country globally. Through its vast majority ownership of Saudi Aramco, the country's monarchy controls much of Saudi Arabia's Oil. 
The country also makes 12 million barrels of Oil every day, which is more than any country except the U.S. Saudi Arabia is very dependent on its oil business. In 2017, more than 75% of the country's $170 billion in export revenue came from Oil. However, the economy was hurt by the drop in oil prices in 2014. As a result, between 2014 and 2016, GDP fell by 14.7%.
3. Iran (208.6 billion barrels)  
Iran has about 208 billion barrels of proven oil reserves, making it the world's third largest. This is about 16% of the world's known oil reserves, which is significant for the local economy. Iran has been one of the nation's top ten exporters and makers of Oil for a long time. In 2021, the country produced 2.5 million barrels of Oil per day.   
Iran is one of only four countries with more than 208 billion barrels of Oil. Iran joined OPEC as one of the first countries. But because the U.S. has imposed economic sanctions on Iran, the country's oil industry has had to deal with many problems, such as export limits and foreign investment bans.
The National Iranian Oil Company, which the government owns, oversees all Iran's oil exploration and production. However, international sanctions against Iran because of its nuclear work have hurt its energy sector, making it harder for Iran to produce Oil.
Iran plans to put an incredible $500 billion into their oil industry by 2025 to use their vast supplies more quickly. Iranian Oil comprises more than 200 barrels and 102 fields, of which 78 are currently working.
4. Canada (170.3 billion barrels)
Canada has the world's fourth-biggest oil reserve. Canada owns the equivalent of 168.9 billion barrels of Oil, which is the most of any country in North America and the third largest of any nation in the entire globe. 
About 97% of the country's oil stocks are found in the oil sand deposits in the province of Alberta. Many of the province's conventional oil supplies are also there. Even though Canada has a lot of energy supplies, its economy is diverse. In 2017, less than 20% of the country's $377 billion exports came from Oil.
Over the last five years, Canada's oil output has gone up by 29.2%. In 2017, the country made 4.8 million barrels per day, which was a record. Canada is a net petroleum Oil exporter, with most of its sales going to the U.S., to which it is the biggest overseas supplier. More than half of Canada's crude Oil comes from five companies. These companies are Suncor, Canadian Natural Resources, Imperial Oil, Husky, and Cenovus.
The Canadian government continues to seek a balance between economic growth and environmental protection. For example, there have been efforts to create cleaner technologies and cut greenhouse gas emissions from the oil sands industry.
5. Iraq (145.02 billion barrels)  
Iraq has proven reserves of over 140 billion barrels. It has the fifth largest oil reserves in the world, which is almost 9% of the known world oil production. But there is some doubt about how accurate these numbers are because of political and economic problems, such as the fact that the military occupies the country. Different sources say that the total oil reserves are between 70 and 300 billion barrels, based on who you believe. Iraq depends on oil money more than most of its other OPEC partners. In 2017, 95% of Iraq's $60.8 billion in exports came from crude Oil. What is known for sure is that most of this Oil are in Basra, Baghdad, Ramadi, and Ba'aj, which are all big oil-producing towns.
The country has been trying to get more foreign investment and grow its oil industry. In addition, the government has been making the oil industry more stable and open. However, despite these efforts, Iraq's oil industry has had problems. For example, oil sites have been attacked, and oil production has been stopped because of political protests and conflicts.  
6. Kuwait (101.5 billion barrels)  
The oil reserves in Kuwait are the sixth biggest in the world. Even though Kuwait is a small country, it has many of the world's oil reserves. It has just under 101.5 billion barrels, 5.9% of the total. Since 1938, Kuwait has been getting Oil from the field. 
Most of its available resources are in the Burgan field, which is close to the Persian Gulf and is the second-largest oilfield and the largest sandstone oilfield in the world. Like many of Kuwait's other major fields, this field has been used for over 65 years. Because of this, the country needs help working with and keeping areas and infrastructure that are getting old. In addition, the government is a big member of OPEC and can make about 3 million barrels of Oil per day. 
Kuwait's economy depends on the oil business, which brings in most of the country's export money. As a result, Kuwait has taken steps to increase its oil production and find new oil reserves. One of these steps is making it easier for foreign oil companies to discover and produce Oil in Kuwait. The country has also tried to get its economy to depend less on Oil by investing in fields like banking and tourism. But like many other oil-producing countries, Kuwait faces problems caused by changes in the price of Oil around the world and the need to find a balance between economic growth and protecting the environment.
7. UAE (97.8 billion barrels)  
The UAE has about 97.8 billion barrels of oil reserves, which is 5.8% of the world's supply. Most of this Oil is in Abu Dhabi, with over 90 billion barrels. The Zakum field in Abu Dhabi is the biggest single field, with an estimated 66 billion barrels of Oil. 
Due to its big and recoverable oil reserves, the UAE produces more than three million barrels of Oil per day and is the fifth largest exporter of Oil in the world. This means the country sends out about 2.4 million barrels of Oil daily, about 30% of its GDP.
The oil business is vital to the economy of the UAE because it brings in most of the country's export money. The United Arab Emirates (UAE) has been trying to improve its oil industry by investing in new technologies for exploration and production and finding new markets for its oil exports. In addition to Oil, the country has been developing its natural gas resources and spending on renewable energy. It has big plans to boost its capacity to use renewable energy. By 2050, it wants to get 50% of its energy from clean sources.
8. Russia (80 billion barrels)  
Russia is the country that produces the most Oil in Europe and one of the most in the world. Russia is one of only three countries worldwide with more than 10 million barrels of Oil per day. The other two are the United States and Saudi Arabia. 
Its production went down after the Soviet Union broke up, but it went back up after privatizing the energy business. As a result, Oil is one of its top exports from Russia. The country is the second-largest producer of Oil in the world and exports about 70% of its Oil.
The country can make about 11.5 million barrels of Oil per day and is a big player in the world oil market. The oil & gas industry is an important part of Russia's economy because it brings in a lot of money from exports. Even though political tensions and economic bans have caused problems, Russia has kept developing and growing its oil industry. New projects and technologies are being used to increase production and find further oil reserves. The country also attempted to expand its energy sources by investing in wind and solar power. In addition, Russia's oil reserves in the Arctic are expected to grow due to future research.
9. Libya (48.36 billion barrels)
Libya has the biggest proven oil reserves in Africa, at 48.4 billion barrels. Before the middle of the 1900s, Oil did not have a significant effect on Libya's growth or economy. It wasn't until 1959 that big oil reserves were found in Tripolitania and Cyrenaica, both in Libya. This completely changed the economy and the standard of living in the country. Since then, the government has built up one of the world's biggest oil stores. It now has 48.36 billion barrels of proven crude oil reserves, which is a lot.
Libya's economy depends on oil and gas exports, which comprise about 60% of its GDP and most of its foreign income. Libya has kept its oil production steady at a few hundred thousand barrels daily and is one of the E.U.'s biggest oil providers.
Libya's return to oil production and exports is good news for the country's budget and the global oil markets. But there are still political and security problems, which could make it hard for the government to keep up production in the long run. Many areas where new oil sources might be found still need to be looked into.
10. United States (47.11 billion barrels) 
The U.S. has proven oil reserves of 47.11 billion barrels, more than all but eight other countries in the world, and is equal to 2.9% of the world's known oil reserves. The shale revolution of the last ten years has changed how the U.S. gets its energy, making it the country that makes the most Oil in the world. In addition to shale oil, the U.S. has ample oil supplies offshore and on land. 
The U.S. also makes an average of 13.1 million barrels of Oil per day, more than any other country, equaling 14.1% of the world's daily oil production. In addition, shales containing Oil are making more and more Oil in North Dakota and Montana. In April 2013, U.S. crude output was nearly 7.2 million barrels daily, the highest in over 20 years. 
More than a third of all Oil made in the United States comes from Texas. Unfortunately, in 2020, the pandemic greatly affected U.S. oil production and demand. However, as the world economy improves, the U.S. oil industry will likely play a significant role in meeting the world's energy needs. 
Here is a list of the Largest Oil Reserves by Country:
| Rank | Country | Oil Reserves (in billion barrels) |
| --- | --- | --- |
| 1 | Venezuela | 303.81 |
| 2 | Saudi Arabia | 258.60 |
| 3 | Iran | 208.60 |
| 4 | Canada | 170.30 |
| 5 | Iraq | 145.02 |
| 6 | Kuwait | 101.50 |
| 7 | UAE | 97.80 |
| 8 | Russia | 80.00 |
| 9 | Libya | 48.36 |
| 10 | Nigeria | 36.89 |
| 11 | Kazakhstan | 30.00 |
| 12 | China | 26.02 |
| 13 | Qatar | 25.24 |
| 14 | Brazil | 12.71 |
| 15 | Algeria | 12.20 |
| 16 | Ecuador | 8.27 |
| 17 | Norway | 8.12 |
| 18 | Angola | 7.78 |
| 19 | Azerbaijan | 7.00 |
| 20 | Mexico | 5.79 |
| 21 | Oman | 5.37 |
| 22 | Sudan | 5.00 |
| 23 | India | 4.60 |
| 24 | Vietnam | 4.40 |
| 25 | Malaysia | 3.60 |
| 26 | Egypt | 3.30 |
| 27 | Yemen | 3.00 |
| 28 | Congo | 2.88 |
| 29 | Syria | 2.50 |
| 30 | Uganda | 2.50 |
| 31 | United Kingdom | 2.50 |
| 32 | Argentina | 2.48 |
| 33 | Indonesia | 2.48 |
| 34 | Australia | 2.45 |
| 35 | Colombia | 2.04 |
| 36 | Gabon | 2.00 |
| 37 | Chad | 1.50 |
| 38 | Brunei | 1.10 |
| 39 | Equatorial Guinea | 1.10 |
| 40 | Peru | 0.86 |
| 41 | Ghana | 0.66 |
| 42 | Romania | 0.60 |
| 43 | Turkmenistan | 0.60 |
| 44 | Uzbekistan | 0.59 |
| 45 | Pakistan | 0.54 |
| 46 | Italy | 0.50 |
| 47 | Denmark | 0.44 |
| 48 | Tunisia | 0.43 |
| 49 | Ukraine | 0.40 |
| 50 | Türkiye | 0.37 |
| 51 | Thailand | 0.25 |
| 52 | Bolivia | 0.24 |
| 53 | Trinidad and Tobago | 0.24 |
| 54 | Belarus | 0.20 |
| 55 | Cameroon | 0.20 |
| 56 | Bahrain | 0.19 |
| 57 | DR Congo | 0.18 |
| 58 | Papua New Guinea | 0.16 |
| 59 | Albania | 0.15 |
| 60 | Chile | 0.15 |
| 61 | Niger | 0.15 |
| 62 | Spain | 0.15 |
| 63 | Burma | 0.14 |
| 64 | Netherlands | 0.14 |
| 65 | Philippines | 0.14 |
| 66 | Cuba | 0.12 |
| 67 | Germany | 0.12 |
| 68 | Poland | 0.11 |
| 69 | Ivory Coast | 0.10 |
| 70 | Guatemala | 0.09 |
| 71 | Suriname | 0.09 |
| 72 | Serbia | 0.08 |
| 73 | Croatia | 0.07 |
| 74 | France | 0.06 |
| 75 | Austria | 0.04 |
| 76 | Georgia | 0.04 |
| 77 | Japan | 0.04 |
| 78 | New Zealand | 0.04 |
| 79 | Bangladesh | 0.03 |
| 80 | Bulgaria | 0.02 |
| 81 | Czechia | 0.02 |
| 82 | Mauritania | 0.02 |
| 83 | South Africa | 0.02 |
| 84 | Belize | 0.01 |
| 85 | Benin | 0.01 |
| 86 | Greece | 0.01 |
| 87 | Hungary | 0.01 |
| 88 | Israel | 0.01 |
| 89 | Lithuania | 0.01 |
| 90 | Slovakia | 0.01 |
| 91 | Tajikistan | 0.01 |
Read More Countries With The Most Islands 2023